Fish Oil Supplementation Reduces Inflammation but Does Not Restore Renal Function and Klotho Expression in an Adenine-Induced CKD Model
1
Division of Nephrology, Federal University of São Paulo (UNIFESP), Rua Botucatu 740, 04023-900 São Paulo, Brazil
2
Division of Nephrology, University of Groningen, University Medical Centre Groningen (UMCG), P.O. Box 30.001, 9700 RB Groningen, The Netherlands
3
Tropical Medicine & Public Health, Federal University of Goiás (UFG), Rua 235 s/n-University Sector, 74605-050 Goiânia, Brazil
4
Department of Immunology, Institute of Biomedical Sciences, University of São Paulo (USP), Av. Prof. Lineu Prestes 1730, ICB IV, Sala 238, 05508-000 São Paulo, Brazil
*
Author to whom correspondence should be addressed.
Received: 15 August 2018 / Revised: 28 August 2018 / Accepted: 4 September 2018 / Published: 11 September 2018
Abstract
Background: Chronic kidney disease and inflammation promote loss of Klotho expression. Given the well-established anti-inflammatory effects of omega-3 fatty acids, we aimed to investigate the effect of fish oil supplementation in a model of CKD. Methods: Male C57BL/6 mice received supplementation with an adenine-enriched diet (AD,
n
= 5) or standard diet (CTL,
n
= 5) for 10 days. Two other experimental groups were kept under the adenine diet for 10 days. Following adenine withdrawal on the 11th day, the animals returned to a standard diet supplemented with fish oil (Post AD-Fish oil,
n
= 9) or not (Post AD-CTL,
n
= 9) for an additional period of 7 days. Results: Adenine mice exhibited significantly higher mean serum urea, creatinine, and renal expression of the pro-inflammatory markers Interleukin-6 (IL-6), C-X-C motif chemokine 10 (CXCL10), and Interleukin-1β (IL-1β), in addition to prominent renal fibrosis and reduced renal Klotho gene expression compared to the control. Post AD-Fish oil animals demonstrated a significant reduction of IL-6, C-X-C motif chemokine 9 (CXCL9), and IL-1β compared to Post AD-CTL animals. However, serum creatinine, renal fibrosis, and Klotho were not significantly different in the fish oil-treated group. Furthermore, renal histomorphological changes such as tubular dilatation and interstitial infiltration persisted despite treatment. Conclusions: Fish oil supplementation reduced renal pro-inflammatory markers but was not able to restore renal function nor Klotho expression in an adenine-induced CKD model.
View Full-Text
►

▼

Figures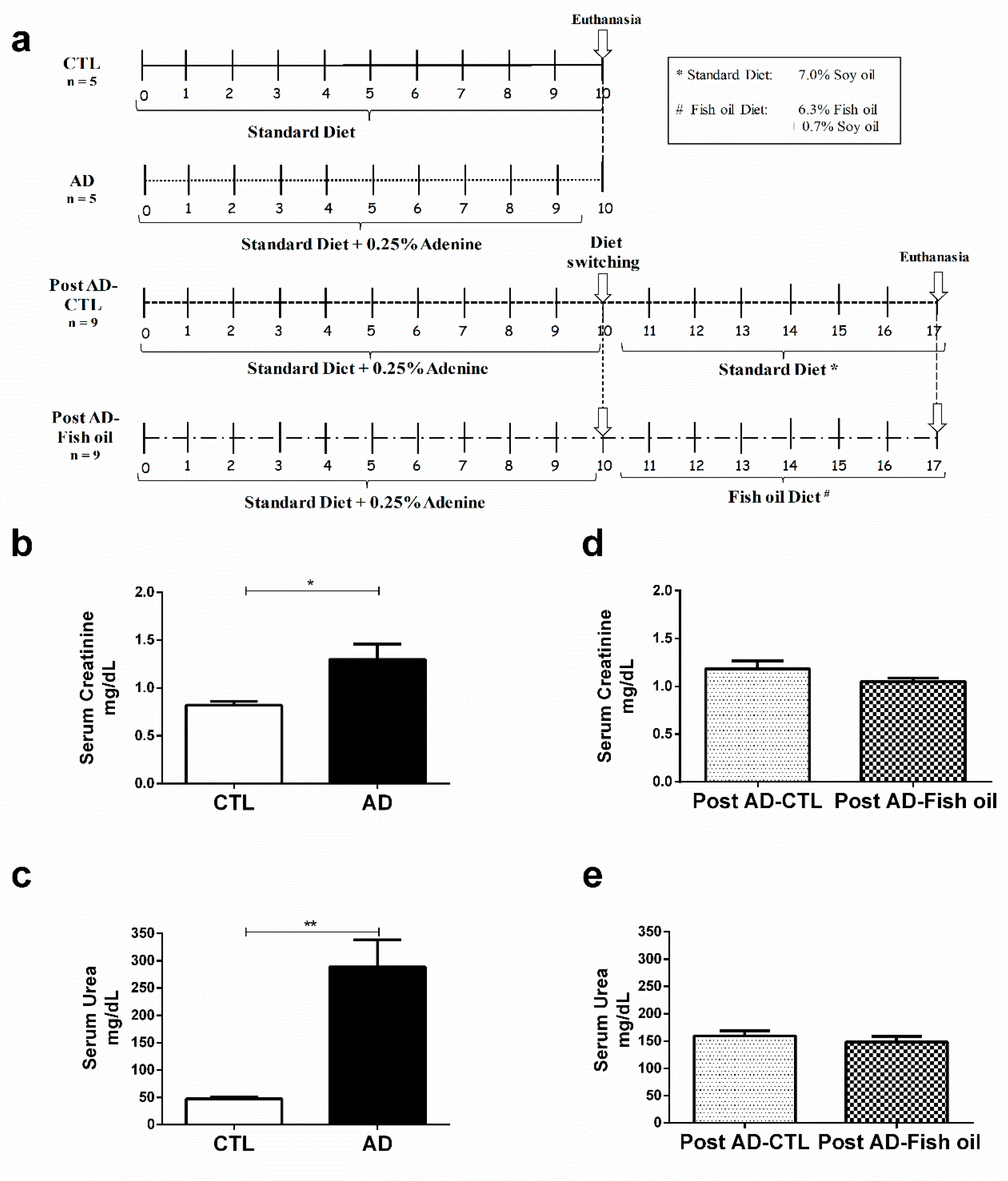 Figure 1
This is an open access article distributed under the
Creative Commons Attribution License
which permits unrestricted use, distribution, and reproduction in any medium, provided the original work is properly cited (CC BY 4.0).

Share & Cite This Article
MDPI and ACS Style
Henao Agudelo, J.S.; Baia, L.C.; Ormanji, M.S.; Santos, A.R.P.; Machado, J.R.; Saraiva Câmara, N.O.; Navis, G.J.; De Borst, M.H.; Heilberg, I.P. Fish Oil Supplementation Reduces Inflammation but Does Not Restore Renal Function and Klotho Expression in an Adenine-Induced CKD Model. Nutrients 2018, 10, 1283.
Note that from the first issue of 2016, MDPI journals use article numbers instead of page numbers. See further details here.
Related Articles
Comments
[Return to top]