Open Access This article is
freely available
re-usable
Review
Movement Disorders Related to Gluten Sensitivity: A Systematic Review
Academic Department of Neurosciences, Sheffield Teaching Hospitals NHS Foundation Trust, Sheffield S10 2JF, South Yorkshire, UK
*
Author to whom correspondence should be addressed.
Received: 24 July 2018 / Accepted: 6 August 2018 / Published: 8 August 2018
Abstract
:
Gluten related disorders (GRD) represent a wide spectrum of clinical manifestations that are triggered by the ingestion of gluten. Coeliac disease (CD) or gluten sensitive enteropathy is the most widely recognised, but extra-intestinal manifestations have also been increasingly identified and reported. Such manifestations may exist in the absence of enteropathy. Gluten sensitivity (GS) is another term that has been used to include all GRD, including those where there is serological positivity for GS related antibodies in the absence of an enteropathy. Gluten ataxia (GA) is the commonest extraintestinal neurological manifestation and it has been the subject of many publications. Other movement disorders (MDs) have also been reported in the context of GS. The aim of this review was to assess the current available medical literature concerning MDs and GS with and without enteropathy. A systematic search was performed while using PubMed database. A total of 48 articles met the inclusion criteria and were included in the present review. This review highlights that the phenomenology of gluten related MDs is broader than GA and demonstrates that gluten-free diet (GFD) is beneficial in a great percentage of such cases.
Keywords:
movement disorders; coeliac disease; gluten; gluten free diet
2. Materials and Methods
2.1. Literature and Search Strategy
A systematic computer-based literature search on the topic was conducted on February 12th, 2018 using the Pubmed database. For the search we used two Medical Subject Headings (MeSH) terms in all fields. Term A was "celiac" or "coeliac" or "gluten" and term B was "chorea" or "choreiform" or "choreic" or "choreoathetosis" or "athetosis" or "tremor" or "dystonia" or "hemidystonia" or "torticollis" or "antecollis" or "anterocollis" or "retrocollis" or "laterocollis" or "blepharospasm" or "ballism" or "hemiballism" or "ballismus" or "hemiballismus" or "stiff" or "Parkinson" or "Parkinson's" or "parkinsonism" or "myoclonus" or "myoclonic" or "tic" or "myokymia" or "myorhythmia" or "Huntington" or "Huntington's" or "dyskinesia", and "RLS". Limitations included English language, human species, and full text available. We also perused the reference lists of the papers since the drafting of this paper in order to identify papers not identified through the search strategy.
2.2. Inclusion and Exclusion Criteria
To be included in this review, the articles had to meet the following inclusion criteria:
To be original clinical papers.

To study human subjects.

To involve single cases, case series, or retrospective observational studies with the combination of CD or GS and MDs.
Exclusion criteria included:
Reviews, book chapters, letters to editors, and editorials that are not providing new data.

Papers referring only to GA.
4. Conclusions
This paper aimed to systematically review the current literature regarding MDs in CD and GS. To our knowledge, this is the first review on the topic highlighting that the phenomenology of the gluten related movement disorders is broad and that GFD is apparently beneficial in many cases. Our review also indicates the following key points:
GS and CD should be considered in the diagnostic workup of MDs of unknown etiology in patients of all ages and both genders, even in the absence of GI symptoms.

Neurologic manifestations, including MDs, may precede the diagnosis of GS and CD.

Some of the MDs may improve or resolve after dietary gluten removal, so early diagnosis should rapidly lead to the implementation of GFD.

Once GFD is implemented, it should generally continue lifelong like in CD. In fact, in some cases, sporadic accidental gluten ingestion continues to trigger the MD.

In contrast, other types of MDs, such as ataxia with myoclonus, appear to be linked to refractory CD and when observed, there is prompt need for repeat biopsy of the small intestine and often aggressive immunosuppression.

The fact that the majority of the included papers refer to CD rather than the broader spectrum of GS may mean that the relationship of MDs to GS without enteropathy is under-studied.
Author Contributions
This work was carried out in collaboration between the authors. A.V.A. and P.Z. conceived and designed the study; A.V.A. drafted the main part of the manuscript; and the manuscript was edited by P.Z., M.H. and R.A.G. All authors read and approved the final manuscript and take full responsibility for the final content.
Funding
This research received no external funding.
Conflicts of Interest
The authors declare no conflict of interest.
Figure 1. PRISMA chart. To be included in this review, the articles had to meet the following inclusion criteria: (1) To be original clinical papers, (2) to study human subjects, (3) to involve single cases, case series or retrospective observational studies with the combination of Coeliac disease (CD) or gluten sensitivity (GS) and movement disorders (MDs).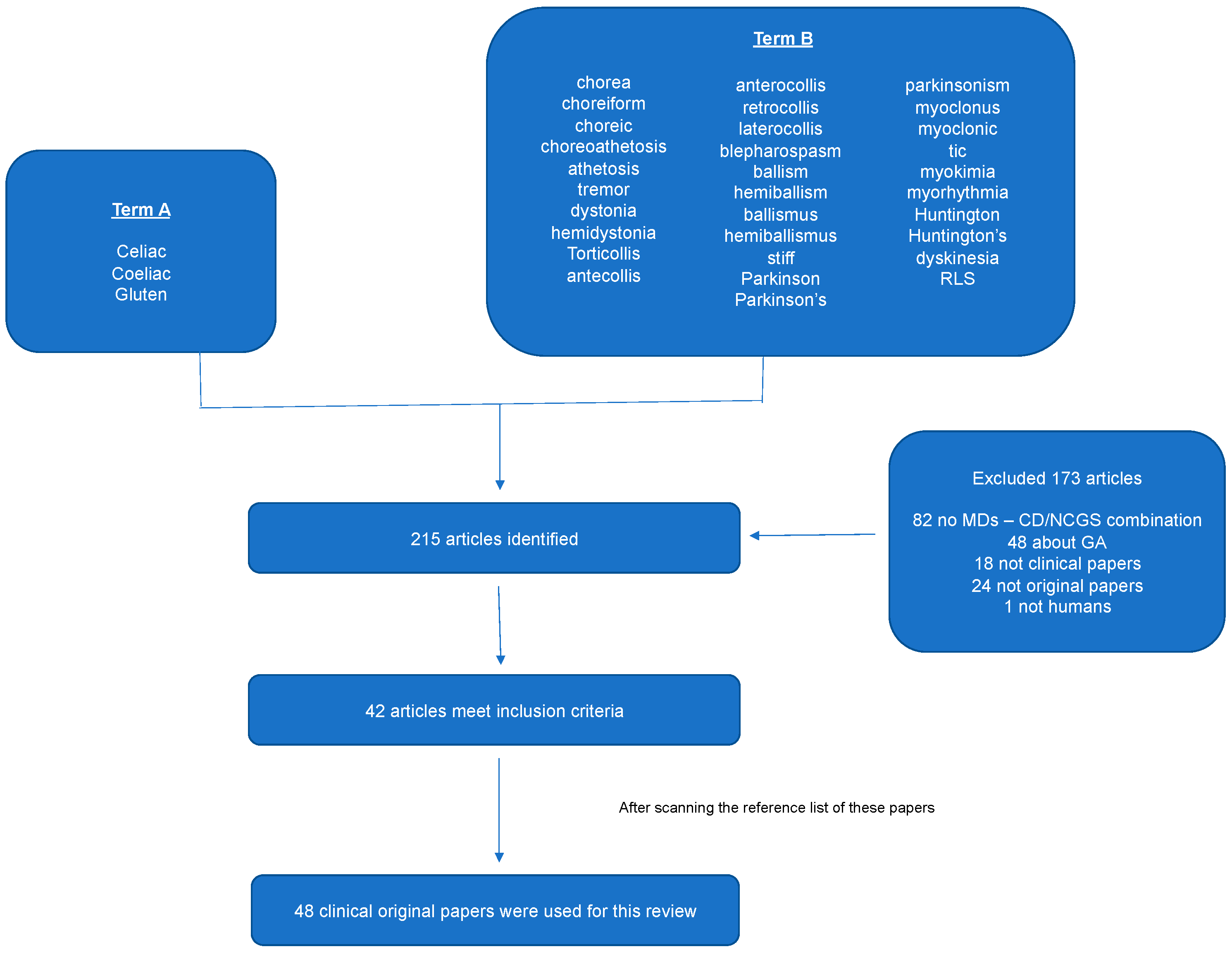 Number of Papers Related to Each Movement Disorder (%)
  Chorea
5 (11%)
  Restless leg syndrome
4 (8%)
  Myoclonus
15 (31%)
  Palatal tremor
3 (6%)
  Dystonia
3 (6%)
  Tremor
5 (11%)
  Stiff Person Syndrome
2 (5%)
  Parkinsonism
3 (6%)
  Tics
3 (6%)
  Other less commonly reported movement disorders
    Opsoclonus-myoclonus
1 (2%)
    Propiospinal myoclonus
1 (2%)
    Paroxysmal dyskinesia
1 (2%)
    Myorhythmia
1 (2%)
    Myokymia
1(2%)
Demographics
  Female to male ratio
7:2
  Mean age (SD), in years
44.6 (22.7)
Types of Publications
  Case reports
30
  Case series
8
  Retrospective observational studies
9
  Prospective pilot study
1
Year of Publication
  Range
1966–2018
Number of Publications per Decade
  Until 1990
5
  1991–2000
9
  2001–2010
20
  2011–2018
14
Movement Disorder
Number of Cases of Patients Published until the Date
Male:Female
Mean Age of Onset (SD)/Age of Onset
Response to GFD
E, S, N, L
HLA DQ2/DQ8
CD:GS
Chorea
8
1:7
57.4 (12.9)
E 5 (62.5%)
S 2 (25%)
L 1 (12.5%)
DQ2(+) 2 (25%)
DQ2(-) 2 (25%)
NA (50%)
5:3
RLS
65
6:59
NA
E 18 (28%)
N 16 (25%)
L 31 (47%)
NA
65:0
Myoclonus
28
15:13
47.7 (17.3)
S 1 (3%)
N 28 (97%)
NA
28:0
Palatal tremor
3
1:2
51.3 (8.1)
E 1 (33%)
N 2 (67%)
DQ2(+) 1 (33%)
NA: 2 (67%)
1:2
Dystonia
2
1:1
49.50 (2.1)
N 2 (100%)
NA
2:0
Tremor
9
3:6
54.6 (14.9)
E 6 (67%)
N 3 (33%)
DQ2(+) 6 (67%)
NA: 3 (33%)
9:0
Parkinsonism
3
0:3
54.0 (18.7)
E 1 (33%)
N 2 (67%)
NA
3:0
Tics
1
0:1
13
E (100%)
DQ8(+) 1 (100%)
0:1
OM
1
1:0
2
E (100%)
NA
1:0
PSM
1
0:1
23
E (100%)
NA
1:0
Paroxysmal dyskinesia
1
0:1
0.5
E (100%)
NA
1:0
Myorhythmia
1
0:1
68
N (100%)
DQ2 (+) 1 (100%)
1:0
Myokymia
1
0:1
72
N (100%)
NA
1:0
RLS, restless legs syndrome; OM, opsoclonus-myoclonus; PSM, propiospinal myoclonus; NA, not available; GFD, gluten-free diet; E, evident; S, slight; N, none; L, lack of data; CD, coeliac disease; GS, gluten sensitivity.

© 2018 by the authors. Licensee MDPI, Basel, Switzerland. This article is an open access article distributed under the terms and conditions of the Creative Commons Attribution (CC BY) license (http://creativecommons.org/licenses/by/4.0/).