Open Access This article is
freely available
re-usable
Article
Right Sizing: Sensory-Based Product Design Is a Promising Strategy to Nudge Consumers toward Healthier Portions
Nestlé Institute of Material Sciences, Nestlé Research, Vers-chez-les-Blanc, 1000 Lausanne 26, Switzerland
*
Author to whom correspondence should be addressed.
Received: 21 August 2018 / Accepted: 17 October 2018 / Published: 19 October 2018
Abstract
:
Research has shown that people consume more food when offered larger portions, and that reducing exposure to large food portions and packages could decrease the average daily energy consumed. In this context, our aim is to develop strategies to promote healthier eating behaviors by reducing portion selection and intake. The present research investigates the impact of different visual attributes of foods on quantity perception and portion selection. In the first study, we tested whether modifying the shape of a familiar food influenced the ideal portion size in adults. In the second study, we assessed the impact of shape, number of units, size, and color variety on a perceived quantity for a familiar multiunit product in children. Participants (N1 = 70 adults, N2 = 62 children) completed different picture-based computer tasks. As hypothesized: (1) adults selected a smaller ideal portion size for an elongated product than for wider and thicker shapes, and (2) children's perception of food quantity was primarily driven by number of pieces, with smaller effects of size and elongation. Perceived quantity was not influenced by color variety. These findings suggest that it may be possible to reduce the size of food portions without negatively impacting perceived quantity, and to provide opportunities to nudge consumers towards smaller portions while maintaining satisfaction.
Keywords:
sensory; food design; portion size; nudging; behavior; food choice
1. Introduction
Overweight and obesity are caused by many factors, including an increase in portion sizes. These larger portions, combined with an increase of the number of eating occasions, have been identified as key modifiable drivers of intake [
1
,
2
]. As explained in a recent Cochrane review by Hollands et al. [
3
], people select and consume more food when offered larger portions or packages, as well as when using larger tableware items (e.g., plate size). The authors suggest that reducing exposure to large food portions and packages could decrease the average daily energy consumed.
Different factors have been suggested to influence portion size selection and intake [
4
]. Among sensory factors that are key drivers of the eating experience, visual cues seem to play a significant role in the amount of food selected and eaten [
5
]. Visual cues that can influence perception of quantities, portion selection, and intake include the shape, number, and size of food units, as well as the color variety. These factors and their associations with perception of quantity and portion size for foods and beverages are described in greater detail in the sections that follow.
2. Study 1
2.1. Methods
2.1.1. Participants
Seventy American women in the range of 35–55 years old who were consumers of ice cream and declared having consumed chocolate-coated vanilla ice cream sticks at least 6 times in the past 6 months were recruited in San Diego (United States) for a central location test. Participants did not have any known food allergy, intolerance, or any food restrictions due to personal beliefs.
The study protocol complied with the criteria of the Market Research Society (MRS) code of conduct. The MRS code of conduct ensures that the privacy rights of human subjects are always observed, and that participants are provided with sufficient information to allow informed consent to be signed before participating in the study. Participants were compensated for their time.
2.1.2. Ice Cream Pictures and Method of Adjustment Task
Six ice cream sticks were designed using CAD software (Solidworks Pro 2014, Dassault Systemes, SolidWorks Corporation, Waltham, MA, USA): a reference shape (REFERENCE), TALLER, WIDER, THICKER shapes varied in length, width, and thickness to modify the shape, while a volume of 90 mL was kept constant across shapes (
Table 1
). Two additional shapes were replications of the reference shape, with the addition of vertical (REFERENCE V) or horizontal (REFERENCE H) lines on the coating to enhance the salience of the vertical/horizontal dimension and hence potentially modulate the size impression.
For each design, 41 picture variants were created, ranging in size from 50 to 130 mL, with a 2 mL incremental step between each image, while maintaining the same relative proportions. The ice cream stick was presented at an angle so that participants could see the product's thickness (
Table 1
).
The "method of adjustment" (Brunstrom and Rogers, 2009) was used to identify self-selected ice cream stick size for each shape. A computer task using E-Prime 2.0 software (Psychology Software Tools, Pittsburgh, PA, USA) was developed to display the ice cream held by the wooden stick in the center of the screen (
Figure 1
). The hand in the picture provided a frame of reference for the participants' perception of the product size. The first picture shown on a computer screen was a random image between 70 and 120 mL, and participants were asked to "Imagine it is snack time, choose the bar size that would satisfy you the most" by increasing or decreasing the size of the bar using the up and down keyboard arrows. Participants were instructed that "By satisfying, we mean how well you expect this product to fulfil your needs at snack time". The six ice cream stick variants were presented to all participants in a randomized order. The task lasted approximately 10 min.
2.1.3. Statistical Analysis
The outcome measure of the task was the volume (mL) of the ideal self-selected portion size for each ice cream shape. The impact of shape on portion size was measured by one-way within-participant analysis of variance (ANOVA) with the "shape" factor set as fixed. Posthoc paired comparisons were assessed by Fisher's Least Significant Difference (LSD) Test. The confidence level was set to 5% for all statistical analyses, and analyses were conducted using IBM® SPSS® software version 21 (IBM Corporation, Armonk, NY, USA).
2.2. Results
Ideal self-selected portion size for ice cream was significantly impacted by shape (F(5,345) = 11.8,
p
< 0.001) (
Figure 2
). The smallest selected portion size was observed with the elongated shape, TALLER (mean = 94.8 mL,
SD
= 21.8), which was significantly smaller than the portion size obtained with the WIDER (mean = 100.1 mL,
SD
= 20.4) and THICKER variants (mean = 105.6 mL,
SD
= 21.4). There was a trend for TALLER to be selected in a smaller portion than the REFERENCE shape, although the difference did not reach significance. There was no significant difference between the REFERENCE shape and the shapes with vertical or horizontal lines added on the coating.
3. Study 2
3.2. Results
3.2.1. Impact of Size, Shape, and Number
Overall, the number of units showed the strongest effect on perceived quantity, followed by the shape, and then by the size, with partial Eta squared values of 0.72, 0.07, and 0.01, respectively.
3.2.2. Impact of Color Variety
There was no significant effect of the color variety on the number of selected gummy candies (F(2,549) = 1.18,
p
= 0.31, ). Regardless of the color variety, the number of selected gummy candies was the same as the presented number. In this ANOVA, the number of presented gummy candies was the key driver of the number of gummy candies selected (F(2,549) = 3066.5,
p
< 0.01, ), as previously observed.
4. Discussion
Finally, this was the first time, to our knowledge, that a fairness-based computer matching task has been used to assess children's perception of quantity. As the findings are in line with our hypotheses based on previous work using real foods and containers, this suggests that this method may be a promising alternative way of testing new food concepts with children before producing prototypes.
5. Limitations and Future Directions
We demonstrated, using computer tasks, that elongation and unit downsizing make it possible to reduce the size of a portion without negatively impacting perceived quantity for two product categories. Such findings need to be replicated on different types of products to be able to conclude that the effect is generalizable.
Although we hypothesized that the elongation effect was due to an increased size impression of the elongated shape, we did not explicitly test this through a mediation analysis. This could be considered in future studies by asking the participants to report on their perceived amount of food in the different experimental conditions.
Further, future studies need to explore whether responses on these computer tasks reflect actual portion selection and intake. Indeed, very few studies have, to our knowledge, validated that portion selection resulting from such a computer task matches actual portion selection, and results in the literature have been mixed. For example, one study found that computer-based assessments of ideal portion size and expected satiety were good predictors of self-selected portion and food intake [
35
], whereas another showed that expected satiation measurements based on picture assessment did not correspond to actual consumption [
36
]. Even if there seems to be a strong relationship between portion selection and intake [
37
], it is important to measure not only how much people select but also how much they eat to ensure that the solutions developed actually impact intake. It is also possible that the way the computer experiments were designed may have enhanced some of the observed effects. For example, presenting the gummy candies vertically on the computer screen might have enhanced the salience of the elongation effect. In a real consumption context, where the candies are manipulated and can fall in other orientations, the elongation effect may be attenuated.
Finally, the sustainability of the impact of right sizing solutions leveraging different perceptual and cognitive biases (number, unit size, elongation effects) also needs to be carefully assessed because disconfirmation of expectations, habituation, and compensation can occur over the long term. Indeed, some studies have reported short-term discrepancies between expectations made during the portioning stage, consumption, and postconsumption perceptions. For example, one study reported that participants who served themselves smaller volumes in taller, elongated glasses could drink larger volumes from these glasses because their higher expectations about perceived volume in elongated glasses were disconfirmed after drinking. Experiencing less beverage than expected led to dissatisfaction and higher postconsumption [
8
]. More generally, it is also important to validate the sustainable impact of such nudging strategies in the long term and their potential role in calorie reduction over time because compensation can offset short-term effects. A few studies have investigated the impact of reducing portion size of meals or snacks over a few days [
38
,
39
] or months [
40
], and showed that people do not seem to fully compensate when offered smaller portions, resulting in a reduced overall caloric intake. However, potential compensation mechanisms resulting from offering products modified in their shape, unit number, and size need to be evaluated.
6. Conclusions
To conclude, our study shows that it seems to be possible to reduce the size of food portions without negatively impacting perceived quantity through optimization of the food's visual properties and especially the elongation and the number and size of the elements in multiunit servings. Our findings provide opportunities to direct food design that can nudge consumers towards healthier diets while maintaining satisfaction. These types of changes to the food environment to implicitly guide people to make better choices complement more traditional approaches relying on education (e.g., nutrition knowledge), cognitive control, and willpower (dieting strategies) that may not be sufficient to change behaviors.
Author Contributions
N.M. and N.G. initiated the project. A.F., L.R.F., N.G. and F.L. conceived and designed the experiments. A.F. and F.L. conducted the experiments. A.F., L.R.F., D.L. and N.M. analyzed the data. D.L. and N.M. drafted the paper and contributed to the manuscript preparation. All authors approved the final manuscript.
Funding
This research received no external funding.
Acknowledgments
The authors thank Nathalie Haedrich for the development of the computer tasks, and Andreas Rytz for the statistical advice on the study design.
Conflicts of Interest
At the time of the study, all authors were employees at the Nestlé Research Center.
Figure 1. Example of picture used in the adjustment task with ice cream stick displayed on a computer screen in ¾ frontal view.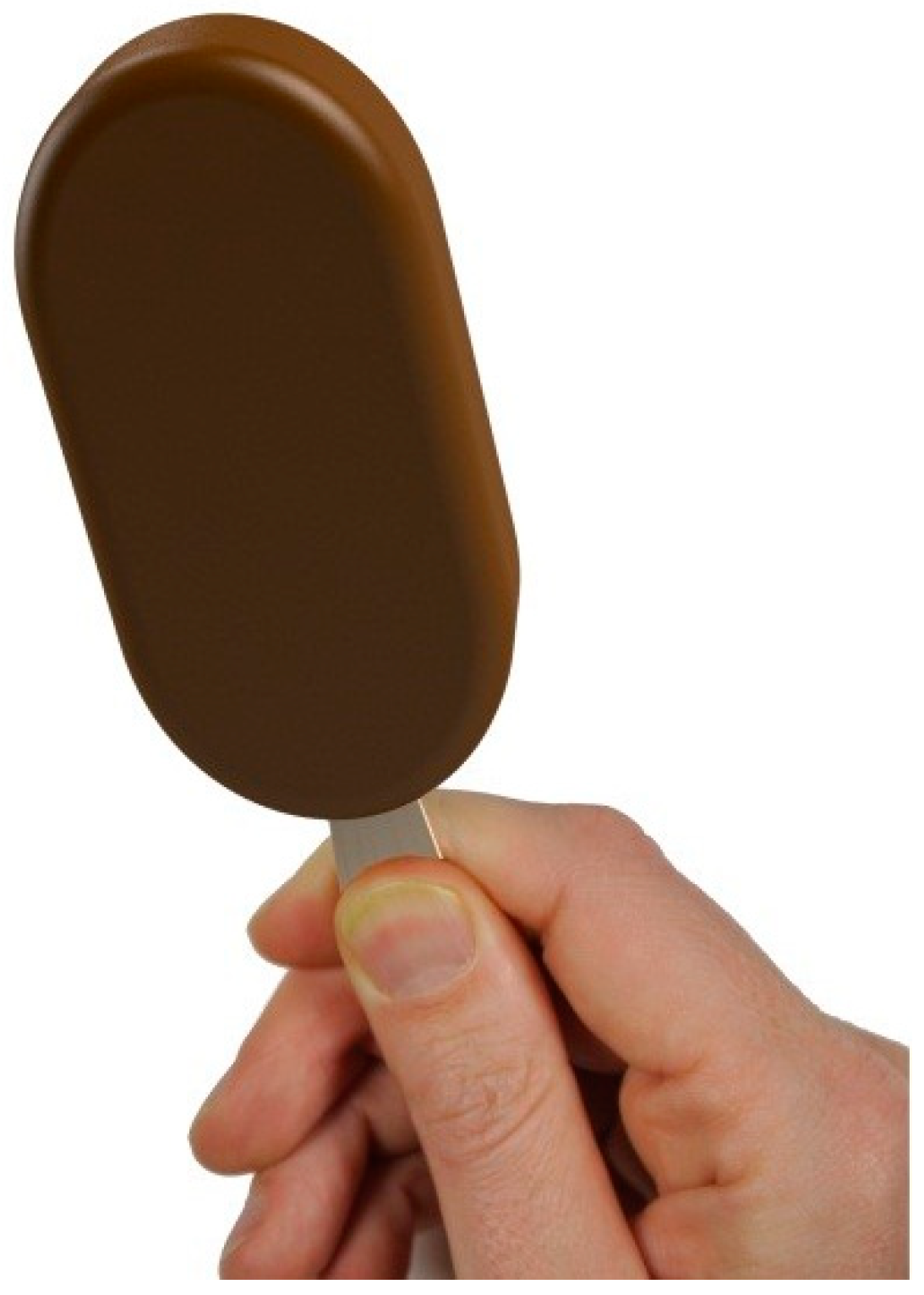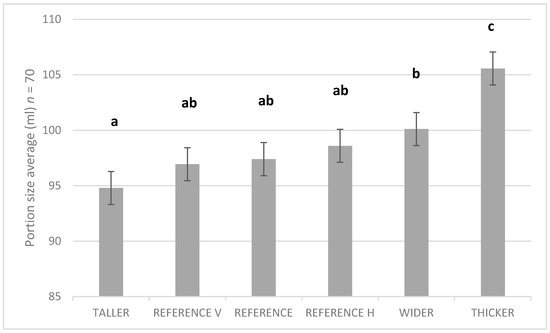 Figure 2. Mean (± SEM) ideal self-selected portion size for the six ice cream shapes. Different letters (a, b, c) account for significant difference between ice cream shapes.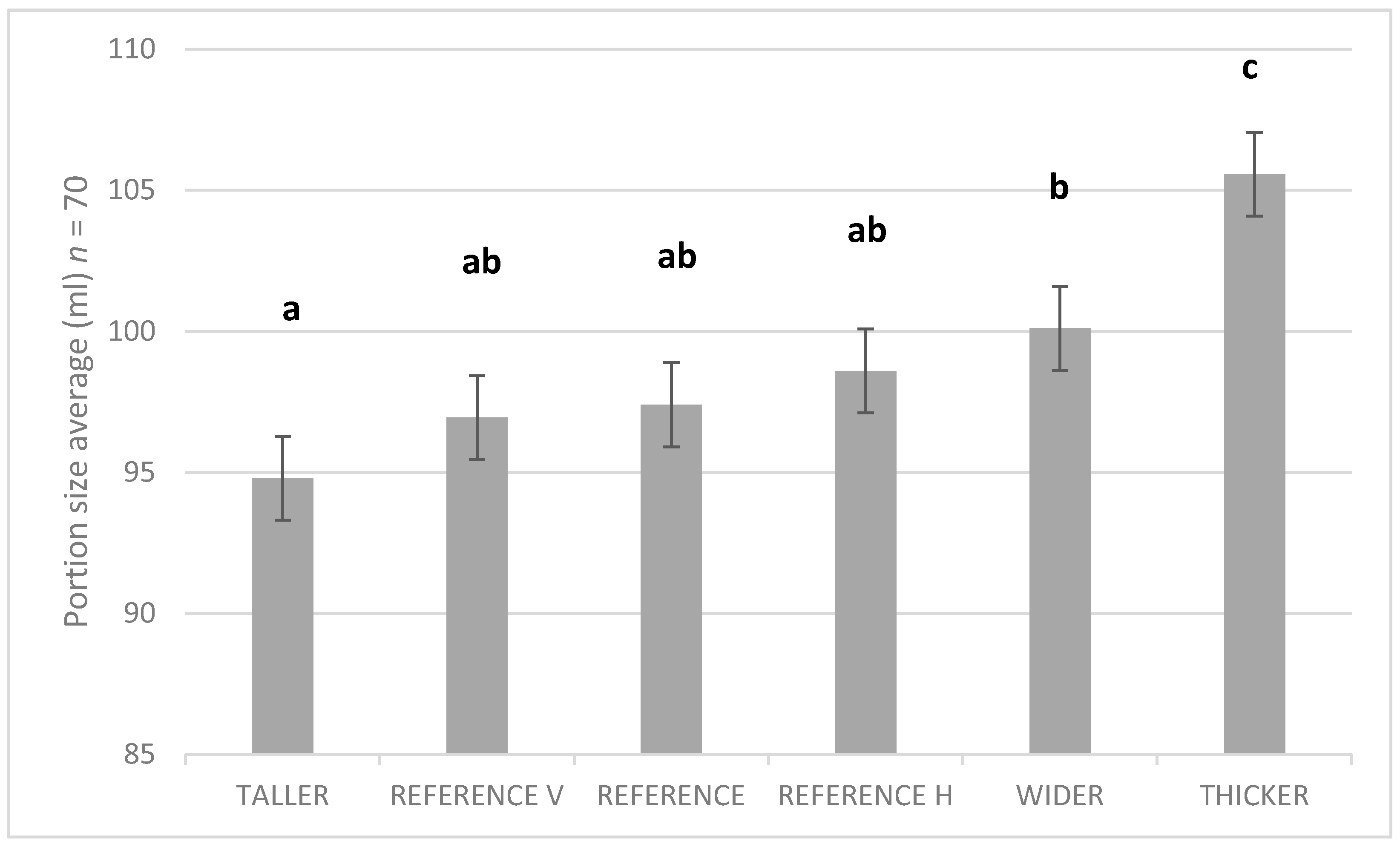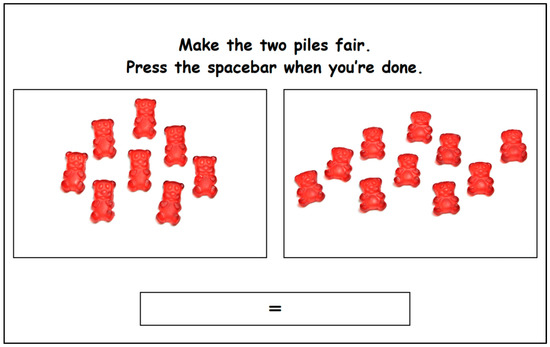 Figure 3. Screen capture of the matching task in which eight TALLER gummy candies are presented on the left ("test") pile, and 10 REFERENCE gummy candies were selected by the child on the right pile. The sign '=' was used to remind the children to make two fair piles of candies.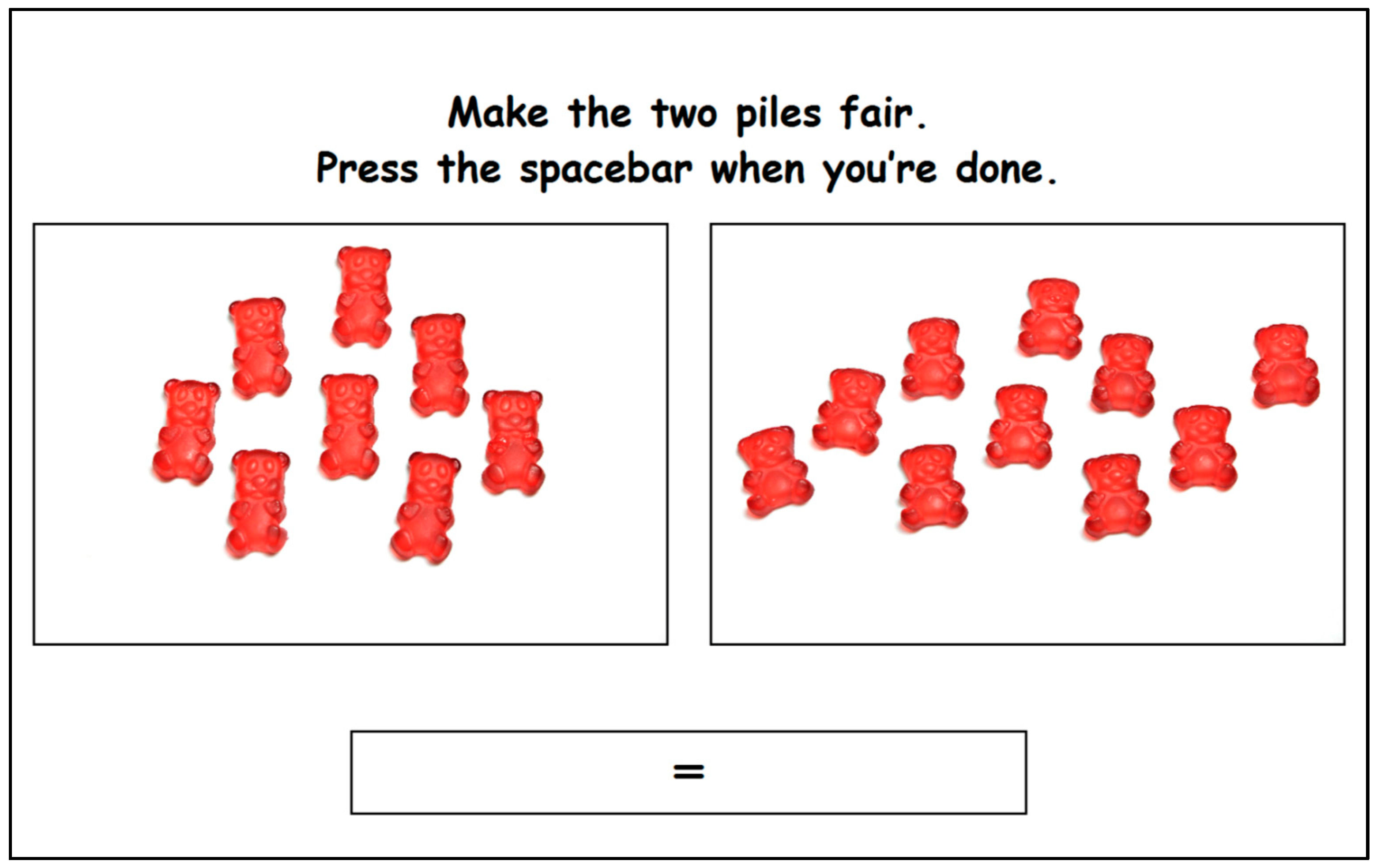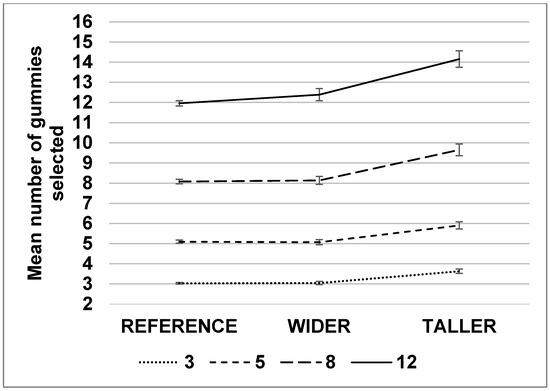 Figure 4. Mean number of gummy candies selected ± SEM for each number of gummy candies presented (3, 5, 8, 12) and shape of candy (REFERENCE, WIDER, TALLER).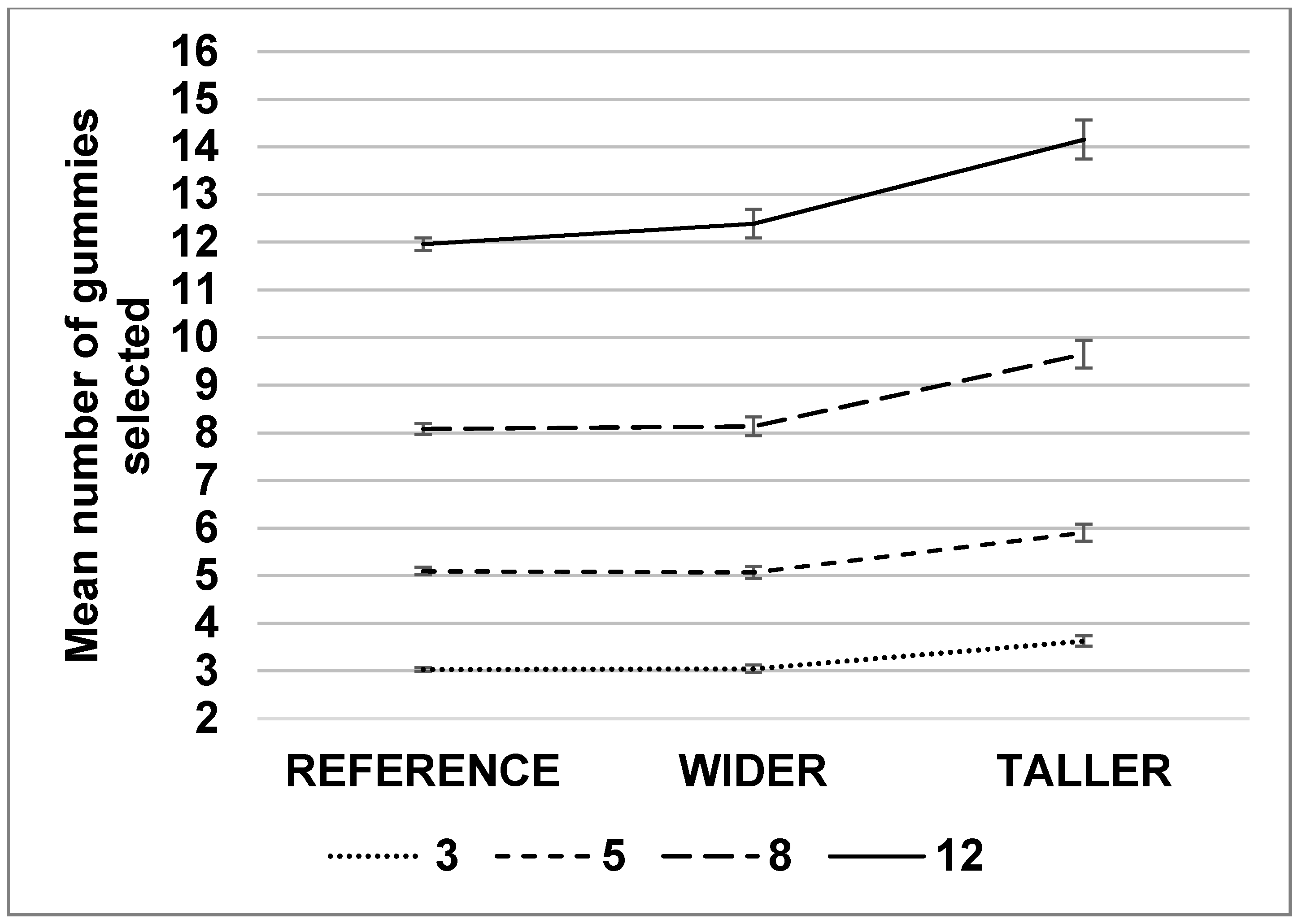 Figure 5. Mean number of gummy candies selected ± SEM for the reference, WIDER and TALLER shape and the two sizes: 100%, 70% (reduced size).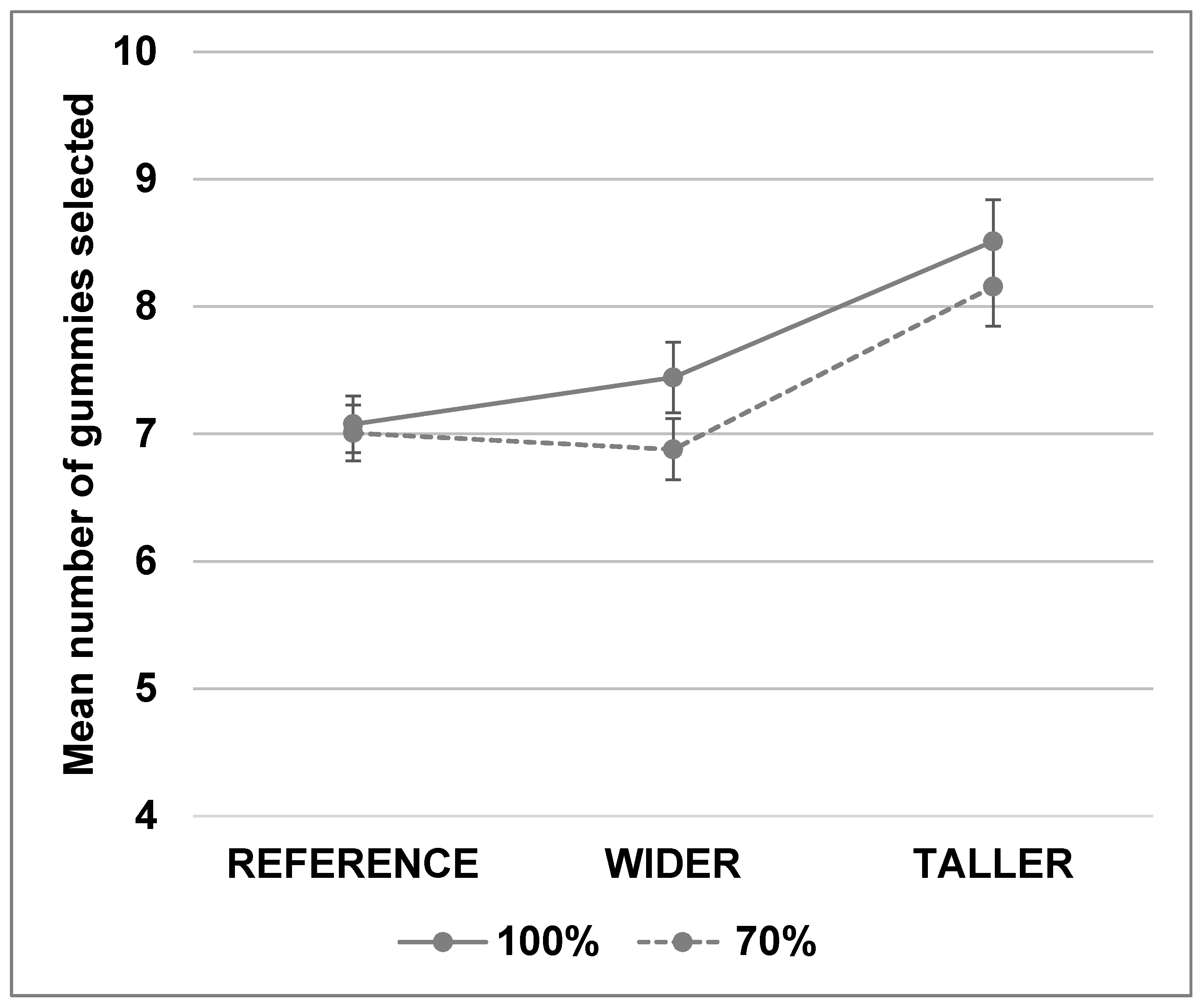 | Shape | Height; Width; Thickness (mm) | Picture |
| --- | --- | --- |
| REFERENCE | 94.0; 46.5; 24.5 | |
| TALLER | 105.3; 41.0; 24.5 | |
| THICKER | 89.0; 41.0; 29.5 | |
| WIDER | 89.0; 55.0; 22.0 | |
| REFERENCE V | 94; 46.5; 24.5 with vertical lines | |
| REFERENCE H | 94; 46.5; 24.5 with horizontal lines | |
| Shape | Size | Height; Width (mm) | Weight (g) | Picture |
| --- | --- | --- | --- | --- |
| REFERENCE | Reference (100%) | 25; 19 | 3.5 | |
| TALLER | Reference (100%) | 30; 16 | 3.5 | |
| WIDER | Reference (100%) | 21; 23 | 3.5 | |
| REFERENCE- | Reduced (70%) | 21; 16 | 2.5 | |
| TALLER | Reduced (70%) | 25; 13 | 2.5 | |
| WIDER | Reduced (70%) | 17; 19 | 2.5 | |

© 2018 by the authors. Licensee MDPI, Basel, Switzerland. This article is an open access article distributed under the terms and conditions of the Creative Commons Attribution (CC BY) license (http://creativecommons.org/licenses/by/4.0/).