Fish Intake in Pregnancy and Offspring Metabolic Parameters at Age 9–16—Does Gestational Diabetes Modify the Risk?
1
Centre for Fetal Programming, Department of Epidemiology Research, Statens Serum Institut, DK-2300 Copenhagen, Denmark
2
Department of Primary Care and Public Health, Imperial College, London W6 6RP, UK
3
Danish Diabetes Academy, DK-5000 Odense, Denmark
4
Research Centre for Prevention and Health, Rigshospitalet-Glostrup, DK-2600 Copenhagen, Denmark
5
Faculty of Natural and Health Sciences, University of Faroe Islands, 100 Torshavn, Faroe Islands
6
Faculty of Food Science and Nutrition, School of Health Sciences, University of Iceland, 101 Reykjavik, Iceland
7
Unit for Nutrition Research, Landspitali University Hospital, IS-101 Reykjavik, Iceland
8
Department of Endocrinology-Diabetes and Metabolism, Rigshospitalet, DK-2100 Copenhagen, Denmark
9
Cardiovascular and Metabolic Disease (CVMD) Translational Medicine Unit, Early Clinical Development, IMED Biotech Unit, AstraZeneca, 431 50 Gothenburg, Sweden
10
Department of Nutrition, Harvard T.H. Chan School of Public Health, Boston, MA 02115, USA
*
Author to whom correspondence should be addressed.
Received: 14 September 2018 / Revised: 9 October 2018 / Accepted: 15 October 2018 / Published: 17 October 2018
Abstract
Oily fish, an important source of marine n-3 long-chain polyunsaturated fatty acids (LCPUFA), has shown to reduce cardiometabolic risk in adults. Whether maternal fish intake affects offspring metabolic health is less established, especially among high-risk pregnancies. We aimed to examine the association of fish intake in pregnancy with offspring metabolic health who were either exposed or unexposed to gestational diabetes mellitus (GDM). Our study included 1234 mother-offspring dyads (608 with a GDM index pregnancy and 626 control dyads) nested within the Danish National Birth Cohort, which is a prebirth cohort. Maternal seafood and marine n-3 LCPUFA consumption was quantified by a food frequency questionnaire (gestational week 25) and a sub-sample with interview data (weeks 12 and 30). The offspring were clinically examined at 9–16 years, including a Dual energy X-ray Absorptiometry (DXA) scan and a fasting blood sample. We calculated multivariable effect estimates and 95% confidence intervals (CI) for anthropometric, adiposity, and metabolic parameters. The median (IQR) intake of total seafood was 23(24) g/day. We found largely no association for total seafood and marine n-3 LCPUFA with offspring metabolic parameters in either group. Using interview data, GDM-exposed women reporting no fish in week 12 and 30 (versus intake >2 times/week) had offspring with a higher Body Mass Index (BMI) (ratio of geometric means (RGM): 1.28, 95% CI: 1.06, 1.55), waist circumference (RGM: 1.22, 95% CI: 1.05, 1.40), triglycerides (RGM: 1.77, 95% CI: 1.03, 3.03), and homeostatic model assessment of insulin resistance HOMA-IR (RGM: 2.16, 95% CI: 1.17, 3.97). We found no associations of n-3 LCPUFA and seafood intake with offspring metabolic outcomes. However, GDM-exposed women who consistently reported eating no fish had offspring with a poorer metabolic profile. Fish intake in pregnancy may mitigate some adverse effects of intrauterine hyperglycemia, however, these findings need replication in better powered studies.
View Full-Text
►

▼

Figures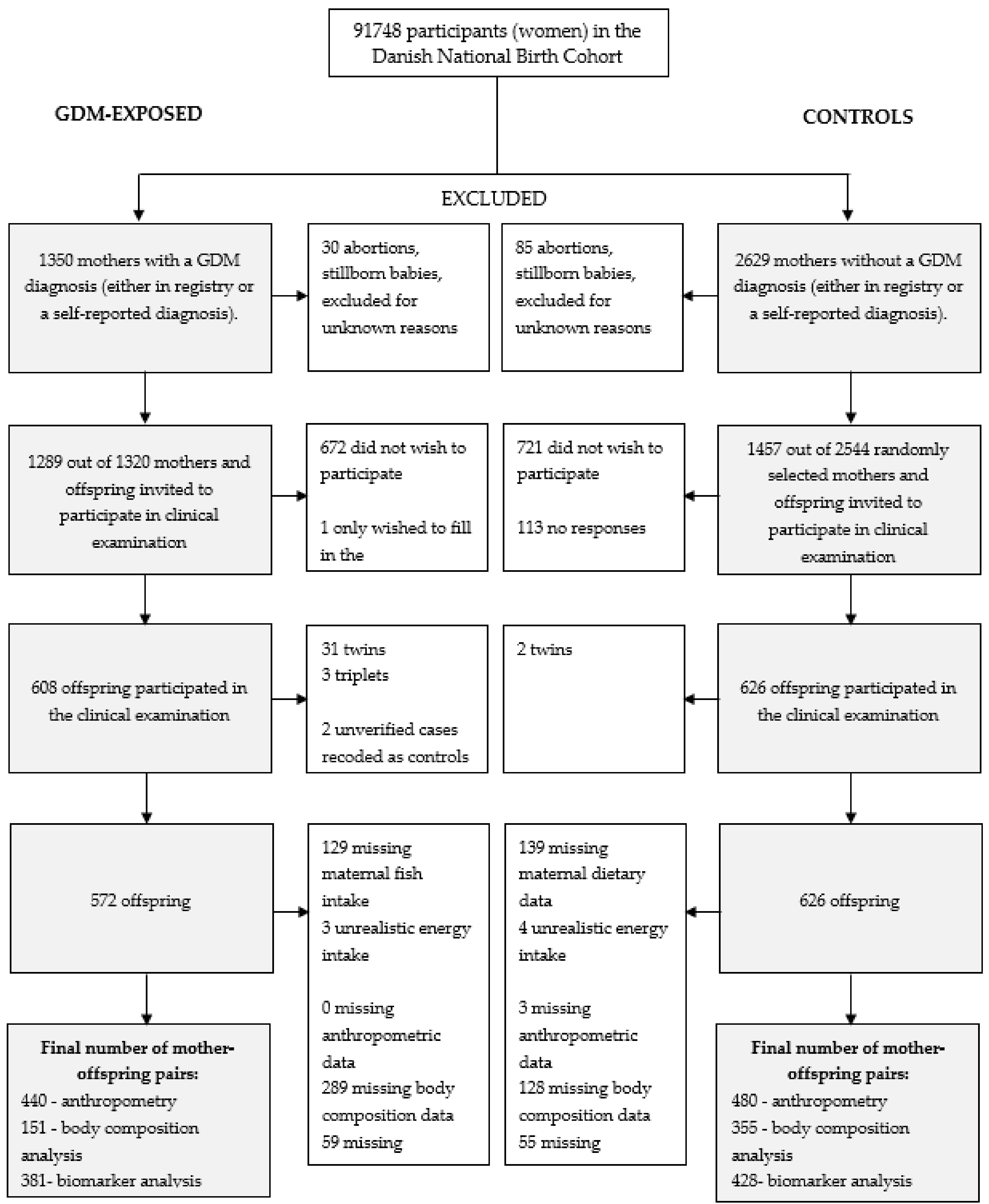 Figure 1
This is an open access article distributed under the
Creative Commons Attribution License
which permits unrestricted use, distribution, and reproduction in any medium, provided the original work is properly cited (CC BY 4.0).

Share & Cite This Article
MDPI and ACS Style
Maslova, E.; Hansen, S.; Strøm, M.; Halldorsson, T.I.; Grunnet, L.G.; Vaag, A.A.; Olsen, S.F. Fish Intake in Pregnancy and Offspring Metabolic Parameters at Age 9–16—Does Gestational Diabetes Modify the Risk? Nutrients 2018, 10, 1534.
Note that from the first issue of 2016, MDPI journals use article numbers instead of page numbers. See further details here.
Related Articles
Comments
[Return to top]