Sun-Induced Chlorophyll Fluorescence I: Instrumental Considerations for Proximal Spectroradiometers
1
Max Planck Institute for Biogeochemistry, Hanks Knöll Straße 10, D-07745 Jena, Germany
2
Remote Sensing Laboratories, University of Zurich, 8057 Zurich, Switzerland
3
CETAL, Photonic Investigations Laboratory, National Institute for Laser, Plasma and Radiation Physics, Măgurele 77125, Romania
4
Institute of Ecology, University of Innsbruck, 6020 Innsbruck, Austria
5
JB Hyperspectral Devices, 40225 Düsseldorf, Germany
6
Tartu Observatory, University of Tartu, 61602 Tõravere, Estonia
7
Image Processing Laboratory (IPL), Parc Científic, Universitat de València, 46980 Paterna, València, Spain
8
Crop Science Group, Institute of Agricultural Sciences, ETH Zurich, 8092 Zurich, Switzerland
9
LMD/IPSL, CNRS, ENS, PSL Research University, Ecole polytechnique, Université Paris-Saclay, UPMC Univ Paris 06, Sorbonne Universités, 91128 Palaiseau, France
10
School of Geosciences, University of Edinburgh, Edinburgh EH9 3FF, UK
*
Author to whom correspondence should be addressed.
Received: 28 February 2019 / Revised: 11 April 2019 / Accepted: 18 April 2019 / Published: 22 April 2019
Abstract
Growing interest in the proximal sensing of sun-induced chlorophyll fluorescence (SIF) has been boosted by space-based retrievals and up-coming missions such as the FLuorescence EXplorer (FLEX). The European COST Action ES1309 "Innovative optical tools for proximal sensing of ecophysiological processes" (OPTIMISE, ES1309; https://optimise.dcs.aber.ac.uk/) has produced three manuscripts addressing the main current challenges in this field. This article provides a framework to model the impact of different instrument noise and bias on the retrieval of SIF; and to assess uncertainty requirements for the calibration and characterization of state-of-the-art SIF-oriented spectroradiometers. We developed a sensor simulator capable of reproducing biases and noises usually found in field spectroradiometers. First the sensor simulator was calibrated and characterized using synthetic datasets of known uncertainties defined from laboratory measurements and literature. Secondly, we used the sensor simulator and the characterized sensor models to simulate the acquisition of atmospheric and vegetation radiances from a synthetic dataset. Each of the sensor models predicted biases with propagated uncertainties that modified the simulated measurements as a function of different factors. Finally, the impact of each sensor model on SIF retrieval was analyzed. Results show that SIF retrieval can be significantly affected in situations where reflectance factors are barely modified. SIF errors were found to correlate with drivers of instrumental-induced biases which are as also drivers of plant physiology. This jeopardizes not only the retrieval of SIF, but also the understanding of its relationship with vegetation function, the study of diel and seasonal cycles and the validation of remote sensing SIF products. Further work is needed to determine the optimal requirements in terms of sensor design, characterization and signal correction for SIF retrieval by proximal sensing. In addition, evaluation/validation methods to characterize and correct instrumental responses should be developed and used to test sensors performance in operational conditions.
View Full-Text
►

▼

Figures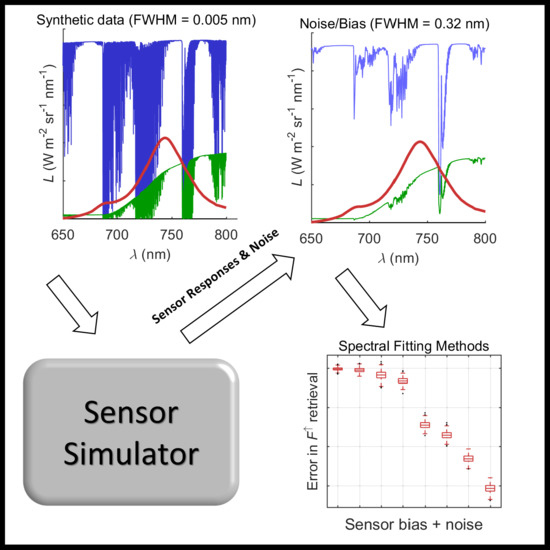 Graphical abstract
This is an open access article distributed under the
Creative Commons Attribution License
which permits unrestricted use, distribution, and reproduction in any medium, provided the original work is properly cited (CC BY 4.0).

Share & Cite This Article
MDPI and ACS Style
Pacheco-Labrador, J.; Hueni, A.; Mihai, L.; Sakowska, K.; Julitta, T.; Kuusk, J.; Sporea, D.; Alonso, L.; Burkart, A.; Cendrero-Mateo, M.P.; Aasen, H.; Goulas, Y.; Mac Arthur, A. Sun-Induced Chlorophyll Fluorescence I: Instrumental Considerations for Proximal Spectroradiometers. Remote Sens. 2019, 11, 960.
Note that from the first issue of 2016, MDPI journals use article numbers instead of page numbers. See further details here.
Related Articles
Comments
[Return to top]