Sun-Induced Chlorophyll Fluorescence III: Benchmarking Retrieval Methods and Sensor Characteristics for Proximal Sensing
1
Laboratory for Earth Observation, Image Processing Laboratory, University of Valencia, C/Catedrático José Beltrán, 2, 46980 Paterna, Spain
2
Institute of Bio- and Geosciences, IBG-2: Plant Sciences, Forschungszentrum Jülich GmbH, Leo-Brandt-Str., 52425 Jülich, Germany
3
Centre of Excellence PLECO (Plants and Ecosystems), Department of Biology, University of Antwerp, 2610 Wilrijk, Belgium
4
Remote Sensing Laboratories, Department of Geography, University of Zurich, Winterthurerstrasse 190, CH-8057 Zurich, Switzerland
5
Department of Surface Waters—Research and Management, Eawag, Swiss Federal Institute of Aquatic Science and Technology, 8600 Dübendorf, Switzerland
6
Global Wheat Program, International Maize and Wheat Improvement Center (CIMMYT), Texcoco 56237, Mexico
7
Centro de Tecnologías Físicas, Universitat Politècnica de València, Camí de Vera s/n, 46022 València, Spain
8
Remote Sensing of Environmental Dynamics Lab., DISAT, University of Milano-Bicocca, 48 P.zza della Scienza 1, 20126 Milano, Italy
9
Finnish Meteorological Institute, Erik Palmenin Aukio 1, P.O. Box 501, FI-00101 Helsinki, Finland
10
JB Hyperspectral Devices, Am Botanischen Garten 33, 40225 Düsseldorf, Germany
11
Laboratory of Dynamics Meteorology, Ecole Polytechnique, F-91128 Palaiseau, France
12
Crop Science, Institute of Agricultural Sciences, ETH Zurich, Universitätstrasse 2, 8092 Zurich, Switzerland
13
Max Planck Institute for Biogeochemistry, Hanks Knöll Straße 10, D-07745 Jena, Germany
14
GeoSciences University of Edinburgh, King's Buildings, Edinburgh, Scotland 53 EH9 3FF, UK
*
Author to whom correspondence should be addressed.
Received: 1 March 2019 / Revised: 16 April 2019 / Accepted: 17 April 2019 / Published: 22 April 2019
Abstract
The interest of the scientific community on the remote observation of sun-induced chlorophyll fluorescence (SIF) has increased in the recent years. In this context, hyperspectral ground measurements play a crucial role in the calibration and validation of future satellite missions. For this reason, the European cooperation in science and technology (COST) Action ES1309 OPTIMISE has compiled three papers on instrument characterization, measurement setups and protocols, and retrieval methods (current paper). This study is divided in two sections; first, we evaluated the uncertainties in SIF retrieval methods (e.g., Fraunhofer line depth (FLD) approaches and spectral fitting method (SFM)) for a combination of off-the-shelf commercial spectrometers. Secondly, we evaluated how an erroneous implementation of the retrieval methods increases the uncertainty in the estimated SIF values. Results show that the SFM approach applied to high-resolution spectra provided the most reliable SIF retrieval with a relative error (
RE
) ≤6% and <5% for
F
687
and
F
760
, respectively. Furthermore, although the SFM was the least affected by an inaccurate definition of the absorption spectral window (
RE
= 5%) and/or interpolation strategy (
RE
= 15–30%), we observed a sensitivity of the SIF retrieval for the simulated training data underlying the SFM model implementation.
View Full-Text
►

▼

Figures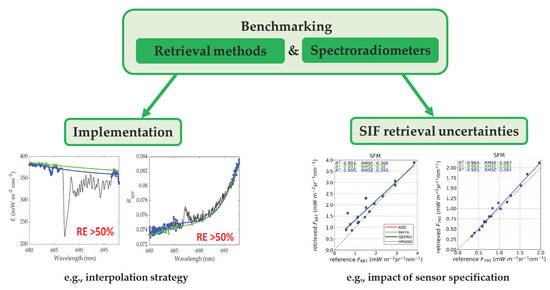 Graphical abstract
This is an open access article distributed under the
Creative Commons Attribution License
which permits unrestricted use, distribution, and reproduction in any medium, provided the original work is properly cited (CC BY 4.0).

Share & Cite This Article
MDPI and ACS Style
Cendrero-Mateo, M.P.; Wieneke, S.; Damm, A.; Alonso, L.; Pinto, F.; Moreno, J.; Guanter, L.; Celesti, M.; Rossini, M.; Sabater, N.; Cogliati, S.; Julitta, T.; Rascher, U.; Goulas, Y.; Aasen, H.; Pacheco-Labrador, J.; Mac Arthur, A. Sun-Induced Chlorophyll Fluorescence III: Benchmarking Retrieval Methods and Sensor Characteristics for Proximal Sensing. Remote Sens. 2019, 11, 962.
Note that from the first issue of 2016, MDPI journals use article numbers instead of page numbers. See further details here.
Related Articles
Comments
[Return to top]