Open Access This article is
freely available
re-usable
Letter
A Data-Driven Approach to Classifying Wave Breaking in Infrared Imagery
1
School of Earth & Sustainability, Northern Arizona University, Flagstaff, AZ 86011, USA
2
Applied Physics Laboratory, University of Washington, Seattle, WA 98105, USA
*
Author to whom correspondence should be addressed.
Received: 28 March 2019 / Accepted: 5 April 2019 / Published: 10 April 2019
Abstract
:
We apply deep convolutional neural networks (CNNs) to estimate wave breaking type (e.g., non-breaking, spilling, plunging) from close-range monochrome infrared imagery of the surf zone. Image features are extracted using six popular CNN architectures developed for generic image feature extraction. Logistic regression on these features is then used to classify breaker type. The six CNN-based models are compared without and with augmentation, a process that creates larger training datasets using random image transformations. The simplest model performs optimally, achieving average classification accuracies of 89% and 93%, without and with image augmentation respectively. Without augmentation, average classification accuracies vary substantially with CNN model. With augmentation, sensitivity to model choice is minimized. A class activation analysis reveals the relative importance of image features to a given classification. During its passage, the front face and crest of a spilling breaker are more important than the back face. For a plunging breaker, the crest and back face of the wave are most important, which suggests that CNN-based models utilize the distinctive 'streak' temperature patterns observed on the back face of plunging breakers for classification.
Keywords:
wave breaking; remote sensing; surf zone; machine learning
Author Contributions
D.B. and R.J.C. conceived and designed the experiments; R.J.C. collected the data, D.B. performed the analysis and evaluated the results using validation classifications provided by R.J.C.; D.B. wrote the majority of the paper, while R.J.C. contributed to the introduction and conclusions sections and provided revisions.
Acknowledgments
R.J.C. thanks Kate Brodie, Nick Spore, Jason Pipes, and the entire USACE FRF staff for field support; Dan Clark, Phil Colosimo, and John Mower for IR camera hardware and software development; and Melissa Moulton, Seth Zippel, and Meg Palmsten for fieldwork help. R.J.C. was funded by National Science Foundation Grant No. 1736389 and Office of Naval Research Grant No. N000141010932. This study is fully reproducible using data and code available at
https://github.com/dbuscombe-usgs/IR_waveclass
.
Conflicts of Interest
The authors declare no conflict of interest.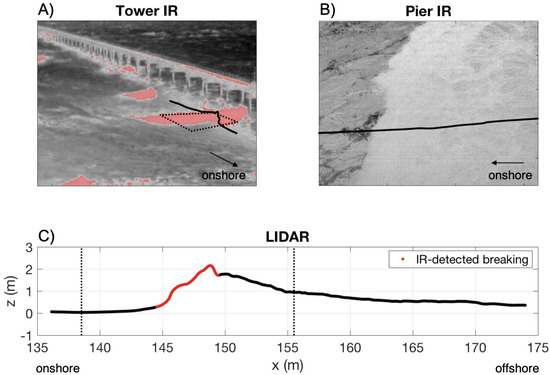 Figure 1. (A) An IR image of the surf zone and the pier are shown with detected breaking indicated by the transparent red layer. The corresponding LIDAR transect (solid black curve) and the pier IR camera field of view (dashed outline) are projected into the image; (B) corresponding example image from the pier IR camera with the LIDAR transect (black line) projected into the image; (C) corresponding example LIDAR transect (same as shown in (A,B)), with active breaking highlighted in red on the front face of the wave, and the field of view of the pier IR camera marked by dashed lines.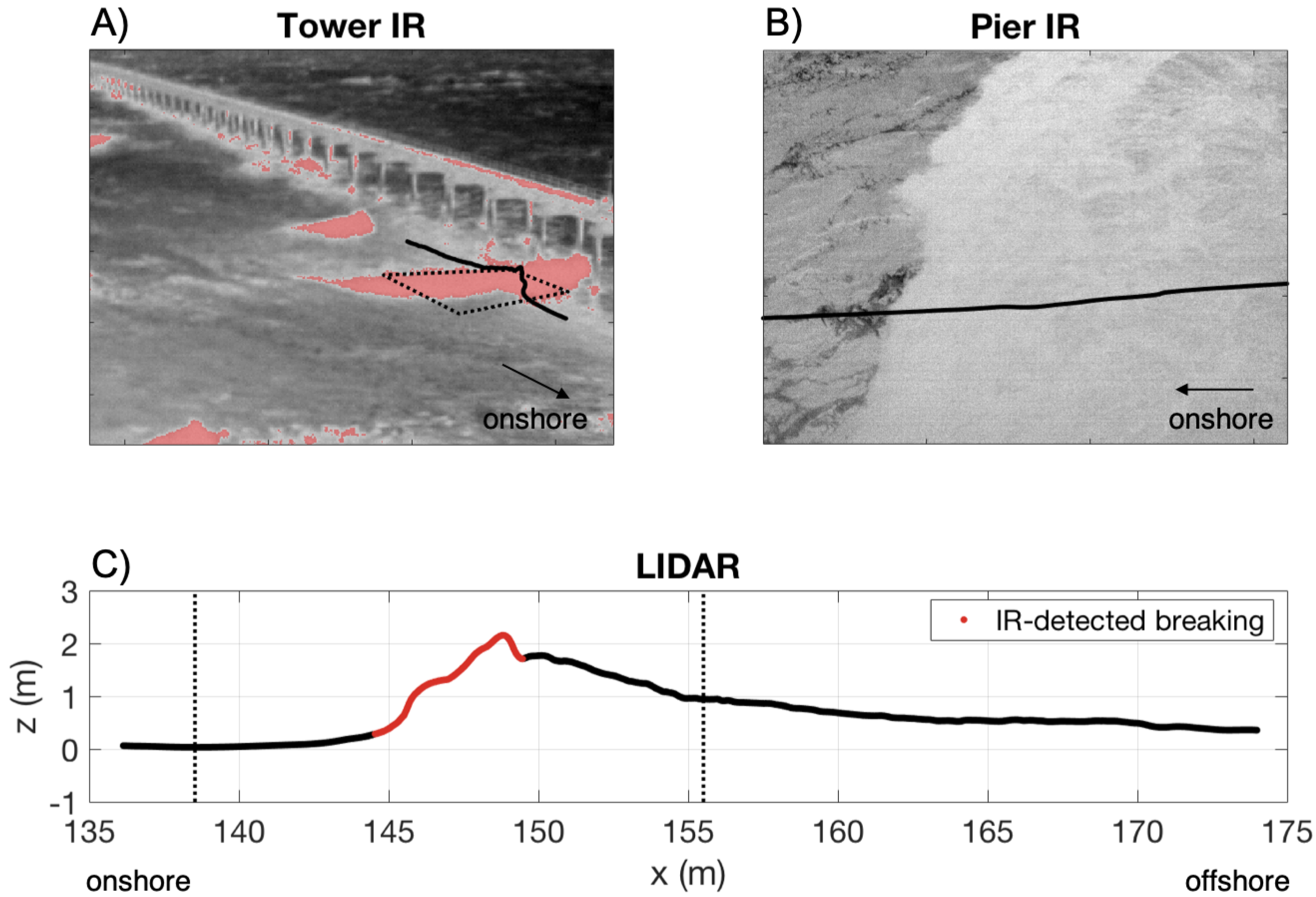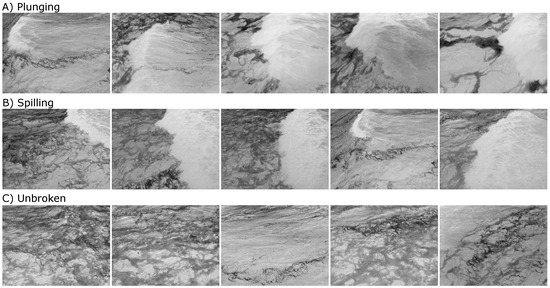 Figure 2. Example IR images of the three categorical wave classes: (A) plunging; (B) spilling; and (C) unbroken waves. The back face of a spilling breaker exhibits a unorganized texture, whereas that of a plunging breaker is characterized by an organized streak pattern.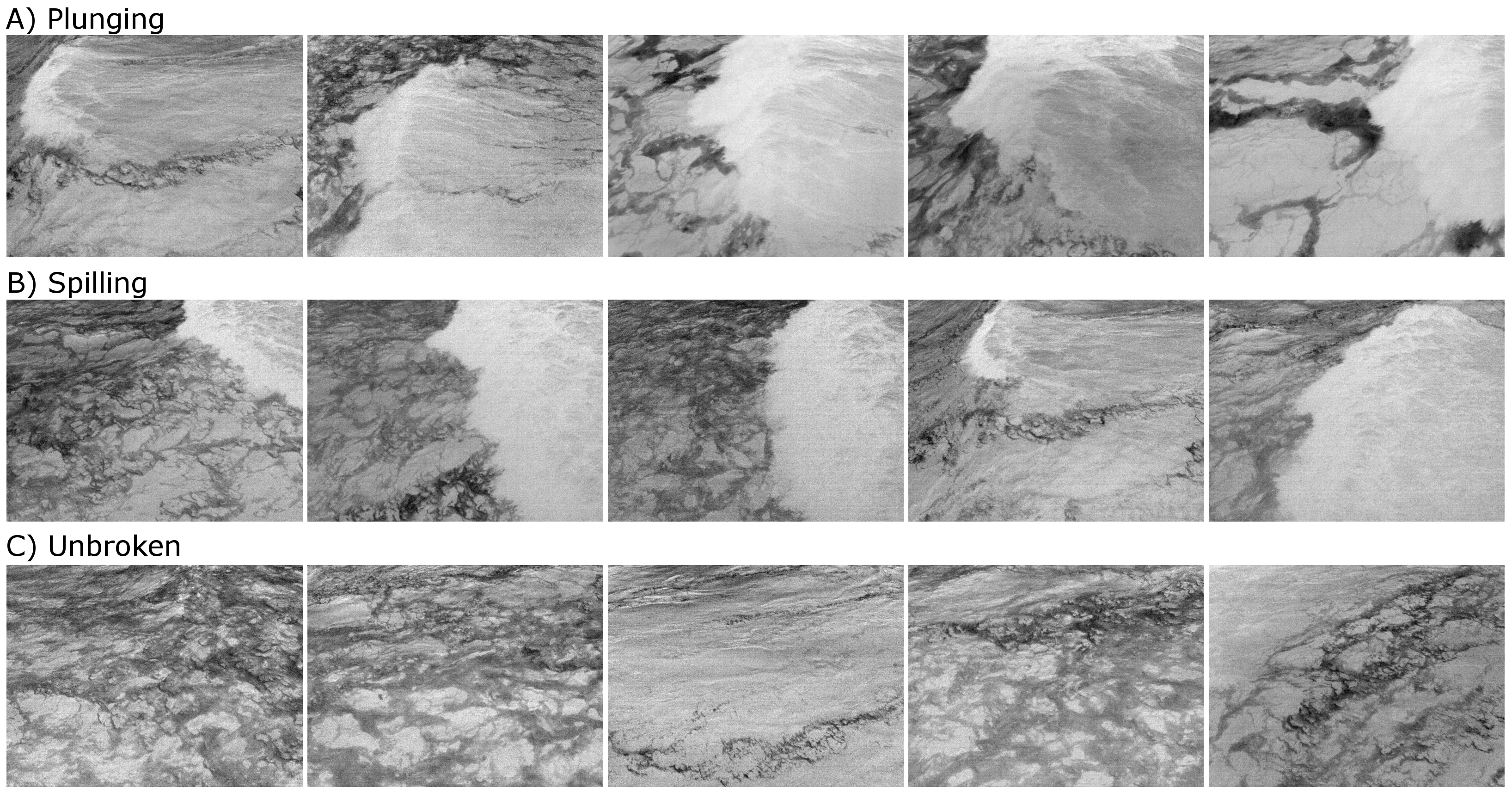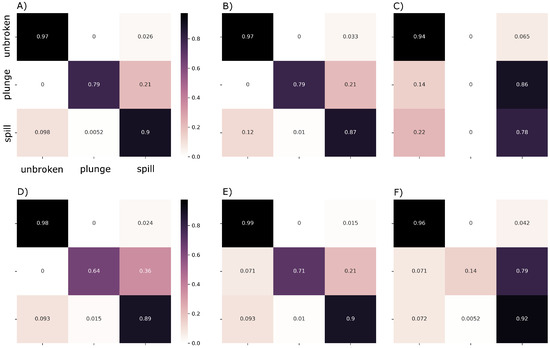 Figure 3. Confusion matrices for models training without image augmentation: (A) MobilenetV2; (B) Xception; (C) Resnet-50; (D) InceptionV3; (E) Inception-ResnetV2; (F) VGG19. For each confusion matrix, the abscissa represents estimated and the ordinate represents true.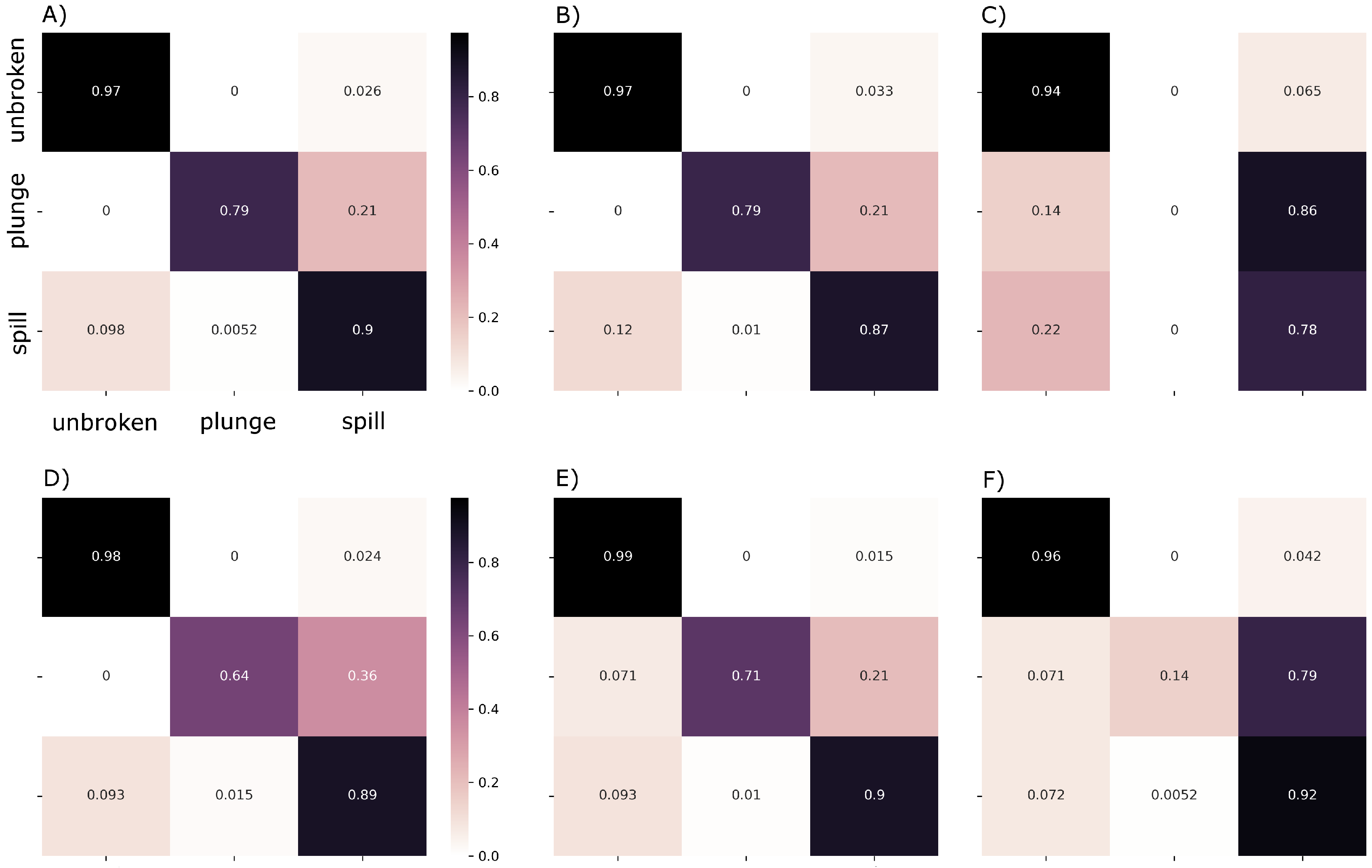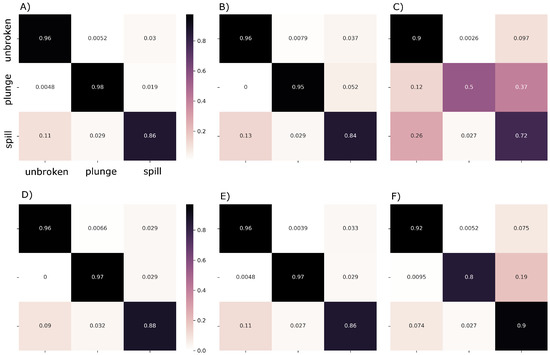 Figure 4. Confusion matrices for models training with image augmentation: (A) MobilenetV2; (B) Xception; (C) Resnet-50; (D) InceptionV3; (E) Inception-ResnetV2; (F) VGG19. For each confusion matrix, the abscissa represents estimated and the ordinate represents true.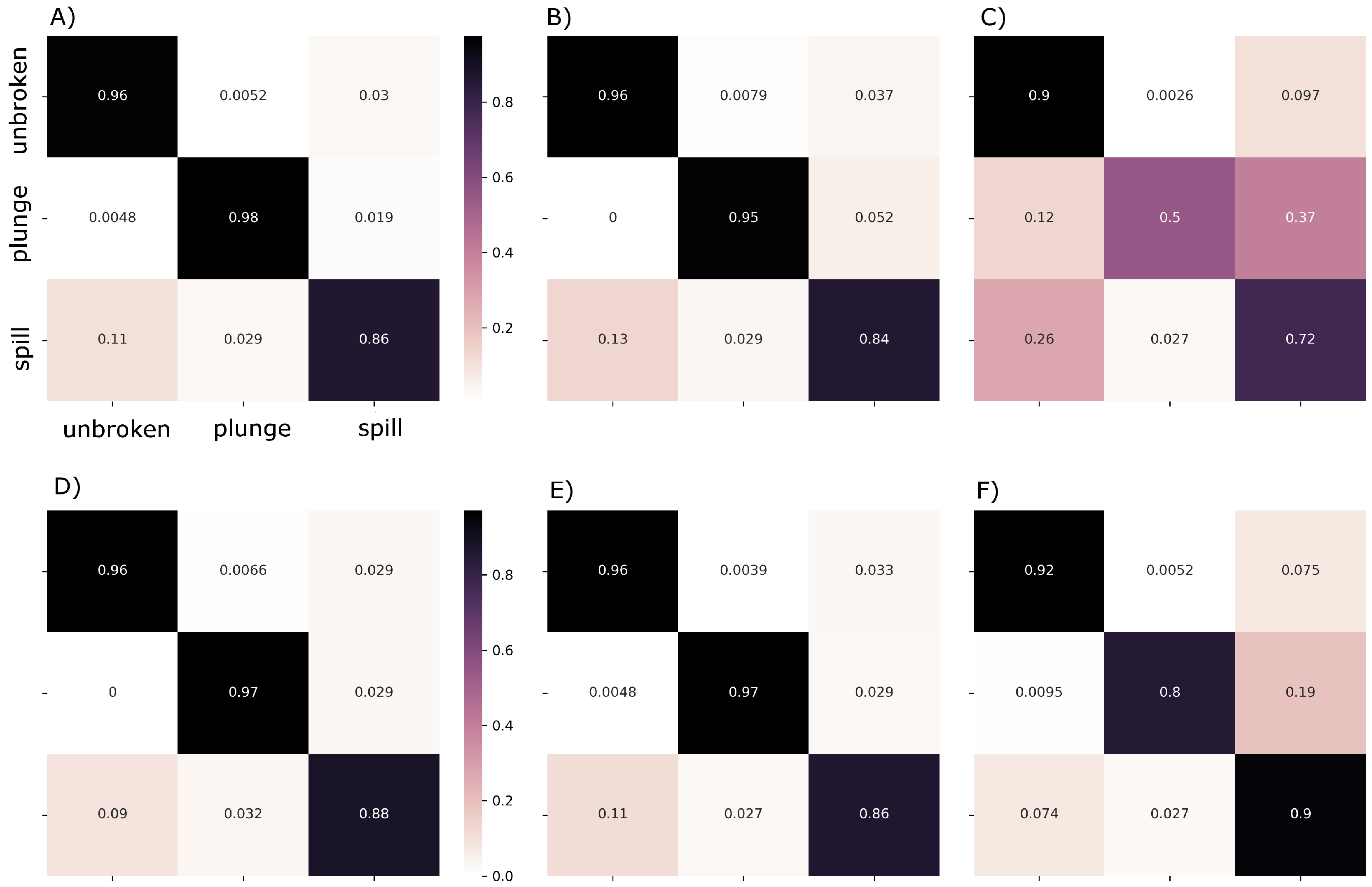 Figure 5. Class activation maps of five sequential example images for each of three wave breaker classes: (A–E) plunging; (F–J) spilling, and (K–O) unbroken. Relatively high values (red colors) are regions of relative importance with respect to the class considered.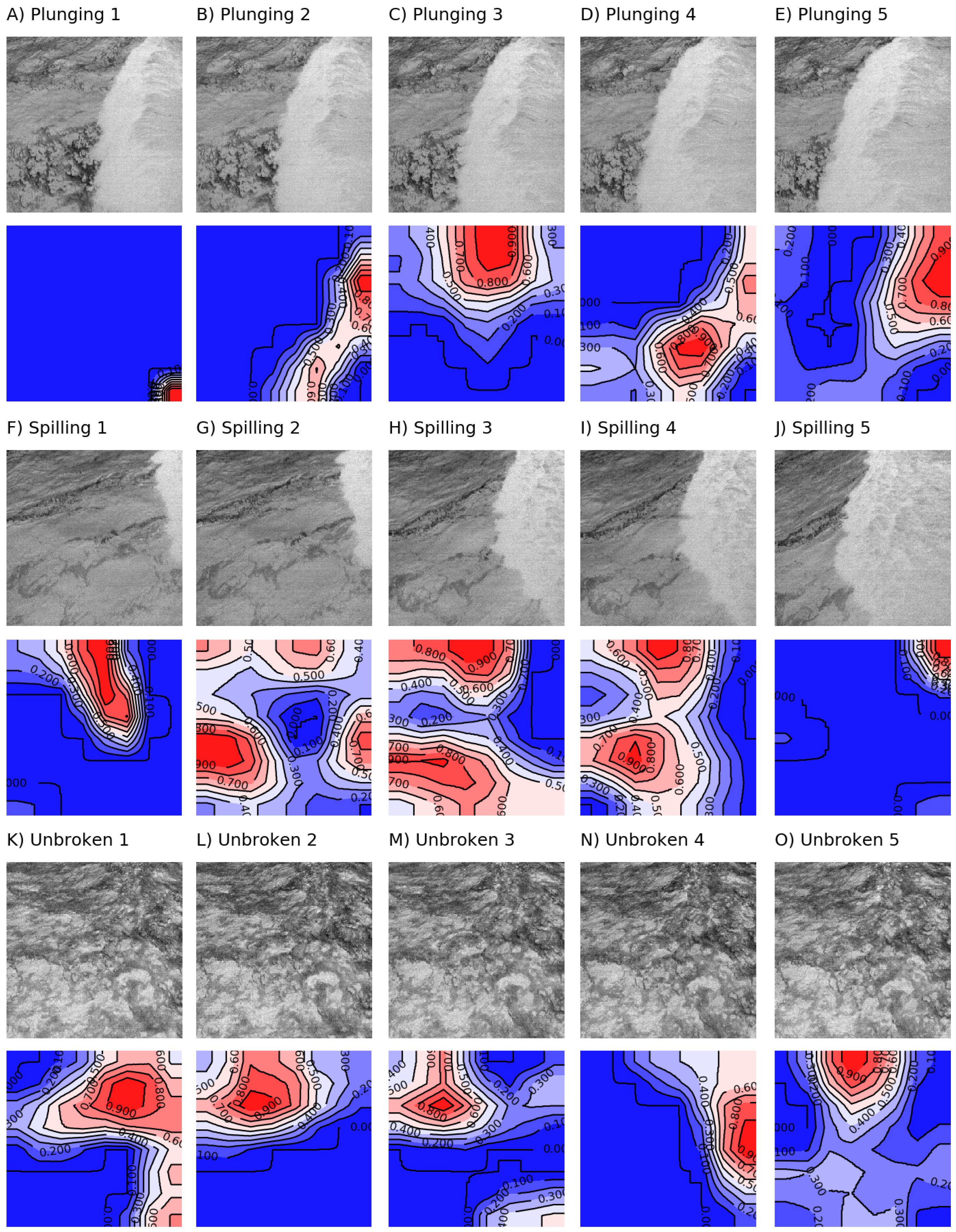 Table 1. CNN classification results. Rank-1 and F1 scores for each of six models without (and with) image augmentation.
Model
Rank-1 Score
F1 Score

Unbroken

Plunging

Spilling

MobilenetV2
0.95 (0.94)
0.97 (0.96)
0.85 (0.95)
0.90 (0.89)
Xception
0.94 (0.92)
0.96 (0.95)
0.81 (0.93)
0.88 (0.86)
Resnet-50
0.87 (0.78)
0.92 (0.87)
0.0 (0.6)
0.76 (0.68)
InceptionV3
0.95 (0.94)
0.97 (0.96)
0.69 (0.95)
0.9 (0.9)
Inception-ResnetV2
0.96 (0.93)
0.98 (0.95)
0.77 (0.95)
0.92 (0.89)
VGG19
0.93 (0.90)
0.96 (0.94)
0.24 (0.86)
0.88 (0.83)

© 2019 by the authors. Licensee MDPI, Basel, Switzerland. This article is an open access article distributed under the terms and conditions of the Creative Commons Attribution (CC BY) license (http://creativecommons.org/licenses/by/4.0/).