Early Season Mapping of Sugarcane by Applying Machine Learning Algorithms to Sentinel-1A/2 Time Series Data: A Case Study in Zhanjiang City, China
1
Guangzhou Institute of Geography, Guangzhou 510070, China
2
Key Laboratory of Guangdong for Utilization of Remote Sensing and Geographical Information System, Guangzhou 510070, China
3
Guangdong Open Laboratory of Geospatial Information Technology and Application, Guangzhou 510070, China
4
College of Land Science and Technology, China Agricultural University, Beijing 100083, China
5
Key Laboratory of Remote Sensing for Agri-Hazards, Ministry of Agriculture, Beijing 100083, China
*
Author to whom correspondence should be addressed.
Received: 6 March 2019 / Revised: 2 April 2019 / Accepted: 4 April 2019 / Published: 10 April 2019
Abstract
More than 90% of the sugar production in China comes from sugarcane, which is widely grown in South China. Optical image time series have proven to be efficient for sugarcane mapping. There are, however, two limitations associated with previous research: one is that the critical observations during the sugarcane growing season are limited due to frequent cloudy weather in South China; the other is that the classification method requires imagery time series covering the entire growing season, which reduces the time efficiency. The Sentinel-1A (S1A) synthetic aperture radar (SAR) data featuring relatively high spatial-temporal resolution provides an ideal data source for all-weather observations. In this study, we attempted to develop a method for the early season mapping of sugarcane. First, we proposed a framework consisting of two procedures: initial sugarcane mapping using the S1A SAR imagery time series, followed by non-vegetation removal using Sentinel-2 optical imagery. Second, we tested the framework using an incremental classification strategy based on S1A imagery covering the entire 2017–2018 sugarcane season. The study area was in Suixi and Leizhou counties of Zhanjiang city, China. Results indicated that an acceptable accuracy, in terms of Kappa coefficient, can be achieved to a level above 0.902 using time series three months before sugarcane harvest. In general, sugarcane mapping utilizing the combination of VH + VV as well as VH polarization alone outperformed mapping using VV alone. Although the XGBoost classifier with VH + VV polarization achieved a maximum accuracy that was slightly lower than the random forest (RF) classifier, the XGBoost shows promising performance in that it was more robust to overfitting with noisy VV time series and the computation speed was 7.7 times faster than RF classifier. The total sugarcane areas in Suixi and Leizhou for the 2017–2018 harvest year estimated by this study were approximately 598.95 km
2
and 497.65 km
2
, respectively. The relative accuracy of the total sugarcane mapping area was approximately 86.3%.
View Full-Text
►

▼

Figures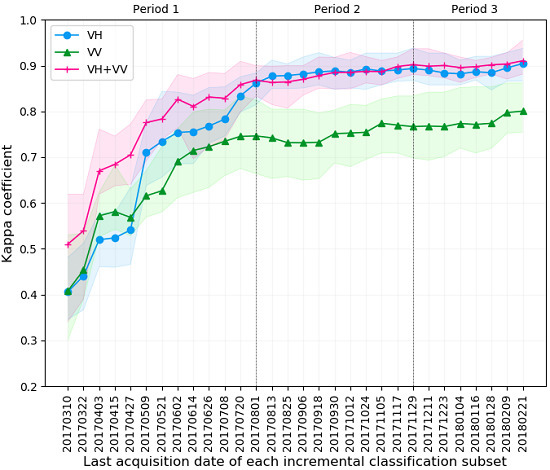 Graphical abstract
This is an open access article distributed under the
Creative Commons Attribution License
which permits unrestricted use, distribution, and reproduction in any medium, provided the original work is properly cited (CC BY 4.0).

Share & Cite This Article
MDPI and ACS Style
Jiang, H.; Li, D.; Jing, W.; Xu, J.; Huang, J.; Yang, J.; Chen, S. Early Season Mapping of Sugarcane by Applying Machine Learning Algorithms to Sentinel-1A/2 Time Series Data: A Case Study in Zhanjiang City, China. Remote Sens. 2019, 11, 861.
Note that from the first issue of 2016, MDPI journals use article numbers instead of page numbers. See further details here.
Related Articles
Comments
[Return to top]