Open Access This article is
freely available
re-usable
Article
InSAR Time Series Analysis of L-Band Data for Understanding Tropical Peatland Degradation and Restoration
1
State Key Laboratory of Geodesy and Earth's Dynamics, Institute of Geodesy and Geophysics, Chinese Academy of Sciences, Wuhan 430077, China
2
School of Geographical and Earth Sciences, University of Glasgow, Glasgow G12 8QQ, UK
3
COMET, School of Engineering, Newcastle University, Newcastle Upon Tyne NE1 7RU, UK
4
Geological Survey of Japan, National Institute of Advanced Industrial Science and Technology, Tsukuba 305-8567, Japan
*
Author to whom correspondence should be addressed.
Received: 8 September 2019 / Accepted: 31 October 2019 / Published: 5 November 2019
Abstract
:
In this study, satellite radar observations are employed to reveal spatiotemporal changes in ground surface height of peatlands that have, and have not, undergone restoration in Central Kalimantan, Indonesia. Our time series analysis of 26 scenes of Advanced Land Observation Satellite-1 (ALOS-1) Phased-Array L-band Synthetic-Aperture Radar (PALSAR) images acquired between 2006 and 2010 suggests that peatland restoration was positively affected by the construction time of dams—the earlier the dam was constructed, the more significant the restoration appears. The results also suggest that the dams resulted in an increase of ground water level, which in turn stopped peat losing height. For peatland areas without restoration, the peatland continuously lost peat height by up to 7.7 cm/yr. InSAR-derived peat height changes allow the investigation of restoration effects over a wide area and can also be used to indirectly assess the relative magnitude and spatial pattern of peatland damage caused by drainage and fires. Such an assessment can provide key information for guiding future restoration activities.
Keywords:
peatland; subsidence; restoration monitoring; InSAR; time series analysis
1. Introduction
So far, the application of L-band data and InSAR time series methods for understanding peatlands degradation and restoration in tropical zone is rarely documented in peer-reviewed scientific literature. Therefore, the main goal of this study was to employ ALOS-1 PALSAR L-band SAR images (free of charge) acquired between 2006 and 2010, and InSAR Time Series with Atmospheric Estimation Model (InSAR TS+AEM) method to investigate the spatial and temporal evolution of the peatland surface change in Central Kalimantan, Indonesia. Since latest ALOS-2 PALSAR data are commercial data (~2200 USD for a standard archived Stripmap image), it restricts their use to many end users because of budget constraints. And then assess the effects of hydrological peatland restoration through the use of dams in the drainage systems, which is important knowledge for the planning of future restoration projects.
2. Materials and Methods
2.1. The Study Area
In 1996, the Indonesian Government initiated the One Million Hectare Mega Rice Project (MRP) in Central Kalimantan (Indonesia). The principal objective of the MRP was food (rice) production in the area between the Sabangau River in the west, the Kahayan and Kapuas Rivers in the south and the Barito River in the east (
Figure 1
). The area was divided into four blocks (A, B, C, and D) according to the rivers' boundaries (light blue curves) in the MRP project, and the city of Palangkaraya is located in the north of Block C [
16
]. Large-scale deforestation was initiated in January 1996 to prepare the land for rice paddies, which involved mostly clear-felling the peat swamp forest and evacuating a massive network of in excess of 4400 km of drainage channels across the deep peat domes; some drainage channels were up to 30 m wide and 10 m deep [
15
,
16
,
33
].
In July 1999, the MRP was closed down because the area had been over-drained by the channels and unable to store water needed for agriculture irrigation. Consequently, the area was largely abandoned and is currently 'unproductive' and susceptible to flooding [
35
]. The drainage of the peatland caused by the network of extensive channels results in peat oxidation, subsidence, and regular outbreaks of large-scale fires [
13
,
35
,
36
]. Seven types of land cover dominate this area (
Figure 1
), i.e., shrub swamp, shrub, settlement, secondary swamp forest, rice field, primary swamp forest and clearing [
34
]. Most of the shrub swamp and rice field areas can be characterized as destroyed, abandoned and/or fire-damaged, and only a small part of the rice field area is still in use [
14
]. Note that the land cover data shown in
Figure 1
was released in 2009 and an assumption was made in this study that there was no obvious land use change over the satellite observation period of 2006–2010.
In July 2004, hydrological restoration commenced in Block A under the CCFPI (Climate Change Forests and Peatlands in Indonesia) project, with the construction of five large drainage channel dams; 19 additional drainage channel dams were built in this area between 2007 and 2008, funded by the Central Kalimantan Peatland Project (CKPP). Between June and September 2005, seven dams were constructed in Block C within the framework of the Academy of Finland funded KEYTROP (Keys for Securing Tropical Peat Carbon) and the EU-funded RESTORPEAT (Restoration of Tropical Peatland for Sustainable Management of Renewable Natural Resources) projects [
15
,
16
]. The dams in Block A are similar to those in Block C in terms of size and design [
15
,
16
,
37
].
2.2. InSAR Interferometric Processing and Time Series Analysis
3. Results
3.1. Mean Height Change Results of the Whole Study Area
Figure 3
a shows the final mean height change rate (mean velocity) map along line of sight. Note that the negative value means the surface is moving away from the satellite ('subsidence'), while the positive value means the surface is moving towards the satellite ('uplift'). The total number of partially coherent pixels is 859,118 (1,374,913 in total), covering ~62% of the study area, and approximately 73 points/km
2
at the case of 90 m resolution. With extensive channels areas in all blocks, subsidence signals can be observed clearly, the largest subsidence rate is more than 5 cm /yr. While the central part of Block C shows uplift signals. Between 2006 and 2010, the mean velocities for Block A, B, C and D are −1.1 1.0 cm/yr, −0.8 1.2 cm/yr, 0.03 1.4 cm/yr and −0.3 1.2 cm/yr respectively. In terms of area, 49% of the study area showed loss in surface height (less than −0.7 cm/yr), 15% retained similar surface height (between −0.7 cm/yr and 0.7 cm/yr), and 37% increased in surface height (greater than 0.7 cm/yr).
Figure 3
d shows the final root mean square (RMS) of the mean velocity with an average RMS of 0.45 cm/yr.
The spatial pattern of the surface height changes appears to be associated with land use. No obvious surface height change can be observed in Palangkaraya city (NW corner of the study area) during the observation period, which is as would be expected. The drained shrub swamp area in Block B has the largest rate of decrease in surface heights. Much of this rice field areas in Blocks A, C and D show decrease patterns in surface heights. The cleared area has relatively small decreases in surface heights ranging from 0 to 2 cm/yr. In the center of Block C, signals in the secondary swamp forest area show increased surface heights during the observation period, with rates of up to ~3 cm/yr.
3.2. Peatland Height Changes in Area with Restoration
The locations of the dams and their corresponding mean velocities are shown in
Figure 4
a,b respectively. Because of the loss of coherence, Points A1-3 and A3-2 are not included in the change rate analysis. In Block A, dams are constructed in different year, completed in January 2005, May 2007 and June 2008 respectively, and their corresponding mean velocities are shown in
Table 3
. The mean velocities in Block C are shown in
Table 3
. Note that the closer the mean velocity is to zero, it suggests the bigger impact of the dam construction on reducing the rate of surface height loss along the dams.
3.3. Peatland Height Changes in Area without Restoration
Figure 5
shows the evolution of peatland height at four points between 2006 and 2010. These four points are distributed in different land uses and have not undergone restoration. In
Figure 5
a, Point CL located in the cleared area shows peat height to be decreasing at a mean rate of −0.8 cm/yr. Point FS, located within a shrub swamp area (
Figure 5
b), had the greatest rate of decrease in surface height, by 17 cm during the dry seasons of 2007 to 2008, and 8 cm during 2008 to 2010, a total of 25 cm from 9 July 2007 to 1 September 2010. By checking Landsat images, fire scars can be found from the dry season of 2007 in this area, which may explain why surface lowering was greater between the dry seasons of 2007 to 2008 than during the following two years. Points in the rice field (RF) area exhibited relatively contestant rates of surface height decrease approximately −1.0 cm/yr (
Figure 5
c). Point SF in the swamp forest shows an increase in surface height with a rate of 1.4 cm/yr. The signals of increasing surface height could be due to the accumulation of peat and /or water-logging changing peat structure (
Figure 5
d), as this area is not drained by extensive channels.
4. Discussions
Compared to surface height mapping with GPS or other methods, InSAR provides greater spatial extent in monitoring surface height changes, whilst keeping good precision. However, the InSAR TS + AEM algorithm has its disadvantages. For tropical peatland areas, there is often lack in sufficient number of L-band images within the same path and frame required for InSAR measurement. The lack of sufficient number of SAR images may make it difficult to detect adequate coherent pixels, and separate displacement signals from noises (e.g., the APS noise). For example, there are less than 20 L-band radar images acquired in this study area within the same path and frame by the current ALOS-2 satellite from 2014 to now. By comparison, there are more than 100 Sentinel-1A/B C-band radar images within the same path and frame over the same period. In addition, the use of L-band images could not detect low rate of motion in peatlands, as longer wavelengths tend to be less sensitive to small changes.
5. Conclusions
Here we show that InSAR time series analysis of L-band data may be of considerable value in monitoring restoration effects in peatlands. Our analysis suggests that the restoration does have an impact and its effectiveness increases with construction time—the earlier the dam is constructed, the more significant the restoration is. The InSAR time series also provides insight in the likely relative magnitude and spatial pattern of damage to peatland caused by drainage and fires. To confirm the value of using InSAR time series, targeted fieldwork would help corroborate the InSAR understanding and also offer insight into why there are periods and areas of loss of coherence. With such security of understanding the community could proceed to using InSAR time series to make temporal and regional assessment of a landscape response to anthropogenic activity and guide future restoration activities. With this capacity InSAR offers a great advantage over field-based point observations by offering regional coverage, and provides a practical way to monitor peatland height changes continuously and globally, with the archived JERS/ALOS-1 dataset and the operational ALOS-2.
Author Contributions
Conceptualization, Z.Z., Z.L., and S.W.; data curation, Z.Z.; formal analysis, Z.Z.; funding acquisition, Z.L. and S.W.; investigation, Z.Z., Z.L., and S.W.; methodology, Z.Z. and Z.L.; project administration, Z.L. and S.W.; resources, Z.L., S.W., and A.T.; supervision, Z.L. and S.W.; validation, Z.Z.; visualization, Z.Z.; writing—original draft, Z.Z.; writing—review and editing, Z.L. and S.W.
Funding
Zhou was supported by the National Natural Science Foundation of China (Grant No. 41804017), by the Strategic Priority Research Program of the Chinese Academy of Sciences (Grant No. XDA19070104), by a China Scholarship Council (CSC) scholarship and the University of Glasgow. The work was supported the UK Natural Environment Research Council (NERC) through the Centre for the Observation and Modelling of Earthquakes, Volcanoes and Tectonics (COMET) and the GAS and LICS projects (Ref: NE/H001085/1 and NE/K010794/1 respectively) as well as the ESA-MOST DRAGON-3 projects (Ref: 10607 and 10665). METI (Japanese Ministry of Economy, Trade and Industry) and JAXA (Japan Aerospace Exploration Agency) retain ownership of the original ALOS PALSAR data used for this study, which were distributed by the Earth Remote Sensing Data Analysis Center.
Acknowledgments
Thanks to Stefano Tebaldini for reviewing this paper before submission.
Conflicts of Interest
The authors declare no conflict of interest.
Figure 1.
The location of this study area and distribution of land uses. Pink boxes denote the coverage of ALOS PALSAR images (Tracks 422 and 421). The four blocks of area (A–D) are indicated by light blue outlines. Land use information in this diagram is taken from Kementerian Kehutanan Republik Indonesia [
34
]. The red square in the top right corner is the location of this study area.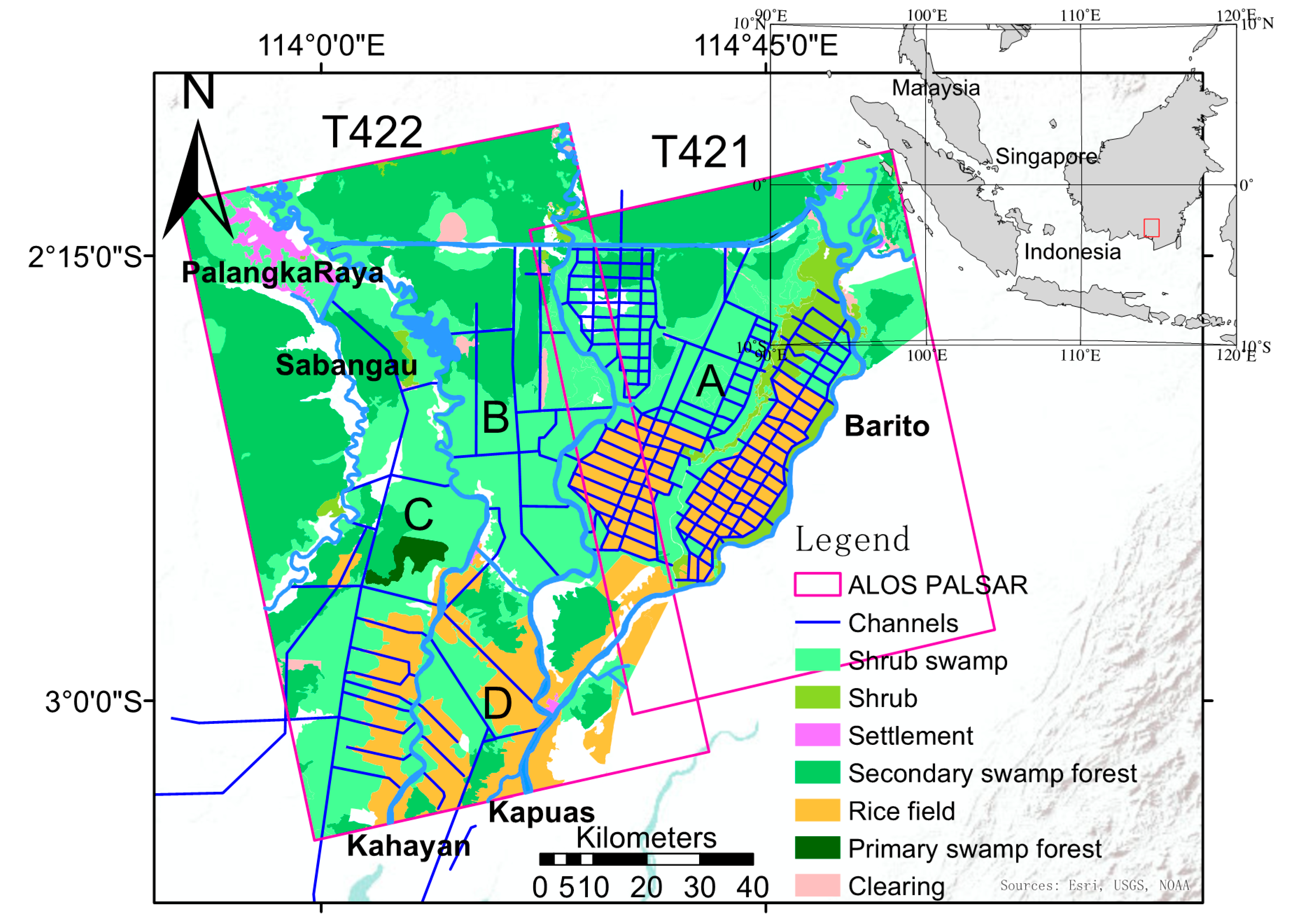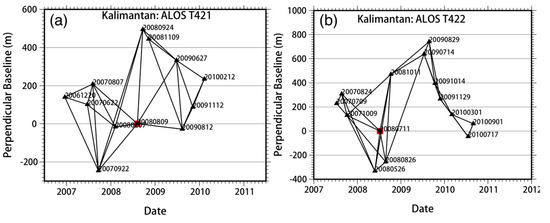 Figure 2. Small baseline interferograms generated from ALOS PALSAR Tracks 421 (a) and 422 (b) respectively. Each black triangle denotes one SAR image, and black solid lines between two black triangles represent interferograms. The red square marks the reference date for time series analysis.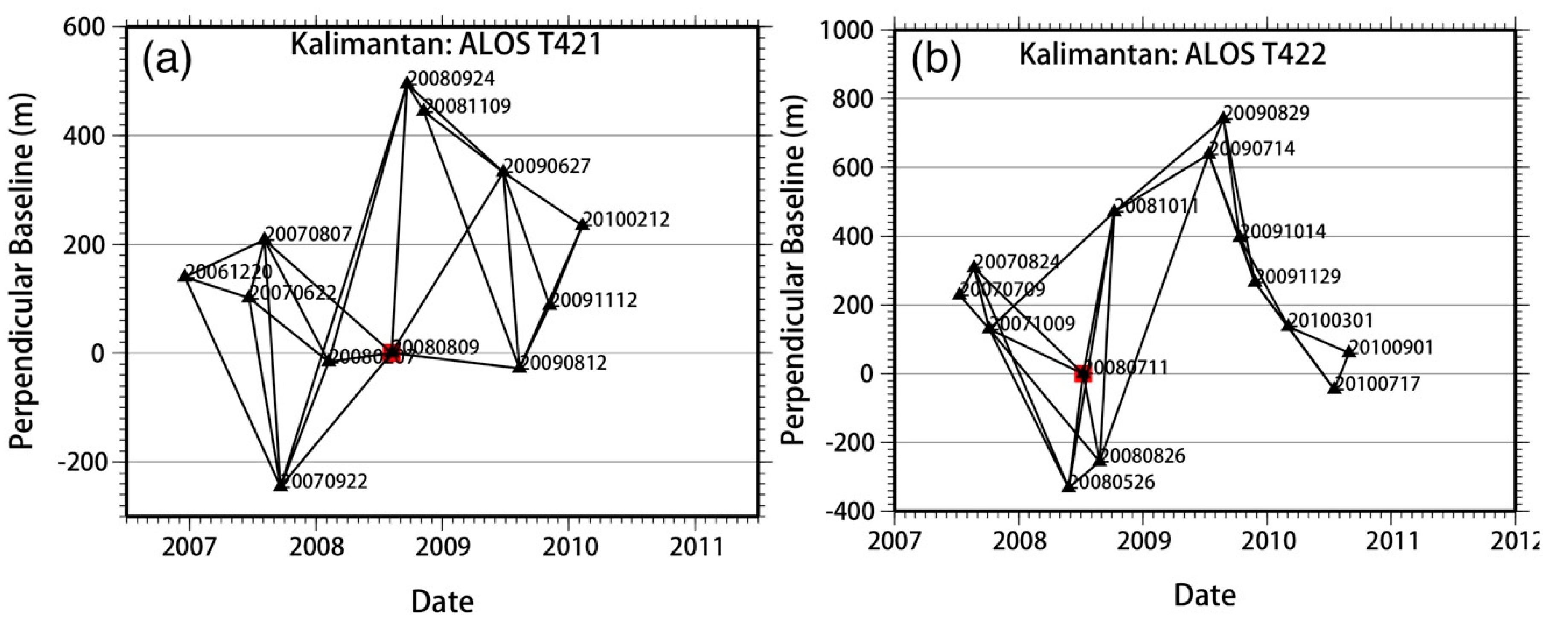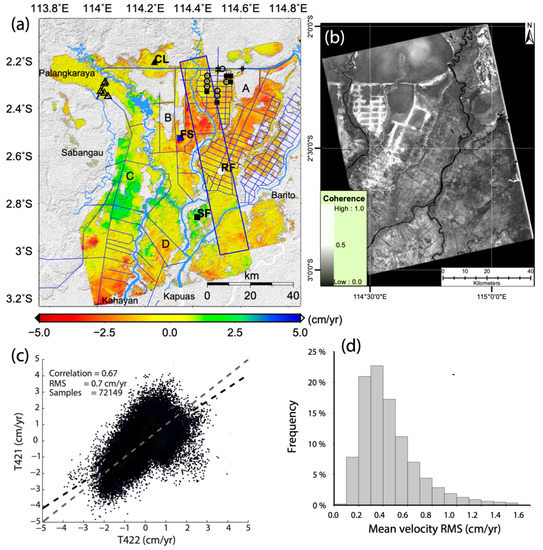 Figure 3.
Mean height change rate map and correlation analyses: (
a
) mean velocity map between 2006 and 2010, light blue curves represent block boundaries and solid blue lines represent channels; negative value means subsidence and positive value means increase in height; dots CL, FS, RF and SF are four time series analysis sites, other triangles and square dots in Block A and C are dams; (
b
) The average coherence of 27 interferograms from Track T421, a pixel with coherence great than 0.3 presents a stable signal; (
c
) correlation of the mean velocities over the overlapping area between the two adjacent tracks 422 and 421 (
Figure 1
): the gray dash line indicates the 1:1 line and the black dash line indicates the best fitted line; and (
d
) the RMS histogram of the mean velocity map.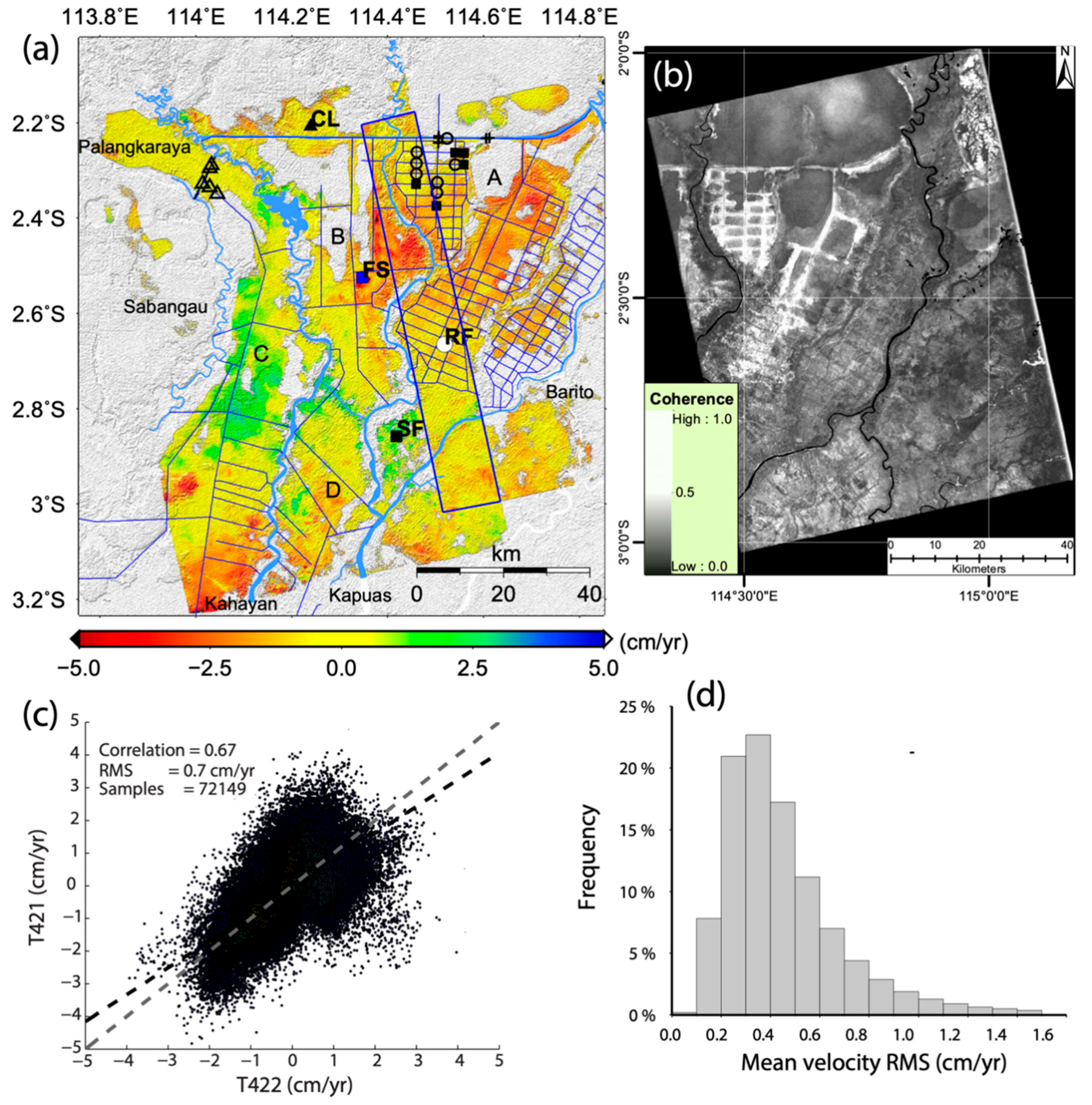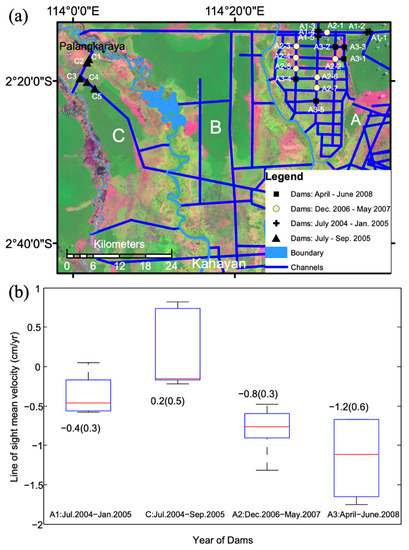 Figure 4. The location of Dams (a) and their corresponding mean velocity statistics analysis (b) in Blocks A and C. In (b), for each box, the central red line is the median, the edges of the box are the 25th and 75th percentiles, and whiskers represent the minimum and maximum values. Different construction dates of dams are denoted by different codes. Successful damming is considered to raise the ground water level and decrease the velocity of loss of surface heights. Each value corresponds to the mean velocity of 9 points within a 270 m by 270 m window.
Figure 5. Time series of four points (CL, FS, RF and SF) located in areas with different land uses: (a) for CL point in cleared area, (b) for FS point in fire scar area, (c) for RF point in rice field area and (d) for SF point in secondary swamp forest area. Each point presents one SAR image acquisition date. Each value corresponds to the mean of points within a 270 m by 270 m window and the error bars represent the associated standard deviation. Note the scales in the Y-axis are not identical; the zero value corresponds to the reference image, which is acquired on 9th September 2008.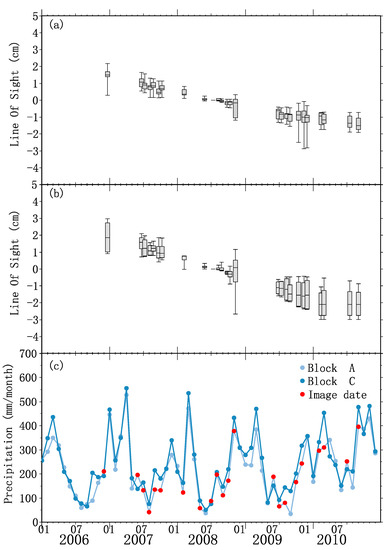 Figure 6.
LOS surface displacement time series for (
a
) 7 dams constructed during the period from December 2006 to May 2007, (
b
) 4 dams constructed during the period from April to June 2008, and (
c
) the corresponding TRMM precipitation records (red dots). In
Figure 6
a,b, for each box, the central line is the median, the edges of the box are the 25th and 75th percentiles, and whiskers represent the minimum and maximum values. In
Figure 6
c, the blue dots present the TRMM record for Block C, while the light blue dots present for Black A. Note: (1) LOS surface displacements correspond to the mean LOS surface displacement of all the points within a 270 m by 270 m window, and (2) the reference date is 9 September 2008.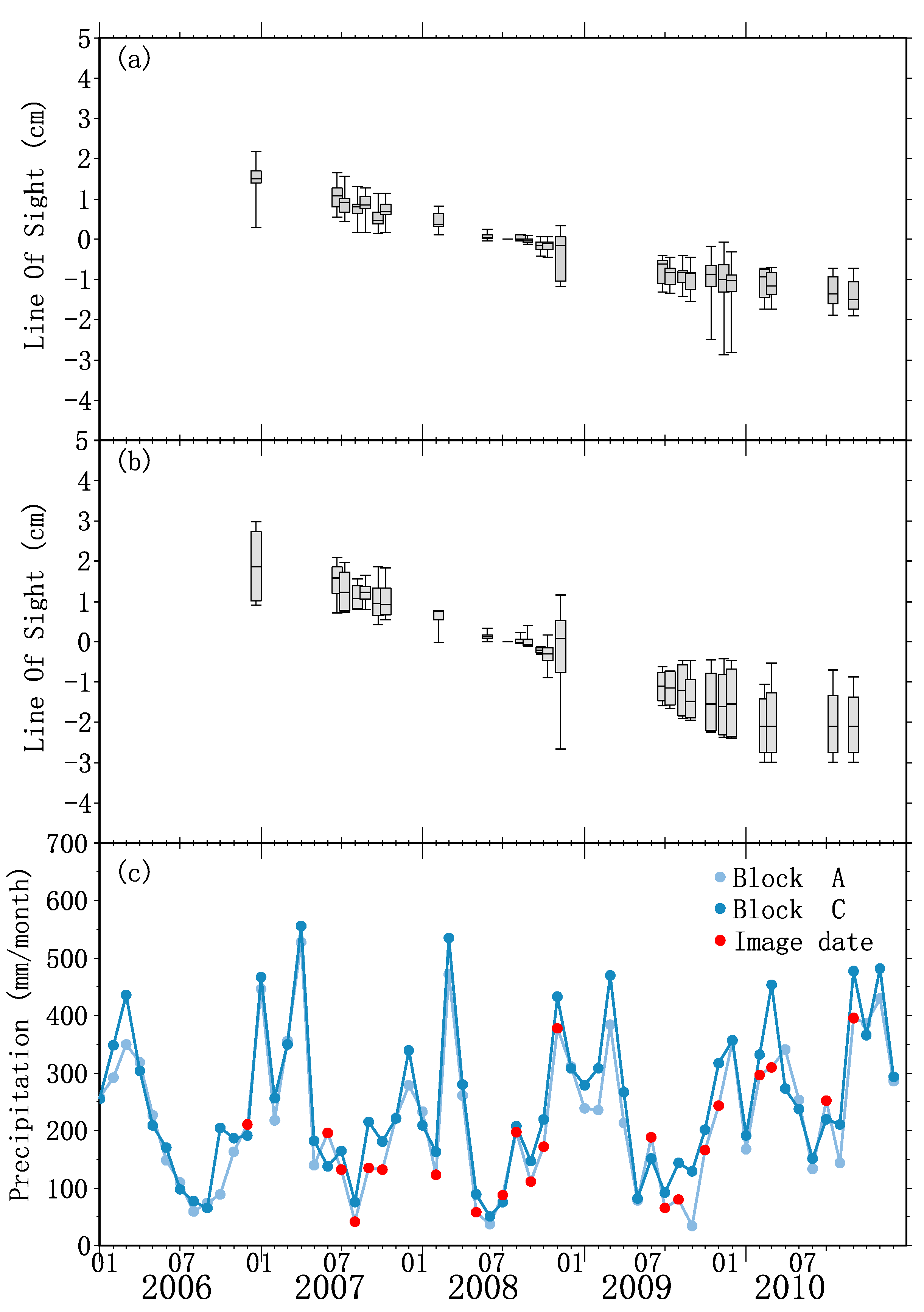 Table 1. ALOS images from Tracks 421 and 422 used in this study. Dates are given in Year-Month-Day (YYYYMMDD) format, and as number of days since the first image for each track. Perpendicular baselines (satellite separation) for Tracks 421 and 422 are relative to the reference dates that were chosen because of limited atmospheric effects on these two SAR images, assessed by checking all interferograms involved SAR images acquired on these dates.
T421
T422
Image Number
Date
Temporal Baseline (Days)
Perpendicular Baseline (m)
Image Number
Date
Temporal Baseline (Days)
Perpendicular Baseline (m)
1
20061220
0
139.6
1
20070709
0
228.3
2
20070622
184
101.1
2
20070824
46
307.4
3
20070807
230
208.5
3
20071009
92
129.4
4
20070922
276
−245.5
4
20080526
322
−331.6
5
20080207
414
−16.1
5
20080711
368
0.0
6
20080809
598
0.0
6
20080826
414
−255.8
7
20080924
644
494.1
7
20081011
460
471.2
8
20081109
690
444.7
8
20090714
736
638.1
9
20090627
920
332.8
9
20090829
782
741.1
10
20090812
966
−27.9
10
20091014
828
396.0
11
20091112
1058
87.5
11
20091129
874
266.3
12
20100212
1150
234.9
12
20100301
966
136.9
13
20100717
1104
−45.7
14
20100901
1150
59.8
| Points | Longitude (Degrees) | Latitude (Degrees) | Land Use Type |
| --- | --- | --- | --- |
| CL | 114.2395 | −2.2077 | Cleared |
| FS | 114.3467 | −2.5248 | Fire scar (in shrub swamp) |
| RF | 114.5186 | 2.6655 | Rice field |
| SF | 114.4182 | −2.8581 | Secondary swamp forest |
Dam Location
Dam Completed
Date
Minimum Mean
Velocities (cm/yr)
Max Mean
Velocities (cm/yr)
Mean (cm/yr)
Std (cm/yr)
A1
January 2005
−0.5
−0.1
0.4
0.3
A2
May 2007
−1.4
−0.5
0.8
0.3
A3
June 2008
−1.7
−0.6
−1.2
0.6
C
September 2005
−0.25
0.75
0.2
0.5

Table 4.
Unpaired
T
-test for the mean velocities of the dams in Block A. Dams A1, A2, and A3 were completed in January 2005, May 2007, and June 2008, respectively.
p

Value
A1
A2
A3
A1
0.0415
0.0465
A2
0.0415
0.1779
A3
0.0465
0.1779

© 2019 by the authors. Licensee MDPI, Basel, Switzerland. This article is an open access article distributed under the terms and conditions of the Creative Commons Attribution (CC BY) license (http://creativecommons.org/licenses/by/4.0/).