Evaluation of Landsat-8 and Sentinel-2A Aerosol Optical Depth Retrievals across Chinese Cities and Implications for Medium Spatial Resolution Urban Aerosol Monitoring
1
Geospatial Sciences Center of Excellence, South Dakota State University, Brookings, SD 57007, USA
2
Department of Geography, Environment, & Spatial Sciences and Center for Global Change and Earth Observations, Michigan State University, East Lansing, MI 48824, USA
3
Terrestrial Information System Laboratory (Code 619), NASA Goddard Space Flight Center, Greenbelt, MD 20771, USA
*
Author to whom correspondence should be addressed.
Received: 4 December 2018 / Revised: 3 January 2019 / Accepted: 4 January 2019 / Published: 10 January 2019
Abstract
In urban environments, aerosol distributions may change rapidly due to building and transport infrastructure and human population density variations. The recent availability of medium resolution Landsat-8 and Sentinel-2 satellite data provide the opportunity for aerosol optical depth (AOD) estimation at higher spatial resolution than provided by other satellites. AOD retrieved from 30 m Landsat-8 and 10 m Sentinel-2A data using the Land Surface Reflectance Code (LaSRC) were compared with coincident ground-based Aerosol Robotic Network (AERONET) Version 3 AOD data for 20 Chinese cities in 2016. Stringent selection criteria were used to select contemporaneous data; only satellite and AERONET data acquired within 10 min were considered. The average satellite retrieved AOD over a 1470 m × 1470 m window centered on each AERONET site was derived to capture fine scale urban AOD variations. AERONET Level 1.5 (cloud-screened) and Level 2.0 (cloud-screened and also quality assured) data were considered. For the 20 urban AERONET sites in 2016 there were 106 (Level 1.5) and 67 (Level 2.0) Landsat-8 AERONET AOD contemporaneous data pairs, and 118 (Level 1.5) and 89 (Level 2.0) Sentinel-2A AOD data pairs. The greatest AOD values (>1.5) occurred in Beijing, suggesting that the Chinese capital was one of the most polluted cities in China in 2016. The LaSRC Landsat-8 and Sentinel-2A AOD retrievals agreed well with the AERONET AOD data (linear regression slopes > 0.96; coefficient of determination r
2
> 0.90; root mean square deviation < 0.175) and demonstrate that the LaSRC is an effective and applicable medium resolution AOD retrieval algorithm over urban environments. The Sentinel-2A AOD retrievals had better accuracy than the Landsat-8 AOD retrievals, which is consistent with previously published research. The implications of the research and the potential for urban aerosol monitoring by combining the freely available Landsat-8 and Sentinel-2 satellite data are discussed.
View Full-Text
►

▼

Figures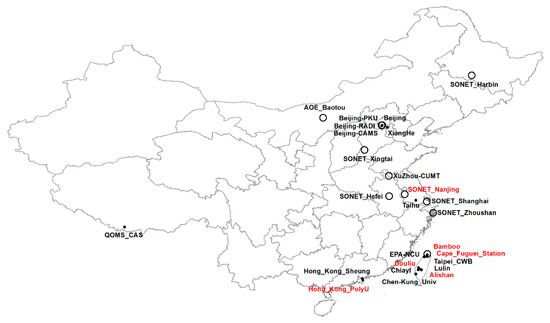 Figure 1
This is an open access article distributed under the
Creative Commons Attribution License
which permits unrestricted use, distribution, and reproduction in any medium, provided the original work is properly cited (CC BY 4.0).

Share & Cite This Article
MDPI and ACS Style
Li, Z.; Roy, D.P.; Zhang, H.K.; Vermote, E.F.; Huang, H. Evaluation of Landsat-8 and Sentinel-2A Aerosol Optical Depth Retrievals across Chinese Cities and Implications for Medium Spatial Resolution Urban Aerosol Monitoring. Remote Sens. 2019, 11, 122.
Note that from the first issue of 2016, MDPI journals use article numbers instead of page numbers. See further details here.
Related Articles
Comments
[Return to top]