Investigative Spatial Distribution and Modelling of Existing and Future Urban Land Changes and Its Impact on Urbanization and Economy
1
Department of Civil Engineering, COMSATS University Islamabad, Abbottabad Campus, University Road, 22060 Abbottabad, KPK, Pakistan
2
Department of Geomatics Engineering, Schulich School of Engineering, The University of Calgary, 2500 University Drive NW Calgary, Calgary, AB T2N 1N4, Canada
3
Advanced & Latest Informatics (ALI) Inc., 848 N. Rainbow Blvd., #3529, Las Vegas, NV 89107, USA
4
The Urban Unit, Shaheen Complex, 503 Edgerton Rd Lahore, Punjab 54000, Pakistan
*
Author to whom correspondence should be addressed.
Received: 15 October 2018 / Revised: 4 January 2019 / Accepted: 6 January 2019 / Published: 9 January 2019
Abstract
Land use and land cover (LULC) change analysis is a critical instrument for studying urban growth across the world. Our objectives were to produce historical LULC maps during the 1988–2016 period for spatial and temporal analysis, forecast future LULC until 2040 by using the Markov model, and identify the impact of LULC on urbanization. Two scenes of Landsat-5 TM for 1988 and 2001 and one scene of Landsat-8 OLI for 2016 were processed and used. The Normalized Difference Vegetation Index (NDVI) model with precise class value ranges was applied to produce land cover maps with six classes of water, built-up, barren land, shrub and grassland, sparse vegetation, and dense vegetation. LULC maps for the years of 1988 and 2001 were used to develop an LULC transformation matrix. It was used to drive an LULC transformation probability matrix using a Markov model for future forecasting of LULC in 2014, 2027, and 2040. The accuracy of 2016 LULC classes was estimated by comparing it against Markov modeled classes. It was found that the areas for: (i) water decreased from 1.43% to 0.51%; (ii) built-up increased from 9.58% to 20.80%; (iii) barren land decreased from 29.50% to 13.40%; (iv) shrub and grass land decreased from 30.57% to 21.10%; (v) sparse vegetation increased from 18% to 20.10%; and (vi) dense vegetation increased from 10.57% to 24.10%. The variations in LULC classes could be noticed by 2040 as compared to 1988. This LULC variation revealed that the water could decrease to 5.32 km
2
from 25.37 km
2
; the built-up could increase to 625.16 km
2
from 168.29 km
2
; the barren land could decrease to 137.53 km
2
from 514.13 km
2
; the shrub and grassland could decrease to 297.68 km
2
from 539.46 km
2
; the sparse vegetation could decrease to 297.68 km
2
from 539.46 km
2
; and the dense vegetation could increase to 409.65 km
2
from 191.51 km
2
. The LULC classification accuracy was 90.27% and 95.11% for 1988 and 2001, respectively. The co-efficient of determination (R
2
) was found to be 0.90 for 2016 LULC classes obtained from Landsat-8 and derived from a Markov model. For District Lahore, the LULC changes could be related to increasing population and intense migration trends, which had progressive impact on infrastructure development, industrial and economic growth, and detrimental effects on water resources.
View Full-Text
►

▼

Figures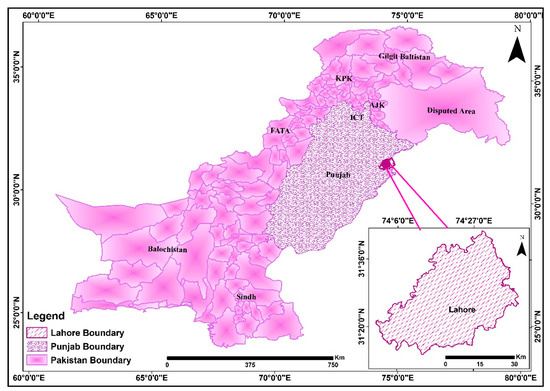 Figure 1
This is an open access article distributed under the
Creative Commons Attribution License
which permits unrestricted use, distribution, and reproduction in any medium, provided the original work is properly cited (CC BY 4.0).

Share & Cite This Article
MDPI and ACS Style
Akbar, T.A.; Hassan, Q.K.; Ishaq, S.; Batool, M.; Butt, H.J.; Jabbar, H. Investigative Spatial Distribution and Modelling of Existing and Future Urban Land Changes and Its Impact on Urbanization and Economy. Remote Sens. 2019, 11, 105.
Note that from the first issue of 2016, MDPI journals use article numbers instead of page numbers. See further details here.
Related Articles
Comments
[Return to top]