Open Access This article is
freely available
re-usable
Article
The Effect of Mineral Sediments on Satellite Chlorophyll-a Retrievals from Line-Height Algorithms Using Red and Near-Infrared Bands
Water Science and Technology Directorate, Environment and Climate Change Canada, 867 Lakeshore Rd, Burlington, ON L7S 1A1, Canada
*
Author to whom correspondence should be addressed.
Received: 12 August 2019 / Accepted: 27 September 2019 / Published: 3 October 2019
Abstract
:
Red and near-infrared line-height algorithms such as the maximum chlorophyll index (MCI) are often considered optimal for remote sensing of chlorophyll-a (Chl-a) in turbid eutrophic waters, under the assumption of minimal influence from mineral sediments. This study investigated the impact of mineral turbidity on line-height algorithms using MCI as a primary example. Inherent optical properties from two turbid eutrophic lakes were used to simulate reflectance spectra. The simulated results: (1) confirmed a non-linear relationship between Chl-a and MCI; (2) suggested optimal use of the MCI at Chl-a < ~100 mg/m3 and saturation of the index at Chl-a ~300 mg/m3; (3) suggested significant variability in the MCI:Chl-a relationship due to mineral scattering, resulting in an RMSE in predicted Chl-a of ~23 mg/m3; and (4) revealed elevated Chl a retrievals and potential false positive algal bloom reports for sediment concentrations > 20 g/m3. A novel approach combining both MCI and its baseline slope, MCIslope reduced the RMSE to ~5 mg/m3. A quality flag based on MCIslope was proposed to mask erroneously high Chl-a retrievals and reduce the risk of false positive bloom reports in highly turbid waters. Observations suggest the approach may be valuable for all line-height-based Chl-a algorithms.
Keywords:
chlorophyll-a; sediment; maximum chlorophyll index; MCI; line-height algorithms; inland water; water quality
Author Contributions
The study was conceptualized by C.B., methodology developed and validated by C.Z., and results interpreted by C.Z. and C.B. Original draft preparation and writing was completed by C.Z. and reviewed and edited by C.B.
Funding
This study was funded by Environment and Climate Change Canada under the Lake Winnipeg Basin Initiative and the Great Lakes Protection Initiative.
Acknowledgments
The authors would like to thank the Lake Winnipeg Research Consortium and Canadian Coastguard for access to the RV Namao and CCGS Limnos. The OLCI data were acquired from the Copernicus open access sentinel hub.
Conflicts of Interest
The authors declare no conflict of interest.
Figure 1. The average concentration-specific inherent optical properties (SIOPs) used in Ecolight for reflectance simulations: (a) concentration-specific absorption coefficients, a*, and (b) concentration-specific backscatter coefficients, bb*. A and B in (a) are coefficients of a*Ph defined in Equation (3).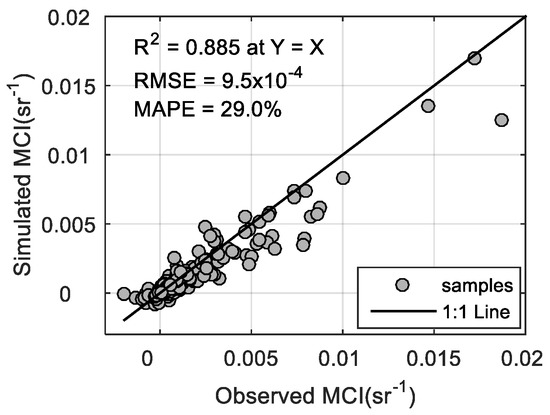 Figure 2.
Comparison of in situ and Ecolight simulated MCI. N = 246, as described in
Table 1
.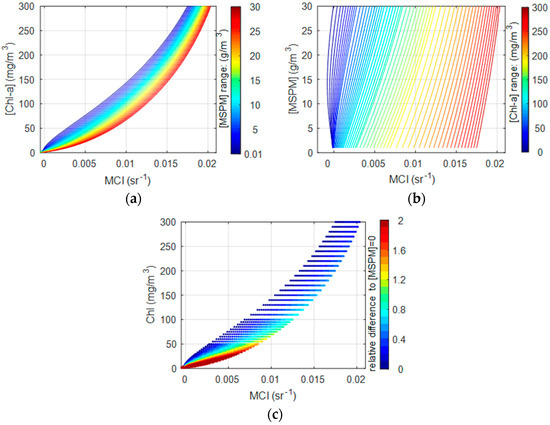 Figure 3. The impact of MSPM on the MCI-[Chl-a] relationship. (a) MCI-[Chl-a] relationship from simulated Rrs; each isoline indicating a constant [MSPM] in the range of 0.1 to 30 g/m3 according to the colored legend. (b) [MSPM]-MCI relation with a [Chl-a] colored legend, and (c) [Chl-a] residuals relative to the MCI:[Chl-a] relationship at [MSPM] = 0.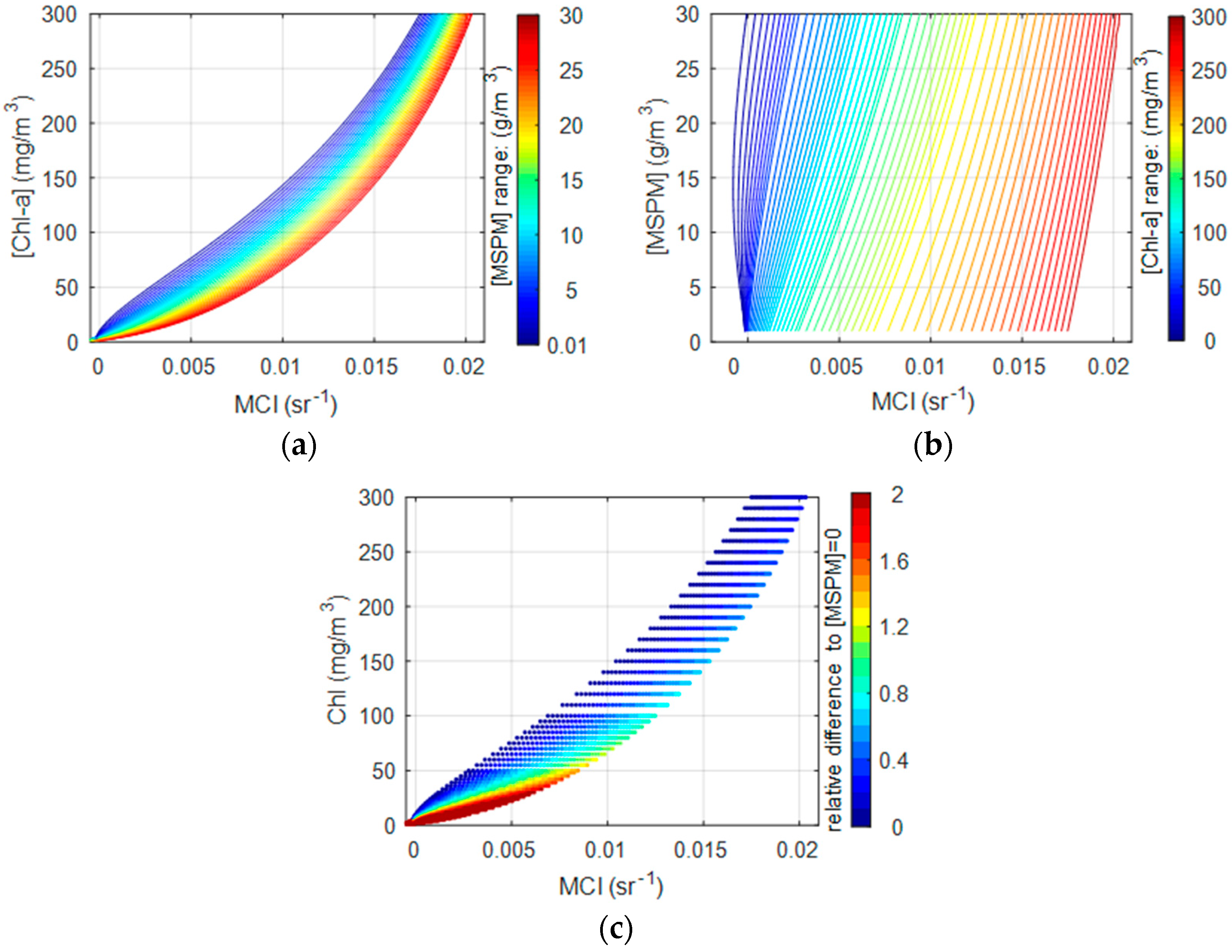 Figure 4.
(
a
) Ten thousand simulated MCI based on variable [Chl-a] and [MSPM] with global best-fit relationships, also reported in
Table 2
. (
b
) Distribution of modelled [Chl-a] residual (MAPE) by applying the exponential fitting in (
a
).
Figure 5. Modeled reflectance spectra and derived MCI and MCIslope for (a) varying [Chl-a] in the absence of MSPM, (b) varying [MSPM] in the absence of Chl-a, and (c) [Chl-a] = 50 mg/m3 and increasing [MSPM], showing the effect of MSPM on baseline slopes.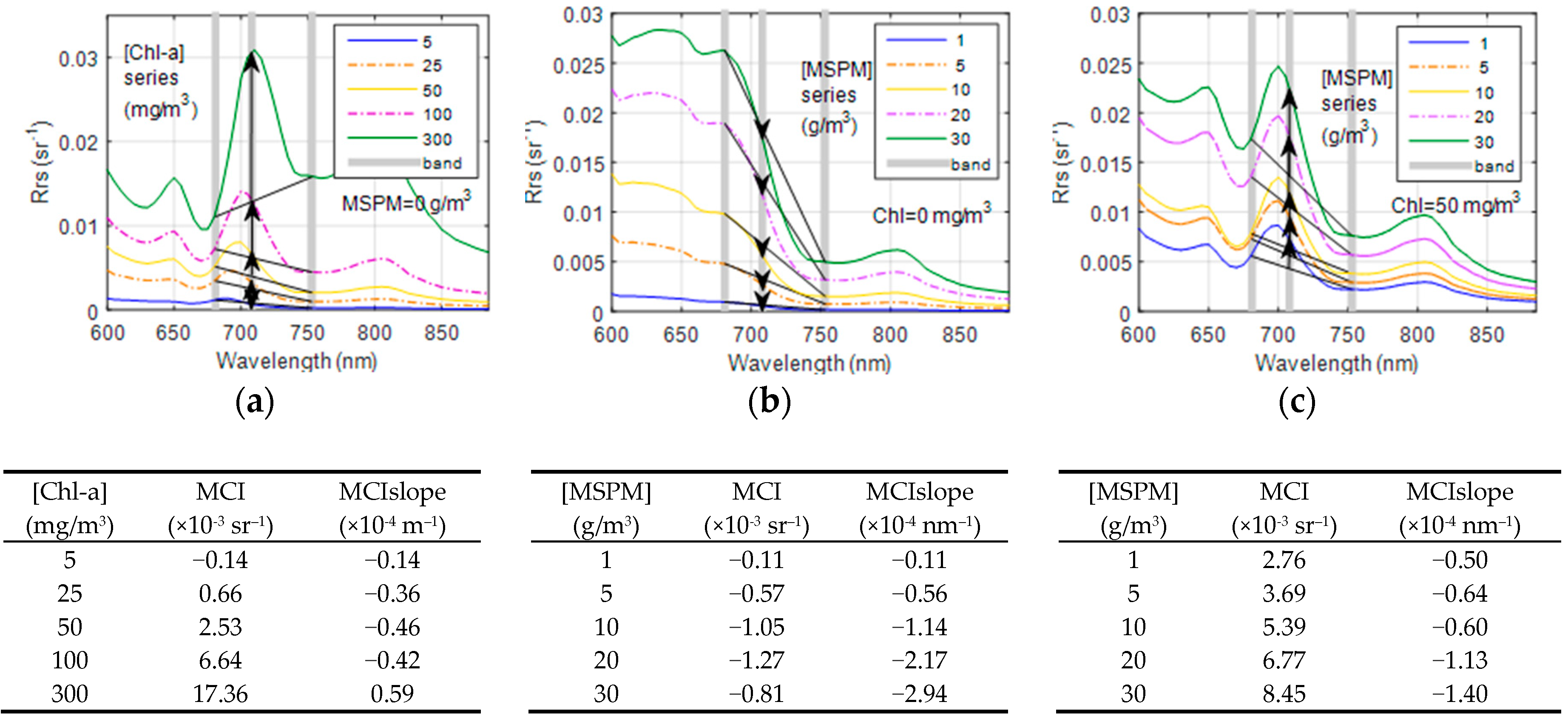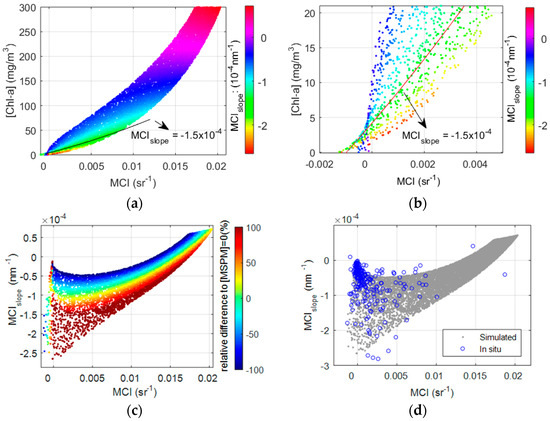 Figure 6. (a) The variability of the MCIslope in the relationship between [Chl-a] and MCI and (b) the same variability of the MCIslope in the relationship between [Chl-a] and MCI expanded to show in detail [Chl-a] < 20 mg/m3. (c) The distribution of the [Chl-a] residual relative to derived [Chl-a] at [MSPM] = 0, in the [MCI, MCIslope] space, and (d) in situ derived MCI and MCIslope superimposed over simulated values.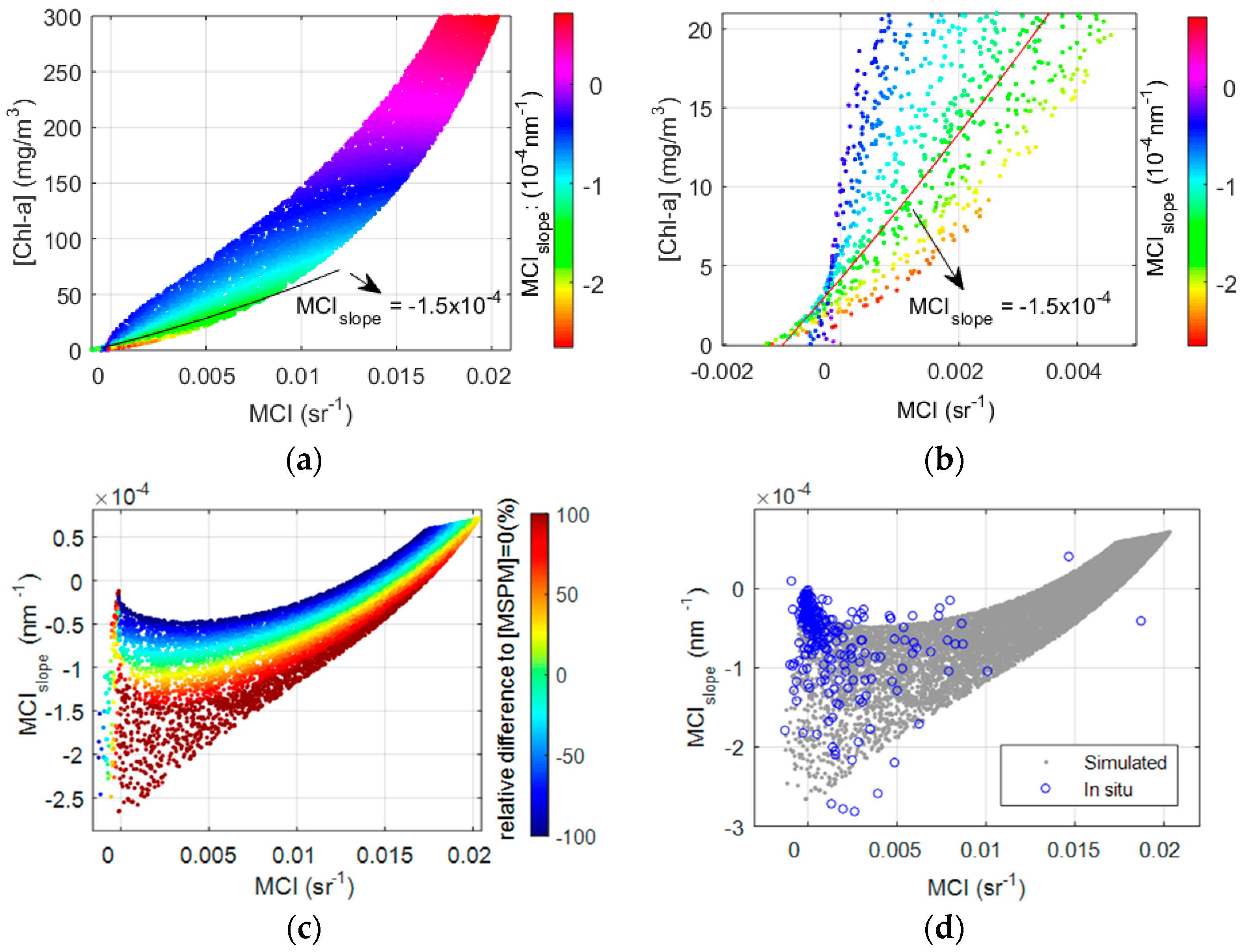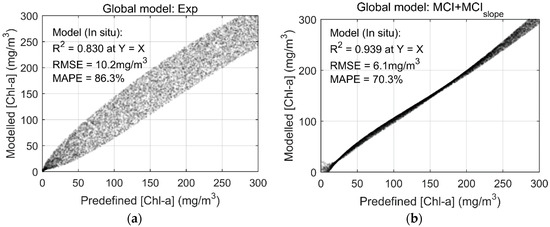 Figure 7.
Comparison of global [Chl-a] fitting using (
a
) only MCI and (
b
) both MCI and its slope. The regression model used in (
a
) is the best performance model (exponential) in
Table 2
. The regression model in (
b
) is a quadratic polynomial regression from MCI and its slope to [Chl-a].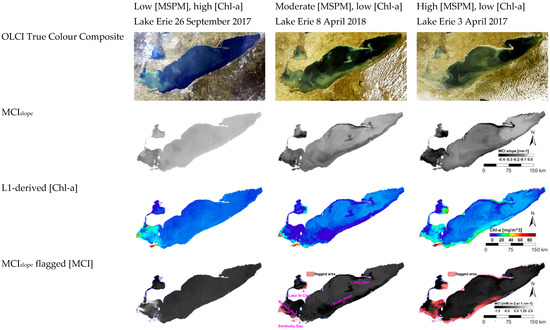 Figure 8. Three examples of the ocean and land colour instrument (OLCI) scenes showing an RGB true colour composite, MCIslope, L1 MCI-derived [Chl-a], MCIslope mask area overlaid on MCI, using MCI > 0 mW/(m2∙sr∙nm) and MCIslope < −0.15 nm−1.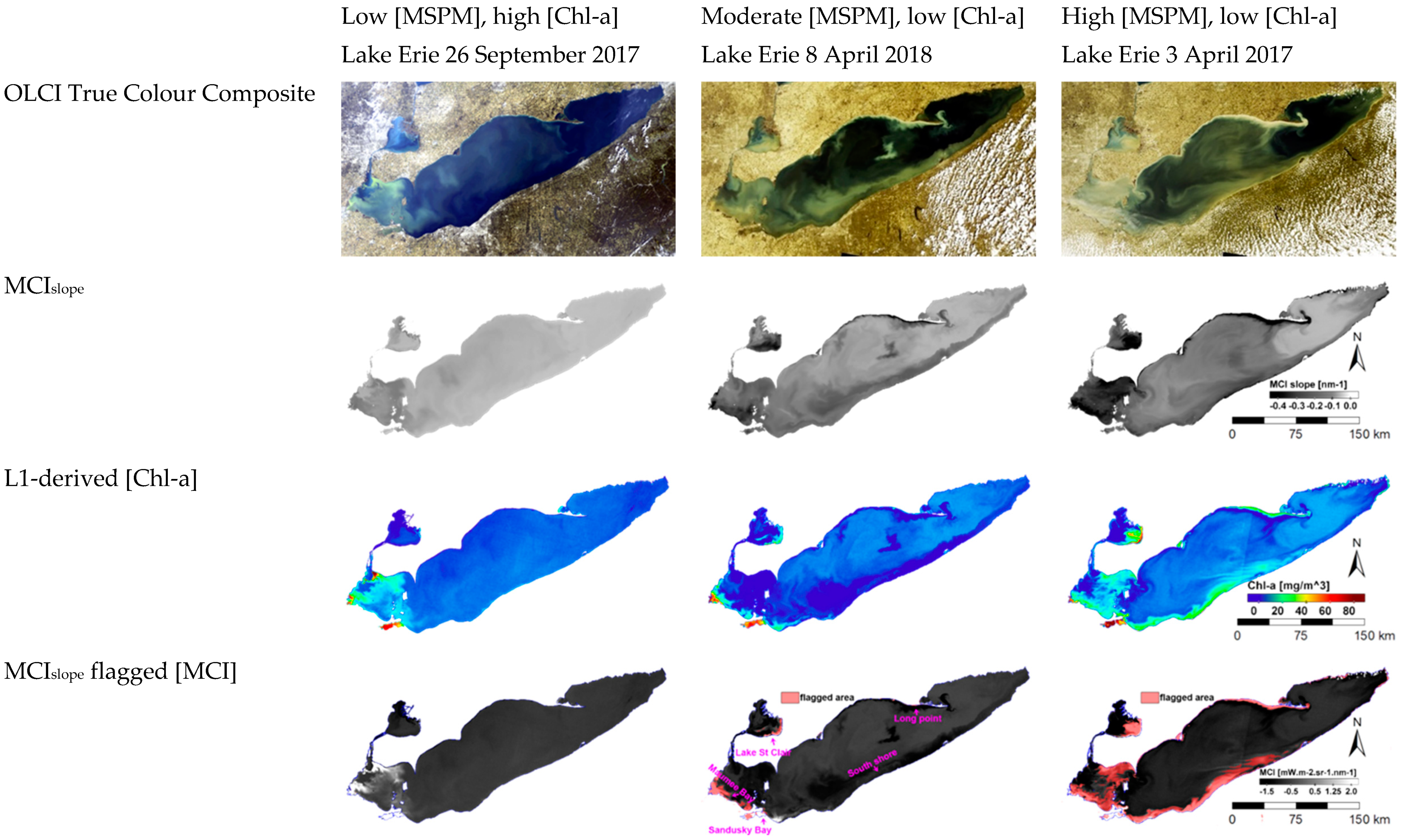 Figure 9. (a) Comparison of in situ and Ecolight simulated CI, (b) modeled variability of the CI:[Chl-a] relationship in response to MSPM, (c) the distribution of MAPE residual when applying an exponential CI:[Chl-a] best-fit model, (d) modeled and in situ [Chl-a] from a global best-fit regression, and (e) modeled [Chl-a] from combined CI and CIslope regression.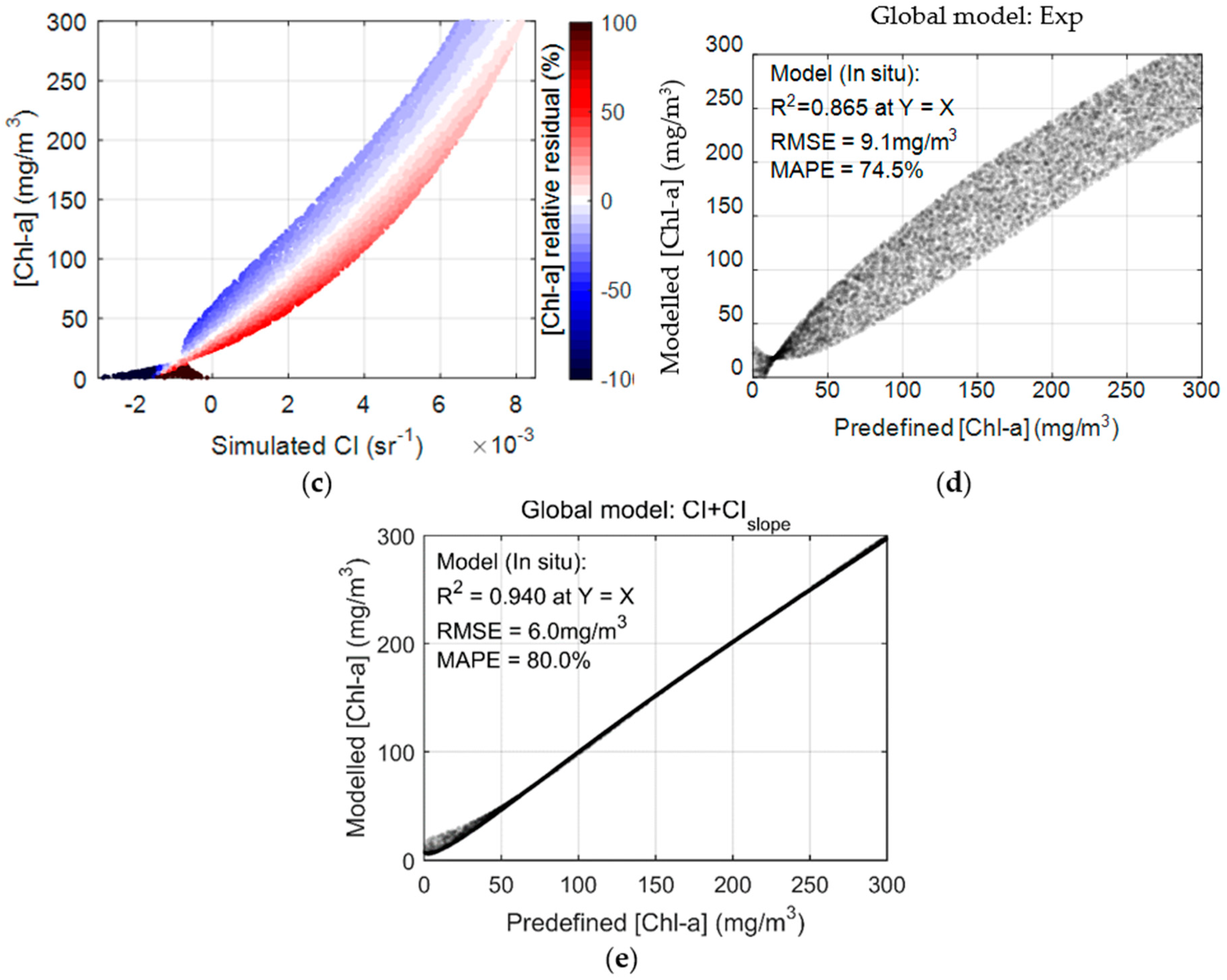 Table 1. A summary of in situ optical and water quality parameters from lakes Erie (LE) and Winnipeg (LW).
# Observations
Water Constituent
Concentration
MEAN
MIN
MAX
SD
LE
Water
372
Chl-a (mg/m3)
13.1
0.5
161
20.4
IOPs
292
MSPM (g/m3)
4.3
0.01
24.7
5.1
Rrs
138
aCDOM(440) (m−1)
0.4
0.03
2.4
0.4
LW
Water
316
Chl-a
7.6
0.8
290
24.6
IOPs
209
MSPM
7.0
0.01
31.6
6.6
Rrs
108
aCDOM(440)
1.8
0.26
5.5
0.8
Note: IOPs: inherent optical properties; MSPM: mineral suspended particulate matter.

Table 2. Comparison of different theoretical models for the relationship between [Chl-a] and MCI. Note that MCI was multiplied by 103 for the coefficients below.
Model (Chl=)
a
b
c

R

2
RMSE (mg/m3)
MAPE (%)
103
0.0685
−96.8
0.928
23.1
25.5
1.93
1.67
15.7
0.928
23.1
68.2
0.51
4.34
11
0.929
23
39.9
332
41.8
3.09
0.928
23.2
32.1

© 2019 by the authors. Licensee MDPI, Basel, Switzerland. This article is an open access article distributed under the terms and conditions of the Creative Commons Attribution (CC BY) license (http://creativecommons.org/licenses/by/4.0/).