Fitted PROSAIL Parameterization of Leaf Inclinations, Water Content and Brown Pigment Content for Winter Wheat and Maize Canopies
Department of Geography, Ludwig-Maximilians-Universität München, Luisenstraße 37, D-80333 Munich, Germany
*
Author to whom correspondence should be addressed.
Received: 5 April 2019 / Revised: 6 May 2019 / Accepted: 9 May 2019 / Published: 14 May 2019
Abstract
Decades after release of the first PROSPECT + SAIL (commonly called PROSAIL) versions, the model is still the most famous representative in the field of canopy reflectance modelling and has been widely used to obtain plant biochemical and structural variables, particularly in the agricultural context. The performance of the retrieval is usually assessed by quantifying the distance between the estimated and the in situ measured variables. While this has worked for hundreds of studies that obtained canopy density as a one-sided Leaf Area Index (LAI) or pigment content, little is known about the role of the canopy geometrical properties specified as the Average Leaf Inclination Angle (ALIA). In this study, we exploit an extensive field dataset, including narrow-band field spectra, leaf variables and canopy properties recorded in seven individual campaigns for winter wheat (4x) and silage maize (3x). PROSAIL outputs generally did not represent field spectra well, when in situ variables served as input for the model. A manual fitting of ALIA and leaf water (EWT) revealed significant deviations for both variables (RMSE = 14.5°, 0.020 cm) and an additional fitting of the brown leaf pigments (C
brown
) was necessary to obtain matching spectra at the near infrared (NIR) shoulder. Wheat spectra tend to be underestimated by the model until the emergence of inflorescence when PROSAIL begins to overestimate crop reflectance. This seasonal pattern could be attributed to an attenuated development of ALIA
opt
compared to in situ measured ALIA. Segmentation of nadir images of wheat was further used to separate spectral contributors into dark background, ears and leaves + stalks. It could be shown that the share of visible fruit ears from nadir view correlates positively with the deviations between field spectral measurement and PROSAIL spectral outputs (R² = 0.78 for aggregation by phenological stages), indicating that retrieval errors increase for ripening stages. An appropriate model parameterization is recommended to assure accurate retrievals of biophysical and biochemical products of interest. The interpretation of inverted ALIA as physical leaf inclinations is considered unfeasible and we argue in favour of treating it as a free calibration parameter.
View Full-Text
►

▼

Figures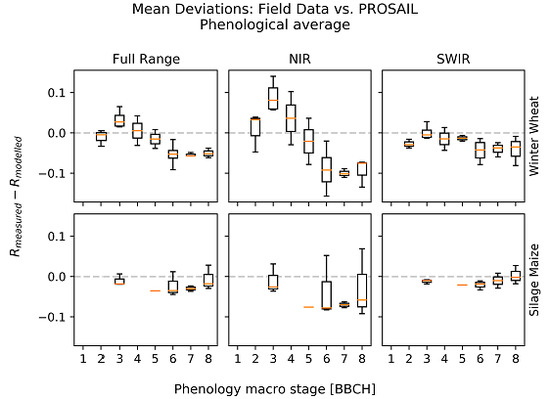 Graphical abstract
This is an open access article distributed under the
Creative Commons Attribution License
which permits unrestricted use, distribution, and reproduction in any medium, provided the original work is properly cited (CC BY 4.0).

Share & Cite This Article
MDPI and ACS Style
Danner, M.; Berger, K.; Wocher, M.; Mauser, W.; Hank, T. Fitted PROSAIL Parameterization of Leaf Inclinations, Water Content and Brown Pigment Content for Winter Wheat and Maize Canopies. Remote Sens. 2019, 11, 1150.
Note that from the first issue of 2016, MDPI journals use article numbers instead of page numbers. See further details here.
Related Articles
Comments
[Return to top]