Preliminary Investigation of a New AHI Aerosol Optical Depth (AOD) Retrieval Algorithm and Evaluation with Multiple Source AOD Measurements in China
1
University of the Chinese Academy of Sciences, Beijing 100049, China
2
State Key Laboratory of Remote Sensing Science, Institute of Remote Sensing Applications, Chinese Academy of Sciences and Beijing Normal University, Beijing 100101, China
3
Finnish Meteorological Institute (FMI), Climate Research Unit, Helsinki FI-00101, Finland
*
Authors to whom correspondence should be addressed.
Received: 16 March 2018 / Revised: 19 April 2018 / Accepted: 2 May 2018 / Published: 14 May 2018
Abstract
The Himawari-8 geostationary weather satellite, which is an Earth observing satellite launched in October 2014, has been applied in climate, environment, and air quality studies. Using hourly observation data from the Advanced Himawari Imager (AHI) on board Himawari-8, a new dark target algorithm was proposed to retrieve the aerosol optical depth (AOD) at 1 km and 5 km resolutions over mainland China. Because of the short satellite operation time and lack of AErosol RObotic NETwork (AERONET) sites across China, we cannot derive robust and representative surface reflectance relationships for the visible to near-infrared channels by atmospheric correction. Therefore, we inherited the empirical reflectance relationship from the Moderate Resolution Imaging Spectroradiometer (MODIS) and we used the AHI and MODIS spectral response functions to make the relationship more suitable for AHI. Ultimately, our AOD products can better reflect the regional characteristics with the AHI sensor. Seasonal averages showed that our product is more similar to MODIS Collection 6 (C6) Dark Target (DT) AOD than the Japan Aerospace Exploration Agency (JAXA) AHI AOD, but the difference is largest in winter. In addition, we evaluated several satellite retrieval products (our AHI AOD, JAXA AHI AOD, the National Oceanic and Atmospheric Administration (NOAA) VIIRS AOD, MODIS DT AOD, and MODIS DB AOD) against AERONET AOD from July 2016 to June 2017. The results showed that our AHI measurements demonstrate good agreement with, but exhibit a little overestimation, as compared to ground-based AERONET measurements with a correlation coefficient of 0.83 and an root-mean-square error (RMSE) of 0.112. The hourly validation also showed stable statistical results. A time series comparison with ground-based observations from two AERONET sites (Beijing-CAMS and XiangHe) showed that our AHI AOD products have trends as those in MODIS DB AOD, but that the bias in Beijing-CAMS is positive and higher than that in XiangHe. This error and the slight overestimation may be caused by the single continental aerosol model assumption and not considering the Normalized Difference Vegetation Index (NDVI).
View Full-Text
►

▼

Figures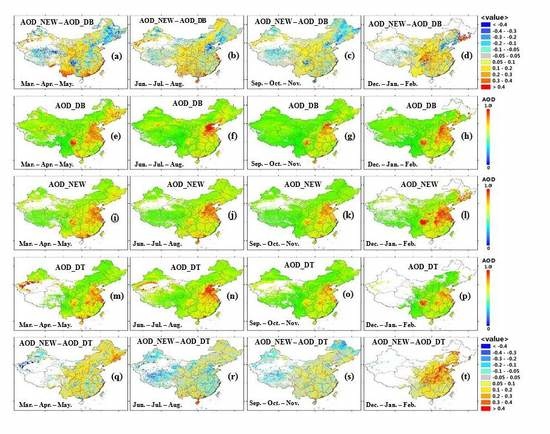 Graphical abstract
This is an open access article distributed under the
Creative Commons Attribution License
which permits unrestricted use, distribution, and reproduction in any medium, provided the original work is properly cited (CC BY 4.0).

Share & Cite This Article
MDPI and ACS Style
Yang, F.; Wang, Y.; Tao, J.; Wang, Z.; Fan, M.; De Leeuw, G.; Chen, L. Preliminary Investigation of a New AHI Aerosol Optical Depth (AOD) Retrieval Algorithm and Evaluation with Multiple Source AOD Measurements in China. Remote Sens. 2018, 10, 748.
Note that from the first issue of 2016, MDPI journals use article numbers instead of page numbers. See further details here.
Related Articles
Comments
[Return to top]