3D Geostrophy and Volume Transport in the Southern Ocean
1
Department of Applied Mathematics, University of Alicante, E-03080 Alicante, Spain
2
Institute of Earth Sciences, Academia Sinica, Taipei 11529, Taiwan, ROC
*
Author to whom correspondence should be addressed.
Received: 14 March 2018 / Revised: 30 April 2018 / Accepted: 3 May 2018 / Published: 5 May 2018
Abstract
The 3D geostrophic currents and the associated volume transport (VT) can be estimated from the GOCE and Altimetry satellite data and in-situ temperature and salinity profiles measured by the Argo floats. We do so for the Southern Ocean between 20°S and 65°S with their time variability down to the depth of 1975 m (in 58 layers) over the 11-year period of 2004–2014. The results depict the Southern Ocean circulation where a zonal Antarctic Circumpolar Current (ACC) interacts with a meridional thermohaline circulation. The VT reproduces the polar front and the subantarctic front of the ACC, as well as the large scale and mesoscale currents in the Southern Ocean. Our estimates for the Agulhas current and the East Australia currents are also quantitatively comparable with results from other approaches in the literature based on in-situ data. For ACC, the estimated VT at the Drake Passage is 185 Sv for the norm of the time average VT, or 202 Sv for the mean of the norms of the monthly VT, which are larger than previous estimations (ranging from 134 to 175 Sv). The estimate is potentially reconciled when only the zonal transport is considered (181 Sv). The Drake Passage total VT appears to be quite stable during the studied period, unlike its (dominant) zonal and meridional components which show higher variability that mostly compensate each other. The spatially averaged ACC VT shows per 1° width in the main stream a mean value of 29.6 Sv or 35.8 Sv (depending on the method used), an annual signal with an amplitude of 0.33 ± 0.06 Sv that peaks in early April, with no significant semi-annual signals nor linear trend. Water transports of barotropic and baroclinic origin have been isolated in the VT series showing that 75% of transport is barotropic and the remaining 25% baroclinic, while the variability and annual signal in the ACC is fully barotropic.
View Full-Text
►

▼

Figures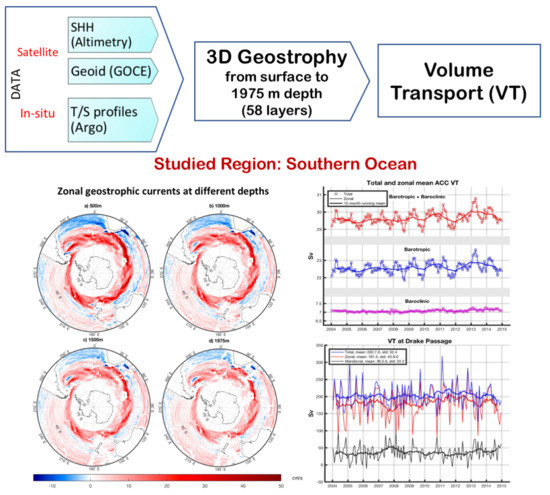 Graphical abstract
This is an open access article distributed under the
Creative Commons Attribution License
which permits unrestricted use, distribution, and reproduction in any medium, provided the original work is properly cited (CC BY 4.0).

Share & Cite This Article
MDPI and ACS Style
Vigo, M.I.; García-García, D.; Sempere, M.D.; Chao, B.F. 3D Geostrophy and Volume Transport in the Southern Ocean. Remote Sens. 2018, 10, 715.
Note that from the first issue of 2016, MDPI journals use article numbers instead of page numbers. See further details here.
Related Articles
Comments
[Return to top]