Global Ionosphere Mapping and Differential Code Bias Estimation during Low and High Solar Activity Periods with GIMAS Software
1
GNSS Research Center, Wuhan University, No. 129 Luoyu Road, Wuhan 430079, China
2
Collaborative Innovation Center of Earth and Space Science, Wuhan University, No. 129 Luoyu Road, Wuhan 430079, China
*
Authors to whom correspondence should be addressed.
Received: 16 March 2018 / Revised: 23 April 2018 / Accepted: 3 May 2018 / Published: 4 May 2018
Abstract
Ionosphere research using the Global Navigation Satellite Systems (GNSS) techniques is a hot topic, with their unprecedented high temporal and spatial sampling rate. We introduced a new GNSS Ionosphere Monitoring and Analysis Software (GIMAS) in order to model the global ionosphere vertical total electron content (VTEC) maps and to estimate the GPS and GLObalnaya NAvigatsionnaya Sputnikovaya Sistema (GLONASS) satellite and receiver differential code biases (DCBs). The GIMAS-based Global Ionosphere Map (GIM) products during low (day of year from 202 to 231, in 2008) and high (day of year from 050 to 079, in 2014) solar activity periods were investigated and assessed. The results showed that the biases of the GIMAS-based VTEC maps relative to the International GNSS Service (IGS) Ionosphere Associate Analysis Centers (IAACs) VTEC maps ranged from −3.0 to 1.0 TECU (TEC unit) (1 TECU = 1 × 10
16
electrons/m
2
). The standard deviations (STDs) ranged from 0.7 to 1.9 TECU in 2008, and from 2.0 to 8.0 TECU in 2014. The STDs at a low latitude were significantly larger than those at middle and high latitudes, as a result of the ionospheric latitudinal gradients. When compared with the Jason-2 VTEC measurements, the GIMAS-based VTEC maps showed a negative systematic bias of about −1.8 TECU in 2008, and a positive systematic bias of about +2.2 TECU in 2014. The STDs were about 2.0 TECU in 2008, and ranged from 2.2 to 8.5 TECU in 2014. Furthermore, the aforementioned characteristics were strongly related to the conditions of the ionosphere variation and the geographic latitude. The GPS and GLONASS satellite and receiver P1-P2 DCBs were compared with the IAACs DCBs. The root mean squares (RMSs) were 0.16–0.20 ns in 2008 and 0.13–0.25 ns in 2014 for the GPS satellites and 0.26–0.31 ns in 2014 for the GLONASS satellites. The RMSs of receiver DCBs were 0.21–0.42 ns in 2008 and 0.33–1.47 ns in 2014 for GPS and 0.67–0.96 ns in 2014 for GLONASS. The monthly stability of the GPS satellite DCBs was about 0.04 ns (0.07 ns) in 2008 (2014) and that for the GLONASS satellite DCBs was about 0.09 ns in 2014. The receiver DCBs were less stable than the satellite DCBs, with a mean value of about 0.16 ns (0.47 ns) in 2008 (2014) for GPS, and 0.48 ns in 2014 for GLONASS. It can be demonstrated that the GIMAS software had a high accuracy and reliability for the global ionosphere monitoring and analysis.
View Full-Text
►

▼

Figures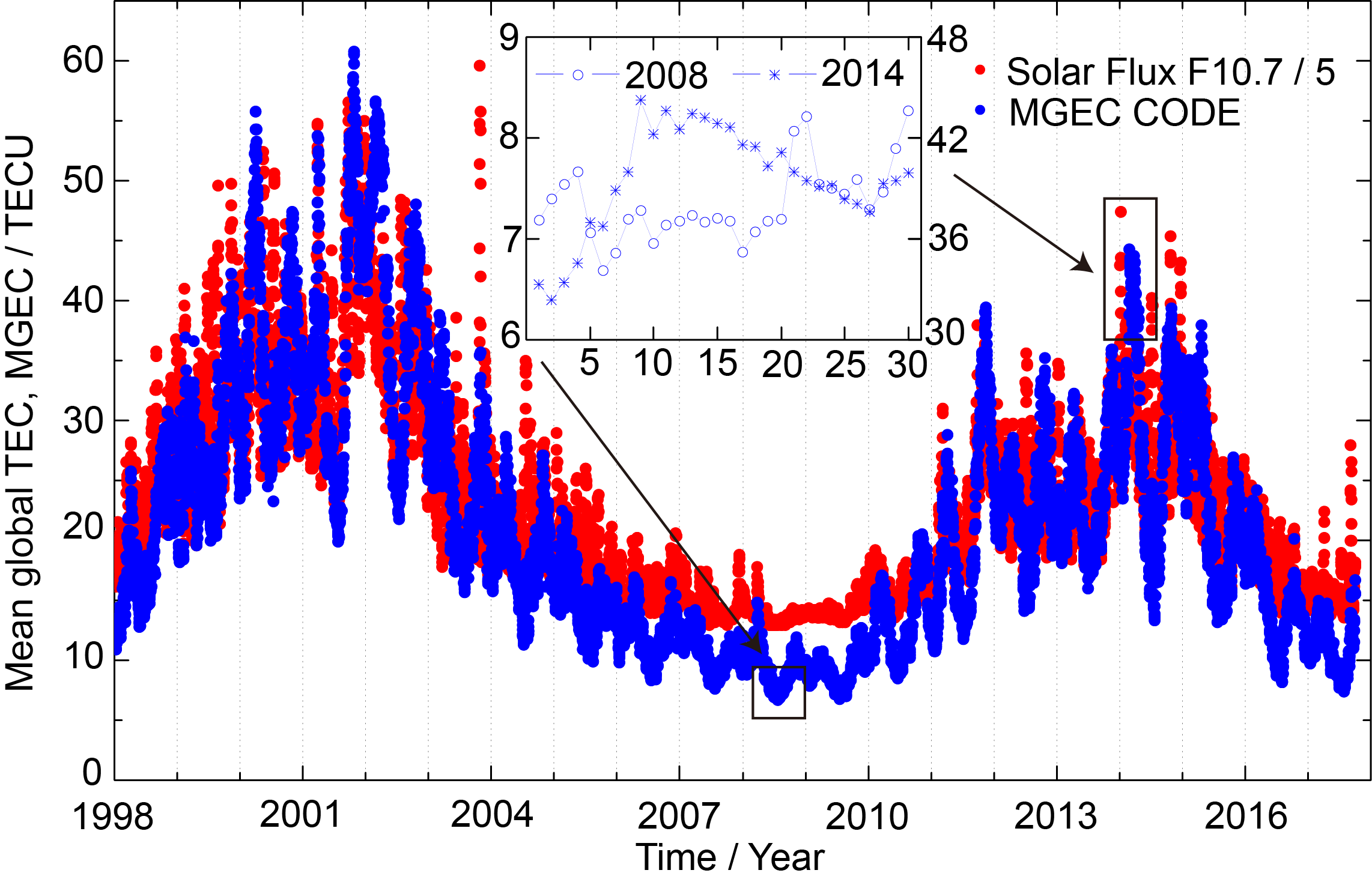 Graphical abstract
This is an open access article distributed under the
Creative Commons Attribution License
which permits unrestricted use, distribution, and reproduction in any medium, provided the original work is properly cited (CC BY 4.0).

Share & Cite This Article
MDPI and ACS Style
Zhang, Q.; Zhao, Q. Global Ionosphere Mapping and Differential Code Bias Estimation during Low and High Solar Activity Periods with GIMAS Software. Remote Sens. 2018, 10, 705.
Note that from the first issue of 2016, MDPI journals use article numbers instead of page numbers. See further details here.
Related Articles
Comments
[Return to top]