Open Access This article is
freely available
re-usable
Communication
The Effects of Food Waste on Wildlife and Humans
1
School of Life and Environmental Sciences, Centre for Integrative Ecology, Deakin University (Burwood Campus), Geelong, VIC 3125, Australia
2
School of Life and Environmental Sciences, The University of Sydney, Sydney, NSW 2006, Australia
3
Global Trophic Cascades Program, Department of Forest Ecosystems and Society, Oregon State University, Corvallis, OR 97331, USA
4
School of Environmental and Forest Sciences, University of Washington, Seattle, WA 98195, USA
*
Author to whom correspondence should be addressed.
Received: 28 April 2017 / Accepted: 7 July 2017 / Published: 19 July 2017
Abstract
:
A reduction in the loss and waste of human food is a global issue for addressing poverty and hunger in poorer nations, and for reducing the environmental footprint of the agriculture sector. An emerging issue, however, is that food wasted by humans is often accessible to wildlife, affecting wildlife ecology and behaviour, as well as ecological processes and community dynamics. Here we highlight the extent of such impacts, drawing on examples from mammalian predators and other taxonomic groups. We then develop two conceptual models. The first shows how wildlife access to food waste can exacerbate human-wildlife conflicts. The second highlights that when food waste is removed, the effects on wildlife and ecosystem processes should be monitored. The conceptual models are important when considering that large quantities of food waste are intentionally and unintentionally provided to wildlife around the world. We conclude there is an urgent need to change the way people currently manage the food we produce.
Keywords:
conservation; food waste; human-wildlife conflict; predator
Acknowledgments
This work was not funded by any specific grants.
Author Contributions
Thomas M. Newsome and Lily M. van Eeden conceived and wrote the paper.
Conflicts of Interest
The authors declare no conflict of interest.
Figure 1.
Average occurrence of food waste in the diet of (
A
) terrestrial predators > 1 kg in body size split into three functional groups and (
B
) the same data split into five family groups. The figure is based on data from 83 published studies (±95% confidence intervals) [
5
]. Frequency of occurrence of prey items in scats was used wherever possible. The asterisk (*) indicates that only one study was available. In (
A
) domestic species are those that have been purposefully changed by genetic selection by humans (e.g., domestic dogs). Mesopredators are species that suffer from top-down effects (e.g., coyote), whereas top predators are species that suffer little from top-down effects upon reaching maturity (e.g., grey wolf).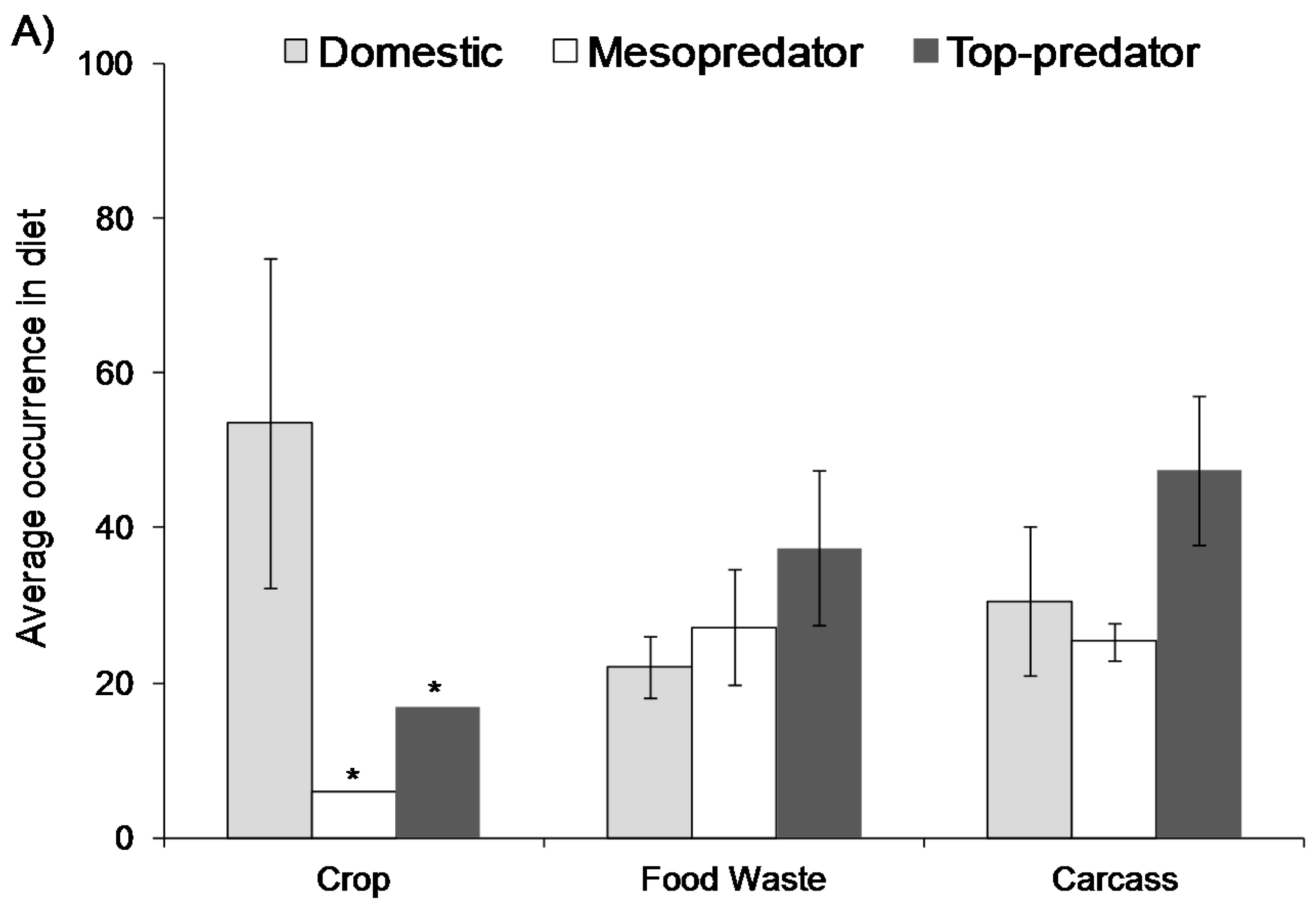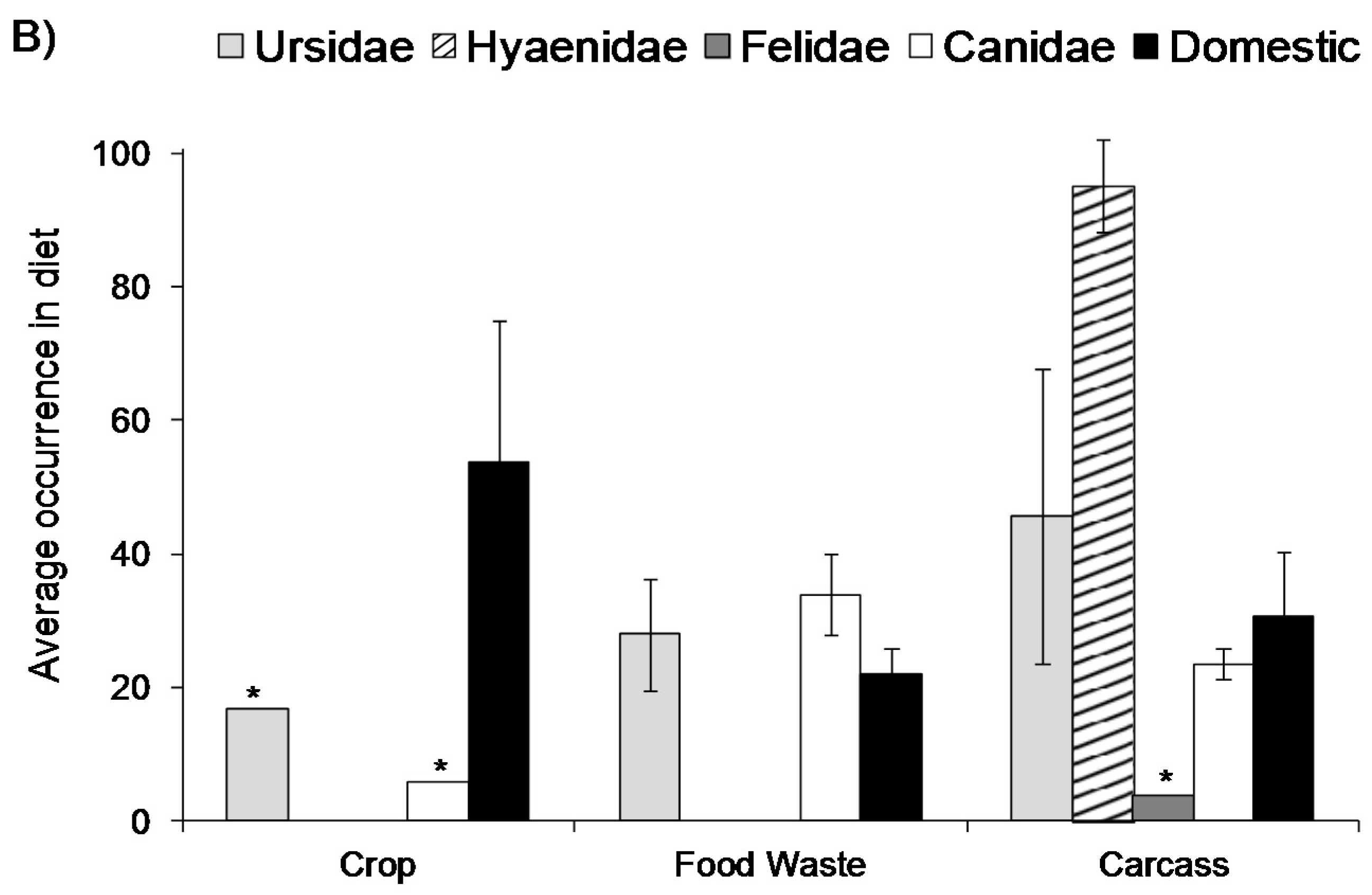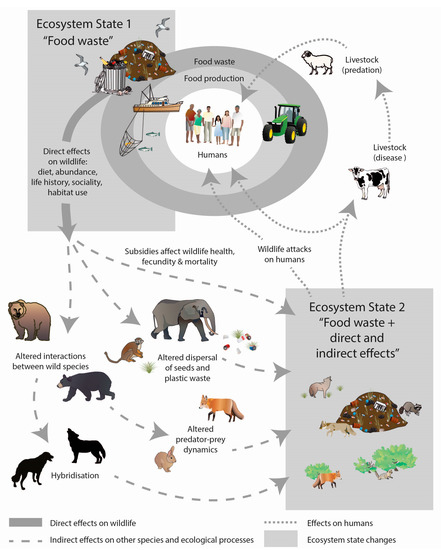 Figure 2. Conceptual model showing how wildlife access to food waste can alter wildlife ecology and behaviour, other species, and ecological processes, as well as exacerbate human-wildlife conflicts. The model includes two ecosystem states. In Ecosystem State 1, wildlife use of food waste directly affects wildlife ecology and behaviour (e.g., changes in diet, abundance, life history, sociality, and habitat use). Over multiple generations, these direct impacts are likely to indirectly affect other species and ecological processes, resulting in the formation of Ecosystem State 2. In both ecosystem states there will be impacts on humans and human livelihoods, especially via disease transmission, predation on livestock, and attacks on humans by wildlife.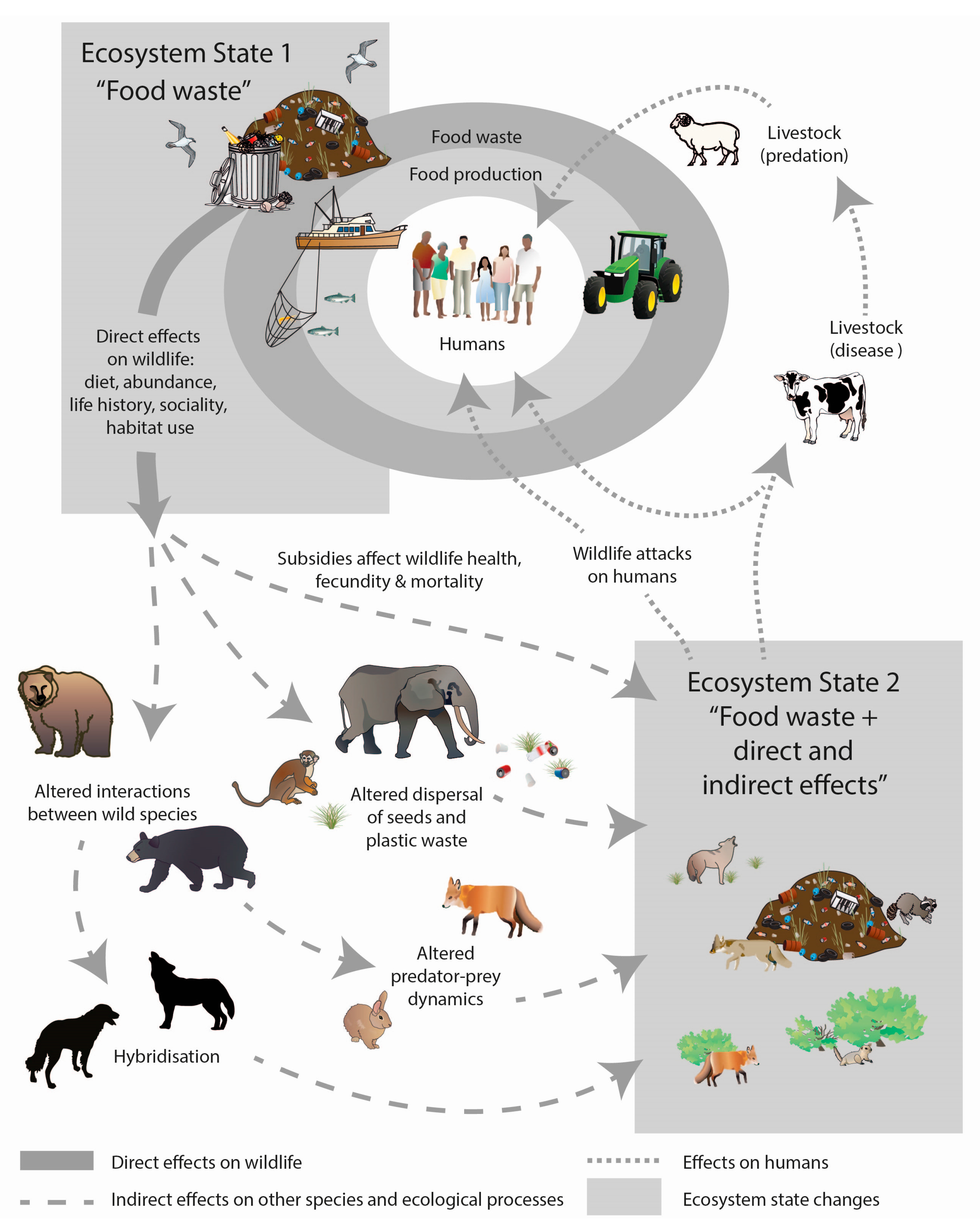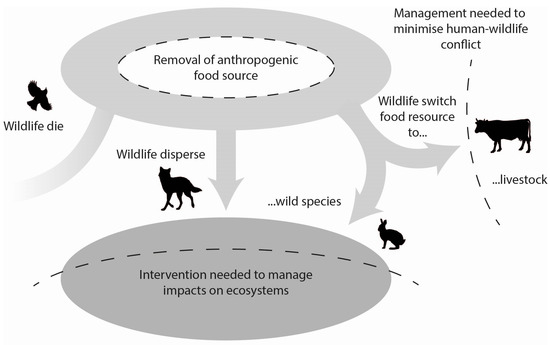 Figure 3. Conceptual model showing how the removal of anthropogenic food resources may impact wildlife and ecosystems. For example, wildlife may die of starvation, disperse and live elsewhere, or switch their dietary preferences to other wild prey or livestock, with the latter potentially resulting in increased human-wildlife conflict. Monitoring of such impacts may be necessary when reducing the availability of food waste to wildlife.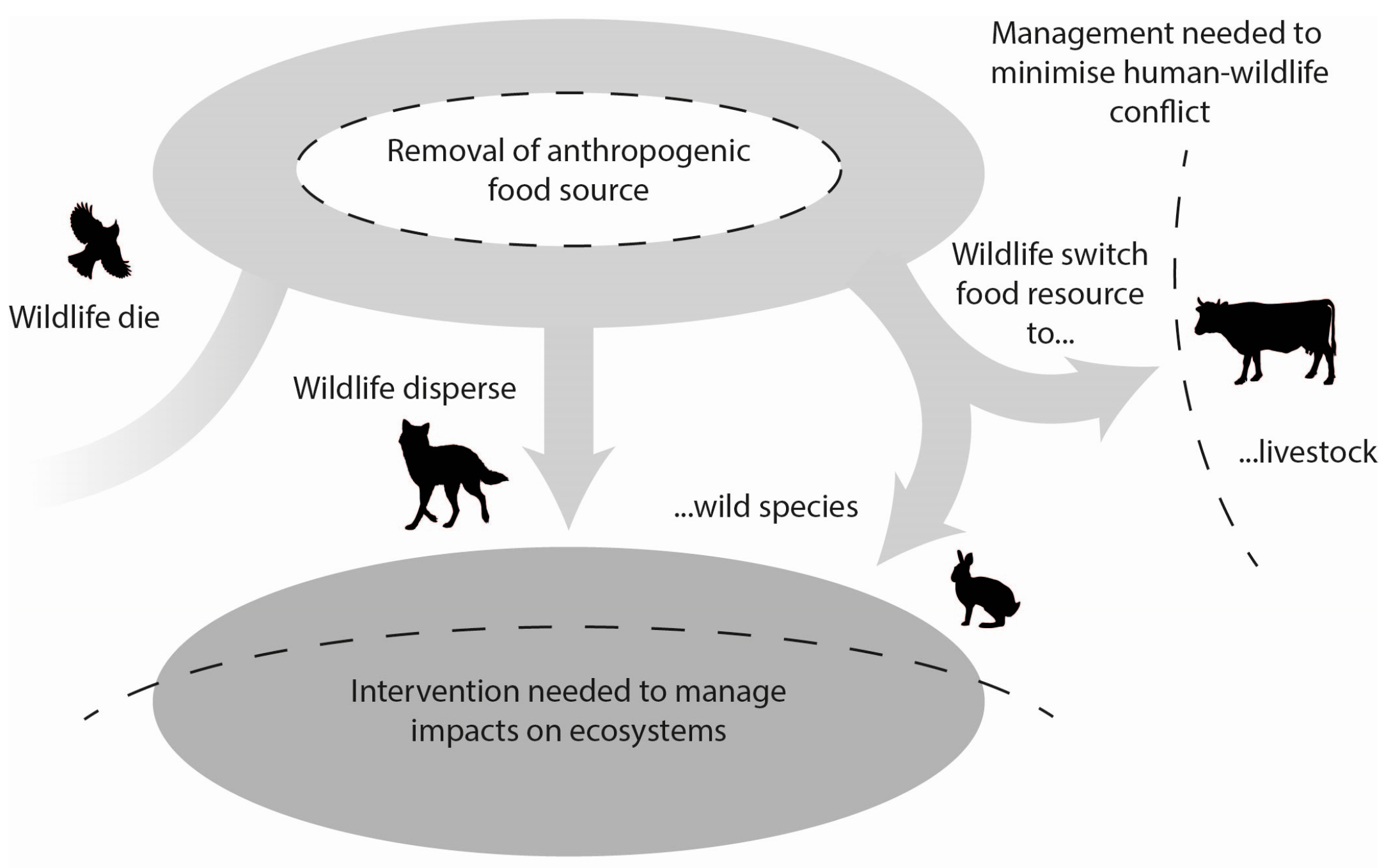 © 2017 by the authors. Licensee MDPI, Basel, Switzerland. This article is an open access article distributed under the terms and conditions of the Creative Commons Attribution (CC BY) license (http://creativecommons.org/licenses/by/4.0/).