Soil Organic Matter Responses to Anthropogenic Forest Disturbance and Land Use Change in the Eastern Brazilian Amazon
1
Department of Soil Science, "Luiz de Queiroz" College of Agriculture, University of São Paulo, 11 Pádua Dias Avenue, Piracicaba, SP 13418-900, Brazil
2
Center for Nuclear Energy in Agriculture, University of São Paulo, 303 Centenário Avenue, Piracicaba, SP 13400-970, Brazil
3
Embrapa Amazônia Oriental, 48, Belém, PA 66095-100, Brazil
4
Lancaster Environment Centre, Lancaster University, Lancaster LA1 4YQ, UK
5
Environmental Change Institute, University of Oxford, Oxford OX1 3QY, UK
6
International Institute for Sustainability, Estrada Dona Castorina, 124, Horto, Rio de Janeiro, RJ 22460-320, Brazil
7
Stockholm Environment Institute, Linnégatan 87D, Box 24218, Stockholm 104 51, Sweden
8
MCT/Museu Paraense Emílio Goeldi, Campus de Pesquisa, 1901 Perimetral Avenue, Terra Firme, Belém, PA 66017-970, Brazil
9
Department of Exact Sciences, "Luiz de Queiroz" College of Agriculture, University of São Paulo, 11 Pádua Dias Avenue, Piracicaba, SP 13418-900, Brazil
10
Embrapa Semiárido, 23 BR-428 Highway, km 152, Zona Rural, Petrolina, PE 56302-970, Brazil
11
Amazonas, Embrapa Amazônia Oriental, Vera Paz Street, Santarém, PA 68035-110, Brazil
*
Author to whom correspondence should be addressed.
Academic Editors: Jose G. Borges, Eva-Maria Nordström, Luiz Carlos Rodriguez and Thomas Seifert
Received: 15 November 2016 / Accepted: 21 February 2017 / Published: 7 March 2017
Abstract
Anthropogenic forest disturbance and land use change (LUC) in the Amazon region is the main source of greenhouse gas emissions to the atmosphere in Brazil, due to the carbon (C) and nitrogen (N) emitted from vegetation clearance. Land use conversion associated with management practices plays a key role in the distribution and origin of C in different soil organic matter (SOM) fractions. Here, we show how changing land use systems have influenced soil C and N stocks, SOM physical fractions, and the origin of SOM in the Santarém region of the eastern Brazilian Amazon. Soil C and N stocks were calculated for the surface layer of 0–30 cm. Anthropogenic disturbances to the standing forest, such as selective logging and wildfires, led to significant declines in soil C and N stocks. However, in the long-term, the conversion of the Amazon forest to pasture did not have a noticeable effect on soil C and N stocks, presumably because of additional inputs from pasture grasses. However, the conversion to cropland did lead to reductions in soil C and N content. According to the physical fractionation of SOM, LUC altered SOM quality, but silt and clay remained the combined fraction that contributed the most to soil C storage. Our results emphasize the importance of implementing more sustainable forest management systems, whilst also calling further attention to the need for fire monitoring systems, helping to ensure the resilience of C and N stocks and sequestration in forest soils; thereby contributing towards urgently needed ongoing efforts to mitigate climate change.
View Full-Text
►

▼

Figures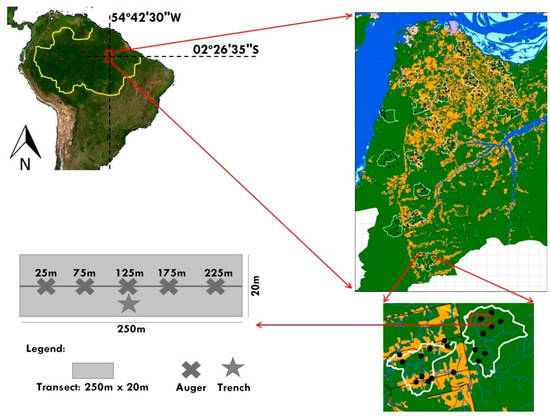 Figure 1
This is an open access article distributed under the
Creative Commons Attribution License
which permits unrestricted use, distribution, and reproduction in any medium, provided the original work is properly cited (CC BY 4.0).

Share & Cite This Article
MDPI and ACS Style
Durigan, M.R.; Cherubin, M.R.; De Camargo, P.B.; Ferreira, J.N.; Berenguer, E.; Gardner, T.A.; Barlow, J.; Dias, C.T.S.; Signor, D.; Junior, R.C.O.; Cerri, C.E.P. Soil Organic Matter Responses to Anthropogenic Forest Disturbance and Land Use Change in the Eastern Brazilian Amazon. Sustainability 2017, 9, 379.
Note that from the first issue of 2016, MDPI journals use article numbers instead of page numbers. See further details here.
Related Articles
Comments
[Return to top]