Open Access This article is
freely available
re-usable
Article
Breaking Resilient Patterns of Inequality in Santiago de Chile: Challenges to Navigate towards a More Sustainable City
1
School of Sustainability, Arizona State University, Tempe, AZ 85281, USA
2
Faculty of Environmental Sciences, Universidad de Concepción, Casilla 160-C, Concepción 4070386, Chile
*
Author to whom correspondence should be addressed.
Academic Editor: Patricia Romero-Lankao
Received: 26 May 2016 / Accepted: 17 August 2016 / Published: 19 August 2016
Abstract
:
Resilience can have desirable and undesirable consequences. Thus, resilience should not be viewed as a normative desirable goal, but as a descriptor of complex systems dynamics. From this perspective, we apply resilience thinking concepts to assess the dynamics of inequality, spatial segregation, and sustainability in Chile's capital city of Santiago. Chile's economy boosted since democracy was restored in 1990, but continuity of neoliberal reforms and transformations of Pinochet's dictatorship (1973–1990) seem to have locked Chilean cities in resilient, albeit unsustainable, patterns of uneven development. Socio-economic data from Santiago shows highly resilient patterns of urban inequality and segregation from 1992 to 2009 despite democratic efforts, political agendas and discourses packed with calls for reducing poverty and inequality. We present a conceptual model based on the notion of stability landscapes to explore potential trade-offs between resilience and sustainable development. We mapped Santiago's spatio-temporal inequality trends and explored if these patterns support an inequality-resilience stability landscape. Analysis of temporal and spatial distribution of development assets across four human development dimensions (i.e., income, education, health, democracy) revealed potential socio-political and spatial feedbacks supporting the resilience of inequality and segregation in Santiago. We argue that urban sustainability may require breaking this resilience, a process where bottom-up stressors such as social movements could play a key role.
Keywords:
inequalities; uneven development; segregation; resilience; transformability; sustainable development
2. A Resilience Framework of Urban Inequality Dynamics
3. Materials and Methods
Our analysis compares the 34 municipalities forming the conurbation commonly known as The Greater Santiago (
Figure 3
). This urban area covers over 60,000 ha [
57
] and is home to approximately 6.5 million inhabitants [
58
]. Population is highly segregated with higher income groups clustered in municipalities in the northeastern cone of the city (e.g., Las Condes, Lo Barnechea, Providencia, and Vitacura), and low income groups spread to the southern and northwestern areas [
59
]. Distribution of business districts, shopping malls, universities, green areas, and other services tend to be concentrated in municipalities inhabited by higher income groups [
22
,
60
,
61
].
3.1. Analyzed Human Development Assets
To explore the spatial and temporal trends of human development assets in Santiago, we looked for assets within four main dimensions of human development: Wealth, Education, Health, and Democracy. Wealth, Education and Health are included because assets within these dimensions are commonly acknowledged as fundamental in providing opportunities for human development [
16
,
62
]. We added the democracy dimension due to the importance of political power in altering urban inequalities and fostering social-ecological change [
36
,
63
]. The United Nations also identifies political participation as key for human development [
64
], and might be particularly pertinent in Chile due to dictatorial recent history.
Obtaining relevant data on assets pertaining to the four human development dimensions required evaluating several Chilean government databases. A main challenge was finding data consistently gathered at the municipal level for the period of analysis (i.e., 1990–2010). We used the "Socioeconomic National Characterization Survey" (CASEN for its acronym in Spanish), one of the most important instruments used by the Chilean government to collect data for developing social policies. Data from the CASEN survey cover years 1992, 1998, 2003 and 2009. We discarded using more recent CASEN data because the survey design was modified after 2009 resulting in data not representative at the municipal level. The CASEN survey is administered every two or three years. It focuses mainly on social variables at the household level and provides no data of political participation. Hence, for the democracy dimension, we used the Chilean Electoral Service database (SERVEL), which collects national and local scale electoral information disaggregated at the municipal level. SERVEL database covered municipal elections in 1992, 1996, 2000, 2004, and 2008. There was no municipal election near 1998; therefore we interpolated data from the 1996 and 2000 elections.
We exported four variables from these two databases, each one representing a human development asset related with one of the four human development dimensions. The first variable, "per-capita total income" of households, includes autonomous income plus transfers from government subsidies and it is the development asset related to the wealth dimension. Second, the variable, "percentage of people with higher education diploma (university or technological college)", indicates a development asset related with the education dimension. We used higher education diploma, instead of simply high school diploma because having a college or university degree in Chile largely increases the chances to access both more secure and better remunerated jobs [
65
]. Third, "percentage of people with private health system membership", was the variable selected for the health dimension. We chose this variable because even though in Chile there is a public health system, the quality, waiting time and options of the private system are largely better than the public one [
66
,
67
]. Fourth, the variable "percentage of potential voters effectively voting in municipal elections" is a measure of the democracy dimension.
3.2. Data Analysis
We used two complementary approaches for data analysis. First, we analyzed the distribution of absolute values of assessed variables to evaluate temporal trends of each one of the four assessed variables across municipalities. This information is useful to understand how these variables have evolved in time, but constrains our ability to evaluate relative differences between municipalities. As inequality is conceptually based on relative differences or statistical dispersion of a variable of interest, our second approach was to standardize our variables into comparable indicators by using the following formula:
This formula transformed the original values into comparable standardized indicators with potential values ranging between 0 and 1. We used this transformation because it allows for comparison between assessed variables, highlights different degrees of inequality between municipalities, allows for calculating relative gaps between municipalities, and facilitates the generation of maps for visual qualitative interpretation. We calculated two statistics to quantify and compare the levels of inequalities between municipalities: standardized gap, and Gini inequality index. The standardized gap was simply calculated as the arithmetic difference between the standardized indicator value from the top and bottom municipalities. The Gini index was computed by using the inequality package ("ineq" v.0.2-13) in R-Studio (ver. 0.98.1103). To quantify the level of spatial segregation we calculated the Moran's
I
index of spatial autocorrelation by using the spatial statistics toolbox in ArcGIS (ver. 10.3). Moran's
I
provides a measure of the spatial clustering of the analyzed variable and it is useful to compare social segregation across time [
68
]. Both Gini and Moran's
I
are based on the analysis of relative values and therefore their results are not affected if the computation is made for the absolute (i.e., original variables) or standardized indicators values. All spatial layers and maps were generated using Quantum GIS (v.2.10 Pisa).
4. Results
4.1. Temporal Trends of Analyzed Variables
4.2. Temporal Trends of Spatial Inequalities and Segregation
4.3. Changes in the Inequality Landscape
Ranking municipalities from lower to higher level of achievement for each of the analyzed human development assets provides a striking picture of the resilient patterns of inequalities and segregation of Santiago (
Figure 6
), and links our results to the conceptual models presented in
Figure 1
and
Figure 2
. Whereas almost all municipalities have experienced changes in the achievements of development assets from 1992 to 2009, the general pattern of these achievements has remained almost unaltered (
Figure 6
). This is evidence of a resilient pattern where the urban system has been changing (improving human development across the board) while at the same time preserving its basic structure, function and identity of spatial inequality and segregation. Patterns for income, education and health reveal an inequality landscape characterized by a large group of municipalities locked in an attractor of lower development and opportunities, and a small group of municipalities locked in an attractor of high development and opportunities (
Figure 6
a–c). This small group of municipalities encompasses a cluster of six municipalities located in the northeastern part of Santiago (i.e., Las Condes, La Reina, Lo Barnechea, Ñuñoa, Providencia, and Vitacura), highlighting the role of the spatial dimension in Santiago's inequalities. In contrast, democracy presented less spatial segregation and a more homogenous distribution across municipalities (
Figure 6
d).
5. Discussion
Our results support the argument that spatial segregation generated due to neoliberal reforms implemented during the dictatorship may play a key role in the resilient patterns of inequalities observed in Santiago. Maps in
Figure 5
show that inequality follow a clear pattern of segregation represented by an isolated cluster of higher developed municipalities located at the northeastern part of the city. Spatial segregation may act as a mechanism that reinforces income inequalities by spatially clustering the lower income population in areas with lower access to human development assets, such as education [
69
], health [
70
] and housing [
71
]. This suggests that the neoliberal model prevailing in Chile is limiting the access to development assets (e.g., private health, and higher education) for lower income sectors [
66
,
72
]. This limitation may not only be due to monetary or income restrictions of families but also because of planning policies promoting spatial segregation, such as the implementation of housing projects for low income sectors in perimeter areas with limited access to services [
71
]. Furthermore, as the vast extent of urban soil in Santiago is privately owned and their prices controlled by the market, people living in less developed municipalities will be unlikely to ever amass economic resources necessary to afford migrating to the richer municipalities that concentrate development opportunities [
12
]. Public housing projects have also been planned under the logic of market land prices under neoliberal policies, which means that the vast majority of housing projects are located on less expensive lands at the fringes of lower income municipalities [
24
,
71
,
73
]. Although the overall level of development can improve across the board, our data shows that income and access to development assets opportunities are positively correlated. This suggests positive feedbacks between income, access to private health and education, and political participation. Indeed, policies aiming to increase people´s income (e.g., through government transfers) in lower development level municipalities will probably have little effects in increasing the access to development opportunities, because private health facilities are mostly located in richer municipalities, and the quality of schools is strongly positively associated with municipal development level [
10
,
74
]. Therefore, even though people in lower development municipalities could afford paying university tuitions through education credits, the lower education quality they receive at the school level would make difficult for them to achieve the scores in the standardized test required to enroll in Chile's selective university system. Nevertheless, additional data would be needed to test for a causal link between income and human development assets and the feedback between spatial segregation and inequalities. For instance, our analysis suggests but cannot confirm whether individuals inhabiting municipalities in the northeastern corner of Santiago are more likely to get a higher education diploma or access private health care because they happen to live there or simply because their higher incomes. However, positive results from few experimental policies aimed at relocating "slums" within wealthier areas via housing projects tend to support our argument [
73
].
In relation to participation in democratic election processes, the lack of association between the spatial pattern of democracy indicator and patterns of the other three indicators may suggest that participation in formal democracy is not affected by educational or income level. However, a deeper analysis of our raw data reveals that the percentage of null and blank votes by municipality is strongly negatively correlated to the income of municipalities (Pearson correlation coefficients of −0.84, −0.83, −0.56, and −0.61 for the four assessed years;
p
< 0.001 for all years). As blank and null votes could easily represent more than 10% of total votes in lower income municipalities, this implies that there could be a hidden reduction of democratic participation in low-income municipalities that is not revealed by our data. Although it is difficult to assess if this level of null and blank votes is part of the called "protest votes", or simply reflect people that were afraid to be fined by not voting while been previously registered in the electoral system, data from recent elections support the later. In fact, an analysis from the 2012 municipal election, which was done under a fully voluntary voting system, reveals that the percentage of people voting per municipality in Santiago is positively correlated with municipalities' income level [
75
]. Therefore, this suggests that municipalities located in the northeastern part of Santiago have not only persistently concentrated the largest incomes, rates of higher education diploma, and access to the private health system, but have also increasingly accumulated a relatively larger weight in democratic election processes.
A limitation of our study is that we are assessing a small number of human development assets representing a small fraction of the universe of variables that are relevant for human development and quality of life [
76
,
77
]. Furthermore, the development assets explored here are not the only segregating spatial factors that may promote the resilience of inequality in Santiago. For instance, uneven distribution of green areas [
61
], urban vegetation cover [
78
], heat risk [
79
], and air pollution [
80
] are environmental factors that may also support the resilience of inequalities between municipalities. Thus, our data has to be interpreted with caution as it just evaluates trends of inequalities and segregation in some key human development assets, but do not reflect temporal trends of quality of life between Santiago's municipalities. In fact, quality of life has been increased in almost all municipalities of Santiago during the last 15 years, but inequalities have remained almost unaltered [
81
].
Acknowledgments
This material is based upon work supported by the United States National Science Foundation under Grant Number 1444755, and Chilean National Commission for Scientific and Technological Research Grant FONDAP/15130015. We would also like to thanks Cristián Massad, from Ecomabi Foundation, for his help processing data from CASEN survey.
Author Contributions
Ignacio C. Fernández conceived, designed and led the research and writing process for this manuscript. Ignacio C. Fernández performed the statistical analysis. Ignacio C. Fernández, David Manuel-Navarrete and Robinson Torres-Salinas developed the methodological framework. Ignacio C. Fernández and David Manuel-Navarrete developed the conceptual models. Ignacio C. Fernández, David Manuel-Navarrete and Robinson Torres-Salinas wrote the manuscript.
Conflicts of Interest
The authors declare no conflict of interest.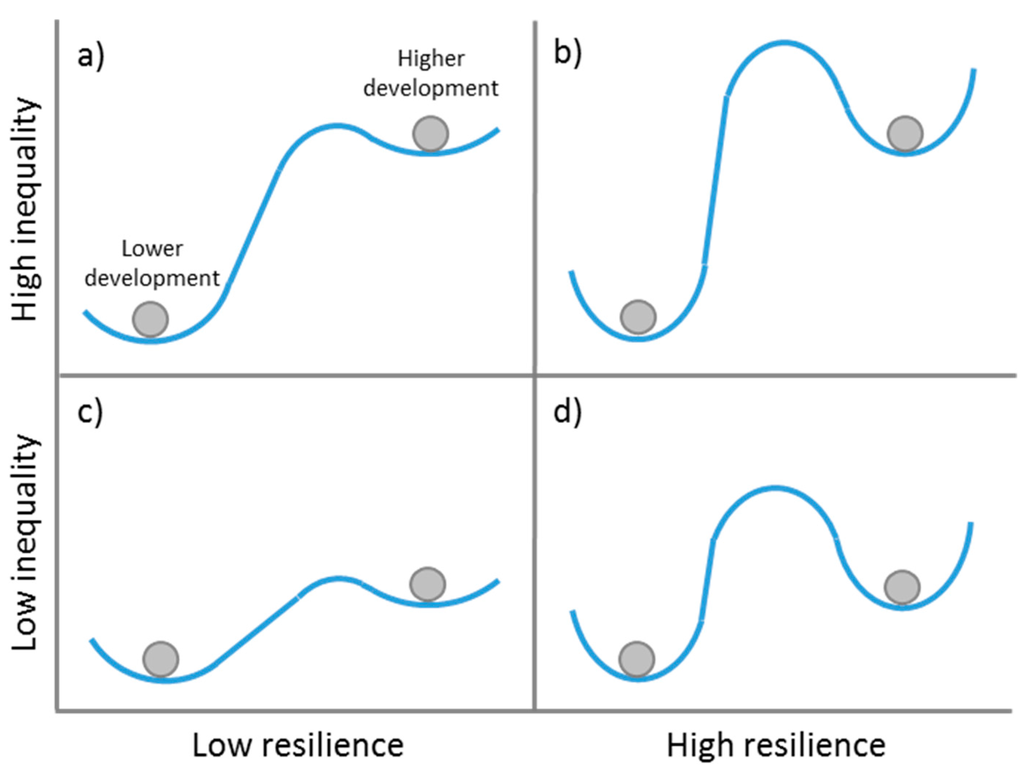 Figure 1.
Conceptual model of four ideal types of inequality-resilience stability landscapes. The shape of the lines depicts the stability landscape. Balls are neighborhoods with different relative development levels. Inequality level is represented by the difference of balls position in the
Y
-axis, and resilience by the height of the hill and the depth of the basin.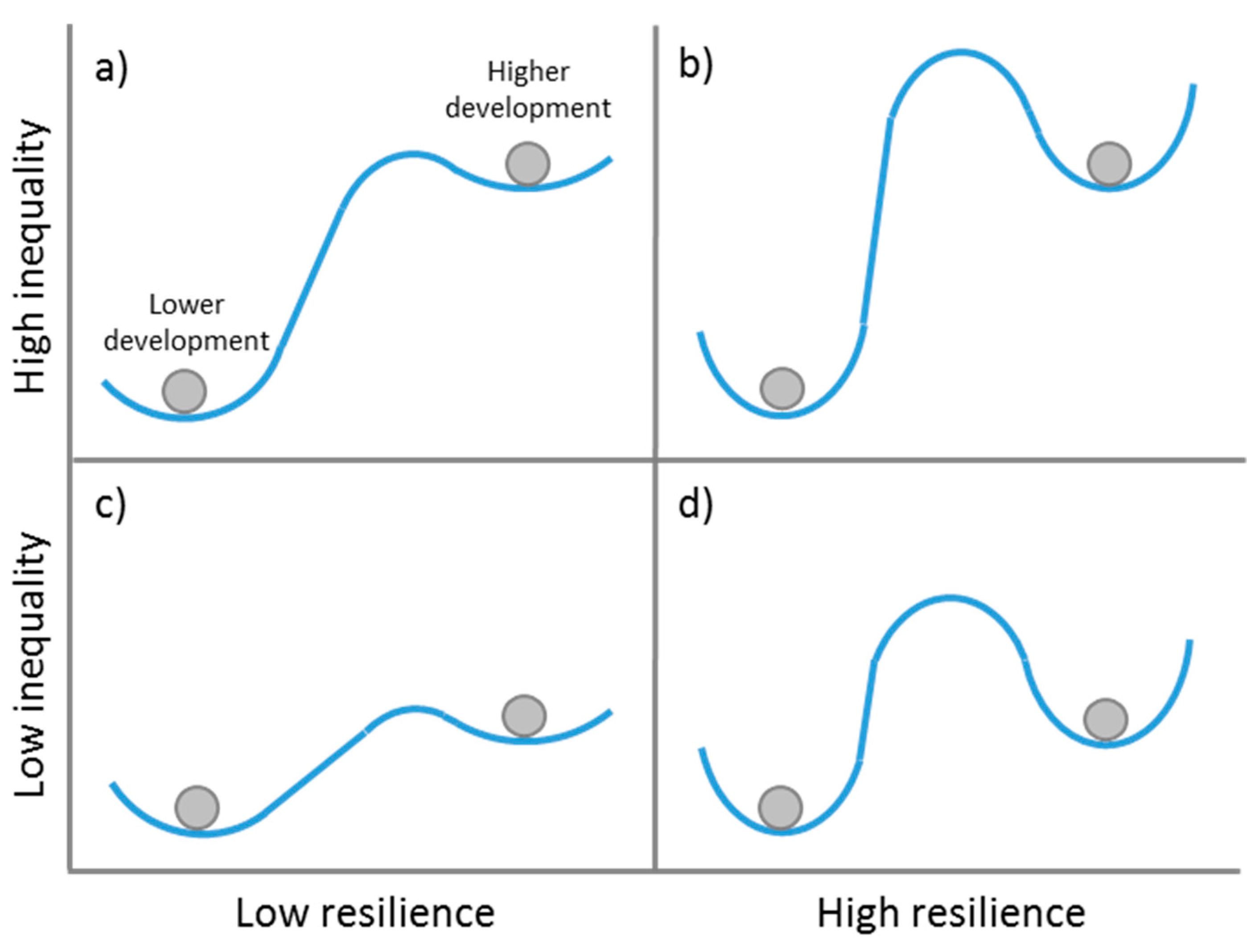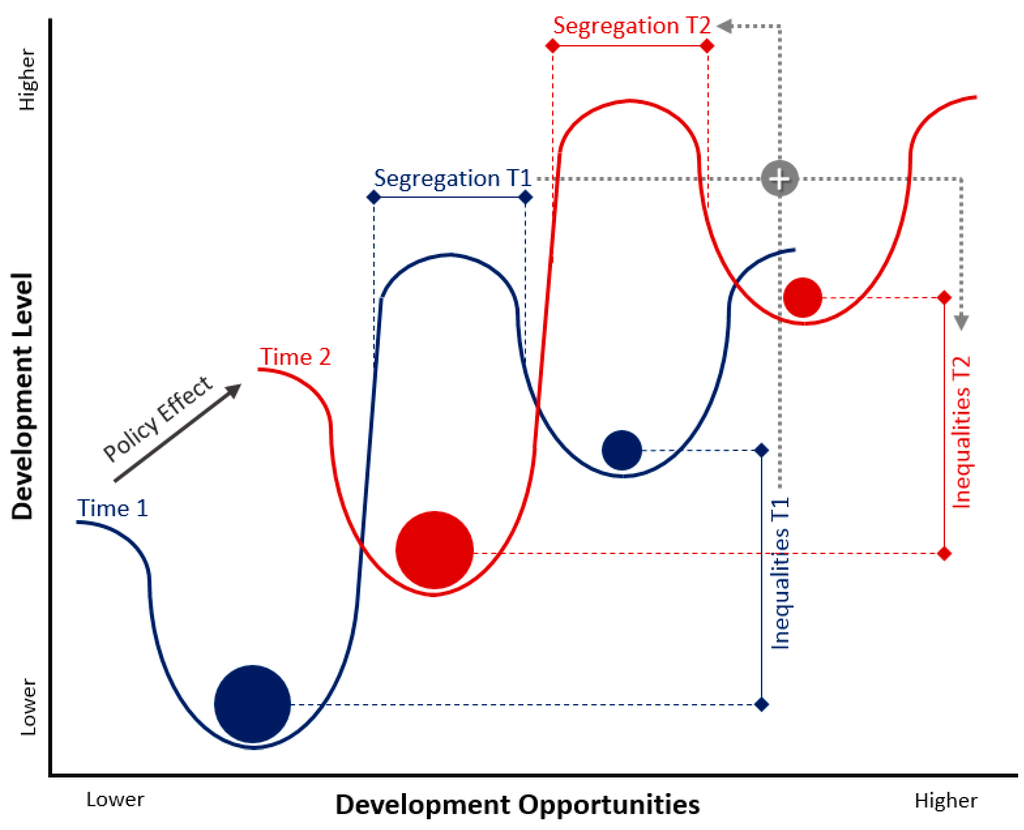 Figure 2.
Conceptual framework of the resilient spatial patterns of inequalities in Santiago. This figure shows the stability landscape at times 1 (blue) and 2 (red) for a large set of low development municipalities (larger ball), and a segregated cluster of higher development municipalities (smaller ball). Position along the
Y
-axis characterizes the cluster's level of development, and the relative difference between two clusters expresses the city's inequalities. Position along the
X
-axis represents the relative difference of access to development opportunities for each cluster, which are largely driven by the level of spatial segregation (shape of the hill). Policies may improve the system's overall level of development without reducing inequalities or segregation.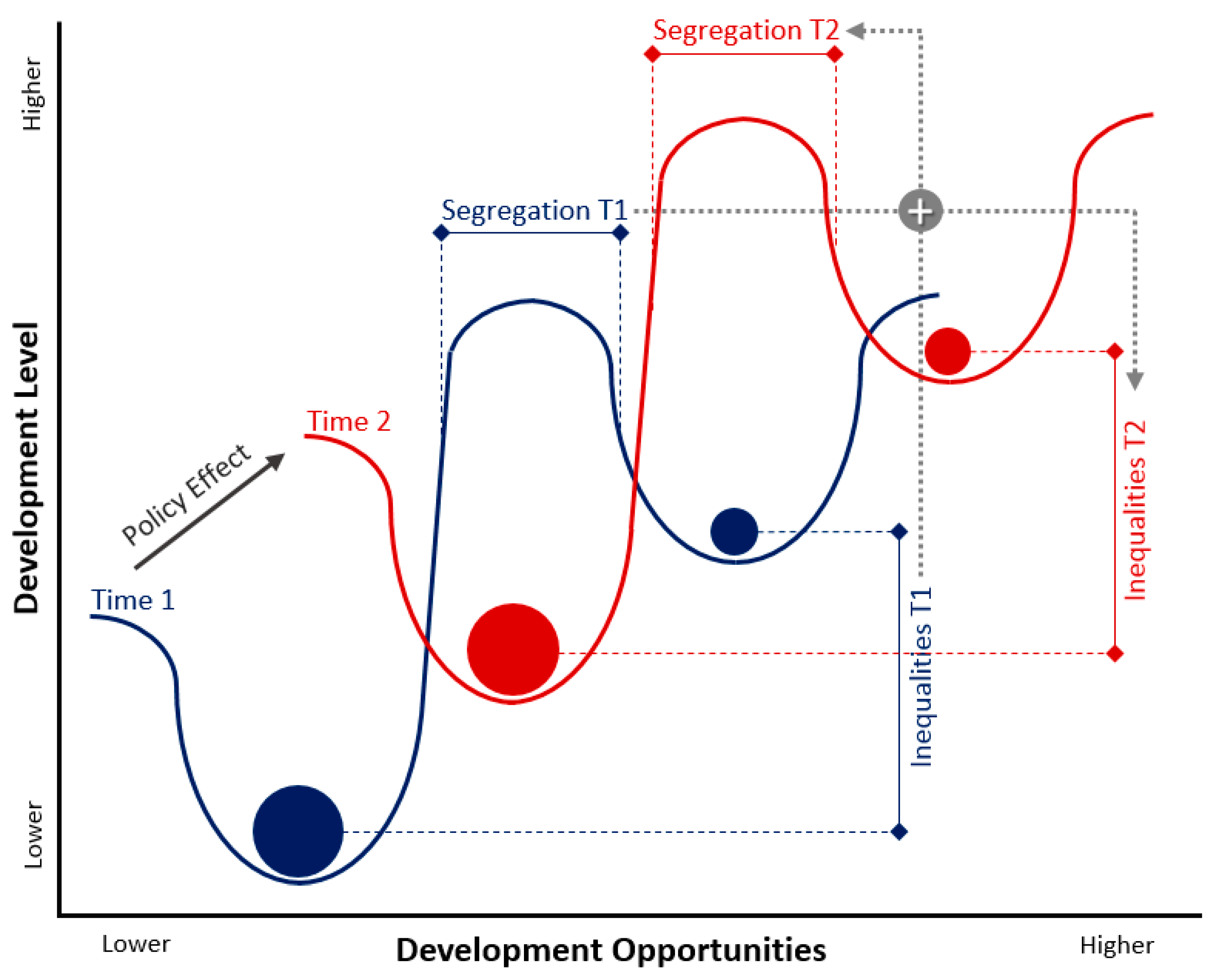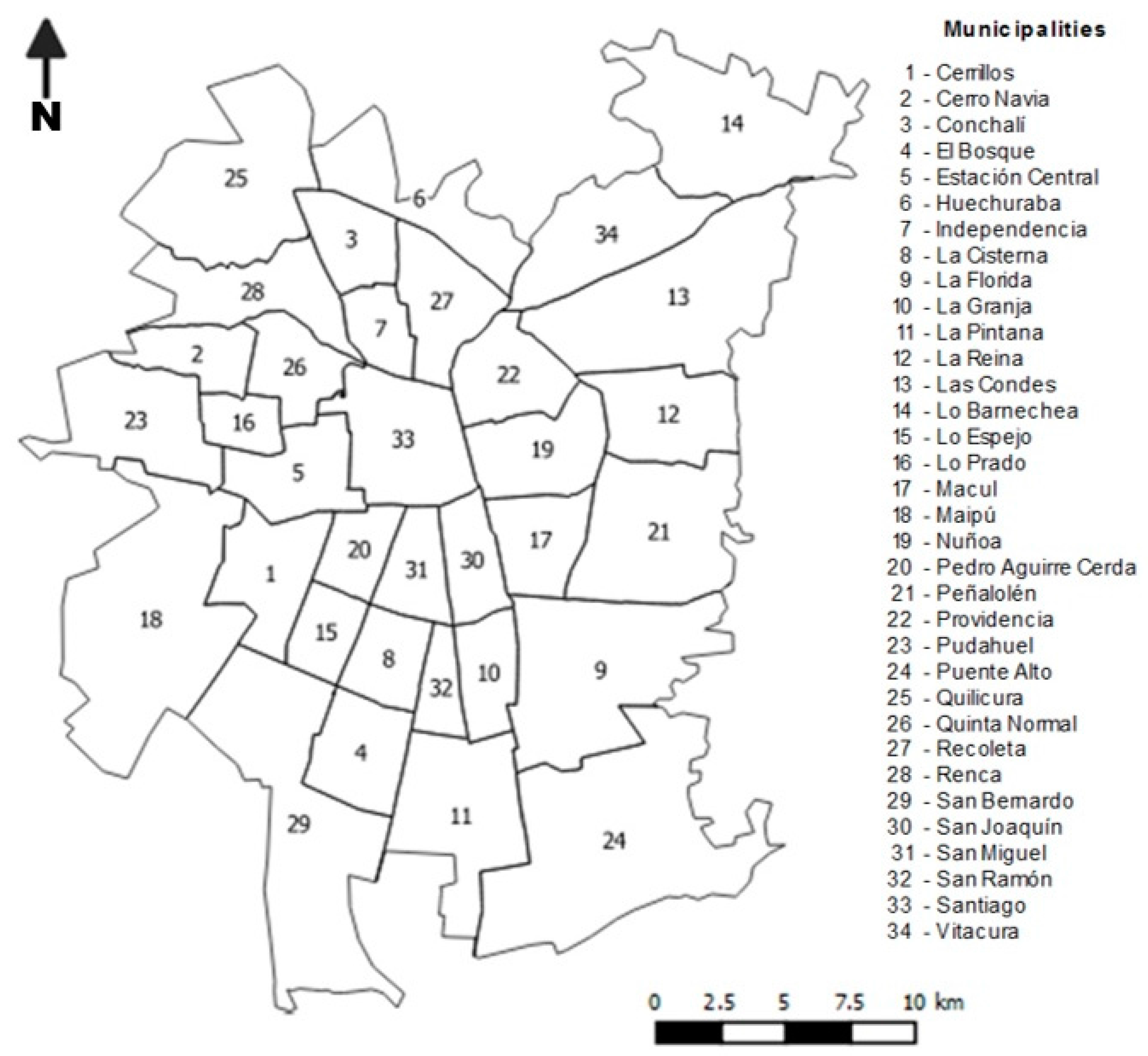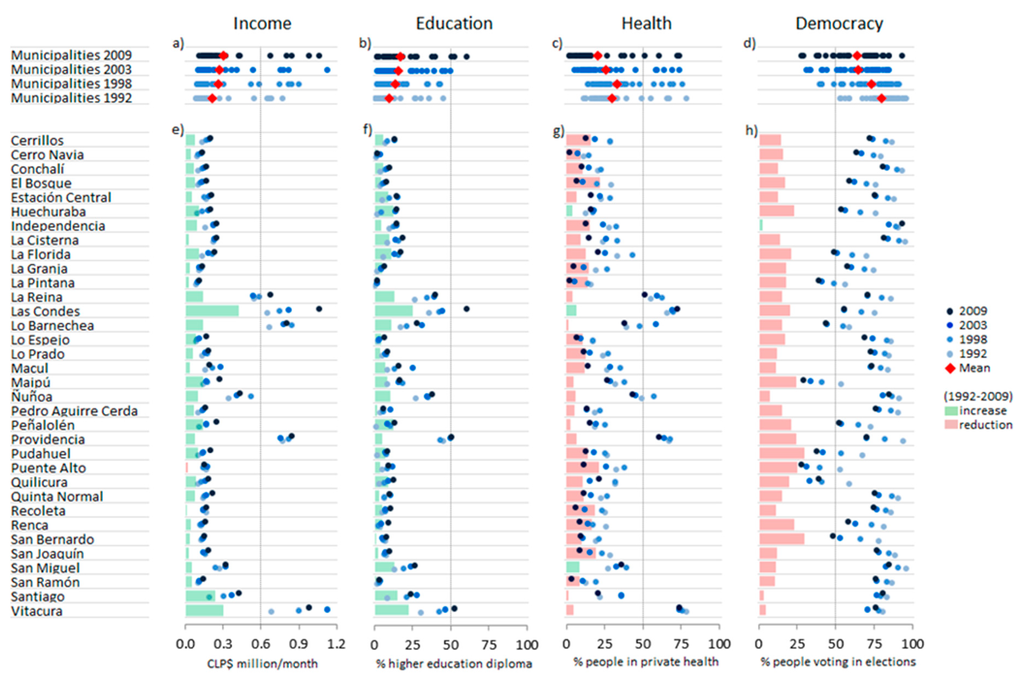 Figure 4. Absolute values of assessed variables for the 34 municipalities of Santiago for years 1992, 1998, 2003, and 2009. Dots in top rows show the variable's dispersion for each assessed year, (a) income, (b) education, (c) health, (d) democracy. Mean value is the arithmetic mean among the 34 municipalities not weighted by municipal population. Dots in bottom rows show specific values for each of the assessed municipalities for the four assessed years, (e) income, (f) education, (g) health, (h) democracy. Green and red bars represent absolute increase or decrease of the assessed variable in each municipality for the 1992–2009 period.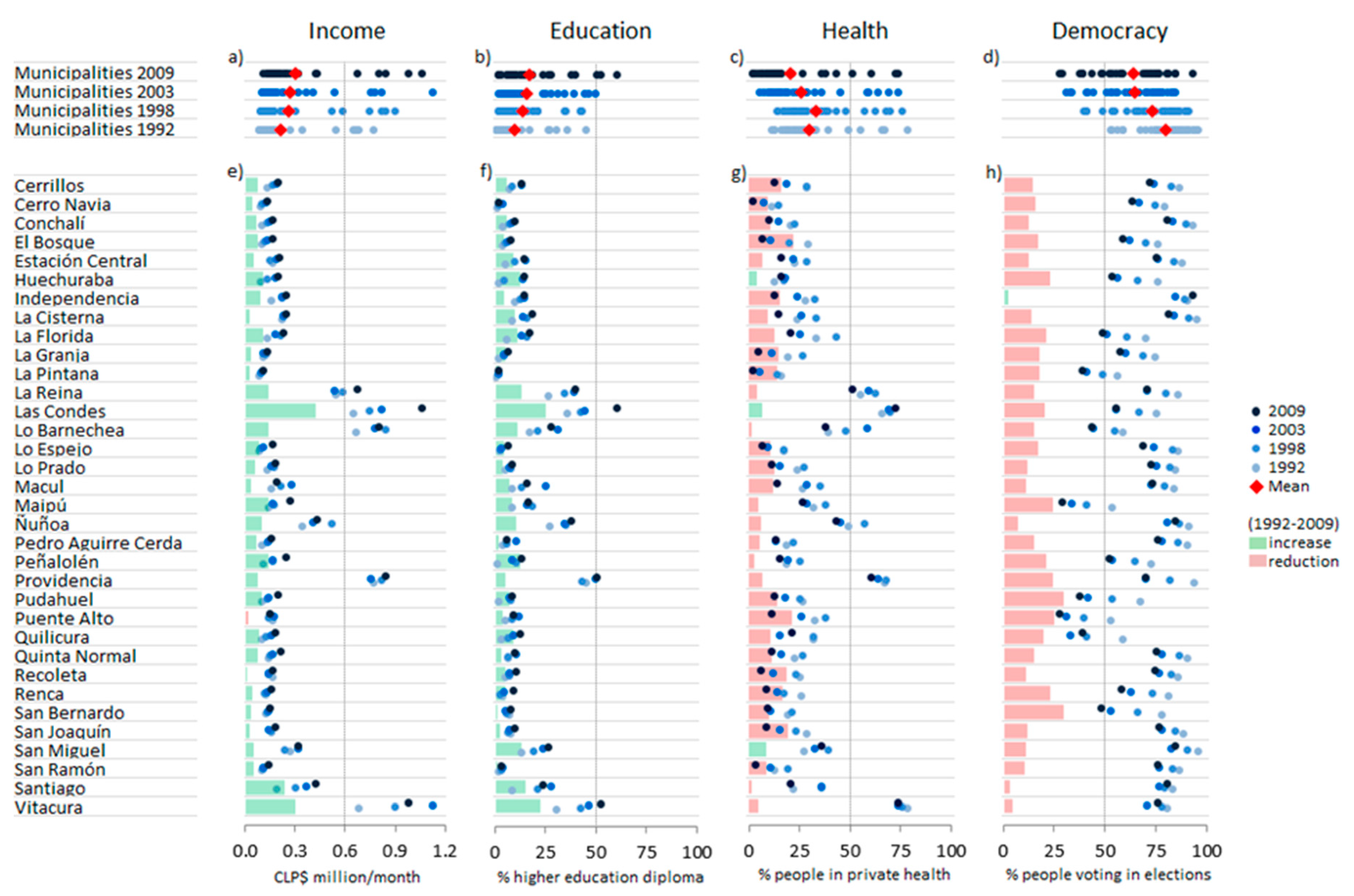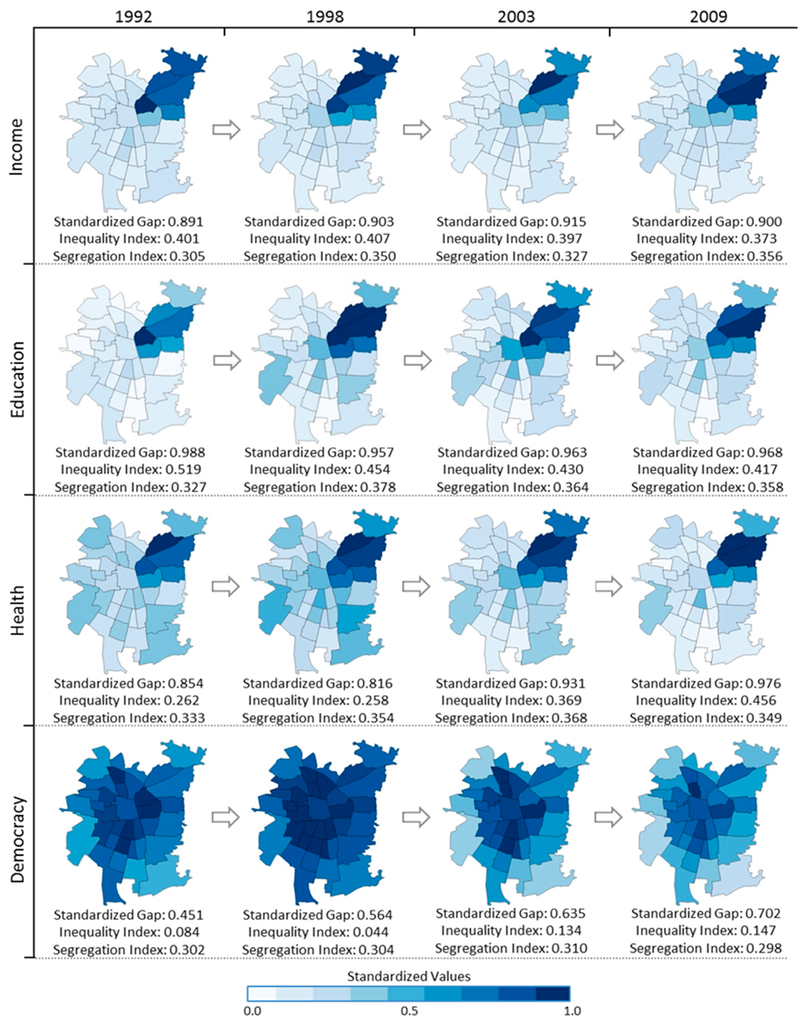 Figure 5. Indicator maps of temporal trends (1992–2009) of inequalities and spatial segregation for standardized values of development assets between Santiago's 34 municipalities. Standardized Gap measures relative difference between the best-off and worst-off municipality; values range from 0 (no difference) to 1 (maximum difference). Inequality (Gini) index range between 0 and 1; larger values represent higher levels of inequality. Segregation (Moran's I autocorrelation) index range between −1 and 1, larger values represent higher levels of spatial segregation.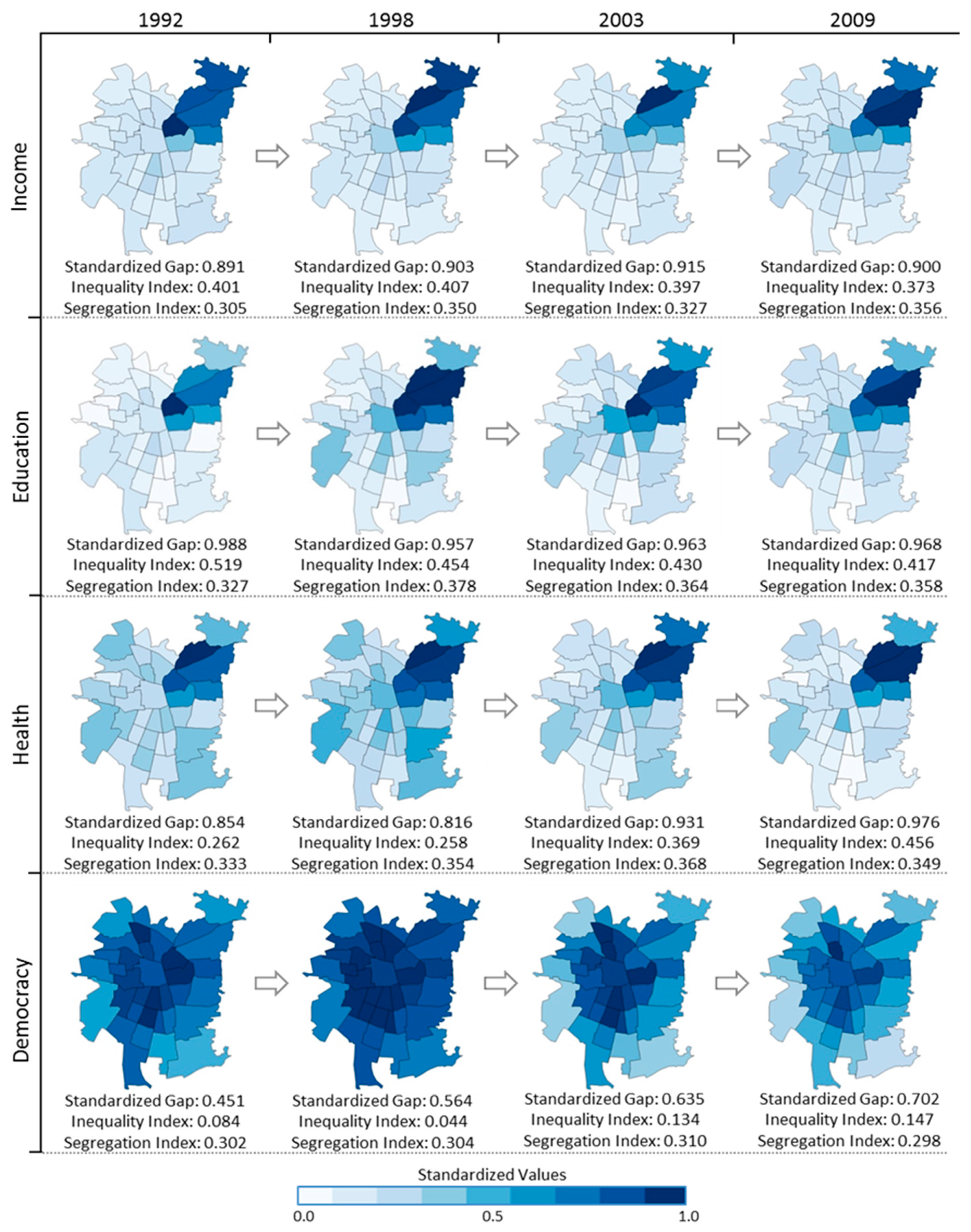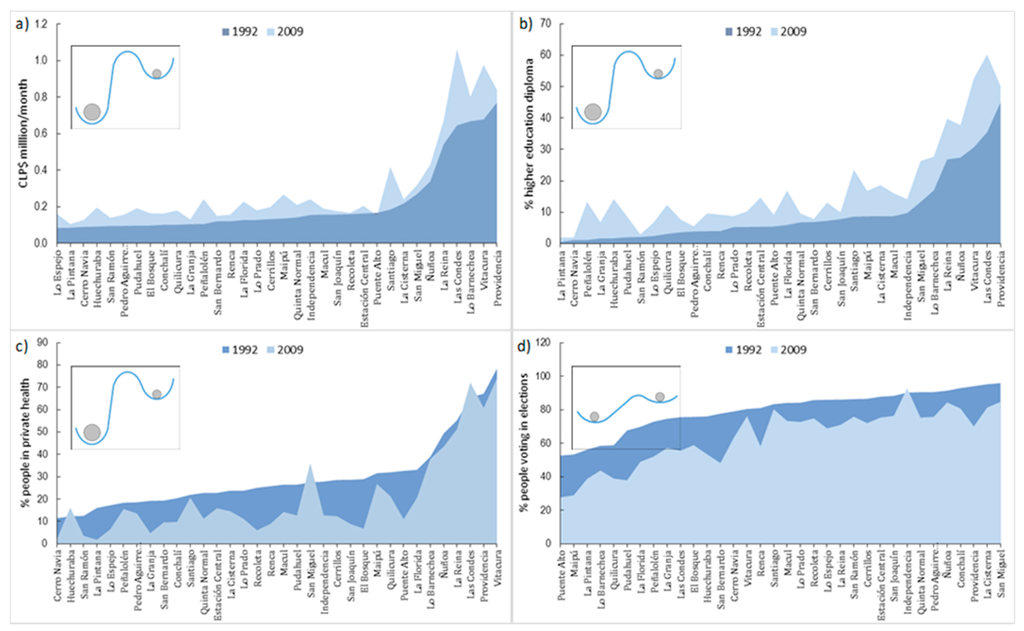 Figure 6. Inequality-resilience stability landscape of Santiago for years 1992 and 2009. Color bars represent development levels for each analyzed asset arranged from lower (left) to higher (right) ranked municipalities based in the year 1992. Stability landscapes depicted within each graph illustrates the likely conceptual model operating for each variable. (a) income, (b) education, (c) health, (d) democracy.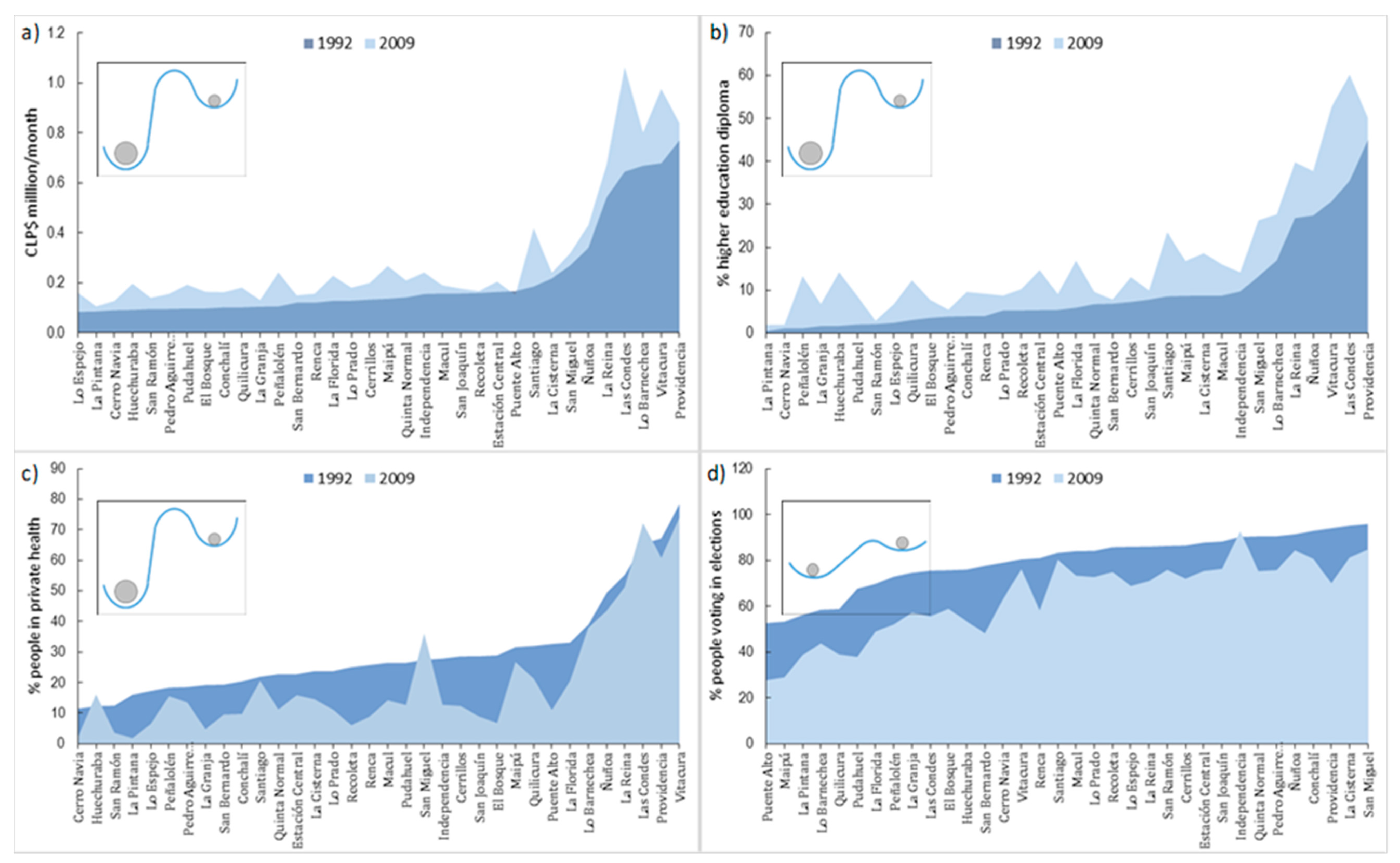 Table 1. Pearson correlation analysis for the four standardized indicators values.
Income
Education
Health
1992
1998
2003
2009
1992
1998
2003
2009
1992
1998
20003
2009
Education
0.929 *
0.908 *
0.916 *
0.945 *
Health
0.887 *
0.905 *
0.954 *
0.946 *
0.919 *
0.970 *
0.971 *
0.978 *
Democracy
0.081
−0.075
0.037
0.073
0.231
−0.018
0.125
0.172
0.026
−0.108
0.015
0.084
© 2016 by the authors; licensee MDPI, Basel, Switzerland. This article is an open access article distributed under the terms and conditions of the Creative Commons Attribution (CC-BY) license (http://creativecommons.org/licenses/by/4.0/).