Open Access This article is
freely available
re-usable
Article
A Concept of Water Usage Efficiency to Support Water Reduction in Manufacturing Industry
1
School of Aerospace, Transport and Manufacturing, Cranfield University, Cranfield MK43 0AL, UK
2
Centre for Sustainable Manufacturing and Reuse/Recycling Technologies, Loughborough University, Loughborough LE11 3TU, UK
*
Author to whom correspondence should be addressed.
Academic Editors: Wei Dei Solvang, Kesheng Wang, Bjørn Solvang, Peter Korondi and Gabor Sziebig
Received: 22 September 2016 / Accepted: 18 November 2016 / Published: 25 November 2016
Abstract
:
Increasing pressures on freshwater supplies, continuity of supply uncertainties, and costs linked to legislative compliance, such as for wastewater treatment, are driving water use reduction up the agenda of manufacturing businesses. A survey is presented of current analysis methods and tools generally available to industry to analyze environmental impact of, and to manage, water use. These include life cycle analysis, water footprinting, strategic planning, water auditing, and process integration. It is identified that the methods surveyed do not provide insight into the operational requirements from individual process steps for water, instead taking such requirements as a given. We argue that such understanding is required for a proactive approach to long-term water usage reduction, in which sustainability is taken into account at the design stage for both process and product. As a first step to achieving this, we propose a concept of water usage efficiency which can be used to evaluate current and proposed processes and products. Three measures of efficiency are defined, supported by a framework of a detailed categorization and representation of water flows within a production system. The calculation of the efficiency measures is illustrated using the example of a tomato sauce production line. Finally, the elements required to create a useable tool based on the efficiency measures are discussed.
Keywords:
water; management; manufacturing; reuse; recycling; process; model; minimization; reduction; efficiency
2. Survey of Water Reduction Tools
Process integration is engineering of an industrial system to make use of energy, water, and raw materials more efficient. It involves ways of combining inputs to and outputs from individual unit processes, but not changes to the processes themselves. Examples are use of heat exchangers to recover heat form the output of one unit process and using it as the input to another or, similarly, reuse of output water streams.
3. Definitions of Water Usage Efficiency Ratios (WERs)
To evaluate water efficiency, we propose three metrics that we term Water Efficiency Ratios (WERs). The metrics depend upon a classification scheme for water flows in a factory, illustrated in
Figure 2
. The scheme allows a consistent description of a manufacturing facility, within which the efficiency measures can be meaningfully defined. Some aspects of the scheme are similar to previous work on both industrial and nonindustrial water flows (see references within the following discussion).
The collection of all water flows in a plant is named "Factory Water", and the water used during production is referred to as "Production Water" (PDW). As shown in the figure, this is in distinction to "Non-Production Water" (NPW), which is water used by auxiliary activities that facilitate production within a factory. Non-production water is typically the initial focus of water-saving efforts such as awareness campaigns, automatic taps for washrooms, and use of grey water for washing vehicles. In this work, we concentrate on the Production Water, which is the direct use of water by or in products, production processes, production equipment, and production areas. PDW is further subdivided into a number of flow types, as discussed in the next section.
The set of flow inputs and outputs for a unit process is illustrated in
Figure 3
. Following Gleick and Palaniappan [
49
], the input water can be considered as either consumed, or discharged as wastewater. Molden and Sakthivadivel [
50
] also described similar, although not identical, concepts of depleted (i.e., consumed) and outflow water in their accounting scheme for water basins. This leads to the definition of the output flows as follows:
CE: Consumed Embedded water is defined as the water that is embedded into the product as an ingredient. This type of consumption is beneficial and adds value to the product. Examples are beverage manufacturing processes, where water is used as a main ingredient.

CL: Consumed Lost water is defined as the water lost in the process through evaporation or spillage that cannot be recovered. This type of consumption is non-beneficial and occurs due to system inefficiencies and errors.

DR: Discharged Renewable water is that fraction of discharged water which is of a quality allowing reuse either directly or after treatment. Examples are water from washing or rinsing processes, boiler blowdown water, and last rinse water from clean-in-place (CIP) or steam-in-place systems.

DNR: Discharged Nonrenewable water is the proportion of discharged water that is unfit for reuse, because of higher levels of contamination, and is discharged as trade effluent.
DR water could be further subdivided into reusable water, which can be directly reused in a process without any treatment, and recyclable water, which can be reused in a process after being treated using one or more water treatment methods. This distinction is not carried through in the scheme proposed here, but could be incorporated in the future. Similarly, the consideration of positive effects on the environment of discharging reusable water was incorporated into environmental impact scores by Lévová and Hauschild [
21
].
Each CL, DR, and DNR flow can be categorized as process water (PW) or system water (SW). PW is defined as the water used in production processes that is essential to convert raw materials into intermediate and final products—for example, water used as an ingredient in products, as a solvent, as a coolant or lubricant, or as a cleaning agent to wash products. SW is defined as the water used in the production processes to maintain the production equipment, apparatus, and environment—for example, water used in clean-in-place (CIP) systems or other general cleaning activities to sanitize production equipment and material-handling systems. CE flows are PW by definition. The concept of process and non-process beneficial depleted water flows proposed by Molden and Sakthivadivel [
50
] for water basins is similar, as for these authors the non-process flow produces value but is not consumed directly by the process in question.
With the definitions above, the full production system can represented as a Factory Water Model as shown in
Figure 4
, in which a subscript
i
is applied to the flows associated with unit process
i
.
The water usage efficiency ratios (WERs) formulated using the flow definitions are defined below. The Water Intensity (WI) ratio identifies processes that use the largest proportions of water in a production chain:
WI highlights water-intensive processes but does not provide clarity on how well that water is used. This is addressed in the other two efficiency ratios. The Water Efficiency (WE) ratio looks at what proportion of the water is incorporated in the product or used directly for processing, compared to water used in an ancillary role, for example in washing production equipment or facility:
The Waste Water Efficiency (WWE) ratio is the proportion of reusable waste water to the total input water to the process:
Defining WWE addresses the criticism of some water impact methods that the nature of effluent produced is not assessed (see, for example, Lévová and Hauschild [
21
]). Application of all three measures is required to target unit processes for intervention. For example, the proportion of non-reusable water can be decreased by simple dilution, consequently improving WWE, but at the cost of worsening WI.
4. Example Application of Efficiency Measures
We illustrate the calculation of the WERs using a simple example of tomato sauce production. The production line, illustrated in
Figure 5
, consists of four main processes, namely: Washing—of the tomatoes as received; Cooking—of tomatoes to form a puree; Mixing—of the puree with other ingredients; and Filling—of tomato sauce bottles. These processes are connected to each other by conveyor belts and pipes to facilitate both discrete and continuous movement of raw ingredients, processed materials, and final products. The PW usage for individual processes is as follows:
Washing process: water used to wash tomatoes.

Cooking process: water used to cook tomatoes;

Mixing process: water added to the tomato puree;

Filling process: water used to wash bottles before filling with sauce.
The SW for each step is the water used by the clean-in-place (CIP) systems. These cleaning processes take place in two cycles: Mini Wash and Major Wash. Mini Wash is the cleaning cycle in between operations and Major Wash is the general washing of the production machines and equipment after each production shift. Note that the wash water for the bottles is counted as PW rather than SW as it is directly associated with the product—that is to say, a bottle of tomato sauce, and not washing of the manufacturing equipment.
The flow volumes per cycle for each water category for each process are summarized in
Table 1
. The ratio of volumes of water consumed to discharged and the proportion of the discharge water considered reusable vary for each process, and for an individual process vary between the process and the system water. For example, a relatively high proportion of the tomato washing water can be directly reused (D of 26 L, DR of 20 L) through techniques such as a pre-rinse in counter current rinsing [
51
], but in the tomatoes cooking step all the cooking water is absorbed or evaporated so there is no discharged water (PW of 23 L, D of 0 L, C of 23 L). Also shown in
Table 1
are the number of cycles of each process that occur over the course of an eight-hour production shift. Using the figures in the table and Equations (1)–(3), the total PDW and the values of the water efficiency ratios can be calculated for an eight-hour production shift, as shown in the table.
It can be seen that the Washing and Cooking processes use the most water and hence have comparatively lower WI values (i.e., 0.58 and 0.69, respectively). Although water intensive, these processes are efficient in comparison to the others because a smaller proportion of PDW is used as SW (as indicated by their WE values, i.e., 0.96 and 0.99, respectively). The water productivity in these cases can be improved through process redesign. For example, use of high pressure/steam washers to rinse tomatoes, the use of lids over the cooking containers to prevent water evaporation, or the reuse of "last rinse water" as the "first rinse water" in a subsequent operation. Interventions such as these are able to substantially reduce the PW intake by proactively targeting areas for improving efficiency.
In contrast, the Mixing process has a relatively high WI value (i.e., 0.96), and uses the least amount of water compared to the other three processes. At the same time, it has a comparatively poor WE value of 0.32 because a larger proportion of PDW is used as SW. Therefore, improvement can be targeted at reducing the SW requirement of the Mixing process through operational changes such as increasing the batch size, or appropriately planning the product flows to minimize idle time and prevent unnecessary cleaning from product residue.
Similar to the Mixing process, the Filling process also has a comparatively high WI of 0.96, but a relatively poor WE of 0.61. It is not as efficient comparatively because a higher amount of water is used as SW. Furthermore, the Filling process has a lower WWE value (i.e., 0.42) compared to the other processes, which reflects the fact that a larger proportion of DNR water is generated because of the use of special detergents that make the outgoing water unsuitable for reuse.
5. Discussion
The WERs provide numerical scores to be used in a comparative manner to help to identify critical water usage areas or "hotspots" on which to concentrate in developing water reduction proposals [
52
]. However, in making investment decisions there are generally other considerations which must be included, such as technical and economic feasibilities and projected environmental benefit of proposed measures. For example, in the early stages of a company water reduction program, the optimum measures might be expected to be more reactive (i.e., low risk and low return, in nature), while at later stages they might be proactive (i.e., high risk and return). Combining quantitative data such as WERs with qualitative judgments to rank alternatives is a typical task faced in water management, and use of a number of multi-criteria decision analysis (MCDA) techniques to support such ranking have been reported in the literature. Examples are work by Curiel-Esparza et al. [
53
], who applied the analytical hierarchy process (AHP) [
54
] with the Delphi method and VIKOR technique to select a sustainable water disinfection technique for water reuse projects in Valencia, Spain, and by Rahman et al. [
55
] who also applied AHP followed by weighted linear combination (WLC) for selection of optimum aquifer recharge strategies in the Gaza Strip.
Use of hydrological simulation to provide the quantification of variables of interest, together with the results of consultations and MCDA is lauded in the literature as a powerful combination for evaluation of proposed watershed management arrangements. Examples are Cau and Paniconi [
56
], who applied it to agricultural land use in Sardinia, and Rahaman et al. in their Gaza Strip study. We propose that the Factory Water model of
Figure 4
could be used similarly, together with discrete event simulation (DES) and MCDA to evaluate proposed water management changes in a factory. DES allows simulation of the dynamic flow of both water and products in-plant under proposed scenarios. Such scenarios include changes to product formulations, application of water reuse and recycling, or changes to operational parameters such as cycle time, busy and idle times, setup time, product changeovers, wash time, and machine down time. The WERs for each scenario would be calculated from the DES outputs, then combined with the results of expert and management consultations using MCDA methods. This approach would provide the basis of a tool for iterative development and evaluation of water reduction proposals affecting the manufacturing process chain.
However, a barrier to setting up DES factory models and calculation of WERs, and to water conservation efforts in general, is lack of data on water quality and flow volumes at the process level within a plant. In the worst case, actually available data can be limited to periodic meter readings taken by the water utility for charging purposes, covering water supply to the whole of a plant. The volume of effluent discharged may not be measured directly, with sewage charges instead estimated from supply volumes and site area. Content of effluent is often sampled as part of ensuring compliance with discharge permits and charging, but the contributions to the effluent from individual unit processes may not be known. To model a manufacturing plant to sufficient fidelity to assess sustainability concepts, water data at the individual process level is required. The data set should capture the time variation of both volume and content due to the batch nature of production and manufacturing schedules.
To remedy the lack of data, an instrumentation toolkit for characterization of both water content and measurement of fluid flow volumes is required to complement the framework. The instrumentation would ideally be non- or minimally invasive to allow initial characterization work without disrupting plant operation. Other characteristics required are in-line continuous monitoring capability to capture the variation related to production over a period. In the longer term, permanently installed instrumentation could be part of a water reduction solution. An existing example is the use of conductivity sensors for control of boiler blowdown intervals [
8
].
6. Summary and Conclusions
Uncertainties over future availability of freshwater, and the rising industrial demand for it, have forced many manufacturers to re-evaluate water and consider it as a critical resource on a par with energy and materials. Global economic development trends mean that manufacturing will become an increasingly important consumer of water supplies, even in water-stressed regions. In this context, the ability of to significantly reduce the water usage of production processes is also key for the long-term sustainability of manufacturing industry.
Low risk, low cost, reactive measures involving little change to process or product are generally the first port of call for manufacturing companies seeking to improve their water profile. However, proactive measures involving more fundamental changes are essential for long-term gains. Because these are higher risk and more costly, analysis and decision support tools are required to target areas for intervention and manage risk.
A survey of current analysis methods and tools generally available to industry to help identify areas for water reduction projects and to manage the use of water was carried out. These included life cycle analysis, water footprinting, strategic planning, water auditing, and process integration. It was identified that the methods surveyed do not provide insight into the operational requirements from individual process steps for water, instead taking such requirements as a given. We have therefore argued that there is a gap in provision for a tool focusing on individual manufacturing processes. As a first step to achieving this, we have proposed a concept of water usage efficiency to be used to identify hotspots for intervention. We have defined three efficiency measures for water-using processes and a supporting classification scheme for water flows within a factory. The calculation of the efficiency measures was illustrated using the example of a tomato sauce production line. Finally, the elements required to create a useable tool based on the efficiency measures were discussed.
Acknowledgments
The authors acknowledge part funding for this work from the EPSRC Centre for Innovative Manufacturing in Food, EP/K030957/1.
Author Contributions
All authors contributed to the overall direction of the research programme described. The literature review, formulation and testing of the model, and writing of the first draft of the article were carried out by Madhu Sachidananda. The draft was substantially revised and the model testing results prepared for publication by Patrick Webb. The final draft was reviewed by Shahin Rahimifard.
Conflicts of Interest
The authors declare no conflicts of interest.
Abbreviations
The following abbreviations are used in this manuscript:
| | |
| --- | --- |
| AHP | Analytical Hierarchy Process |
| CE | Consumed Embedded water |
| CIP | Clean in Place |
| CL | Consumed Lost water |
| DNR | Discharged Non-Renewable water |
| DR | Discharged Renewable water |
| LCA | Life Cycle Assessment |
| LCIA | Life Cycle Impact Assessment |
| MCDA | Multi-criteria Decision Analysis |
| PDW | Production Water |
| PW | Process Water |
| SW | System Water |
| WE | Water Efficiency ratio |
| WER | Water usage Efficiency Ratios |
| WI | Water Intensity ratio |
| WWE | Waste Water Efficiency ratio |
Figure 1.
Projected growth in global water consumption by sector [
3
].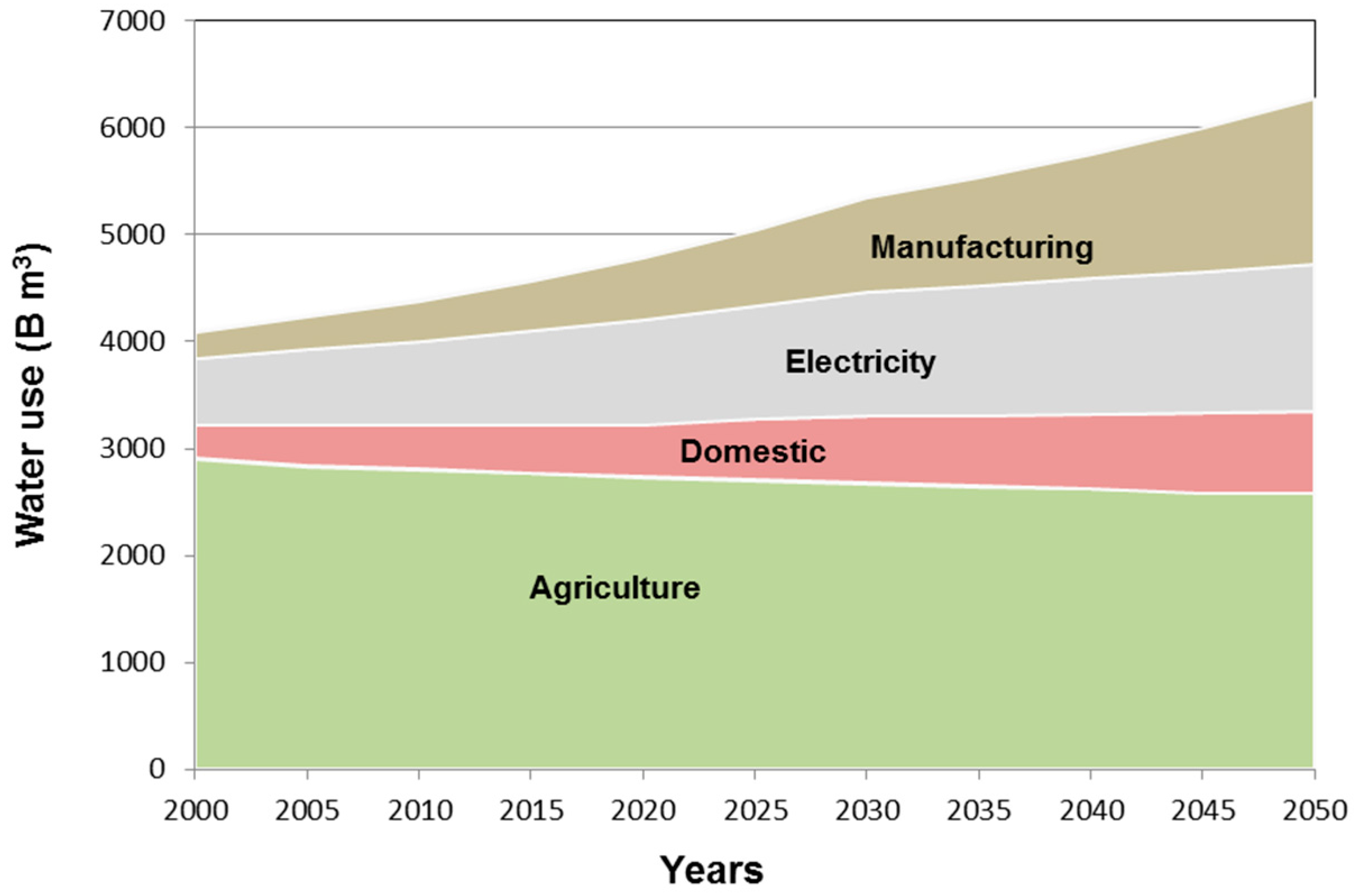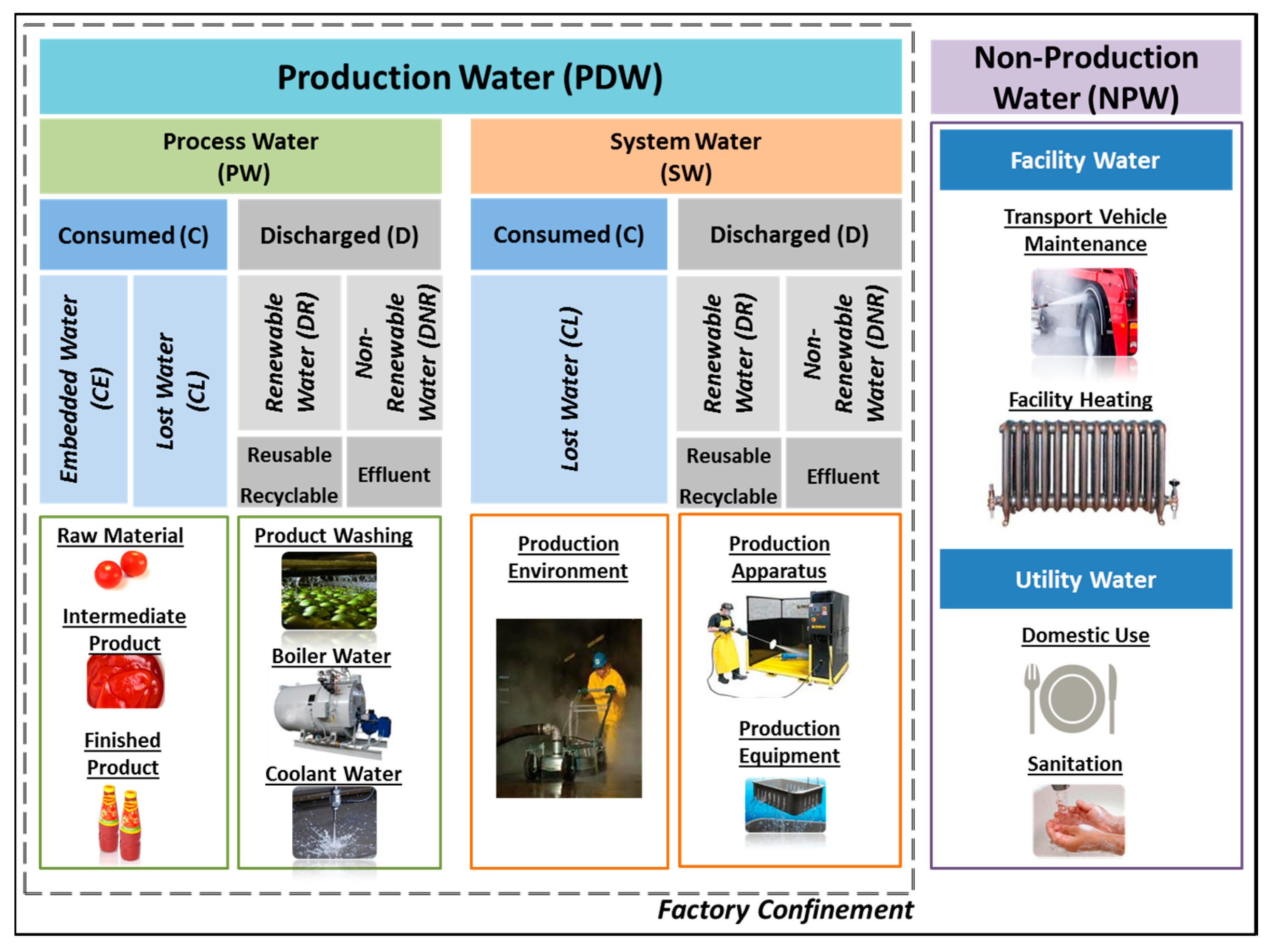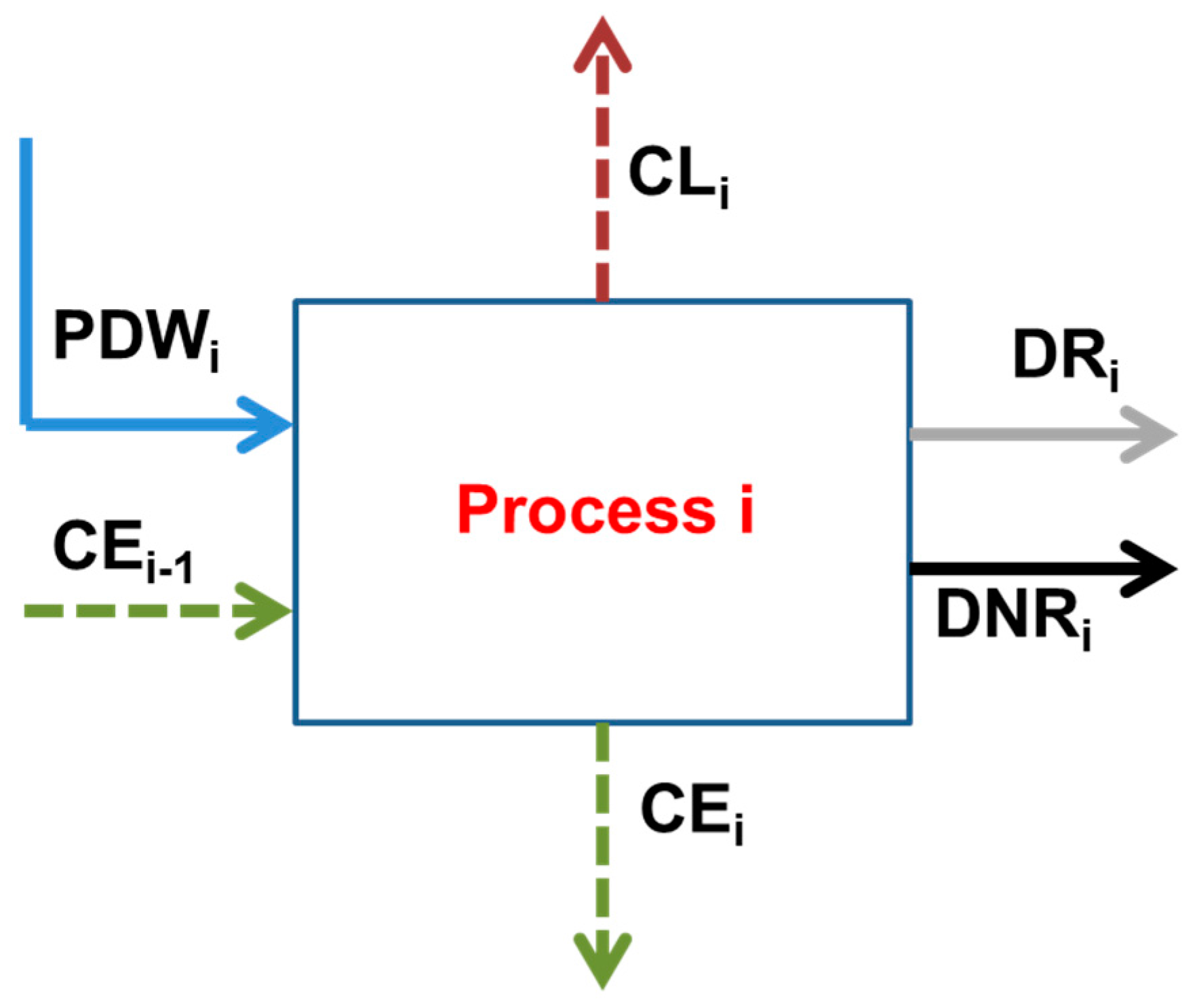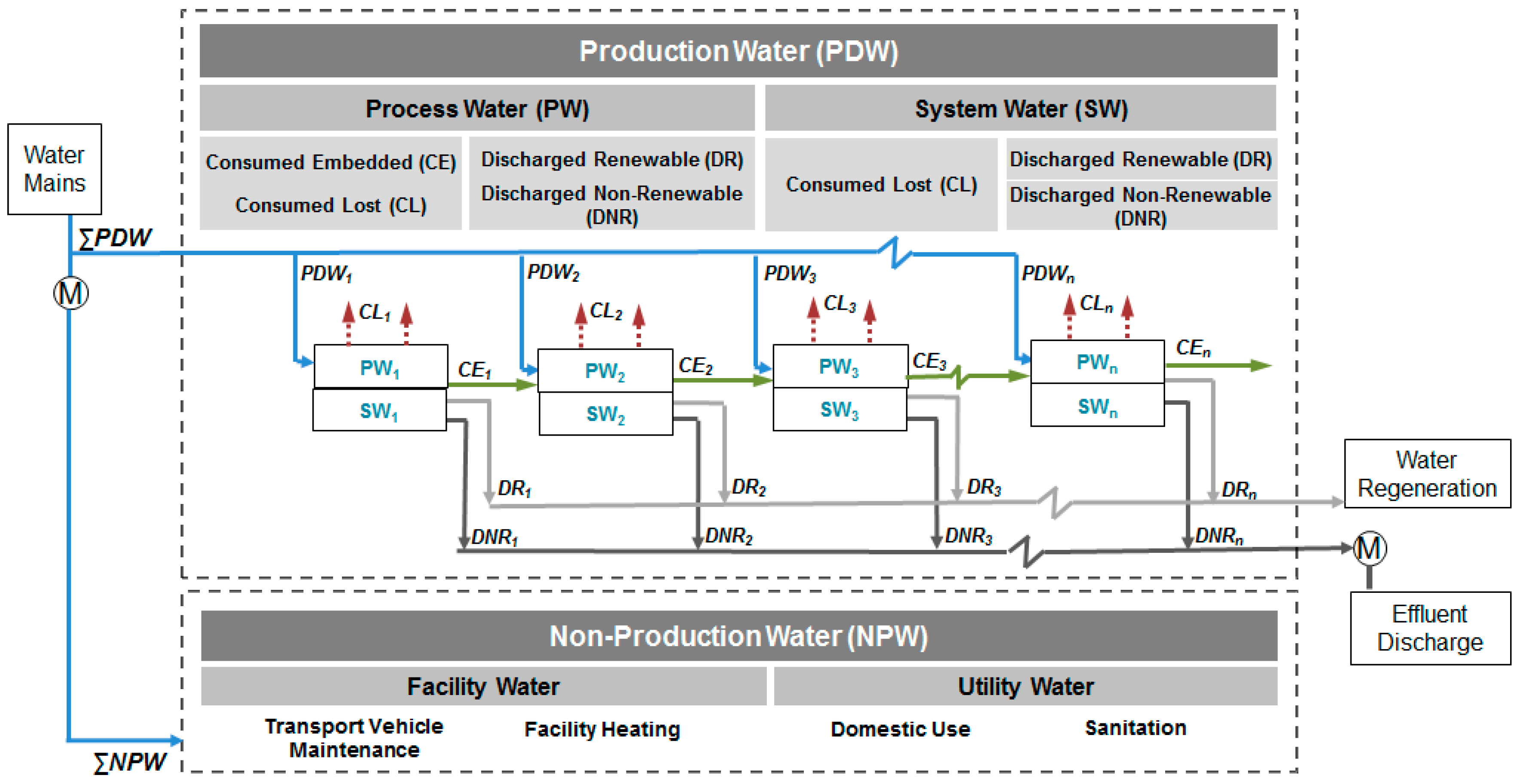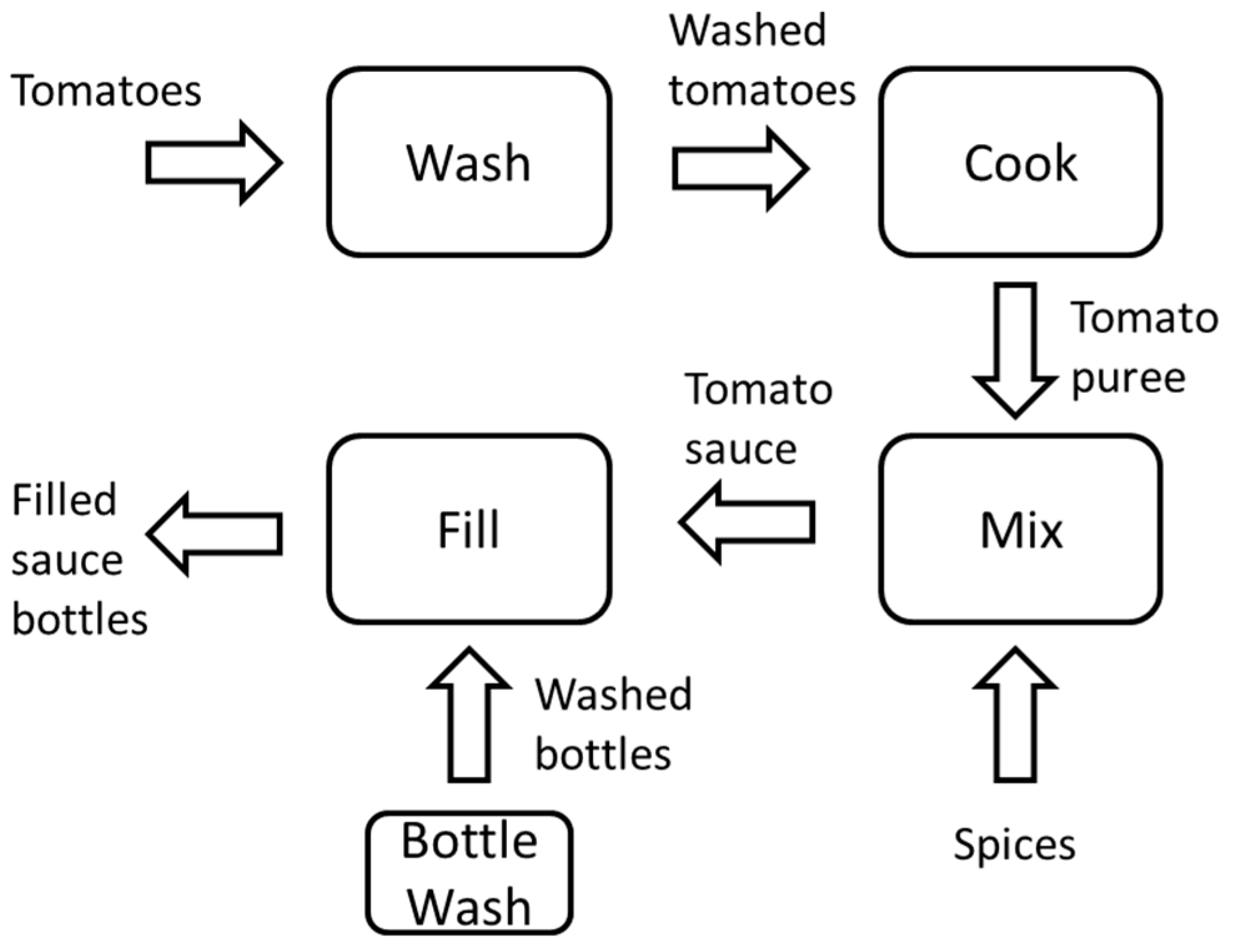 Table 1. Flow volumes by category and calculated water efficiency ratios for tomato paste production process.
Table 1. Flow volumes by category and calculated water efficiency ratios for tomato paste production process.
Washing Tomatoes
Cooking Tomatoes
Ingredient in Sauce
Washing Sauce Bottles
Process Water per Cycle (L)
Number of cycles
79
78
37
6
PW
30
23
2
135
D
26
0
0
130
DR
20
0
0
26
DNR
6
0
0
104
C
4
23
2
5
System Water per Minor Cycle (L)
Number of cycles
7
0
1
5
SW
10
0
80
100
D
9.5
0
77.7
92
DR
6.65
0
64
64
DNR
2.85
0
13.7
28
C
0.5
0
2.3
8
System Water per Major Cycle (L)
Number of cycles
1
1
1
1
SW
20
20
80
20
D
19
19
77.7
19
DR
13.3
13.3
61.3
13.3
DNR
5.7
5.7
13.7
5.7
C
1
1
2.3
1
Water Efficiency Ratios
WI (overall)
0.58
0.69
0.96
0.77
WE (process water)
0.96
0.99
0.32
0.61
WWE (waste water)
0.80
1.00
0.88
0.42
© 2016 by the authors; licensee MDPI, Basel, Switzerland. This article is an open access article distributed under the terms and conditions of the Creative Commons Attribution (CC-BY) license (http://creativecommons.org/licenses/by/4.0/).