Open Access This article is
freely available
re-usable
Article
From Rare to Neglected Diseases: A Sustainable and Inclusive Healthcare Perspective for Reframing the Orphan Drugs Issue
1
Department of Pharmacy, University of Salerno, Via Giovanni Paolo II, 132, 84084 Fisciano, Italy
2
Department of Management, "Sapienza" University of Rome, Via del Castro Laurenziano 9, 00161 Roma, Italy
3
Unipegaso, 80132 Naples, Italy
*
Authors to whom correspondence should be addressed.
Received: 29 December 2018 / Accepted: 26 February 2019 / Published: 1 March 2019
Abstract
:
This work is about how healthcare issues can be reframed from a sustainable and inclusive development perspective. Focusing on the case of orphan drugs and rare diseases, first, a country-based review of the main regulatory approaches to orphan drugs is conducted; then, the main contributions of the literature are reviewed to identify dominant views and the way the problem is more commonly framed. The main findings reveal that the dominant regulatory approaches and theoretical interpretations of the problem are mainly based on economic considerations. However, this does not seem to have led to very satisfactory results. Reflecting upon what the sustainability perspective can highlight with reference to healthcare, substantial connections between the orphan drugs issue and that of neglected diseases are highlighted. These connections suggest reframing the orphan drugs issue as a social equality and inclusiveness problem, hence the need to adopt a sustainable and inclusive development perspective. As a key sustainable development goal (SGD) to be shared by all nations, healthcare should always be approached by putting the principles of sustainable and inclusive development at the core of policy makers' regulatory choices. Accordingly, we think that the orphan drugs issue, like that of neglected diseases, could be better faced by adopting a social equality and inclusiveness perspective.
Keywords:
healthcare; orphan drugs; rare diseases; neglected diseases; sustainable and inclusive development
1. Introduction
Organizing an effective, equitable, efficient, and sustainable healthcare system is the task of any nation's policy makers. However, while almost any healthcare system would ideally try to provide the highest level of accessible and equitable healthcare possible, expense limits do not always allow this ideal goal to be achieved.
To develop the study, essential materials for discussion were collected regarding the way nations, policy makers, and literature interpret the problem. The key results are summarized to show the main policy and theoretical approaches to orphan drugs and rare diseases. Subsequently, an interpretative proposal that adopts the sustainability and sustainable perspective is developed.
The study also provides an example of "what sustainability can offer to healthcare" (a call launched by the Special Issue "Sustainability for Healthcare") by re-exploring the societal perspective of healthcare within a revisited framework where the sustainability and sustainable development principles are incorporated.
2. Orphan Drugs: Definitions, Facts, and Scope of the Issue
Given that the development process—from the discovery of a new molecule to its marketing—takes about 10 years on average and is very expensive and uncertain, it is clear that rare diseases do not allow the recovery of the capital invested for research. Hence, orphan drugs, although potentially available for public health needs, are not developed by the pharmaceutical industry for economic reasons. A drug may also be considered "orphan" when, although available for treating a more frequent disease, it has not been developed for another rarer condition.
3. Materials and Methods
Data were selected searching for the term "Orphan Dru*" in the title of all English contributions published from 2012 to 2017.
Applying inclusion criteria and screening the abstracts of the contributions identified, 400 contributions from the Web of Science database and 120 contributions from EBSCO database were included in the literature review. Once the 520 articles were retrieved, a suitable database for the research was developed.
The contributions identified were organized through a database using well-known bibliometric characteristics (e.g., author, year, journal, subjects, publishers, abstracts, and keywords).
4. Results
4.1. An Overview of Key Regulatory Approaches to Orphan Drugs
4.2. Results of the Brief Review of the Orphan Drugs Literature
From the following
Figure 1
, it seems that interest in the domain of orphan drugs after increasing from 2012 (59 contributions) to 2013 (114 contributions) has been progressively reducing in the subsequent years.
The same trend is confirmed by considering the number of journals that have published contributions with "orphan dru*" in their titles.
Figure 2
shows that after growth in the number of the journals that published contributions with "orphan dru*" in their titles from 2012 (41 journals) to 2013 (67 journals), there is a negative trend in later years.
Exploring the 225 journals that published contributions with "orphan dru*" in their titles from 2012 to 2017, it emerges that only two of them ("Chinese Journal of New Drugs" and "Orphanet Journal of Rare Diseases") published at least one contribution with "orphan dru*" in its title for each year of the analyzed period, while:
Three journals ("Chinese Pharmaceutical Journal", "Expert Opinion on Orphan Drugs", and "Nature Reviews Drug Discovery") published at least one contribution with "orphan dru*" in its title for five of the six investigated years;

Eight journals ("BioWorld Insight", "Chain Drug Review", "Deutsche Apotheker Zeitung", "Drug Discovery Today", "Manufacturing Chemist", "Pharmazeutische Zeitung", "PLoS ONE", and "Worldwide Biotech") published at least one contribution with "orphan dru*" in its title for four of the six investigated years;

13 journals published at least one contribution with "orphan dru*" in its title for three of the six investigated years;

33 journals published at least one contribution with "orphan dru*" in its title for two of the six investigated years;

166 journals published at least one contribution with "orphan dru*" in its title for only one of the six investigated years.
Considering the main research interests of the analyzed journal, it emerges that:
27 journals are interested in the Business, Law, and Economics fields;

25 journals are interested in the Health Policy field;

Seven journals are interested in the Innovation and Technology fields;

165 journals are interested in the Medicine and Pharmacy fields;

One journal is interested in the Science field.
Clearly, the major interest in the issue of orphan drugs is within the Medicine and Pharmacy fields, while the other fields show very low interest.
Analyzing the abstracts of the 530 contributions identified, about 80% underline the willingness of the authors to provide technical contributions about health treatments, processes, and products to face the challenge of orphan diseases. More than 10% of them focus on policies to manage dynamics and processes related to orphan diseases, and about 15% of them investigate managerial models and approaches related to orphan drugs.
The keywords of the 530 identified contributions reveal great attention to the economic aspects of the orphan drug domain, using terms such as "health technology assessment" (in 22 contributions), "market*" (in 14 contributions), "pricing" (in eight contributions), "costs" (in 10 contributions), "economy*" (in six contributions), and "value" (in six contributions).
Overall, what emerges from this search is a narrow view of the problem with a dominant economic perspective. In the existing literature, the policy problem is mainly discussed from the pharmaceutical companies' point of view with the aim of solving the economic interest problem [
42
,
43
,
44
,
45
,
46
]. For example, focus is on the impact of market regulation on pharmaceutical companies' survival [
47
,
48
,
49
,
50
], the amount and conditions of public grants [
51
,
52
,
53
], the time and implications of market exclusivity [
54
,
55
,
56
], and the role of technology to ensure better identification and access to health treatments in the case of orphan diseases [
57
,
58
,
59
]. Finally, only a few contributions focus on the patients' and citizens' viewpoint [
60
,
61
,
62
]. Their role has been considered in defining strategies and plans for orphan drugs and rare diseases management in few legislative initiatives [
63
]. In Europe, since the European National Plans or Strategies on Rare Diseases (Nr. 14) identified research into rare diseases as one of the priorities for the healthcare system, patients' engagement in the debate about orphan drugs and rare disease has dramatically increased. There is particular interest in several aspects such as knowledge acquisition, collaboration in clinical research, and suggestions for regulatory aspects, pricing, and reimbursement decisions [
64
].
Several surveys have been conducted to clarify the patients' perspectives about approaches and strategies in orphan drugs and rare diseases management [
65
]. A survey conducted by Linley and Hughes [
66
] on 4118 adults in Great Britain investigated citizens' preferences in the health domain by asking to allocate ex-ante defined funds between different patients and diseases. The survey shows that, in the case of cost trade-off conditions, there is a general preference towards patients that are costlier to treat. According to the authors, "the most plausible interpretation (for the results) is that respondents are expressing a general preference for fairness in access to treatment based on need, irrespective of ability to benefit or cost rather than a preference for the criterion in question per se" [
66
] (p. 957).
With reference to the apparent missing rationality in the patients' choices, McCabe et al. [
67
] distinguish between "horizontal equity" (equal treatment of equals) and "vertical equity" (unequal treatment of unequals). Horizontal equity states that taking money from the national health care budget to tackle the orphan drugs and rare disease issue is not what communities want, while recognizing that citizens affected by rare diseases, as a minority, are entitled to specific health treatments.
However, the problem is not so much about including the patients' and communities' perspectives in the regulatory choices for orphan drugs. Rather, as discussed in
Section 5
, the problem is about how the societal view is adopted. This perspective reveals connections between the case of orphan drugs and that of neglected diseases.
Various literature contributions see the connection between the cases of orphan drugs and neglected diseases. Grabowski [
68
], for example, conducted a review of literature on the topic, highlighting the low level of investment in research and development (R&D) activities and medical programs to deal with diseases that affect developing countries on the basis of lessons learned from the Orphan Drug Act. Other contributions are provided by Gericke et al. [
69
], who discuss possible lines of action, and Morel at al. [
70
], who focus on the need for multidisciplinary approaches.
5. Discussion
5.1. Key Traits of the Main Regulatory Approaches to Orphan Drugs
Overall, it emerges that orphan drugs and rare diseases are a relevant issue to manage in order to ensure equality in healthcare for the global population; however, the approaches vary significantly.
5.2. Main Literature Perspectives on the Orphan Drugs Problem
The literature confirms that the current regulatory and theoretical approaches show a dominant interest in the economic aspects of the problem. It confirms the lack of the societal view of the problem in policy-making terms
On the basis of the main evidence collected, in the following section, a possible narrow view of the problem in both policy and literature approaches is highlighted, hence, the need for a perspective change.
5.3. From Rare to Neglected Diseases: A Perspective Change towards a Sustainable and Inclusive Healthcare View of the Orphan Drugs Issue
In the search for possible references to reframe the orphan drugs issue—making the societal view more explicit—we find possible answers in the similar case of neglected diseases. As mentioned, this is the case of third-world countries, which more clearly demonstrate the societal impact of the problem.
Therefore, in the case of neglected diseases, the problem is neither their rarity nor the size of markets. What neglected diseases have in common with the orphan drugs issue is lack of the economic interests necessary to profitably market them. Conversely, neglected diseases and orphan drugs issues differ in that the former concern large numbers of people in undeveloped countries while the latter regard small numbers of people in developed countries. This means that the distinguishing element is essentially economic. It is the economic dimension, which developed countries focus on, that makes the same problem different. People with no access to available treatments depend on policy makers to provide regulation in the case of orphan drugs; conversely, they are simply neglected in the poorest countries.
Including the case of neglected diseases in our analysis helps us to find a direction to reframe the approach to orphan drugs by more explicitly including the societal perspective as a priority to be reconciled with the economic aspects of the problem. Here, we think that the sustainability framework has something to offer to healthcare.
The neglected tropical diseases are explicitly mentioned among the SDG targets. Similarly, providing universal access to quality and affordable medicines is explicitly mentioned as a key target.
By reversing the perspective, we wonder if the pathway towards an equal and inclusive approach to orphan and neglected diseases could be more successful by engaging policy makers as primary actors or better involving companies.
The traditional "institutional" approach, which implies that (health) policy makers should lead the process, appears too constrained by resource scarcity to be successful in ensuring healthy lives and well-being for all. Aware of this problem, we envision a potentially more successful approach in involving companies—especially the big ones—not so much as beneficiaries of incentives but as key players. Companies should look at orphan drugs and neglected diseases not so much as problems to be endured but as opportunities to play a decisive (societal) roles in contributing to solve human problems.
The approach we intend to stimulate is not philanthropic. Rather, it is a change to incorporate societal evaluations in the business models from a sustainability perspective. The societal dimension of sustainability requires more attention, and healthcare is a context in which the sustainability view should be better applied, not only from an economic perspective but also from a social and environmental perspective.
Companies are showing increasing awareness of the necessity for such a change of perspective and are striving to find the way to reconcile their legitimate economic interests with the environmental and societal necessities.
This is a challenge awaiting big pharmaceutical companies, which may lead them to have a stronger impact on society not only as developers of solutions to health problems but also as contributors to the overall well-being of people, especially where this need is more urgent.
6. Conclusions
Certainly, specific empirical research and further theoretical effort are required to sustain these proposals and to provide concrete indications of potentially successful practical approaches and tools. It would be useful to have direct evidence of companies' points of view, for example, their current perception of the problem, the way they are interpreting the problems of orphan drugs and neglected diseases, and the potential change in perspective.
This paper represents a call for researchers and practitioners in multi- and transdisciplinary research to develop instruments and models able to support the required change in perspective by integrating competences, knowledge, and information in a shared effort to ensure healthy lives and well-being for all.
Author Contributions
Conceptualization, S.B. and M.S.; Methodology, M.S. and F.C.; Project administration, M.S. and M.L.; Supervision, S.B. and M.S.; Visualization, F.C., M.L. and S.Z.; Writing—original draft, M.S., F.C., M.L. and S.Z.; Writing—review & editing, M.S. and F.C.
Funding
This research received no external funding.
Conflicts of Interest
The authors declare no conflict of interest.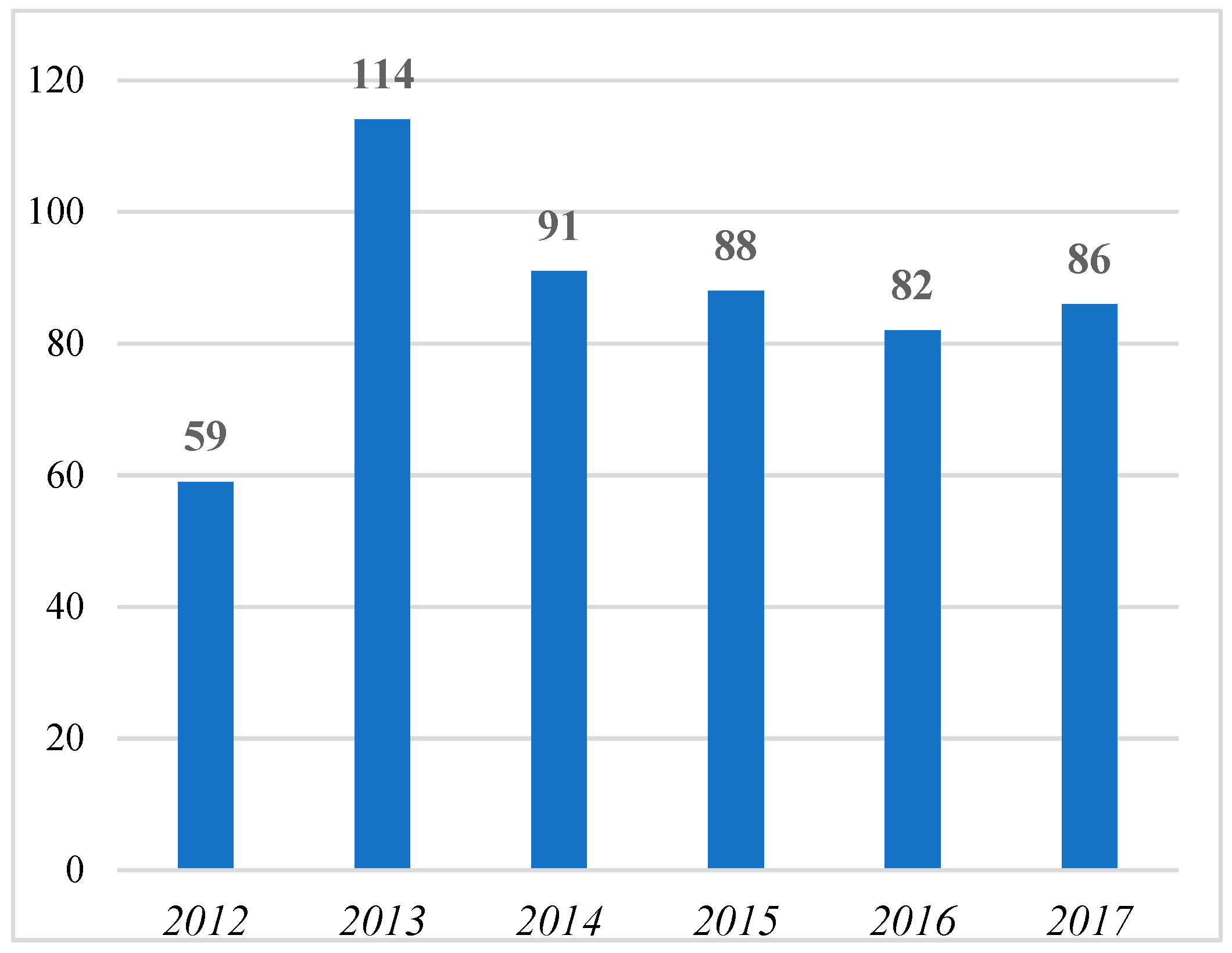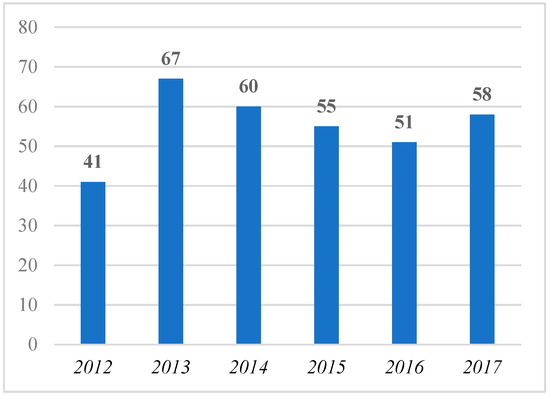 Figure 2. Number of journals that published contributions with "orphan dru*" in the title from 2012 to 2017 (per year).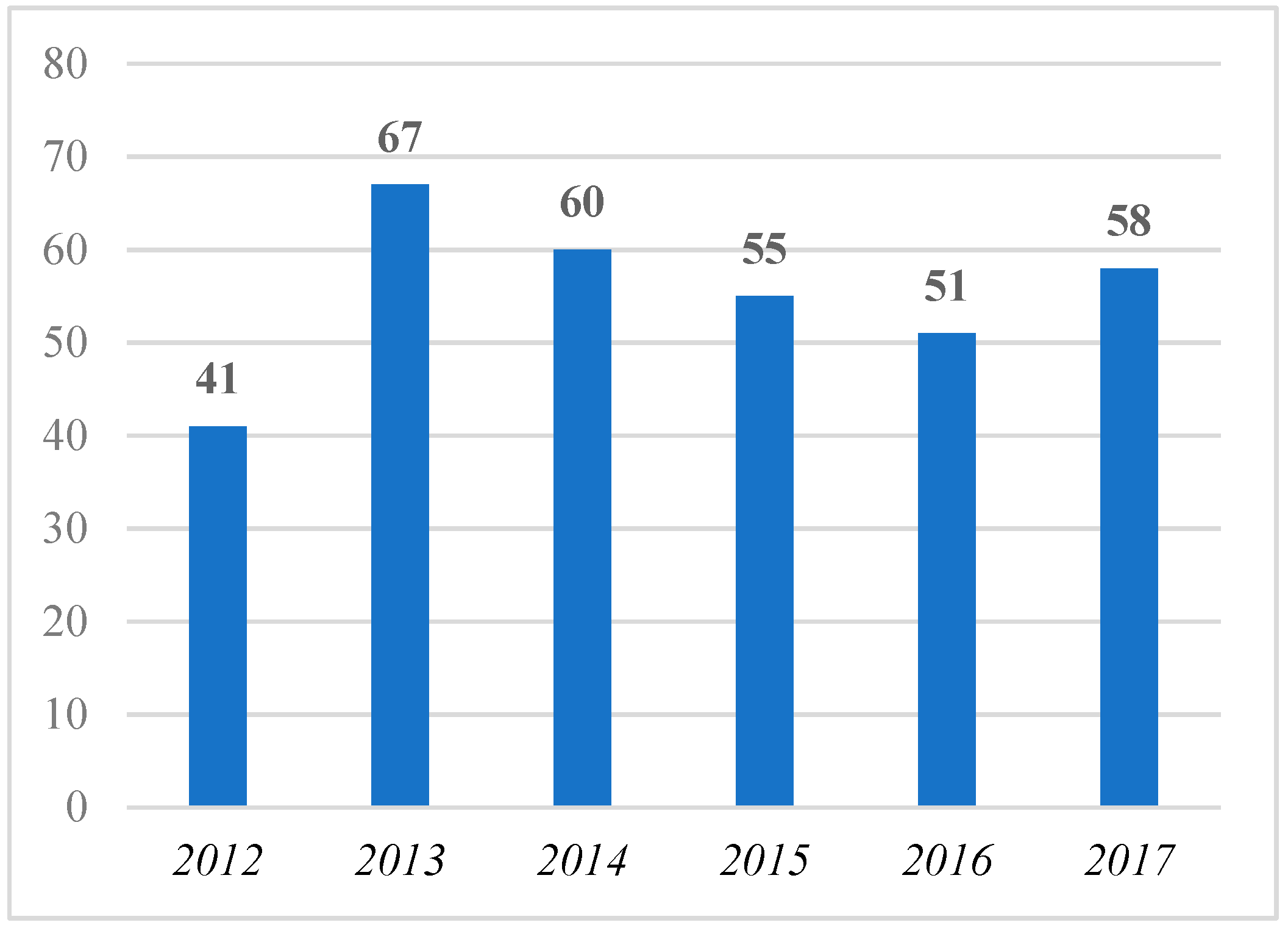 Inclusion Criteria
All the publications in which the following terms appear in the Title: "Orphan Dru*"

Publications included in Web of Science and/or EBSCO databases

Articles published between 2012 and 2017

All research methods

Publications in English

All countries

All topics
| Area | Summary |
| --- | --- |
| United States | Orphan drugs production is motivated by the Orphan Drug Act's incentives and by the Office of Orphan Products Development's clinical superiority criteria [34]. |
| Europe | Orphan drugs are considered to be all medical products the pharmaceutical industry would be unwilling to develop under normal market conditions. A condition of not more than 5 affected persons per 10,000 is generally regarded as the appropriate threshold for defining orphan diseases, while the medicinal products considered "orphan" are those useful for treating diseases that affect not more than 5 per 10,000 citizens [35]. |
| Japan | Three conditions must be satisfied to be considered an orphan disease: (1) impact on less than 50,000 citizens in Japan; (2) absence of available health treatment; and (3) availability of a clear product development process that shows the need for a new drug. If all these conditions occur, the Ministry of Health, Labor, and Welfare evaluates case by case the approval for a new orphan drug [36]. |
| Australia | All the drugs intended to treat diseases that affect fewer than 5 in 10,000 individuals in Australia can be considered "orphan" [37]. |
| India | After the request formulated in 2001 by a group of pharmacologists during a conference held by the Indian Drugs Manufacturers Association, the possibility to define a specific regulatory framework for orphan diseases is under evaluation [38]. |
| Taiwan | Taiwan's Legislative Yuan approved 20 regulated orphan drugs on 9 February. In April 2006, the government of Taiwan identified 159 kinds of rare diseases with 2117 cases confirmed. At present, the Taiwan Foundation for Rare Disorders (TFRD) serves 2252 citizens affected by 191 rare diseases, and in Taiwan, 77 orphan drugs and 40 special nutrients are recognized by the government for the treatment of rare disease [39]. |
| Korea | The Korean Orphan Drug Center manages the processes for approval, incentives, and management of orphan drugs [40]. |
| Hong Kong | There is no clear and shared definition of rare diseases and there are no specific public policies [41]. |
Area
Key Elements
Africa & Oceania

No orphan drug policy

Provision for reduction of fees under cost recovery for products used to treat rare but clinically significant conditions for which there is only a limited market

Europe

Development of an orphan drug policy is part of the 1996 work program

The policy is likely to include:

Designation based on prevalence of disease in the population of less than 0.05% (about 180,000 patients)

and

no expectation of profitability and subject to review and withdrawal if criteria no longer apply

Shared cost program to support research in addition to the BIOMED program already in place

Monitored release program in addition to the current provision which permits marketing authorization for some drugs based on a limited dossier

Development of a telematic network to facilitate clinical trials and research

Legislation is already in place providing market exclusivity and provisions for fee exemptions under cost recovery

Many member states already have incentives in place for research and development (R&D) related to orphan diseases

Asia

Designation granted based on prevalence of disease in the population of less than 0.05%

Grant program for R&D for manufacturers and importers of orphan drugs

Guidance and advice available to industry on both R&D and New Drug Applications (NDA) procedures

Tax incentives granted to manufacturers doing R&D on orphan drugs

NDA for orphan drugs is given priority review

If drug is marketed, a portion of profits in excess of 100 million yen must be paid to the government

America

Designation granted based on prevalence of disease in the population of less than 200,000 people (approximately 0.1%) or no reasonable expectation of profitability

Protocol assistance to design research protocols

Tax credits for clinical research

Market exclusivity

Funding grants for clinical research to support development

Penalty for intentionally false statement of orphan status

Parallel track program and treatment for Investigational New Drug application provide access to unapproved drugs

Process patents granted for biotechnology products

Accelerated approvals
Source: Authors' elaboration from [32] (p. 290).

Table 4. A matrix representation of dominant regulatory approaches to orphan drugs and rare diseases.
Relevance of the Societal Perspective
High
Low
Relevance of the economic

perspective

High
e.g., European
approach
e.g., American
approach
Low
e.g., Asian
approach
e.g., African and Oceanian
approach
| Perspectives | Brief Description | Sources Examples |
| --- | --- | --- |
| Technical- scientific | Contributions in this area focus on the way in which orphan drugs can be developed from the chemical, biological, and pharmaceutical points of view. Most of these studies concern the development of new kinds of drugs or the definition of innovative production processes for existing orphan drugs. | [78,79] |
| Economic | Studies provided with reference to the economic area investigate the economic advantages and impacts on companies' economic performances related to the "market of orphan diseases". Most contributions that can be classified in this area attempt to define economic risks and opportunities for pharmaceutical companies interested in working in the orphan drugs sector. | [3,80,81,82]. |
| Managerial | The few contributions provided within the managerial and marketing area focus on the levers to improve companies' efficiency in terms of human resources management, communication, and brand image. | [22,83,84] |
Inclusiveness
Low
High
Equality
Horizontal
Economic
approach
Disease-based
approach (I)
Vertical
Disease-based
approach (II)
Equal and Inclusive
approach

© 2019 by the authors. Licensee MDPI, Basel, Switzerland. This article is an open access article distributed under the terms and conditions of the Creative Commons Attribution (CC BY) license (http://creativecommons.org/licenses/by/4.0/).