Open Access This article is
freely available
re-usable
Article
Ethics for Innovation in Hospitality: How Incremental and Radical Novelties Are Induced by Managers' Social and Ecological Responsibility
Department of Management, University of Las Palmas de Gran Canaria, 35017 Las Palmas de Gran Canaria, Spain
*
Authors to whom correspondence should be addressed.
Received: 7 September 2019 / Accepted: 6 November 2019 / Published: 8 November 2019
Abstract
:
This paper proposes a model to explain how ethics play a role to produce innovation in hospitality. Literature from social responsibility and ecological management was reviewed in order to state how ethical values induce advances by stimulating teams and breakthroughs. A survey was carried out based on structured questionnaires, filled in by 134 hotel managers in Gran Canaria (Spain). By means of path analysis, it was demonstrated the antecedent role played by ethical management to cause knowledge exchange in employees, as well as innovations in hotels. Nevertheless, breakthroughs cannot be induced if there is an extrinsically motivated environmental management. To be more specific, radical innovation was produced at a higher rate if managers highlighted the importance of ethics over profit, rather than if they placed profitability ahead of ethical considerations, notwithstanding that both approaches tend to provoke disruptive novelties. In addition, incremental innovations are a consequence of knowledge exchange between hotel employees. Finally, knowledge exchange is induced in the context of ethical leadership consisting of general social responsibility. The conclusions drawn from this work are that ethics is a causative part of innovation and that practical implications provide specific and differential measures that help to bring about incremental and radical innovation.
Keywords:
social; responsibility; environmental responsibility; knowledge exchange; innovation; hospitality
1. Introduction
Scientists have often conceived of innovation as being controlled and moved onward by ethics. Therefore, any novelty is posed as a source of potential damage or risk in business [
1
,
2
] and in tourism [
3
,
4
,
5
], but not as the consequence of ethics. Nevertheless, innovation should be an essential outcome of ethics, given that innovation is not inherently good [
6
]. For this reason, it is not of value if it lacks responsibility. In addition, one might consider that when service companies innovate, the innovation consists of aspects, which are easier to evaluate on the basis of morality, such as organisational and marketing issues, rather than features such as technology, product, and the engineering process [
7
]. However, we still don't know too much about it, since how ethical management influences innovation and organises knowledge represents a gap in the research [
8
].
To be precise, in the field of tourism, it is stated that innovation must drive corporate social responsibility [
9
], as opposed to considering ethics as a determining factor. Even until a couple of decades ago, there were only a few studies focused on the role of ethics [
10
]. Nevertheless, quite recently, environmental and social responsibility have become relatively shared in society. As a result, not only has quality entailed an ethical imperative grounded on growing market demand, but also managers have taken a moral responsibility with implications in terms of innovation. In fact, not only we should talk about the ethical consequence of management but also give credit to the ethical motive and optimism inspiring decision making in the hospitality context [
11
,
12
].
Nevertheless, there are still a limited number of tourism management studies linked to corporate social responsibility, especially research works to further understand how to engage employees and bring about competitive success [
13
,
14
,
15
] and innovation [
8
]. The need for this new direction is crucial for the sake of the social environment and the survival of the tourism industry itself [
16
]. In actual fact, innovation is a critical aim for the company's success and survival [
17
], and society demands more innovation-based upon social ethics [
18
].
On this basis, the objective of the current work is multi-fold. Firstly, it consists of analysing the causal role played by social responsibility in knowledge exchange between hotel employees. Secondly, it aims to examine how social responsibility influences the degree and type of innovation. Thirdly, it endeavours to study how innovation is brought about through that internal collaboration between hotel employees. Finally, environmental management is studied in order to measure its effect on knowledge exchange and innovation.
With these aims in mind, the research paper is divided into four parts: the review of literature where the five hypotheses are placed, the methodology to provide detailed information related to the survey and the measuring instruments, the analysis of the obtained empirical results, and the conclusion.
2. Review of the Literature
3. Method
The survey is based on a self-administered, structured questionnaire, filled in by a representative sample of managers working for hotels in Gran Canaria (Spain). Participants were selected using a probabilistic sampling procedure with proportional stratification to hotel categories thanks to good use of an exhaustive list of hotels at the resort destination. A total of 134 managers (
Table 1
) and hotels (
Table 2
) were contacted and visited as sample units and universe elements, respectively. The profiles of this sample are laid out in
Table 1
and
Table 2
(1.5 error, 95% reliability).
The scales used to evaluate the constructs of the model are explained as follows. 'Manager social responsibility' is measured through an eight-item, 5-point scale [
44
,
86
,
87
] and 'manager ecological responsibility' by four-item, 5-point scale [
88
,
89
]. Both scales are comprised of questions regarding the level of agreement and disagreement with some statements. In addition, the scale for innovation is a five-point Likert-type and based on incremental, as well as radical innovations literature [
90
]. Finally, 'internal employees' network' is measured by a five-point Likert-type and focused on how knowledge about the company and the job is exchanged [
91
].
4. Results
4.1. Preliminary Analyses
Prior to contrasting the hypotheses, several exploratory factor analyses were performed with the aim of identifying the dimensions contented in every scale. To be precise, ethical management was able to extract different factors, whose names were labelled by considering the assigned items in each of them. On this basis, the first factor was called
ethics over profit
while the second was named
profit over ethics
, since the former regards the predominance of social responsibility for revenue whereas the latter highlights the reverse, the prevalence of company profitability over ethical principles.
The second exploratory analysis was carried out on the scale of environmental managers and two different dimensions were identified. The first factor was in reference to the importance of business over ecological concerns and the second factor indicates the extrinsic motivational origin of any pro-environmental policy implemented by hotel managers. In addition, the knowledge sharing scale analysis only obtained a single dimension to figure out how employees collaborate by interchanging their understanding of the work.
Finally, the scale of innovation comes out with two different factors to recognise the two types of novelties focused on incremental and radical outcomes.
With the aim of testing the reliability and validity of the identified dimensions of the scales, a confirmatory factor analysis was performed. As a consequence of this examination, it can be pointed out that all the scales show values that indicate a good data adjustment and thus the measuring instruments are considered acceptable (see
Table 3
,
Table 4
,
Table 5
and
Table 6
).
4.2. Analyses to Contrast the Hypotheses
A path model was carried out in order to represent how ethics generate innovation through knowledge exchange and so test the hypotheses. As can be checked in
Figure 1
, the path model shows a good fit to the data and thus it can be considered a representation of the way ethical hotel managers induce innovations.
To be specific, as the 'ethics over business' factor determines significantly and positively knowledge exchange, hypothesis 1 is confirmed and thus it is stated that
ethical management causes knowledge exchange in hospitality.
What is more, it is relevant to remark that the 'business over ethics' factor doesn't show a statistically significant relationship with knowledge exchange. Therefore, it is demonstrated that ethical management plays a role to enhance knowledge exchange but also its superiority to trigger knowledge exchange in comparison to the nonexistence influence attributed to sacrificing ethics for business. Nevertheless, Hypothesis 2 cannot be verified, since the extrinsic factor negatively influences knowledge exchange and, consequently, does not lead to the statement that
ecological management causes knowledge exchange in hospitality.
In fact, even though there is a significant statistical relationship between the extrinsic ecology and knowledge exchange, this is inverse, that is, the more extrinsically environmentally driven a manager is, the less knowledge their employees exchange. Consistently, 'business over ecology' doesn't link to knowledge exchange. Therefore, whereas ethics is the key variable to explain knowledge exchange, neither profit over ethics nor business over ethics seem to play a role in determining exchanges of knowledge.
Furthermore, Hypothesis 3 is also confirmed, given that the 'ethics over profit' factor connects strongly with radical innovation, though is not possible to find a significant association with incremental innovation. Nevertheless, a positive relationship between 'profit over ethics' and radical innovation is also found, although this parameter of connection is less powerful than the aforementioned one, between ethical management and disruptive innovation. Therefore, not only might it be stated—consistently with Hypothesis 3—that
ethical management causes innovation in hospitality
, but also that 'profit over ethics' brings about radical innovation, albeit to a lesser extent.
Likewise, the empirical contrast of Hypothesis 4, leads one to point out that
Ecological management causes innovation in hospitality
, but inversely since the more extrinsic ecology management is implemented, the less incremental innovation is developed in hotels. This obtained evidence is consistent to the inverse role played by the extrinsic ecology variable in reference to knowledge exchange. In the absence of evidence to the contrary, notwithstanding it points out the negative connection with the model performed by the extrinsic environmental drive, it does not let us to reject the possibility of existing a positive association between intrinsic ecology with knowledge exchange and innovation. Be that as it may, one should recognise that extrinsic ecology management does not cause radical innovation, nor does the 'business over ecology' factor link to incremental or radical innovation with statistical significance. Therefore, there is not enough empirical evidence to accept Hypothesis 4.
Finally, it is relevant to point out that as
knowledge exchange causes
incremental
innovation in hospitality
, Hypothesis 5 is verified, being that this variable connects most strongly in the model of how ethical management favours innovation in hotels. However, it is evident that radical innovation doesn't show any significant association with knowledge exchange.
6. Conclusions
Firstly, this paper proofs the antecedent role played by social responsibility to generate innovation in hotels. Secondly, it demonstrates the direct role of employee knowledge exchange to produce breakthrough. Thirdly, it evidences the importance of ethics to trigger knowledge exchange driven by novelties. Finally, it casts doubts on how effective extrinsic ethical drives, such as extrinsic ecology, can be for causing innovations. From a practical implication perspective, one might suggest that if the hotel's priority is designing new products and services disruptively, the tourism firm should find intrinsic and ethical directors. But if the primacy is innovating progressively without radical changes, novelties are expected to come out from team knowledge exchange and from extrinsically ethical commitments, such as the mere intention to meet the legal requirement. For instance, whereas tools for cultivating ethical standards such as personal growth courses seem to be highly recommended for managers in order to promote radical novelties, team-building techniques might be more suitable for ensuring continually improving managerial processes in hotels. In any case, it is clear that incremental and radical inspirations show different origins and thus collective and extrinsic measures must be taken for the former, although individual and intrinsic actions must be taken for the latter.
In another vein, it might be suggested that future research brings into focus not why incremental and radical innovations are produced, but how they are generated. Indeed, despite the current paper attempting to explain it on theoretical grounds, such as business ethics, trust, and other mentioned framework, it is true that these doctrinal tenets have not been contrasted in the verified hypotheses. Therefore, it seems logical to recommend that future research contrast empirically the supposed antecedent role played by trust, honesty, rights and so on for resulting in hotel innovations.
Furthermore, it might be interesting to investigate the possible causal role played by managers' intrinsically environmental motivations to enhance innovation, given that here only a kind of external ecological motivation has been used.
Perhaps, it is too obvious to state that there must be much to know about what might be considered a new line of research: ethics as a causative variable of tourism innovation. Afterwards, one might state that ethics is more than a prudent principle and mere sales and reputational technique at the disposal of managers, given that its innovative utility has also been henceforth demonstrated.
Finally, it is noteworthy that the current paper shows some limitations. Firstly, if it were not for the fact that the present paper encompasses five hypotheses, the paper would gain more insight into how to enhance knowledge exchange and innovation from ethics. For this reason, there is a significant room for improvement consisting of overcoming this exploratory approach. On this basis, it is advisable to perform a more profound analysis of the evidence related to how ethics can cause innovations in hospitality and other sectors. Secondly, as this research has not included any variable related to intrinsic ecological management, which had been more ethically related than any extrinsic drive, future lines of research are called for analysing how a real intrinsic ecological ethics might influences both knowledge exchange and innovation in hospitality and other sectors.
Author Contributions
Both authors worked in a team, notwithstanding while G.D.-M. reviewed the literature on ethics, carried out the survey and analysed the results, J.N. reviewed the literature on innovation and provided the measuring instruments for incremental and radical innovations.
Funding
This research received no external funding.
Conflicts of Interest
The authors declare no conflict of interest.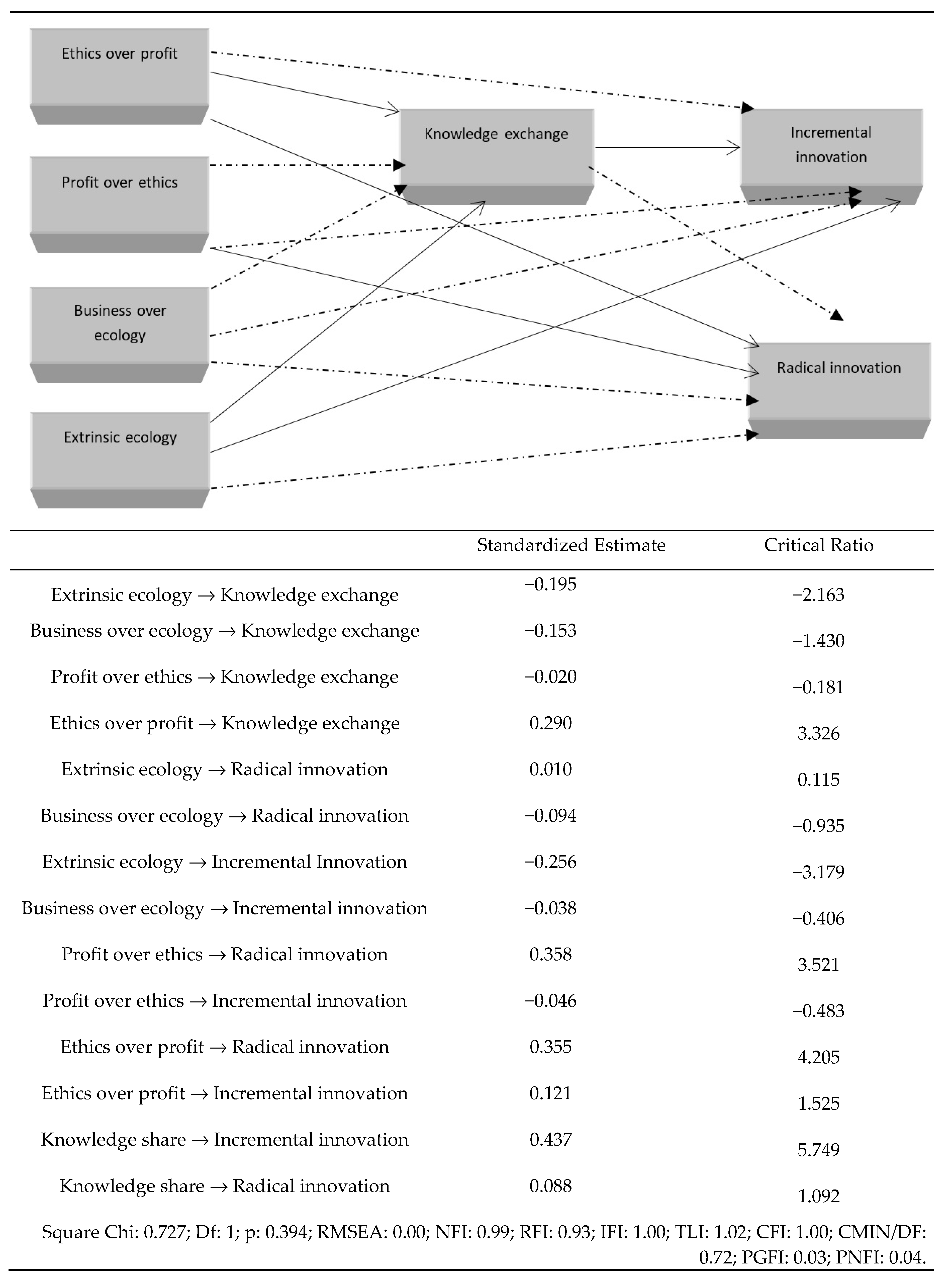 Manager Profile
Years & Frequency
Age Intervals & Frequency
Income Intervals & Frequency
0–3
17
0–35
27
<20,000€
35
>3–6
17
36–41
27
>20,000€, <30,000€
19
>6–10
36
42–46
26
>30,000€, <40,000€
22
>10–17
52
47–52
27
>40,000€, <50,000€
30
>17–50
12
≥53
27
>50,000€
27
Total
134
Total
134
Total
133
Hotel Profile
Stars & Frequency
Rooms & Frequency
Employees & Frequency
1
17
0–27
27
1–10
35
2
17
28–90
27
11–30
19
3
36
91–189
26
31–60
22
4
52
190–302
27
61–112
30
5
12
303–1563
27
113–600
27
Total
134
Total
134
Total
133
Items
Mean
Standard Deviation
Standardised Regression Weight
Standard Estimator
Critical Ratio
Ethics and social responsibility are essential for long-term profitability (factor 1)
3.746
1.1285
0.803
Ethics and social responsibility are crucial for the company's survival (factor 1)
3.515
1.0881
0.787
0.100
9.446
Management efficacy is determined by ethical performance (factor 1)
3.291
1.2851
0.792
0.118
9.510
Ethics and responsibility are the most important factors for a company (factor 1)
3.858
1.0488
0.806
0.096
9.692
If the Company's survival is at risk, ethics and social responsibility should be put aside (factor 2)
2.403
1.2573
0.810
Profitability is the most important objective for any company, even if rules and laws have to be broken (factor 2)
2.082
1.1701
0.867
0.102
9.791
If competitiveness is the objective, a company has to forget ethics (factor 2)
2.142
1.1182
0.700
0.094
8.187
While quality is a key variable in services, social responsibility is not (factor 2)
2.291
1.1815
0.611
0.101
7.006
Square Chi: 22.308; Df: 19; p: 0.269; RMSEA: 0.03; NFI: 0.95; RFI: 0.93; IFI: 0.99; TLI: 0.99; CFI: 0.99; CMIN/DF: 1.174; PCFI: 0.00; PNFI: 0.00.
Cronbach's alpha: 0.638; extracted variance:0.53; composite reliability: 0.90
Items
Mean
Standard Deviation
Standardised Regression Weight
Standard Estimator
Critical Ratio
A high reservation rate is more important than ecological concerns (factor 1)
2.828
1.2950
0.738
Ignoring ecological issues is good, if it doesn't meet the customers' needs (factor 1)
2.254
1.1483
0.903
0.283
3.832
Hotels are environmentally friendly due to government interventions and demands (factor 2)
2.776
1.1215
0.476
Hotels should only implement ecological measures if competitors do so (factor 2)
1.851
1.0370
0.741
0.631
2.281
Square Chi: 0.809; Df: 1; p: 0.369; RMSEA: 0.00; NFI: 0.99; RFI: 0.95; IFI: 1.00; TLI: 1.01; CFI: 1.00; CMIN/DF: 0.809; PGFI: 0.10; PNFI: 0.16.
Cronbach's alpha: 0.648; extracted variance: 0.47; composite reliability: 0.77
Items
Mean
Standard Deviation
Standardised Regression Weight
Standard Estimator
Critical Ratio
Our employees share information and learn from each other
4.201
0.8476
0.493
0.103
7.991
Our employees are trained to assess and solve problems through collaboration with one another
4.104
0.9520
0.531
Our employees apply knowledge from one area in order to solve problems and spot opportunities arising in another
3.485
1.1872
0.777
0.320
5.700
Our employees interact and exchange ideas with people from different departments of the company
3.448
1.1075
0.882
0.359
5.384
Square Chi: 1.723; Df: 1; p: 0.189; RMSEA: 0.07; NFI: 0.99; RFI: 0.95; IFI: 0.99; TLI: 0.98; CFI: 0.99; CMIN/DF: 1.723; PGFI: 0.09; PNFI: 0.16.
Cronbach's alpha: 0.808; extracted variance: 0.49; composite reliability: 0.78
Items
Mean
Standard Deviation
Standardised Regression Weight
Standard Estimator
Critical Ratio
Our company is innovative because our products and services are progressively improving (factor 1)
3.821
1.0026
0.675
Our company is gradually improving the way in which we compete (factor 1)
3.694
1.0129
0.929
0.508
2.739
Our products and services are constantly evolving due to the radically innovative drive of our company (factor 2)
2.515
1.2061
0.602
Our products and services are quite often considered obsolete due to the fact that we are always innovating (factor 2)
2.418
1.1588
0.948
0.657
2.299
Square Chi: 0.966; Df: 1; p: 0.326; RMSEA: 0.00; NFI: 0.99; RFI: 0.95; IFI: 1.00; TLI: 1.00; CFI: 1.00; CMIN/DF: 0.96; PGFI: 0.10; PNFI: 0.16.
Cronbach's alpha: 0.655; extracted variance: 0.60; composite reliability: 0.85

© 2019 by the authors. Licensee MDPI, Basel, Switzerland. This article is an open access article distributed under the terms and conditions of the Creative Commons Attribution (CC BY) license (http://creativecommons.org/licenses/by/4.0/).