Open Access This article is
freely available
re-usable
Article
Conflict Causes and Prevention Strategies at the Society-Science Nexus in Transdisciplinary Collaborative Research Settings: A Case Study of a Food Security Project in Tanzania
1
The Leibniz Centre for Agricultural Landscape Research ZALF e.V., 15374 Müncheberg, Germany
2
Section Urban Horticulture, Institute for Horticultural Science, Humboldt University Berlin, Lentzeallee 55-57, 14195 Berlin, Germany
3
Department of Agricultural Economics, Humboldt University of Berlin, Rudower Chausee 16, 10099 Berlin, Germany
*
Author to whom correspondence should be addressed.
Received: 20 September 2019 / Accepted: 5 November 2019 / Published: 7 November 2019
Abstract
:
Collaboration between researchers and society is essential when addressing challenging 21st Century questions. Such collaboration often comprises international, inter- and trans-disciplinary teams, as well as temporal constraints, resulting in inherently complex research projects. Although practitioners increasingly appreciate the value of bottom-up approaches, operational details are often overlooked. Further knowledge is necessary, especially about what might endanger project success. Using a food security project, this paper analyzes conflict experiences and prevention strategies between project members and local stakeholders through personal interviews and focus group discussions. Data for this case study was collected in four Tanzanian villages. This paper identifies multiple conflict drivers, including missing information transfers; diverging expectations; overlaps of field activities with seasonal farming activities; and obscure participant selection. Identified conflict prevention strategies include developing trust, reducing language barriers, and involving locals. Research practitioners, institutes, and hegemonic actors are responsible for ensuring that projects will not worsen the entered situation and negatively affect the community, adhering to the "do no harm" principle; therefore, it is vital to be aware and seek to improve international and collaborative research projects that actively involve local stakeholders. This paper supports the understanding of interacting with local communities in a food security context to support the development of innovative collaboration approaches and methods. Through collaboration, it is possible to find sustainable solutions to pressing issues.
Keywords:
collaborative research; local stakeholder; food security; collaboration conflict; conflict prevention strategies; sustainable development; transdisciplinary; Tanzania
2. Conflict Drivers and Prevention Strategies
Food security is a global challenge that needs to be addressed by the international community. International projects dealing with food security are typically characterized by a shortage of both time and funds, as well as multiple actors with both diverse institutional and disciplinary backgrounds. In addition, food security is a global challenge that requires the involvement of people "on the ground". With its inherently complex settings and active involvement of local actors, food security projects provide an ideal setting for evaluating collaboration conflict experiences; thereby adding to understanding practical operational details within these approaches, addressing an under-researched aspect in the current literature.
There are several reasons why and how conflict might occur. This literature review first summarizes conflict drivers that are discussed in the disciplines of organizational psychology, collaborative research projects, conflict management, and project management. These disciplines take into account relevant literature, as well as various facets of projects, including international, interdisciplinary, and community-based approaches. This literature review covers a broad range of disciplines, thus not pushing this research in a specific direction. Secondly, it takes contextual factors into account, identifying those that might trigger conflict in a research project focusing on food security in Africa.
This literature review shows that international, multi-actor, and time limited projects are complex settings fraught with conflict drivers. Contextual factors of the research project, like severe food insecurity, poverty, limited access to markets, and natural disasters, may lead to a tense collaboration atmosphere, ultimately triggering conflict. Contextual factors must be considered since conflict drivers vary across project types and conditions. It is important to gather specific information about causes of conflict in collaborative research projects and to acquire insights about practical operational processes, thus helping project managers and researchers to become able to both consider and prevent them from the earliest planning stages of a collaborative research project. However, specific conflict prevention strategies for international, multi-actor, and interdisciplinary research projects are rarely a priority in the literature. These are mainly discussed indirectly or as an underlying part of research works.
3. Materials and Methods
3.1. Case Study Description
Scale-N seeks to improve the food situation in four Tanzanian villages by developing local solutions, testing strategies, and improving the understanding of local food insecurity [
23
]. LSs collaborated at differing levels of intensity. A variety of activities were implemented throughout the project. Contact and collaboration between LSs and PMs took place, for example, at sensitization workshops about the project; workshops to identify major problems related to food insecurity; discussing and developing possible solutions to identified problems; ongoing research activities; showing participants of the project how to produce organic pesticides and how to process and store food; building school gardens; setting up demonstration sites and teaching LSs how to build so-called "pocket-gardens" to grow vegetables. For setting up school gardens and building pocked gardens, materials (trees, bags, and seeds) were given to the project participants.
The overall concept of the Scale-N project is to use food value chains as an analytical framework to understand food systems fully and to define boundaries and components of food systems within a local context [
39
]. Further, an analysis of the nutritional status of villagers is part of the project's concept [
40
], implementing a collective learning approach to test innovative educational tools, whereby community voices are crucial. The Scale-N project commenced with a baseline study that collected data on the health status of all villagers from the four case study villages (n = 663), including height, weight, and determining their nutritional status with a blood sample. At the conclusion of the project, this study was repeated to analyze the impact of the food security activities. The National Institute for Medical Research Tanzania and the Ministry of Health, Community Development Gender, Elderly & Children Tanzania granted ethical clearance for conducting this study. Interviewing participants was an integral part of the ethical clearance. All participants were informed that the interview material was to be used for scientific purposes, and their informed oral consent was given.
The Scale-N project was implemented in the Morogoro and Dodoma regions of Tanzania. These regions were selected due to their high vulnerability to food insecurity. There are diverse environmental and socio-economic conditions within these regions. From the Morogoro region, the villages Tindiga and Mhenda were selected; from the Dodoma region, Mzula and Chinoje were selected [
23
]. Participatory approaches drive numerous interactions at the stakeholder-scientist nexus. The input, ideas, and comments from the LSs were recognized as valuable since they have specific knowledge about the area and living conditions [
23
].
The Scale-N project was chosen as the case study because it has a high degree of local stakeholder involvement and it exemplifies the complex setting of international and transdisciplinary research collaboration projects. Additionally, the four Scale N-project villages were chosen to collect information on a variety of dynamics, environmental conditions, and interpersonal structures. This study focuses on Scale-N's PMs and LSs who are actively involved in the project. Identifying these PMs and LSs was done with the support of project coordinators from the Sokoine University of Agriculture (SUA), Tanzania.
3.2. Methods
This research adopted a participatory methodological design to better understand the realty lived by the project participants and the communities where the project was applied. Therefore, a key concept, problematization developed by Freire [
41
], guided this research. Problematization is an active, collective, and critical approach to a certain reality context [
41
], in this case the project implementation. It happens through a set of activities around the participants' reality and problems. In this notion, two qualitative data collection methods were combined to obtain a more holistic picture of the causes of conflict, as well as a variety of perspectives of experienced conflicts. The methods included (1) personal interviews and (2) focus group discussions (FGDs). In total, 127 persons were questioned about their conflict experiences, through (1) 43 personal interviews (13 with PMs and 30 with LSs) and (2) seven focus group discussions with a total of another 84 LSs.
Table 1
displays the numbers of participating LSs per study village. Most data was collected during an 18-day site visit to the four study villages in February 2018. The personal interviews and FGDs with LS, as well as selecting the participants were supported by a translator and a facilitator.
The age range of the total sample was between 21 and 70 years. There was no age limitation set before the study. At the end of each personal interview and FGD, participants received compensation, as well as cookies and a soft drink. The compensation was given for their time, for walking to the interview sites, and for leaving their daily farm work.
3.2.1. Personal Interviews
A semi-structured interview guide was designed to gather conflict experiences on a personal level and to obtain deeper insights. The semi-structured approach provided flexibility during the interviews and allowed reacting to the course of the conversation during the interviews. To allow for an open interpretation of the research topic, a definition of "conflict" was not provided to LSs and PMs during the personal interviews and focus group discussions. The semi-structured interview questionnaire was designed by using the SPSS method after Helfferich [
42
], i.e., collecting questions; checking the relevance and wording of the questions; sorting or categorizing the remaining questions into thematic blocks (by topic and type of question); the categorized and verified questions completed the interview guide [
43
]. Further inspiration for the design of the questionnaire was obtained from a former research dealing with conflict experiences within the research team. The questionnaire was developed by scientists based in Germany. However, Tanzanian project team members examined the questionnaire before data collection commenced to ensure the comprehensibility of questions and helped to adapt questions as needed.
The interview questionnaire was divided into three blocks of questions: The first block contained introductory and background questions (for instance: What is your role in the project? What was your first thought when you learned about the project?). The second block asked about conflict experiences (for instance: How would you describe your experience in working together with externals/LSs in general? When thinking about the collaboration with externals/LSs: Have you experienced any challenges/problems during the implementation phase of the project? What about the time after the implementation until now?). During the interviews, if the interviewee did not experience (m)any conflicts, it was also asked why there were rarely challenges or problems. This follow-up question helped identify strategies that prevent conflict from occurring. The last block dealt with coping strategies and recommendations (for instance: How did you deal with the described difficulties? What would have helped you to deal with the problems/challenges?).
The implementation of personal interviews included a two-person research team, each with their own research focus, and a translator who supported the researchers in communicating with the LSs. There was no translator needed during the personal interviews with PMs, since they were conducted in English. The personal interviews with LSs and PMs lasted on average 45 to 50 min.
3.2.2. Focus Group Discussions
To complement the individual interviews that allowed more in-depth analysis, focus group discussions (FGDs) were conducted. The aim of the FGDs was to broaden the discussion on collaboration experiences and to verify the findings of the personal interviews. Two key areas of interest existed for the focus group discussions: (1) Have LSs encountered or experienced any conflicts with PMs in the course of the project collaboration? (2) Do the experiences of LSs overlap with the findings of the personal interviews that were conducted with LSs but also PMs? The FGDs were performed with LSs only and lasted between one and two hours.
The FGDs were implemented following a semi-structured approach. First, an introduction of the researchers, translators, and facilitators was done, followed by brief background information about the research itself. Rules for the FGD were introduced, like for example: (1) there is no right or wrong answer, there are only different points of view; and (2) everybody can speak, but only one person talking at a time. To increase participation and to prevent only a few dominant participants being heard, sign language was introduced. Participants were asked to raise their hand and signal their agreement or disagreement with what was discussed.
The questions for the FGDs were extracted from the personal interview questionnaire (cf.
Section 3.2.1
) to allow for comparison of results. Six key questions were extracted from the individual questionnaire guide and discussed in the FGD: (1) How would you describe your experience in working together with externals (PMs)? (2) When thinking about the collaboration with externals (PMs): Have you experienced any challenges/problems while working together with them i.e. during workshops/trainings/surveys? (3) What were the consequences of the challenges/problems? (4) How did you deal with the described difficulties? (5) What do you think could be improved in the collaboration of PMs and you? (6a) Have you noticed problems/troubles between participants of the project (Yes/No)? If yes: what kind of problems/troubles? (6b) Have you noticed problems/troubles between participants and people from the community who do not participate in the project? If yes: what kind of problems/troubles?
The location of the FGDs was either in a classroom inside the village school or outside in front of them.
School tables and benches were put in a U-shape, so that the participants could see each other; it also created an open atmosphere, where everybody could express themselves freely. At the first FGD, questions were mainly answered by the men, while the women remained rather quiet. Thus, recognizing that separating participants by gender might be beneficial, subsequent FGDs were conducted with separated genders.
3.3. Analytical Approach
The personal interviews and FGDs were recorded with the permission of all participants. Respondent's answers were transcribed in summary form. Notes taken during the research activities were also considered as analytical material. All data was analyzed using a qualitative content analysis [
44
,
45
]. In the first step, all pieces of information perceived as important, interesting, surprising, and repetitive were marked. In a second step, a codebook was designed on the basis of the marked and labelled data. From there, broad categories aligned with the research question were identified. Lastly, the identified categories (e.g., organization) were refined and further subdivided into subcategories as presented and discussed in the subsequent sections.
4. Results
This study aims to identify (1) conflict causes between LSs and PMs, the main involved actors at the operational level of a transdisciplinary food security project, and (2) strategies that can prevent conflict. The results presented include, first, an overview of identified conflict causes of all four villages and, second, strategies preventing conflict. Although the identified conflict causes were heterogeneous and diverse, they were often interconnected. The findings of the personal interviews and focus group discussions largely overlapped.
4.1. Conflict Causes at the LS–PM Collaboration Intersection
Our study found numerous challenges that can impact negatively the collaboration of local stakeholders (LSs) and project members (PMs) when working together on a project on sustainable development. To present the variety of results in a structured way that also helps the reader to understand them better, fishbone diagrams were used. The fishbone diagrams 1, 2, and 3 summarize all results presented in this section. Conflict causes identified by this study are presented in the upper part of the diagram and resulting conflict consequences in the lower part. Findings are grouped into four categories, each referring to a different key driver of conflict:
4.1.1. Category: Organization
Material: Some LSs identified materials (to build pocket-gardens) as a cause of conflict as they are sometimes unavailable or unaffordable for some, thus preventing food-security upgrading strategies from being implemented at the household (HH) level. The intended knowledge transfer is not put into practice in these cases, and there is no information if the food-security upgrading strategies work or not. Here, LSs were frustrated and reported about implementation difficulties. This conflict was present for LSs in all four villages.
People: Participants linked conflicts to people's behavior, for example in cases when LSs or PMs did not show up to meetings or events, implemented project activities with delay, or protracted research activities. This point also incorporated conflict arising because too many LSs wanted to participate in the project/research activities, thus resulting in some being sent home. LSs walk a long distance to reach village centers, missing a whole day of farm work during farming season. Therefore, they demonstrated their anger about being sent back home verbally. In the Dodoma region, i.e., Chinoje and Mzula, several informed households told neighbors when PMs were visiting, resulting in too many LSs showing up for an activity. This conflict cause was primarily mentioned by PMs. Alcohol consumption was noted as a conflict driver by PMs. For example, one PM stated that during some visits, "half of the villagers are drunk, especially on market day." Training and interviewing drunken LSs is not meaningful for the research. The production and consumption of alcohol is common in these rural areas, especially during the non-farming season.
Information: Conflict was caused by a lack of transparency for LSs about the project itself. LSs did not know when the project would end and did not receive basic information about it; a conflict present in all four villages. Receiving false information was identified as another dysfunctional conflict cause by PMs. An example of false information, provided by a PM, was that "on the telephone they tell you everything is fine, but when you go there you see a lot of problems."
The following
Figure 2
shows the categories interculturality and perceptions.
4.1.2. Category: Interculturality
Language: Language barriers were identified as a source of conflict during field trips, especially for foreign project members. In this case, international researchers (PMs) were unable to gather first-hand information from stakeholders as they always needed a translator to communicate in Swahili or other local languages. The use of translators and local researchers could not eliminate all language barriers, as some LSs only spoke Gogo, a tribal language.
Traditions: Project members reported that traditions affected their research activities. The Scale-N study included a blood test in its baseline study. This resulted in rumors within the case study villages. For instance, the "white" people take the blood collected during the aforementioned baseline study to create diseases. These rumors caused several LSs to not participate in the baseline study at the start of the project. In both regions, Dodoma and Morogoro, rumors triggered conflict. This subcategory also incorporated conflict caused by some LSs who resisted changes due to rather rigid traditions.
4.1.3. Category: Perception
Perception: LSs perceived externals as "experts" who were able to quickly solve their problems. According to one PM, "they [LSs] expect you to come and do everything". This conflict was especially present in the Dodoma region, i.e., Chinoje and Mzula. The conflict cause was rooted in diverging perceptions, as PMs expected LSs to be active in the project. This conflict cause was primarily derived from the responses of PMs.
Expectation: LSs were dissatisfied with the compensation amount. According to several LSs from the Morogoro region, the amount was not sufficient compared to the time spent on a research activity. Some LSs stated that they would withdrawal from the project if the compensation amount was not increased. In contrast, PMs regarded it unethical to pay the project beneficiaries, voicing the concern that some LSs might only participate because of the compensation, thus trying to satisfy the researcher with their provided answers. Competing projects complicated the situation. According to PMs, a variety of other research institutes and development agencies offer different compensation amounts in areas for these activities, like Morogoro region.
Selection: Participant selection within the project led to conflicts. As the random sampling process used to select project participants was not well explained or understood by the majority of the interviewed LSs, the selection was perceived as unfair, with rumors spread about the Scale-N project participants. Frequent complaints and recurring attempts to explain the selection process disrupted the interventions and research activities. In one village, project participants were called "the affected ones," referring to the rumor that project participants were infected with HIV because they were selected for the project after participating in the baseline study that included a blood test. In another village, village officials tried to sneak relatives into the project, thereby ignoring the selection done by PMs. The demonstration site equipment was damaged and destroyed in two villages. PMs explained that this probably happened because project non-participants were jealous and disappointed that they were not selected, thus engaging in vandalism. These conflict causes were especially noticeable when destructive actions took place and project equipment was destroyed.
The following
Figure 3
shows the category environment. The findings refer to external implications, circumstances, and natural conditions affecting the collaboration of LSs and PMs and resulting in conflict.
4.1.4. Category: Environment
Nature: Environment-related impacts, like floods, animals (eating the vegetables), pest-infected plants, and water shortages, challenged project success, thereby influencing the collaboration and creating collaboration conflicts. Water scarcity and pest infected vegetable plants are a pressing issue that challenges both project collaboration and project success.
Infrastructure: Missing infrastructure like bridges and roads can make it impossible to reach the rural villages, thereby creating conflicts due to delayed implementation of activities. Being behind the project schedule might affect future activities.
Livelihood: LSs depend on farming activities as their primary source of food and income. Diverging priorities and high costs, through leaving the farm during the farming season, led to the outcome that some LSs could not participate in activities. Further, as LSs may be poorly educated, misunderstandings and difficult information transfer may occur.
4.2. Identified Strategies that Prevented Conflict
The second study objective was to identify strategies applied in the case study that could prevent conflict from occurring.
Three main strategies were identified.
4.2.1. Involvement of Locals
The involvement of LSs was perceived as important by PMs. PMs valued their inputs and involved LSs from the beginning of the project. PMs trained selected villagers to teach the rest of the project participants.
Additionally, LSs valued that their ideas, views, and comments were taken into account. For instance, the teachers in Chinoje provided their views about how parents with malnourished children might be able to access food for their children. In Mhenda, the village executive officer explained which types of vegetables might be accepted and helped find land for the demonstration site, later used by PMs for instruction and to show project participants how to set up their own pocket-garden. This information is vital for avoiding conflict in the first place and for designing the project with input from LSs and PMs.
4.2.2. Development of Trust
Furthermore, the creation of trust directly links to the collaboration with locals. LSs perceived the project to be trustworthy due to the collaborating with and involvement of village officials in the project design. The majority of LSs felt that using village structures and respecting village rules during the project helped to develop trust. Therefore, integrating local key persons, such as the village officials and the village administration, in the project design, proved vital for project acceptance.
Moreover, trust between LSs and PMs was fostered through sensitization activities designed to get to know each other and to explain the project's purpose and aims. Thus, not only were initial worries minimized, but also, trust was improved by showing and explaining to LSs their individual results from the baseline test. LSs mentioned worries that the blood was for HIV testing, but after receiving the results with an explanation, they stated they had increasing trust in the PMs. Lastly, building trust was supported by the continuing implementation of food upgrading strategies, providing tangible materials, like fruit trees and vegetable gardens, as well as knowledge transfer and nutrition education.
4.2.3. Reducing the Language Barrier
The collaboration with national staff reduced the risk of miscommunication. In the case study, national project members principally managed and visited the case study villages, interacting with the LSs. They were the most active PMs on the ground, regularly communicating with contact persons and supporting implementation activities in the villages. Tanzanian PMs spoke Swahili and could communicate with the majority of LSs. Thereby, PMs overcame language barriers that might result in conflict. Working with staff from the country of the research project allowed using their multi-lingual capacities for translation and moderation of activities and facilitated communication between foreign PMs and LSs. Several LSs stated that because translators guided the interviews and discussions, language was not an issue; thus, it was not perceived to be a cause of conflict. LSs seemed to trust local translators and facilitators, satisfied that somebody translated what they wanted to say.
5. Discussion
The aim of this study was to identify conflict causes between the principle actors (project members and local stakeholders) in a complex trans- and inter-disciplinary, international research collaboration project. It identified and presented multiple conflict causes in a food security project at the project member-stakeholder nexus, which increased project complexity and needed to be considered during planning. Therefore, it supported the definition of transdisciplinary projects as complex organizations with an inherent high risk of conflict [
8
,
13
]. While multiple conflict drivers were identified that showed convergence with prior research, we argue that our research extrapolated additional drivers that are also crucial to consider when planning and implementing transdisciplinary projects in the context of sustainability research.
The findings corroborated, among others, the existence of conflict causes like inefficient communication and lack of explanations; unreliable and untimely project information; delayed and postponed meetings; as well as project specific causes like perceived injustices over the participant selection process; missing materials and unaffordable participation (shortage of resources); and inadequate compensation (reward system) [
12
,
13
,
25
,
28
,
29
,
47
]. Here, inadequate compensation refers to the rewards LSs received for carrying out research or implementation activities. International aspects, like language barriers, were mirrored in the conflict experiences of foreign PMs [
20
,
32
,
33
].
In particular, applying the findings to a food security research project, this study found that overlaps of field project activities with seasonal farming activities of LSs that can result in a high non-attendance rate of farmers in project meetings; rumors due to the baseline blood testing to record and analyze the nutrition status; animals eating the vegetables; pest infections of plants that resulted in a loss of project resources or an inability to perform expected tasks; all have potential to be conflict drivers between the involved parties.
Case study site contextual factors also impacted the collaboration between LSs and PMs. The four case study villages were located in rural areas, where villagers were mainly dependent on agricultural production [
34
]. The village system and environment like geographically dispersed households, low socio-economic indicators, scarce resources, and natural disasters like floods and droughts in Sub-Saharan Africa [
34
,
35
] challenge food security projects to perform well and lead to a tense and complex collaboration atmosphere between LSs and PMs. However, it is especially crucial for projects focusing on topics like food security to be approached with the integration of local stakeholders and a high diversity of disciplines. Applications and the testing of strategies take place on an interpersonal level. LSs and PMs need to collaborate and cooperate when working on food security issues.
Prevention Strategies of Conflict Causes
The next section discusses the key strategies that could be used to address identified conflict drivers, meaning that the findings will be combined to propose strategies for action (reducing the language barrier, development of trust, and involving locals). The identified prevention strategies are valuable when discussing how to implement new approaches for collaborations of north-south research cooperation.
For example, by focusing on reducing language barriers that cause conflict, it could be possible to address: (1) miscommunication; (2) the change of responses and unclear questions; and (3) protracted research activities for international PMs.
Engaging on a deeper level of trust development could minimize or mitigate the identified conflict causes, including: (1) receiving false information from LSs; (2) beliefs and rumors; and (3) LSs keeping traditional ways.
A collaborative atmosphere where everybody speaks freely must be developed. This means empowering LSs to speak up. LSs need to understand that there are no negative consequences if they report project disruptions or incidents. It is important to receive information about issues within the project, so that action can be taken to analyze and address the problem quickly.
Conflict causes due to beliefs and rumors (2) and LSs being resistant to change (3) could be addressed by deepening and reinforcing trust. If a certain level of trust is reached, it might be possible that LSs become more open minded, willing to test new things, or to approve and implement the project's strategies. Concerning beliefs and rumors (2), trust could support the collaboration in the sense that the LSs do not believe the rumors spread by non-participants.
Lastly, conflict caused by LSs including missing materials (5) could also be addressed with an efficient and transparent information transfer system; LSs can inform PMs when they have difficulties purchasing, gathering, or obtaining the material needed.
6. Conclusions
Overall, this study found that coordination, communication, and an efficient information transfer system between the principle actors—local stakeholders and project members—in a research project are critical for minimizing and preventing conflict. The identified strategies to prevent conflicts or facilitate their management include developing trust, reducing language barriers, and involving locals. Identified conflict causes were classified into these prevention strategies, showing how these conflict causes may be addressed and prevented.
It is argued that engaging consciously and strategically in these actions will facilitate collaboration at the science–society nexus. Actively implementing these strategies might result in synergies with project results: improved collaboration could positively affect the quality of collected data and project outcomes. It needs to be considered that implementing these strategies requires time to be properly realized. Therefore, longer project timeframes will benefit from efforts to establish a deeper collaborative relationship between the involved actors.
The findings extend the previous knowledge about collaboration conflicts within an international science–society collaboration project by highlighting the community voices about project failures and what are the limits of project implementation. In the context of transdisciplinary research projects, community perspectives are understudied so far. Knowledge on how much collaboration learning curves and variations in commitment affect the outcomes of collaborative projects is still marginal. With this paper, an understanding of communities' needs and structures was revealed to avoid conflict and project failures. Innovative collaboration approaches and methods that facilitate collaboration between stakeholders but also between stakeholders and project members are needed in order to be able to find sustainable solutions.
Creating awareness for the multiplicity of conflict drivers can be the first step towards more sensitized project planning. Further, the findings reveal practical operational details for consideration when working on food security issues with Tanzanian communities. Taking lessons from this case study and applying them to future projects focusing on food security is a good way to find innovative and sustainable solutions that reduce and prevent conflict in community–scientist collaborations.
Author Contributions
J.S.: development of the concept; literature research; development of methods; test design; data collection; data analysis; results discussion; and compiling the manuscript. K.L. and M.B.: development of the concept; literature research; development of methods; test design; results discussion; and compiling the manuscript. S.S.: development of the concept; and results discussion.
Funding
Funding to support this research was provided by the Leibniz Centre for Agricultural Landscape Research ZALF e.V. PB2, AG SUSLAND. Eberswalder Straße 84. 15374 Müncheberg. We thank the collaboration of researchers from the Trans-Sec and Scale-N projects.
Acknowledgments
The findings are based on a master's thesis. The authors acknowledge the efforts of the Sokoine University staff members and their support while implementing this field research. We also thank all the participants in the communities and the translators for their valuable contribution. Further, we thank the Leibniz Centre for Agricultural Landscape Research (ZALF) for additionally supporting this publication. Finally, we also thank Ulrich Wurzel (HTW Berlin) for his support.
Conflicts of Interest
The authors declare no conflict of interest.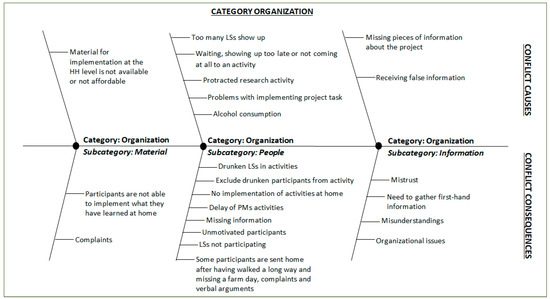 Figure 1.
Conflict causes and consequences between local stakeholders (LSs) and project members (PMs): organization. Source: Own Findings [
46
].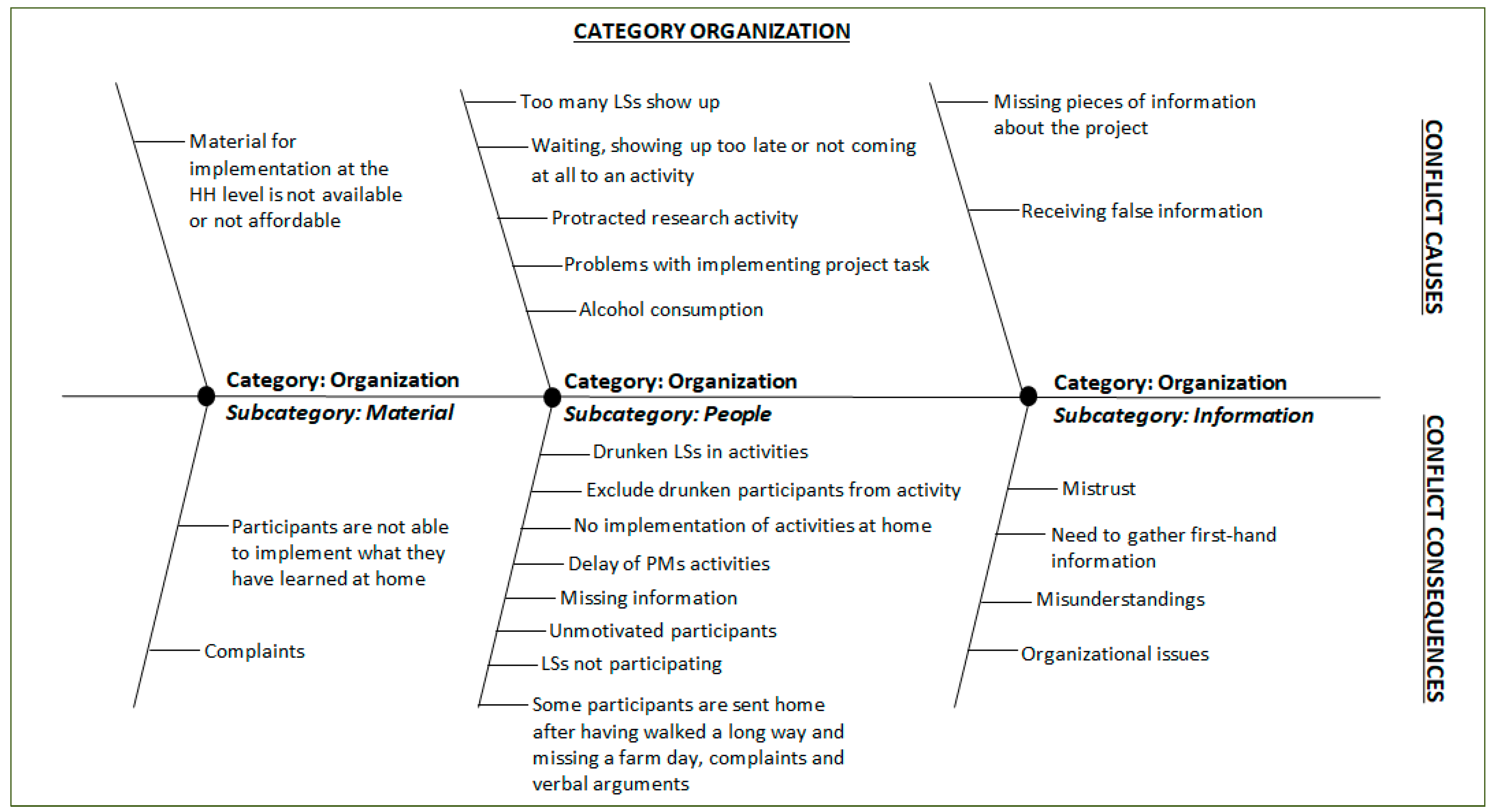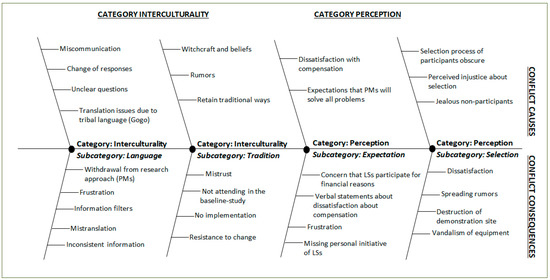 Figure 2.
Conflict causes and consequences between LSs and PMs: interculturality and perceptions. Source: own findings [
46
].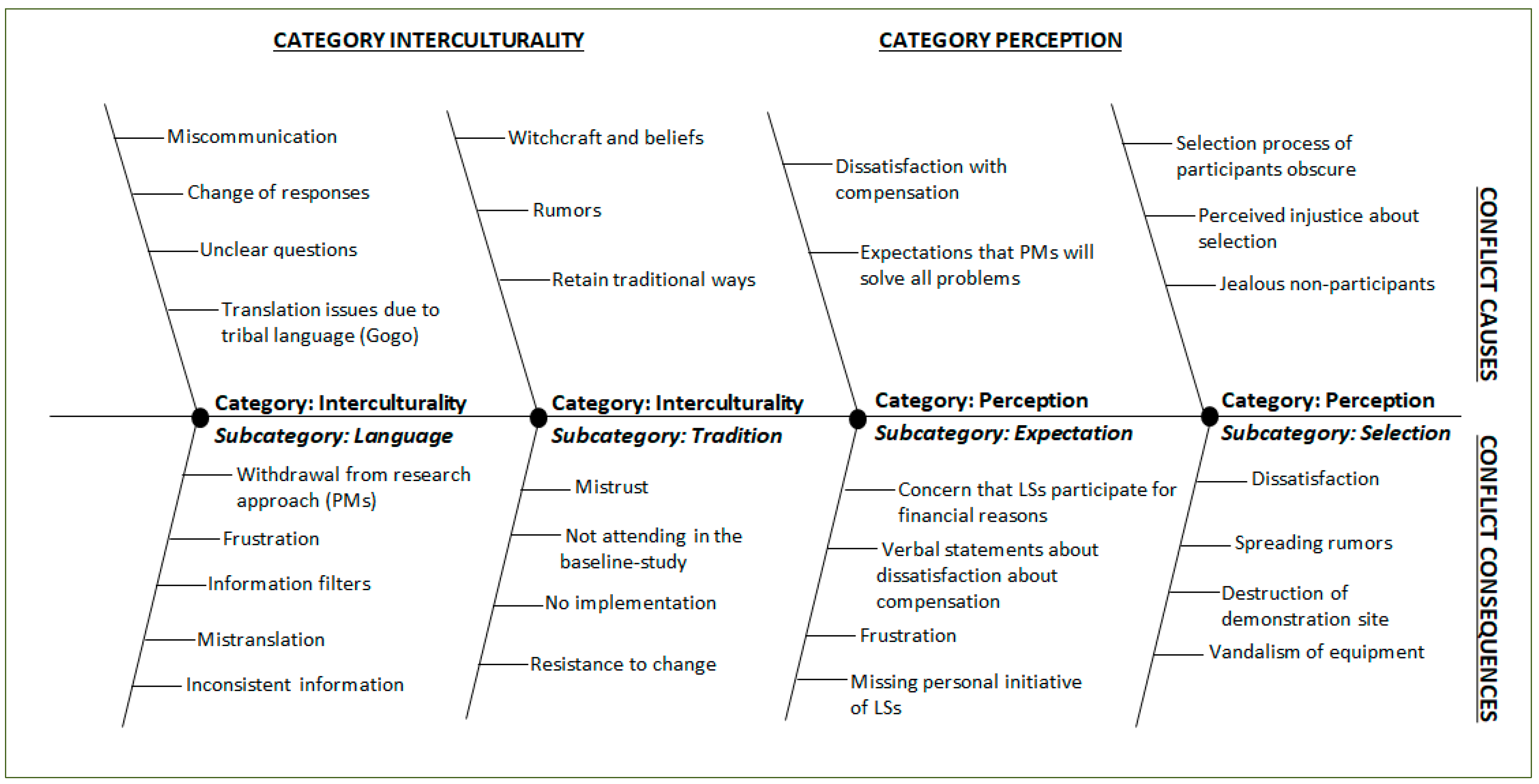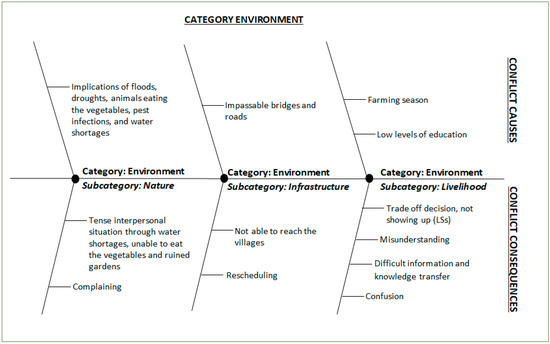 Figure 3.
Conflict causes and consequences between LSs and PMs: environment. Source: own findings [
46
].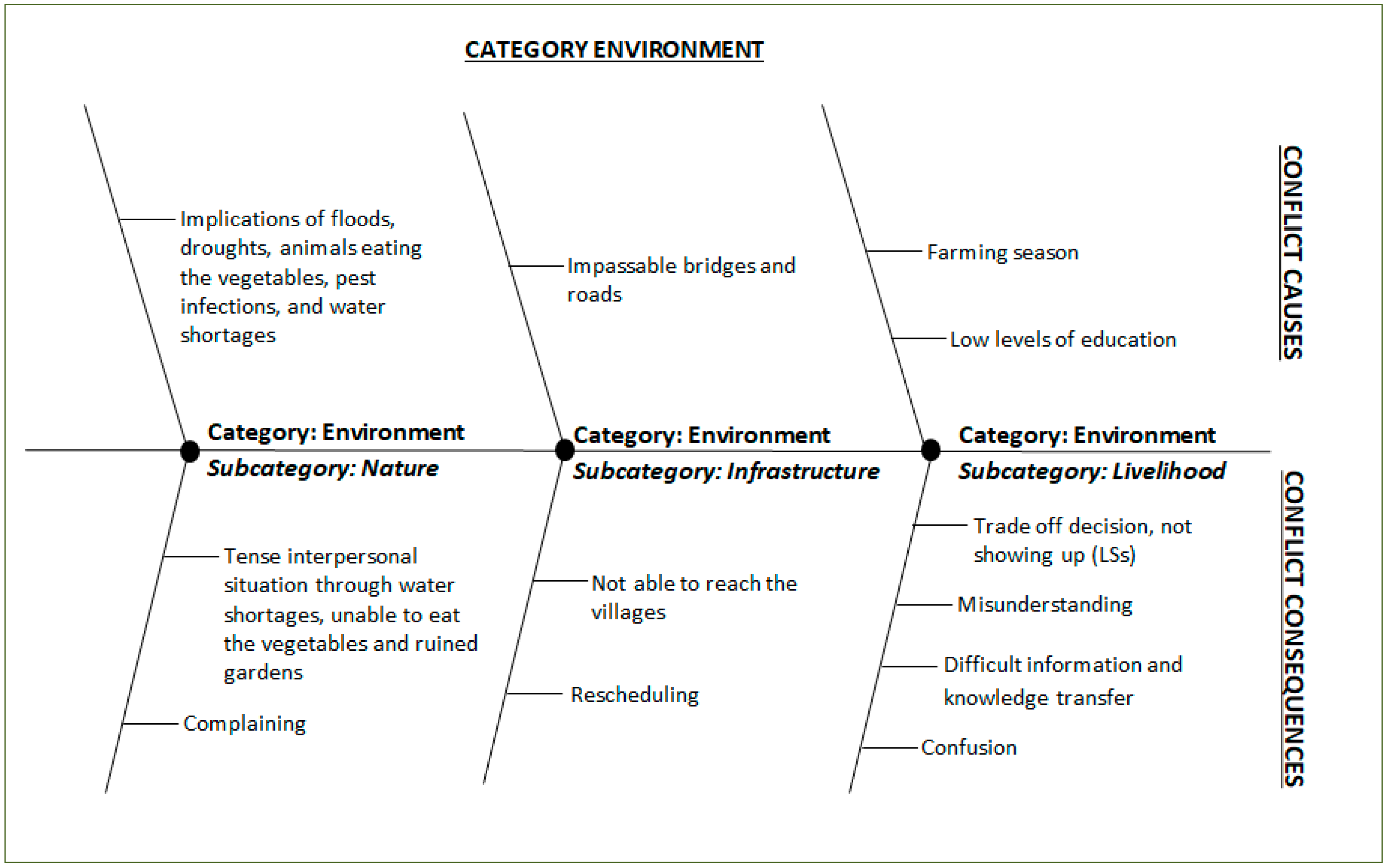 Dodoma Region
Morogoro Region
Village 1: Chinoje
Village 2: Mzula
Village 3: Tindiga
Village 4: Mhenda
Personal Interviews (PI)
PI: 10
PI: 7
PI: 6
PI: 7
Focus Group Discussions (FGD)
FGD 1: 10
FGD 1: 12
FGD 1: 14
FGD 1: 14
(Mixed)
(Females)
(Females)
(Females)
FGD 2: 11
FGD 2: 9
FGD 2: 6
FGD 2: 8
(Mixed)
(Males)
(Males)
(Males)
Source: authors' own illustration.

© 2019 by the authors. Licensee MDPI, Basel, Switzerland. This article is an open access article distributed under the terms and conditions of the Creative Commons Attribution (CC BY) license (http://creativecommons.org/licenses/by/4.0/).