Open Access This article is
freely available
re-usable
Review
Bibliometric Review of Research on Knowledge Management and Sustainability, 1994–2018
Center for Research on Sustainable Leadership, College of Management, Mahidol University, Bangkok 10400, Thailand
*
Author to whom correspondence should be addressed.
Received: 31 May 2019 / Accepted: 7 August 2019 / Published: 13 August 2019
Abstract
:
Even though Knowledge Management (KM) is already widely used in business and public sector organisations, it also has potentially important implications when applied to the concept of sustainability. This research review aimed to examine the topography of research on KM and Sustainability. A total of 3025 articles from 1994 to 2018 were selected and analysed using bibliometric analysis to identify the growth trajectory of this literature, identify influential researchers and documents, explore the intellectual structure of the knowledge base and identify topical trends. The review found a knowledge of moderate but rapidly growing size. Key authors and documents were identified who can serve as guiding references for scholars entering this field of sustainability studies. Author co-citation analysis yielded a network map visualising the intellectual structure of this knowledge base which consisted of four Schools of Thought: Knowledge Management for Sustainability, Socio-Ecological System, Sustainability Science, KM for Sustainability Application. Keyword analysis highlighted climate change, learning, communities of practice and socio-economic management as topical trends emerging in the research front of this knowledge base. As the first bibliometric review of the KM and Sustainability literature, the findings from this paper establish a baseline for scholarship in this field which can be as a benchmark as the field continues to evolve in the future.
Keywords:
knowledge management; knowledge; sustainability; sustainable development; bibliometric review
1. Introduction
The world is undergoing rapid changes that put strains and challenges on many aspects of life. We, as a society, are moving forward in continuous growth at the conscious and unconscious expenses of environmental, social and economic issues [
1
]. This is where the sustainability concept comes into play, with the aim to create a balanced interaction between natural resource utilisation, social advancement and economic investments for current needs and future potentials [
1
]. The United Nations has been pushing and developing this agenda from the Brundtland Report, Millennium Development Goals (MDGs) and the latest commencement of the Sustainable Development Goals (SDGs) [
2
,
3
,
4
]. The 17 SDGs are a collective direction to promote prosperity and sustainability by corporations of businesses, governments and communities [
4
].
Management science is an important branch of scientific study to sustainability, with one particular trajectory that is crucial in today's global economy being Knowledge Management (KM) [
5
]. KM aims to leverage knowledge within an organisation to maximise benefits [
6
]. With the knowledge-based perspective, an organisation can use knowledge embedded in multiple entities such as organisation culture, systems, guidelines or even its members to enhance productivity, efficiency and sustainable competitiveness [
7
]. Even though KM is already widely used in the business context, it has potentially important implications when applied to the concept of sustainability [
8
].
Given the potential impact of effective KM on sustainability, this research review aimed to examine intellectual topography of this field. This paper addressed four research questions about the field of KM and Sustainability.
What is the topography of KM and Sustainability in terms of time and geography?

What are the influential contributions to the knowledge base on KM and Sustainability in terms of authors and documents?

What is the intellectual structure of the knowledge base on KM and Sustainability?

What is the 'research front' in terms of topical trends in studies KM and Sustainability?
To answer these questions, bibliometric review methods were used to analyse 3025 articles drawn from the Scopus database. Bibliometric reviews analyse meta-data associated with a body of research rather than substantive findings from studies. As both KM and Sustainability are gaining their momentum in the research field, there has been a number of previous research reviews on KM and Sustainability. A systematic review through manual selection of articles could offer insights on research gaps in the literature such as sustainability in Small to Medium Enterprises (SMEs), or guidelines to develop effective use of knowledge exchange for environmental management [
9
,
10
]. Nevertheless, the adoption of the scientific review through bibliometric method provided this paper a different, comprehensive view of the field [
11
,
12
,
13
]. The results could be more rigour and unbiased as the articles are drawn from large bibliometric database, which leads to a more comprehensive sample. Therefore, this research can be used as a reference for scholars who are interested in KM and Sustainability, or looking for ideas to further develop this field or related fields.
2. Conceptual Framework
A framework for this paper was developed by integrating these key concepts from KM and Sustainability. This included the sustainability framework, UN Sustainable Development Goals and KM processes and activities, which are depicted in
Figure 1
. This framework was used to scope related keywords and areas for the research review database.
The term sustainability is used in various contexts intended for different meanings; however, in this paper, sustainability is a framework referring to three overlapping pillars of environmental, social and economic issues [
14
,
15
,
16
]. Environmental sustainability focuses on the input, waste and capacity of natural resources that need to be maintained in the environment [
16
]. Social sustainability touches upon social issues to create sustainable community such as social cohesion, equity, justice and inclusivity [
17
]. Economic sustainability is concerned with a sustained level of economic growth, development and productivity from limited capitals [
15
]. To further investigate sustainable development, the 17 SDGs can be used as a guideline of the world's current issues, which also fall into the three pillars of sustainability framework [
18
]. The interaction of the sustainability framework can illustrate a comprehensive view of sustainable development.
The use of KM can elevate sustainability through its core processes and activities. KM processes are comprised of four sets of activities dealing with the management of explicit and tacit knowledge within the organisation [
7
]. Firstly, knowledge creation is the development of new knowledge or replacement of the existing one, where innovations and solutions are generated. Secondly, knowledge storage and retrieval is referred to the memory that keep, hold and share knowledge across time and space, which helps reduce duplication of work and waste of resources. Thirdly, knowledge transfer is the exchange of knowledge at different levels between individuals, groups or organisations using various communication methods. Lastly, knowledge application is the process that knowledge is used in practice in order to bring competitive advantage to life. These KM processes are more effective with appropriate use of KM activities such as organisational culture, knowledge platform and community of practice [
19
,
20
].
3. Materials and Methods
The paper employed bibliometric method based on performance analysis and science mapping analysis procedures. On the one hand, statistical analysis is used to analyse the productivity performance of the bibliographic data associated with the published studies. On the other hand, science mapping analysis produces a visualisation of interactions between published studies within the extracted database as well as with related external database. Together, these procedures give the study insights on the structural and relational of knowledge base of KM and Sustainability. The results can provide previous, current and trending directions in this field for better understanding and future research.
3.1. Identification of Sources
4. Results
This section presented the results around the four research questions regarding the topography of KM and Sustainability field. Patterns were identified based on performance and science mapping analyses. It should be noted that although the following results are relevant evidences to the research, they are limited to the analyses carried out with the bibliometric method.
4.1. Growth Trajectory and Geographical Distribution of the KM and Sustainability Literature
The first research question about the topography in terms of time was depicted in
Figure 3
, where growth trajectory showed a rising trend of interest in KM and Sustainability. The knowledge base comprised of 3025 documents, including 51% conference papers, 38% journal articles, 4% journal reviews 4%, 2% conference reviews, book chapters and 1% books. The literature initiated in 1994 and gradually emerged during the 1990s and early 2000s. It first began to show evidence of increasing popularity in 2004, when the number of publications doubled compared to the previous year. The number of publications peaked in 2018 with 351 documents. Thus, KM and Sustainability gained continuously increasing interest among scholars over the past 25 years until the present day.
The heat map depicting the distribution of KM and Sustainability literature by country was shown in
Figure 4
. It revealed dominant contribution from the USA, UK, China and Australia. Other major contributors with over 100 publications included Germany, Canada, Malaysia and the Netherlands. Publications from these countries represented a majority of the collected knowledge base. It was as expected that there would be a predominance of scholarship from the Anglo-American region, although it was interesting to see the emergence of a significant body of Chinese and Malaysian scholarship in the field. Nonetheless, the broader interest in KM and Sustainability among scholars in both developed and developing countries was notable.
4.2. Key Authors and Documents
The second research question aimed to identify the main researchers and documents in the line of inquiry on KM and Sustainability. A number of analyses were conducted to find out about most productive authors, top cited authors and most co-cited authors by KM and Sustainability articles. Additional information about the authors was included in the result tables, including h-index and research focus.
The most productive authors in this literature were Thomson (11 documents, 58 citations), Y. Zhang (11/29), J. Wang (9/63), Scholz (8/371), Liu (8/278), H. Zhang (8/4), X. Zhang (7/234), H. Li (7/83) and W. Wang (7/29) and H. Wang (7/3). The list of most productive scholars writing on KM and Sustainability came from China (not tabled).
4.3. Intellectual Structure of the Knowledge Base on KM and Sustainability
4.4. Topical Trends in the KM and Sustainability Knowledge Base
The overlay visualisation of the keyword co-occurrence analysis informed the emerging topical trends. Previously, keywords within the macroeconomic management and knowledge creation themes were more popular in this domain of research. In contrast, the yellow and bright green coloured nodes reflect emerging topics that scholars are currently being studied with greater frequency. The size of these nodes suggested that they represent an emerging critical mass of interest among scholars.
5. Discussion
This research adopted a bibliometric method with the objective to scientifically review the field of KM and Sustainability. This section of the paper highlights limitations to the methodology as well as offering the authors' interpretation of the findings.
5.1. Limitations
The limitations of this review arise primarily from the nature of the database of articles soured on KM and Sustainability. Firstly, it should be noted that, due to limitations of Scopus, the database, though comprehensive, does not represent all extant research on KM and Sustainability. Related to this limitation, the authors also noted that a majority of the database consisted of conference papers. They may not, in all cases, have passed the same rigorous peer review process that is applied to journal articles. Secondly, as mentioned earlier in the materials and methods section, there are activity and impact limitations of the bibliometric approach that could lead to biased citation analysis in the database. Finally, bibliometric reviews, by their nature, do not delve deeply into the findings of specific studies. Thus, this review was conceptualised with the goal of documenting the evolution of the KM's contribution to sustainability literature and framing the emerging intellectual structure of this field of sustainability inquiry.
5.2. Interpretation and Implications
Together, these trends with respect to the geographical distribution of this literature lead to two recommendations. First, although our review did not examine findings from specific studies, our bibliometric findings reinforce the assertion that KM represents a highly salient enabler for sustainability in developing as well as developed societies. Second, these findings suggest that scholars prioritise research on the application of KM for sustainability in developing societies. This research will have broad and immediate applicability across a wide range of international contexts.
The identification of highly cited authors and documents through a series of citation and co-citation analyses has multiple implications. First, it honours the contributions of scholars who have pioneered the development of this subfield of sustainability research. Second, we suggest that these authors and documents can be used as a 'reading list' for those who wish to learn more about this topic. This is a highly practical outcome for an emerging field of inquiry. The empirical identification of key authors and documents will enable newcomers to this field of inquiry to 'get up to speed' much more quickly than random searches of the literature.
On the author co-citation map, the Socio-Ecological System and Sustainability Science Schools were close in proximity, as they both concerned sustainability, where one was about 'what', while the other was about 'how'. These two Schools of Thought were on the opposite side of KM. This could be because KM is a context-sensitive discipline that can be applied to several fields, and sustainability is one of them. However, some co-cited authors from the sustainability science were placed closer to KM, because education as an approach to understand sustainability is closely related to knowledge creation.
In contrast, the KM School was located at some distance from the others, reflecting its broader focus. The KM for Sustainability Application School of Thought located in the middle of the map, with less dense links to the other Schools. This is in line with the conceptual framework that KM application, as part of KM processes, is central to the framework. Furthermore, this is interesting in that the School is largely comprised of Chinese scholars. This suggests that this School may be developing as a distinctive School grounded in 'indigenous' KM practices used to address sustainability challenges in the Chinese (developing) context.
These observations concerning the intellectual structure of the KM and Sustainability knowledge base yield recommendations for future research. First, they reinforce and extend our earlier recommendation for prioritizing research on KM and Sustainability in developing societies. More specifically, they suggest that the "Chinese experience" in adopting and refining KM practices to sustainability challenges may hold value for other societies, especially developing societies. Second, the identification of these Schools of Thought also offer points of reference or foci for subsequent reviews of research using research synthesis methods that examine the conceptual models, methods, findings of studies. Each of these Schools of Thought should be reviewed. Finally, regarding our discussion of key authors and documents, the identification of these Schools of Thought also represents coherent, empirically derived conceptual pillars of KM and Sustainability research.
6. Conclusions
While the authors found numerous reviews of research on KM and on sustainability, few have examined the interrelationship between these two domains of knowledge [
9
,
10
]. Moreover, none, to date, applied the bibliometric review method to this topic. Thus, the findings from this review provide a baseline against which the future development of this line of sustainability research can be assessed. Moreover, we hope that our findings can be used to guide future research that seeks to explore the interrelationship between KM and Sustainability.
Author Contributions
Conceptualization, P.S. and V.V.R.; methodology, P.S. and V.V.R.; software, P.S. and V.V.R.; validation, P.S. and V.V.R.; formal analysis, P.S. and V.V.R.; investigation, P.S. and V.V.R.; resources, P.S. and V.V.R.; data curation, P.S. and V.V.R.; writing—original draft preparation, P.S. and V.V.R.; writing—review and editing, P.S. and V.V.R.; visualization, P.S. and V.V.R.; supervision, P.S. and V.V.R.; project administration, P.S. and V.V.R.; funding acquisition, P.S. and V.V.R.
Funding
This research was funded by Thailand Sustainable Development Foundation grant number 008/2561.
Conflicts of Interest
The authors declare no conflict of interest.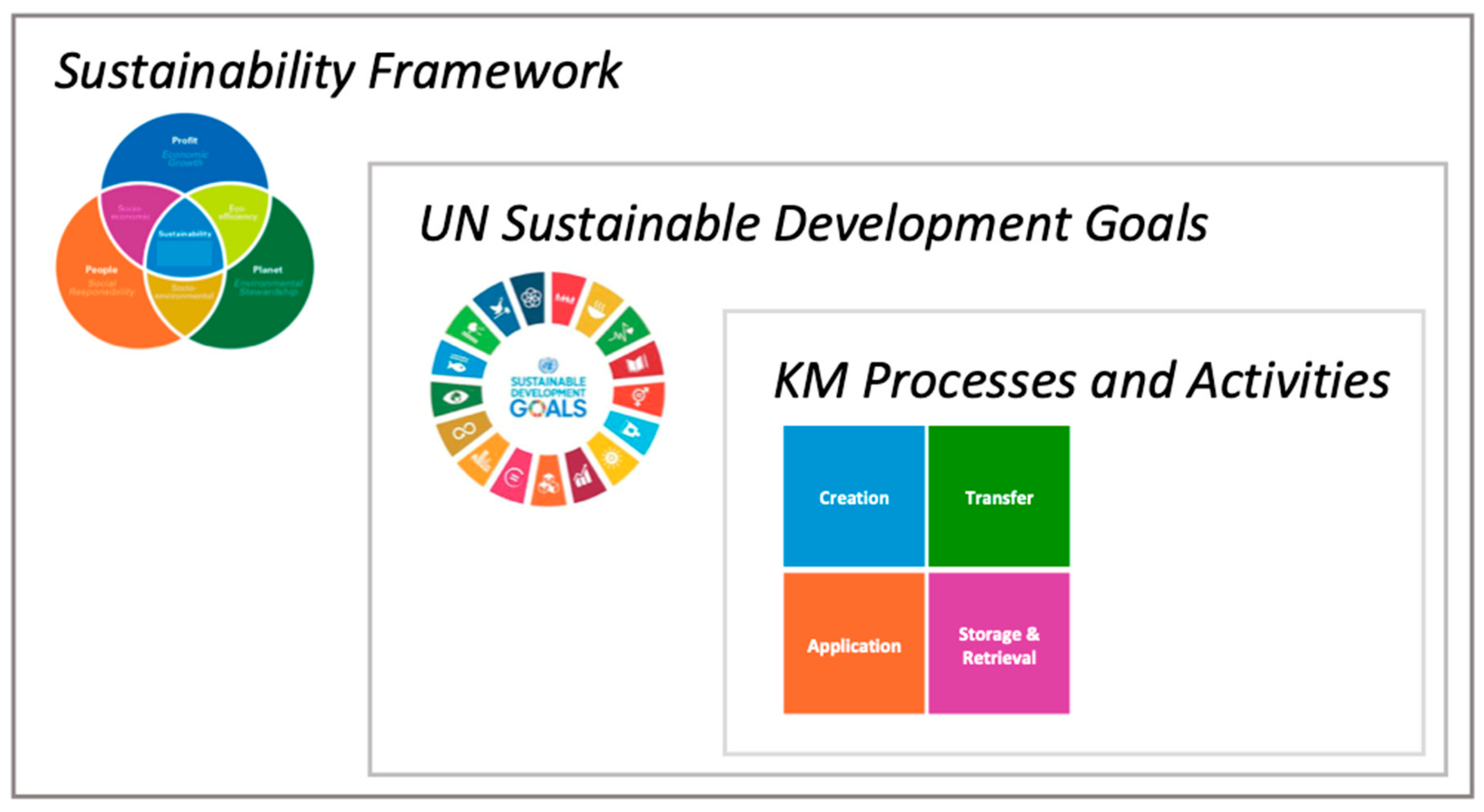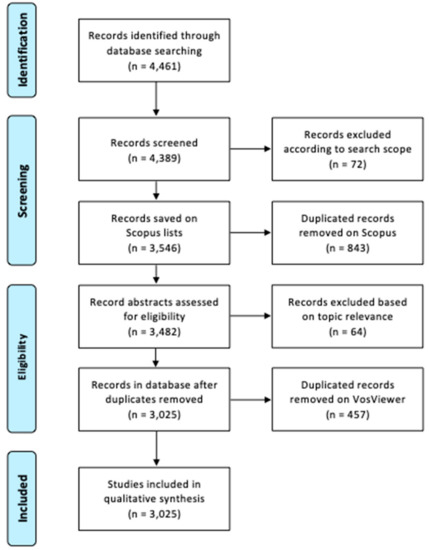 Figure 2. Preferred Reporting Items for Systematic Reviews and Meta-Analyses (PRISMA) flow diagram for KM and Sustainability database sourcing and screening.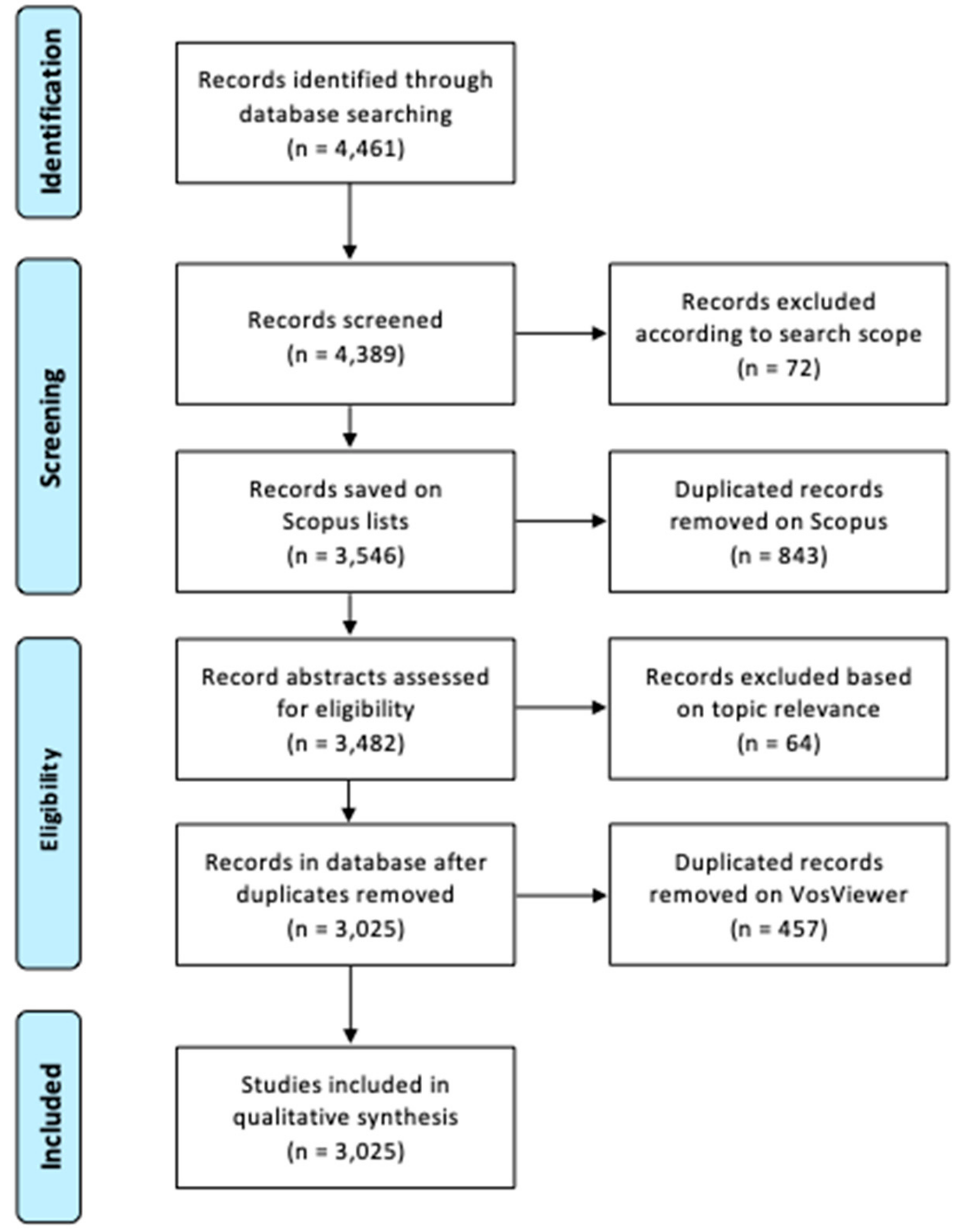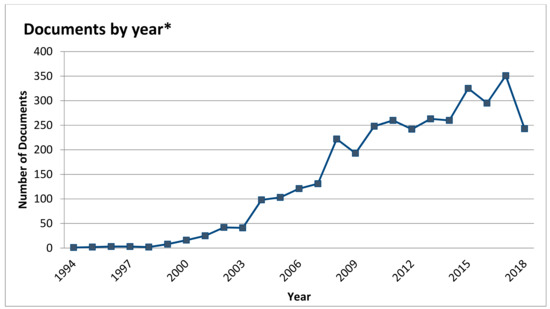 Figure 3. Growth trajectory of the literature in knowledge management and sustainability, 1994–2018 (n = 3025). * Data retrieved in December 2018.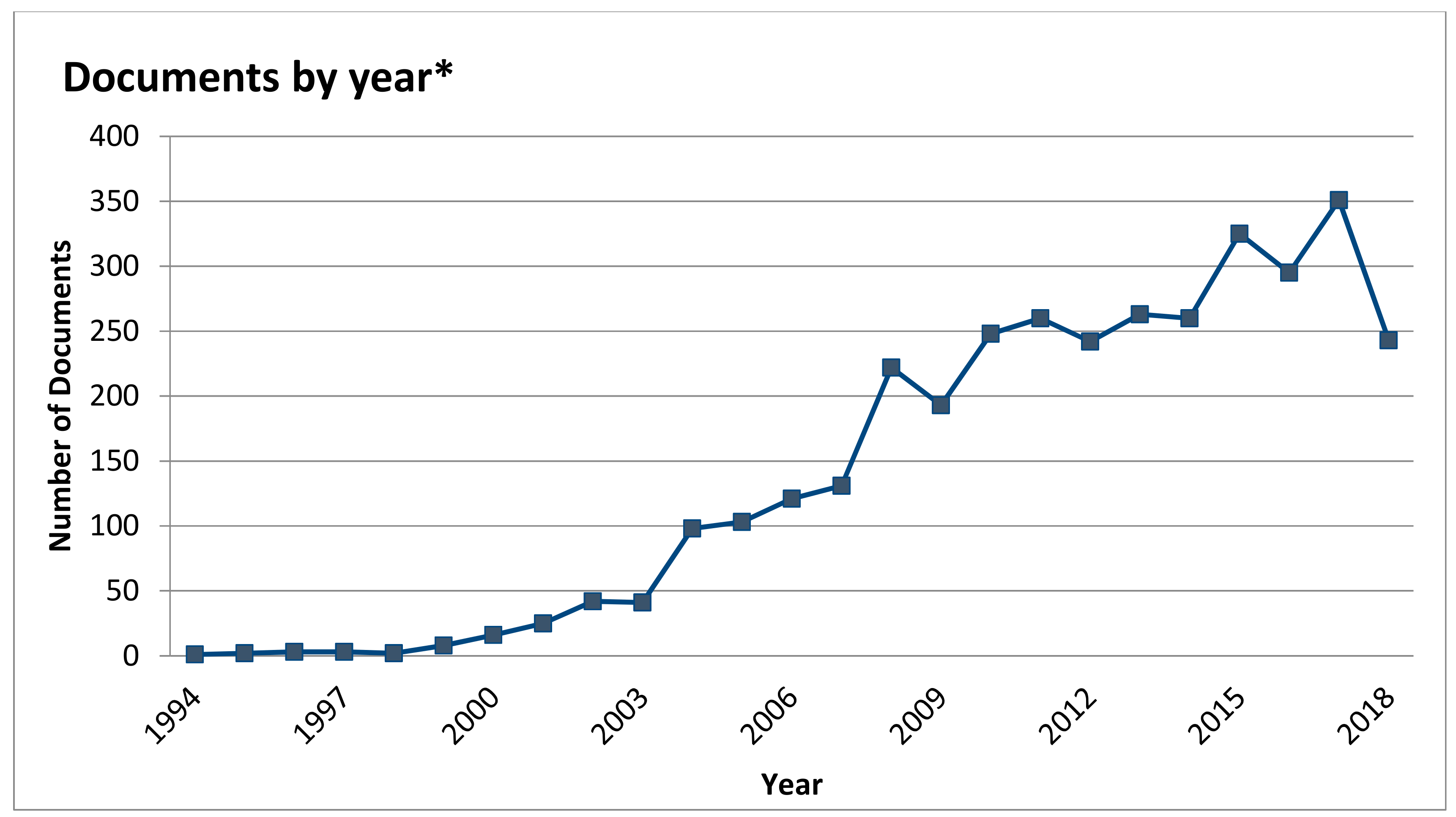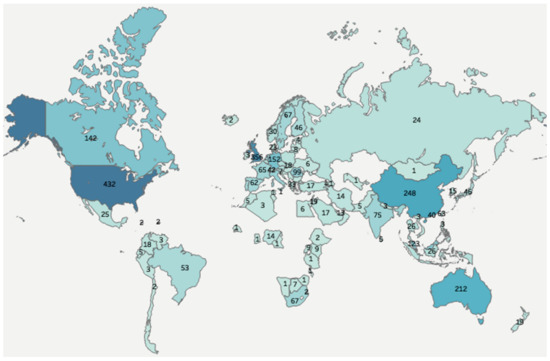 Figure 4. Global distribution of literature in knowledge management and sustainability, 1994–2018 (n = 3025).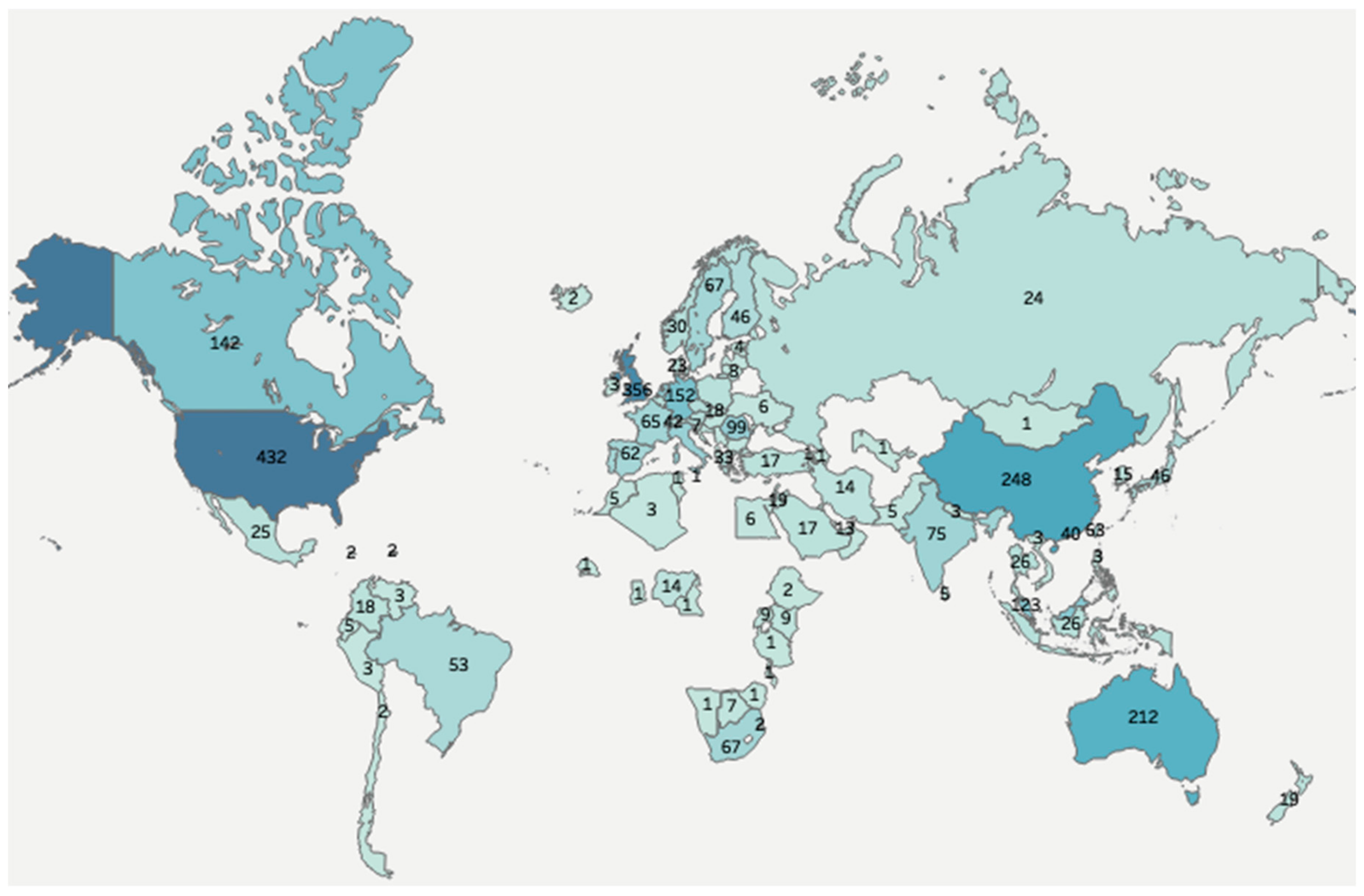 Figure 5. Author co-citation map depicting the intellectual structure of the knowledge base on KM and Sustainability (threshold 55 author co-citations, display 100 authors).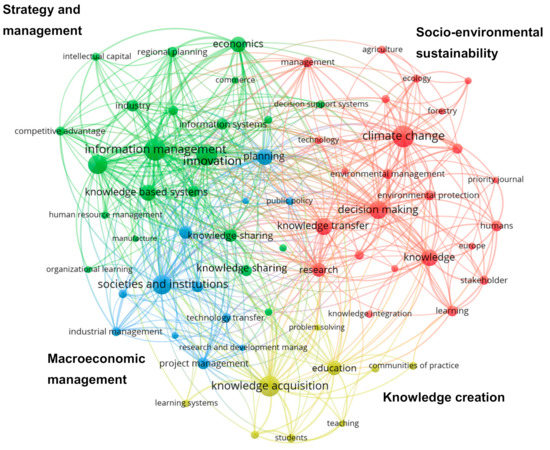 Figure 6. Analysis of keyword co-occurrence of KM and Sustainability, 50 minimum number of word occurrences, top 50 (n = 3025).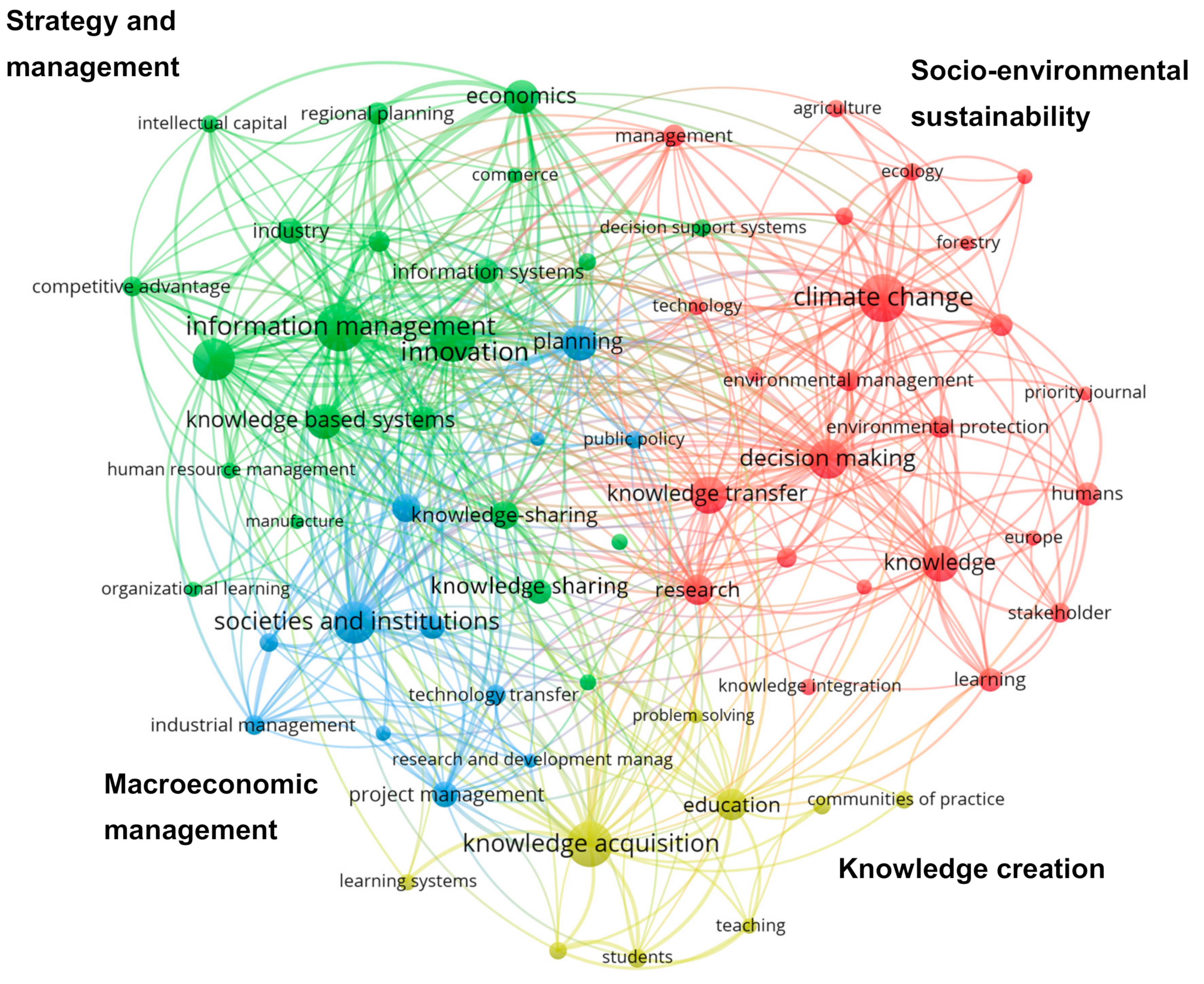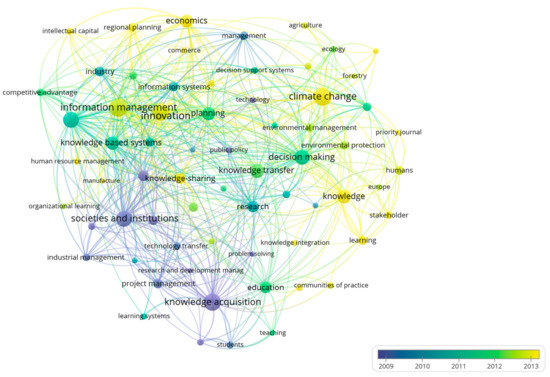 Figure 7. Overlay visualisation of keyword co-occurrence analysis of KM and Sustainability (threshold of 50 keyword word occurrences, display 67).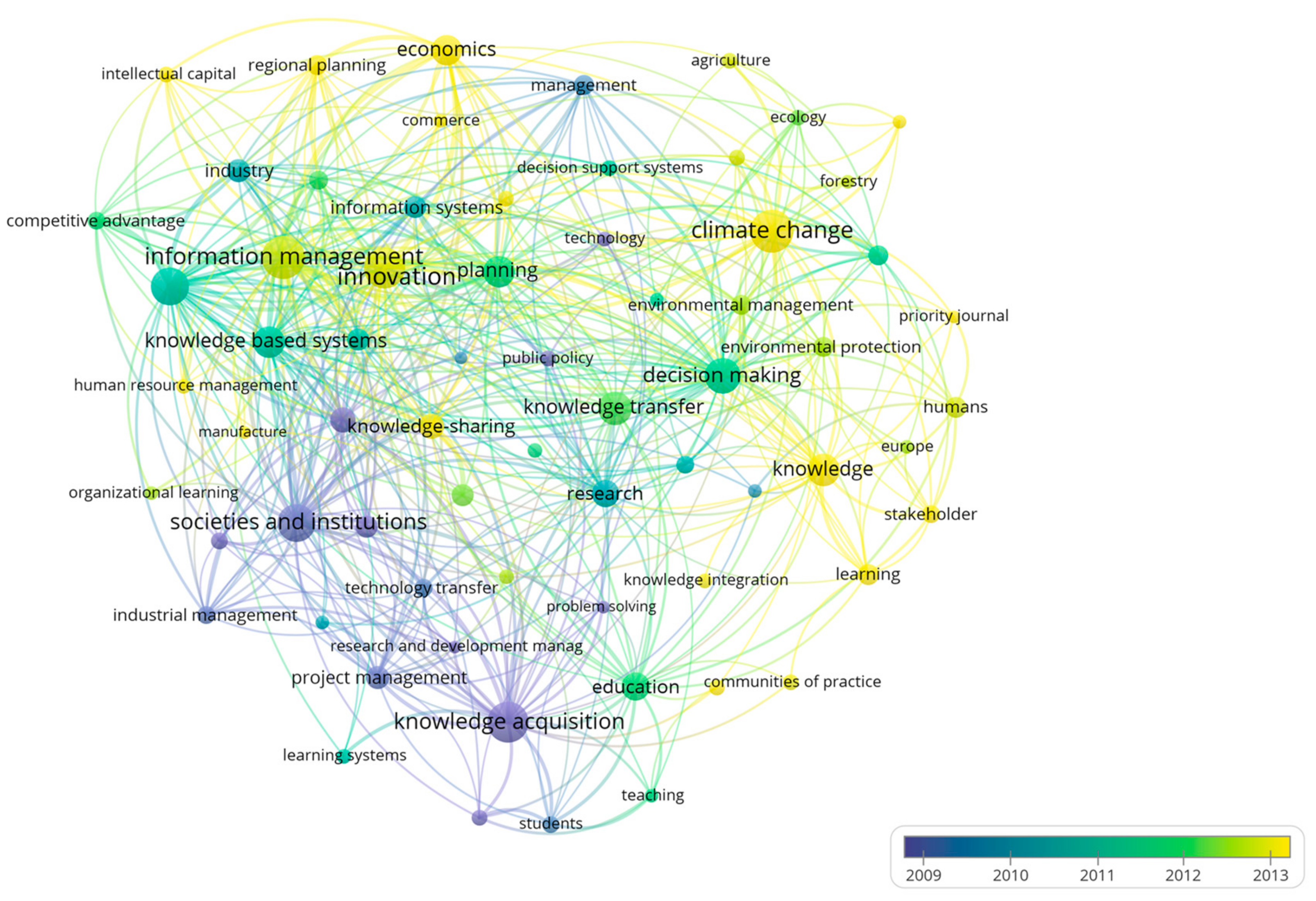 | Knowledge Management | Sustainability |
| --- | --- |
| Knowledge Management | Sustainability |
| Knowledge Management System | Sustainable Development |
| Knowledge Creation | Environmental Sustainability |
| Knowledge Acquisition | Social Sustainability |
| Knowledge Sharing | Economic Sustainability |
| Knowledge Transfer | Climate Change |
| Knowledge Adoption | |
| Knowledge Storage | |
| Knowledge Retrieval | |
| Knowledge Bank | |
| Knowledge Portal | |
| Knowledge Codification | |
| Knowledge Application | |
| Knowledge Verification | |
| Knowledge Based System | |
| Knowledge Integration | |
| Knowledge Behaviour | |
| Knowledge Worker | |
| Community of Practice | |
| Author | University Affiliation | Country | Documents | Citations | CPD 1 | H-Index |
| --- | --- | --- | --- | --- | --- | --- |
| D. Helbing | ETH Zurich | Switzerland | 2 | 798 | 399 | 70 |
| L. Bettencourt | U. of Chicago | USA 2 | 1 | 782 | 782 | 32 |
| C. Kühnert | Dresden U. of Technology | Germany | 1 | 782 | 782 | 6 |
| J. Lobo | Arizona State U. | USA | 1 | 782 | 782 | 19 |
| G. B. West | U. of Oxford | UK 3 | 1 | 782 | 782 | 44 |
| L. C. Stringer | U. of Leeds | UK | 5 | 586 | 117 | 32 |
| R. Phaal | U. of Cambridge | UK | 3 | 580 | 193 | 26 |
| M. S. Reed | Newcastle U. | UK | 4 | 564 | 141 | 38 |
| J. H. Dyer | Brigham Young U. | USA | 1 | 555 | 555 | 20 |
| N. W. Hatch | Brigham Young U. | USA | 1 | 555 | 555 | 9 |
| A. C. Evely | U. of St Andrews | UK | 3 | 546 | 182 | 14 |
| C. M. Raymond | Swedish U. of Agricultural Sciences | Sweden | 3 | 485 | 162 | 26 |
| I. Fazey | U. of St Andrews | UK | 2 | 475 | 238 | 33 |
| K. Yew Wong | U. Teknologi Malaysia | Malaysia | 1 | 436 | 436 | 25 |
| Y. Caloghirou | NTUA 4 | Greece | 1 | 424 | 424 | 15 |
| I. Kastelli | NTUA | Greece | 1 | 424 | 424 | 3 |
| A. Tsakanikas | NTUA | Greece | 1 | 424 | 424 | 7 |
| L. Van Kerkhoff | Australia National U. | Australia | 3 | 388 | 129 | 16 |
| P. Almeida | Georgetown U. | USA | 1 | 385 | 385 | 13 |
| A. Phene | U. of Utah | USA | 1 | 385 | 385 | 10 |
1 CPD = citations per document, 2 United Kingdom, 3 United States of America, 4 National Technological University of Athens.
Author
Research Focus
University/Affiliation
Country
Number of Citations
Link Strength
H-
Index
I. Nonaka
Know Creation
Nhitotsubashi U.
Japan
631
3633
29
E. Wenger
Comm of Practice
Wenger-Trayner
USA
404
1703
54
C. Folke
Ecology & Society
Stockholm U.
Sweden
265
5689
127
R. W. Scholz
Sust Science
ETH Zurich 1
Switzerland
254
11110
59
H. Takeuchi
Know Creation
Harvard U.
USA
251
1528
9
F. Berkes
Social-Eco System
U. of Manitoba
Canada
236
4047
100
L. Prusak
KM
Columbia U.
USA
184
1129
46
T. Davenport
Info Systems
Babson College
USA
176
1121
88
C. Argyris
Learning Orgs
Harvard U.
USA
154
1906
23
E. Ostrom
Inst'l Analysis
Indiana U.
USA
152
3110
143
A. Wiek
Transform Sust
Arizona State U.
USA
145
3987
43
M. E. Porter
Econ Devel
Harvard U.
USA
133
806
162
M. S. Reed
Stakeholder Part
Newcastle U.
UK
133
1915
47
M. Polanyi
Tacit Knowledge
U. of Oxford
UK
130
1322
25
R. M. Grant
Strategic Manage
Bocconi U.
Italy
129
1143
41
C. S. Holling
Ecological Sci
U. of Florida
USA
126
3122
33
W. C. Clark
Sust Development
Harvard U.
USA
120
2404
48
D. J. Teece
Strategic Manage
UC Berkeley
USA
120
803
103
J. Lave
Geology
CRPG-CNRS 2
France
119
722
32
C. Pahl-Wostl
Resources Man
U. of Osnabrück
Germany
112
1250
62
M. Alavi
Info Systems
Georgia Tech 3
USA
112
652
40
1 Swiss Federal Institute of Technology in Zurich, 2 The Centre de Recherches Pétrographiques et Géochimiques - The French National Centre for Scientific Research, 3 Georgia Institute of Technology.
Author/Year
Title
Scopus Citations
School of Thought
Bettencourt (2007)
Growth, innovation, scaling, and the pace of life in cities [31]
782
Social
Hatch (2004)
Human capital and learning as a source of sustainable competitive advantage [32]
555
Economic
Phaal (2004)
Technology roadmapping—A planning framework for evolution and revolution [33]
519
Economic
Yew Wong (2005)
Critical success factors for implementing knowledge management in small and medium enterprises [34]
436
Economic
Caloghirou (2004)
Internal capabilities and external knowledge sources: Complements or substitutes for innovative [35]
424
Economic
Almeida (2004)
Subsidiaries and knowledge creation: The influence of the MNC and host country on innovation [36]
385
Economic
Raymond (2010)
Integrating local and scientific knowledge for environmental management [37]
367
Environ-
mental
Schipper (2006)
Disaster risk, climate change and international development [38]
292
Environ-
mental
Chandrase-
garan (2013)
The evolution, challenges, and future of knowledge representation in product design systems [39]
285
Economic
Liu (2013)
Framing sustainability in a telecoupled world [40]
277
Integrated
Roux (2006)
Bridging the science-management divide: Moving from unidirectional knowledge transfer to [41]
275
Social
Van Kerkhoff (2006)
Linking knowledge and action for sustainable development [42]
274
Integrated
Olsen (2007)
The clean development mechanism's contribution to sustainable development: A review [43]
240
Environ-mental
Nambisan (1999)
Organizational mechanisms for enhancing user innovation in information technology [44]
238
Economic
Dao (2011)
From green to sustainability: Information Technology and an integrated sustainability framework [45]
229
Environ-mental
Chambers (2013)
The dynamic sustainability framework: Addressing the paradox of sustainment amid ongoing change [46]
226
Integrated
Viviroli (2011)
Climate change and mountain water resources: Overview and recommendations for research [47]
214
Environ
Shen (2011)
The application of urban sustainability indicators—A comparison between various practices [48]
205
Social
Fuhrer (2003)
Ecological issues related to ozone: Agricultural issues [49]
193
Environ-mental
Sharif (2006)
Emergence and development of the National Innovation Systems concept [50]
187
Economic

© 2019 by the authors. Licensee MDPI, Basel, Switzerland. This article is an open access article distributed under the terms and conditions of the Creative Commons Attribution (CC BY) license (http://creativecommons.org/licenses/by/4.0/).