Recycling Agricultural Wastes and By-products in Organic Farming: Biofertilizer Production, Yield Performance and Carbon Footprint Analysis
1
Consiglio per la ricerca in agricoltura e l'analisi dell'economia agraria—Research Centre for Agriculture and Environment, Via Celso Ulpiani 5, 70125 Bari, Italy
2
Consiglio per la ricerca in agricoltura e l'analisi dell'economia agraria—Research Centre for Agriculture and Environment, Via della Navicella 2-4, 00184 Roma (RM), Italy
3
Consiglio per la ricerca in agricoltura e l'analisi dell'economia agraria—Research Centre for Vegetable and Ornamental Crops, Via Salaria 1, 63030 Monsampolo del Tronto (AP), Italy
*
Author to whom correspondence should be addressed.
Received: 27 May 2019 / Revised: 10 July 2019 / Accepted: 10 July 2019 / Published: 12 July 2019
Abstract
The Circular Economy concept implies the re-design of existing production systems in agriculture, by promoting agricultural waste recycling. In an organic zucchini—lettuce rotation, two different agroecological tools were considered: biofertilizer and presence or absence of green manure (GM+ and GM−). In particular, we compared: (i) anaerobic digestate from cattle manure, co-composted with vegetable wastes, with the presence of GM (AD GM+); (ii) olive pomace compost, re-composted, with the presence of GM (OWC GM+); (iii) municipal waste compost with GM (MWC GM+); (iv) municipal waste compost without GM (MWC GM−). These materials were tested with a commercial organic fertilizer without GM (COF GM−) as a positive control. The objectives were: (i) assessing the environmental sustainability of biofertilizers through carbon footprint analysis by greenhouse gas—GHG—emissions; (ii) evaluating the agronomic performance on the vegetable rotation, by energy output assessment. The total carbon emissions of biofertilizers production was 63.9 and 67.0 kg of CO
2
eq Mg
−1
for AD and OWC, respectively. The co-composting and re-composting processes emitted 31.4 and 8.4 kg CO
2
per Mg of compost, respectively. In AD the ventilation phase of composting accounted for 37.2% of total emissions. The total CO
2
emission values for the two-crop cycles were the highest in COF GM− and the lowest in OWC GM+, due to different fertilizer sources. On the average of the treatments, the input that induced the highest CO
2
emission was irrigation (37.9%). The energy output assessment for zucchini and lettuce highlighted similar performance for all the treatments. Our findings demonstrated the validity of the tested processes to recycle agro-industrial wastes, and the potential of agroecological practices (GM) to mitigate GHG emissions.
View Full-Text
►

▼

Figures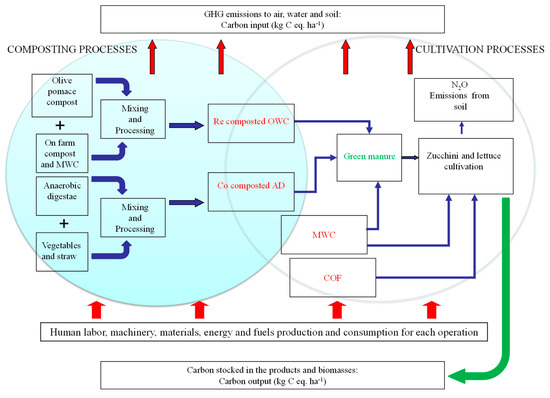 Figure 1
This is an open access article distributed under the
Creative Commons Attribution License
which permits unrestricted use, distribution, and reproduction in any medium, provided the original work is properly cited (CC BY 4.0).

Share & Cite This Article
MDPI and ACS Style
Diacono, M.; Persiani, A.; Testani, E.; Montemurro, F.; Ciaccia, C. Recycling Agricultural Wastes and By-products in Organic Farming: Biofertilizer Production, Yield Performance and Carbon Footprint Analysis. Sustainability 2019, 11, 3824.
Note that from the first issue of 2016, MDPI journals use article numbers instead of page numbers. See further details here.
Related Articles
Comments
[Return to top]