Investigation of the Optical, Physical, and Chemical Interactions between Diammonium Hydrogen Phosphate (DAP) and Pigments
1
Department of Materials Science and Engineering, University of California at Los Angeles, 410 Westwood Plaza, Los Angeles, CA 90095-1595, USA
2
Molecular and Nano Archaeology Laboratory, Henry Samueli School of Engineering and Applied Science, Engineering V-1230B, 410 Westwood Plaza, Los Angeles, CA 90095-1595, USA
3
Sorbonne Université, Faculté des Sciences et Ingénierie, UFR 926, F-75005 Paris, France
4
UCLA/Getty Conservation Program, A210 Fowler Building, University of California at Los Angeles, Los Angeles, CA 90095-1510, USA
*
Author to whom correspondence should be addressed.
†
Current address: Scientific Research Department, National Gallery of Art, 2000B South Club Drive, Landover, MD 20785, USA.
Received: 19 May 2019 / Revised: 6 July 2019 / Accepted: 8 July 2019 / Published: 11 July 2019
Abstract
This research investigates and evaluates the optical, physical, and chemical interactions between diammonium hydrogen phosphate (DAP) and seven pigments commonly encountered in archaeological and historic fresco and secco wall paintings and polychrome monuments. The pigments include cinnabar, French ochre, chalk, lapis lazuli, raw sienna, burnt umber, and red lead. The raw pigments were analyzed before and after the interaction with DAP, and the reaction products resulting from the contact of the pigments with the DAP solution were evaluated to obtain a comprehensive understanding of the effects of diammonium hydrogen phosphate on the color, morphology, and chemical composition of the pigments. The results indicated no significant change of the color or of the chemistry of cinnabar, French ochre, and lapis lazuli. Carbonate-containing pigments, such as chalk and calcium carbonate, were transformed into calcium phosphate, though without a significant change in color. Phase and strong color changes occurred only for the red lead pigment, associated with the transformation of red lead into hydroxypyromorphite. These data established the parameters and identified the risks of the direct application of DAP solutions on pigments. Further research will be undertaken to assess the potential use of DAP as a consolidant of wall paintings and other polychrome surfaces through testing on wall painting/polychromy mockups and on-site archaeological/historic painted surfaces.
View Full-Text
►

▼

Figures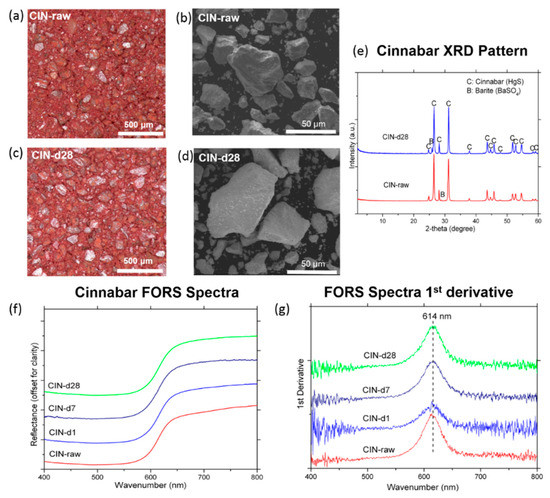 Figure 1
This is an open access article distributed under the
Creative Commons Attribution License
which permits unrestricted use, distribution, and reproduction in any medium, provided the original work is properly cited (CC BY 4.0).

Share & Cite This Article
MDPI and ACS Style
Ma, X.; Pasco, H.; Balonis, M.; Kakoulli, I. Investigation of the Optical, Physical, and Chemical Interactions between Diammonium Hydrogen Phosphate (DAP) and Pigments. Sustainability 2019, 11, 3803.
Note that from the first issue of 2016, MDPI journals use article numbers instead of page numbers. See further details here.
Related Articles
Comments
[Return to top]