Management of Wild Edible Fungi in the Meseta Purépecha Region, Michoacán, México
1
Facultad de Biología, Universidad Michoacana de San Nicolas de Hidalgo, General Francisco J. Múgica S/N A-1, Felicitas de Rio, Morelia 8030, Michoacán, Mexico
2
Escuela Nacional de Estudios Superiores Unidad Morelia, Universidad Nacional Autónoma de México, Antigua Carretera a Pátzcuaro #8701, Morelia 58190, Michoacán, Mexico
3
Centro de Cooperación Regional para la Eduación de Adultos en Amperica Latina, Área Académica Desarrollo Sustentable, Avenida Lázaro Cárdenas # 525, Colonia Revolución, Pátzcuaro 61609, Michoacán, Mexico
4
Centro de Investigación en Biodiversidad y Conservación, Universidad Autónoma del Estado de Morelos, Avenida Universidad #1001, Colonia Chamilpa, Cuernavaca 62209, Morelos, Mexico
5
Instituto de Investigaciones en Ecosistemas y Sustentabilidad, Universidad Nacional Autónoma de México, Antigua Carretera a Pátzcuaro #8701, Morelia 58190, Michoacán, Mexico
*
Author to whom correspondence should be addressed.
Received: 25 June 2019 / Revised: 4 July 2019 / Accepted: 6 July 2019 / Published: 10 July 2019
Abstract
Ethnoecology is the study of the relationship between humans and their environments and components, including fungi. México is an exceptional setting for studying the interactions between humans and fungi, since most of the native cultures have interacted with these organisms for thousands of years. The state of Michoacán is particularly relevant, since nearly 11% of the fungi species recorded in Mexico occur there, 139 of which are edible. The aim of this study was to analyze the interactions of the Purépecha native communities with edible fungi and their environment, the position of mushrooms in the local worldview, and the classification system, management forms, and social and environmental problems associated with their use. Semi-structured interviews at regional markets were conducted. We conducted participant observation, proof interviews in harvesting areas, and workshops with the communities. Ethnoecological information was recorded for 21 edible fungi species and the environments where people interact with these mushrooms. People called hongueros (fungi handlers) identified the following environmental problems: A loss of local knowledge, a decreasing consumption of fungi among young people, land-use changes, the illegal extraction of forest resources, deforestation, unplanned urban growth, uncontrolled fires, livestock raising, and agricultural intensification. These issues affect fungi diversity, distribution, and abundance. All these factors, in turn, affect decreasing economic incomes associated with this activity and changes in the diets of the local people. Information from this study will help local authorities and people of the community to design management strategies for maintaining the environment and fungi, strategies which aim to contribute to the sustainable use of both fungi and forests.
View Full-Text
►

▼

Figures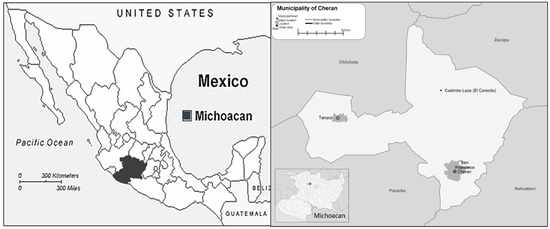 Figure 1
This is an open access article distributed under the
Creative Commons Attribution License
which permits unrestricted use, distribution, and reproduction in any medium, provided the original work is properly cited (CC BY 4.0).

Share & Cite This Article
MDPI and ACS Style
Castro-Sánchez, E.I.; Moreno-Calles, A.I.; Meneses-Eternod, S.; Farfán-Heredia, B.; Blancas, J.; Casas, A. Management of Wild Edible Fungi in the Meseta Purépecha Region, Michoacán, México. Sustainability 2019, 11, 3779.
Note that from the first issue of 2016, MDPI journals use article numbers instead of page numbers. See further details here.
Related Articles
Comments
[Return to top]