Open Access This article is
freely available
re-usable
Article
Italy without Urban 'Sprinkling'. A Uchronia for a Country that Needs a Retrofit of Its Urban and Landscape Planning
Department of Civil and Environmental Engineering, University of L'Aquila, 67100 L'Aquila, Italy
*
Author to whom correspondence should be addressed.
Received: 27 May 2019 / Accepted: 20 June 2019 / Published: 24 June 2019
Abstract
:
The research presented in the work is linked to important production of data over 10 years of activity that allowed us to trace the configuration of Italian urban settlements in the 1950s. Starting from this information, the paper puts forward a uchronian reconstruction of the physiognomy of the national territory asking if—instead of the weak urban development policies implemented for over half a century—a more purposeful method of planning and designing settlements had been chosen in the Sixties to favor their aggregation and protect the country's huge landscape heritage. From the model used, important indications emerge for control and management of retrofit (de-sprinkling) policies of which the need has been felt in recent years, as suggested by repeated messages from European bodies, the scientific community, associations and some politicians. The uchronic scenario is constructed starting from the settlement configuration of the 1950s, developing a model of maximum aggregation for the urbanized parts that were intervened in between this period and 2000, simulating a geography that maintains the quantities of soil transformed over the last 50 years. It emerges from the processing of the data that the Italian territory would have retained its low settlement density areas almost intact at the same level as in the 50s, that is to say 73% of the entire peninsular territory. It would also have preserved a large part of its free peninsular and insular coastline at about 60–70%, against the present day 45%.
Keywords:
land use change; land take scenario; urban growth
Author Contributions
Conceptualization, B.R., L.F., A.M., Data curation, L.F. Methodology, B.R., Software, A.M., Supervision, B.R., Writing original draft, B.R.
Funding
This research was funded by Ministry of Education, University and Research, Basic Research 2017, items 295-302, Low 11.12.2016, n. 232.
Acknowledgments
The methodology presented has been implemented in the research project and monitoring supported by Umbria Region. We are grateful to Francesco Zullo, WWF Italia Onlus and Cheryl Di Lorenzo for their collaboration.
Conflicts of Interest
The authors declare no conflict of interest.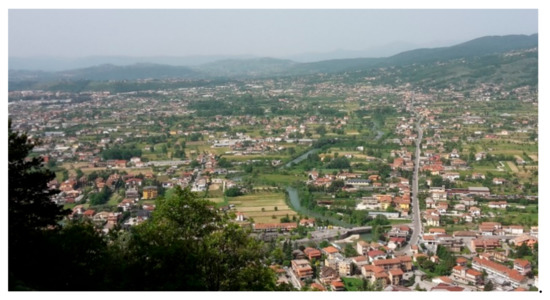 Figure 1. The characteristic pattern of Italian urban "sprinkling" in a flat area between the regions of Lazio and Abruzzo (central Italy).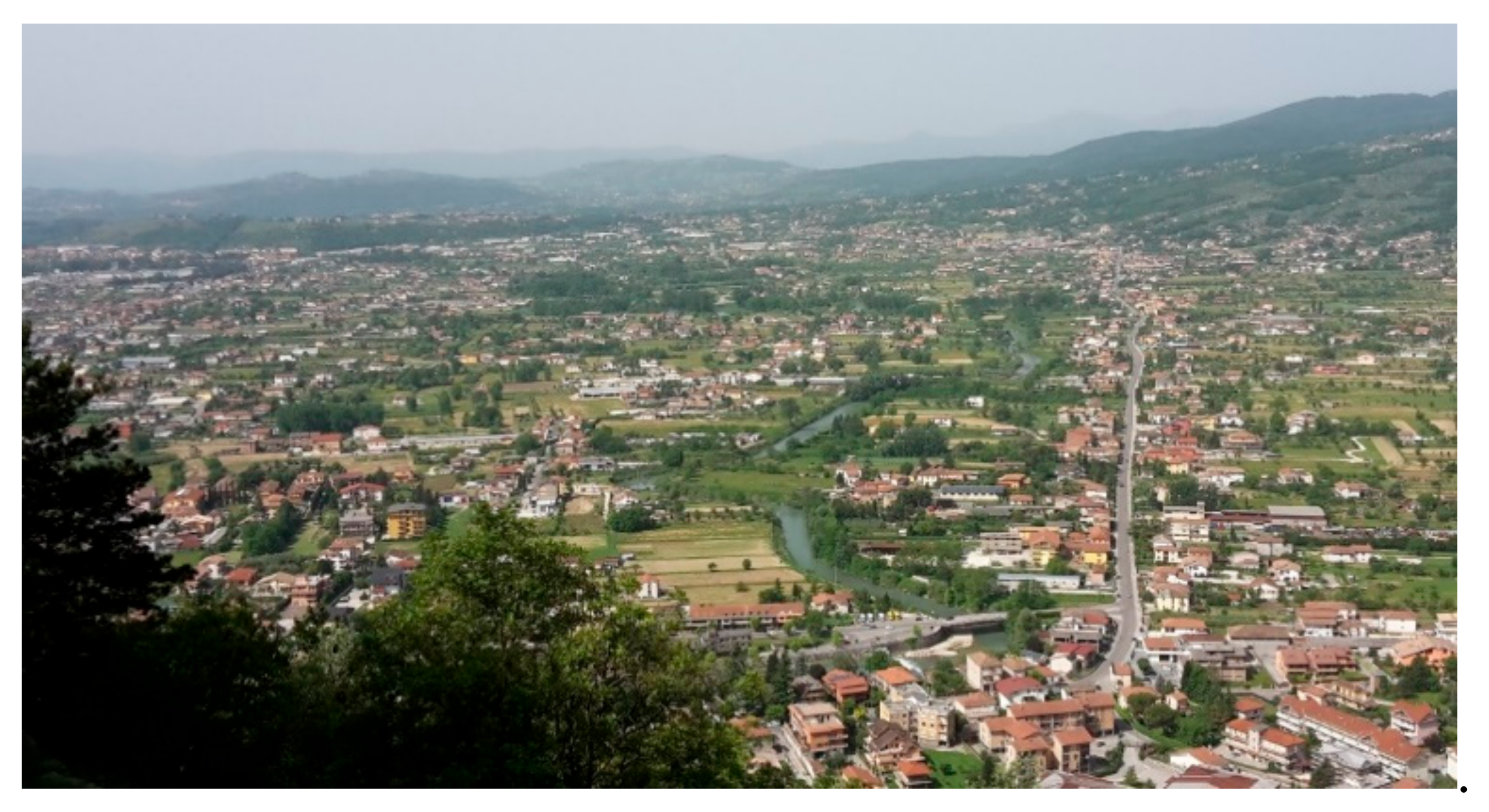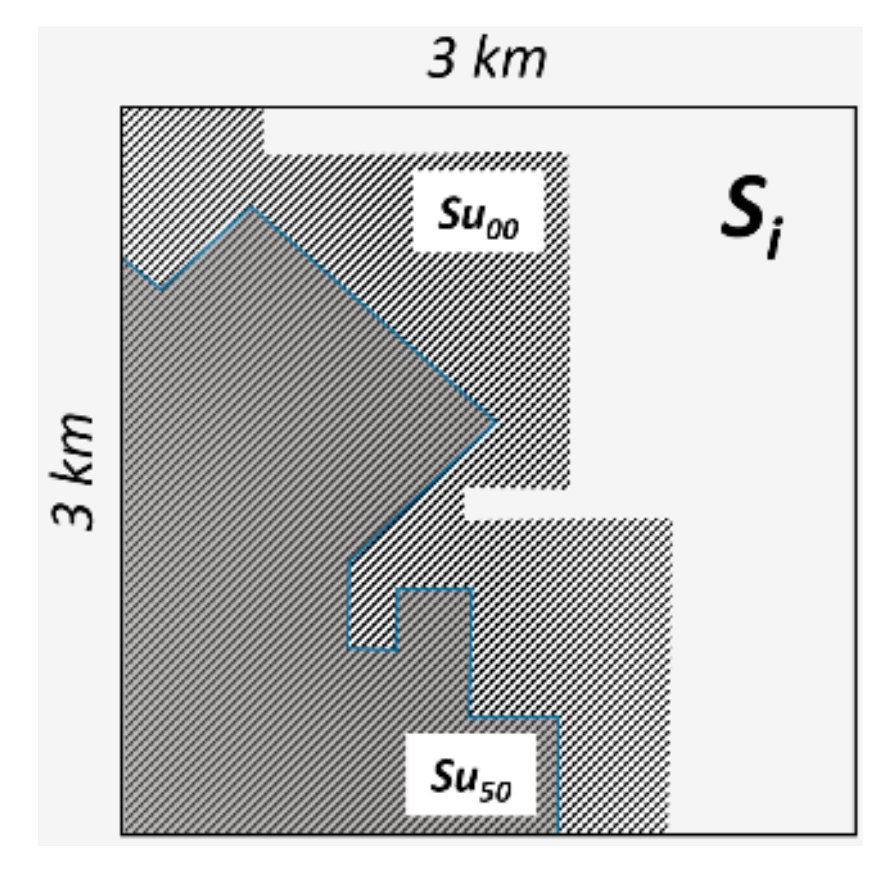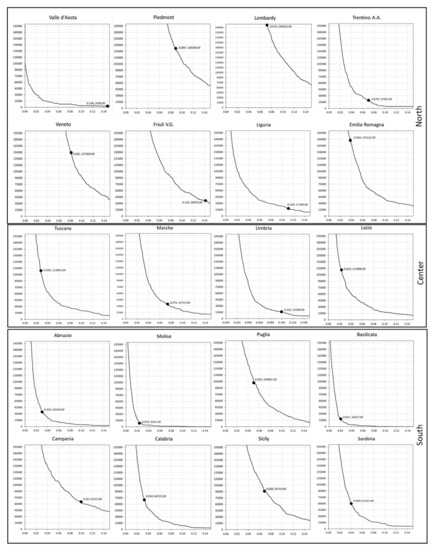 Figure 3.
Curves for the determination of cutoff urban density, with the indication of the
dco
(
x
-axis) and Δ
S
00-50
(ha–
y
-axis) values in ha for each Italian region (only Lombardy has a different scale on the
y
-axis for reasons tied to its size).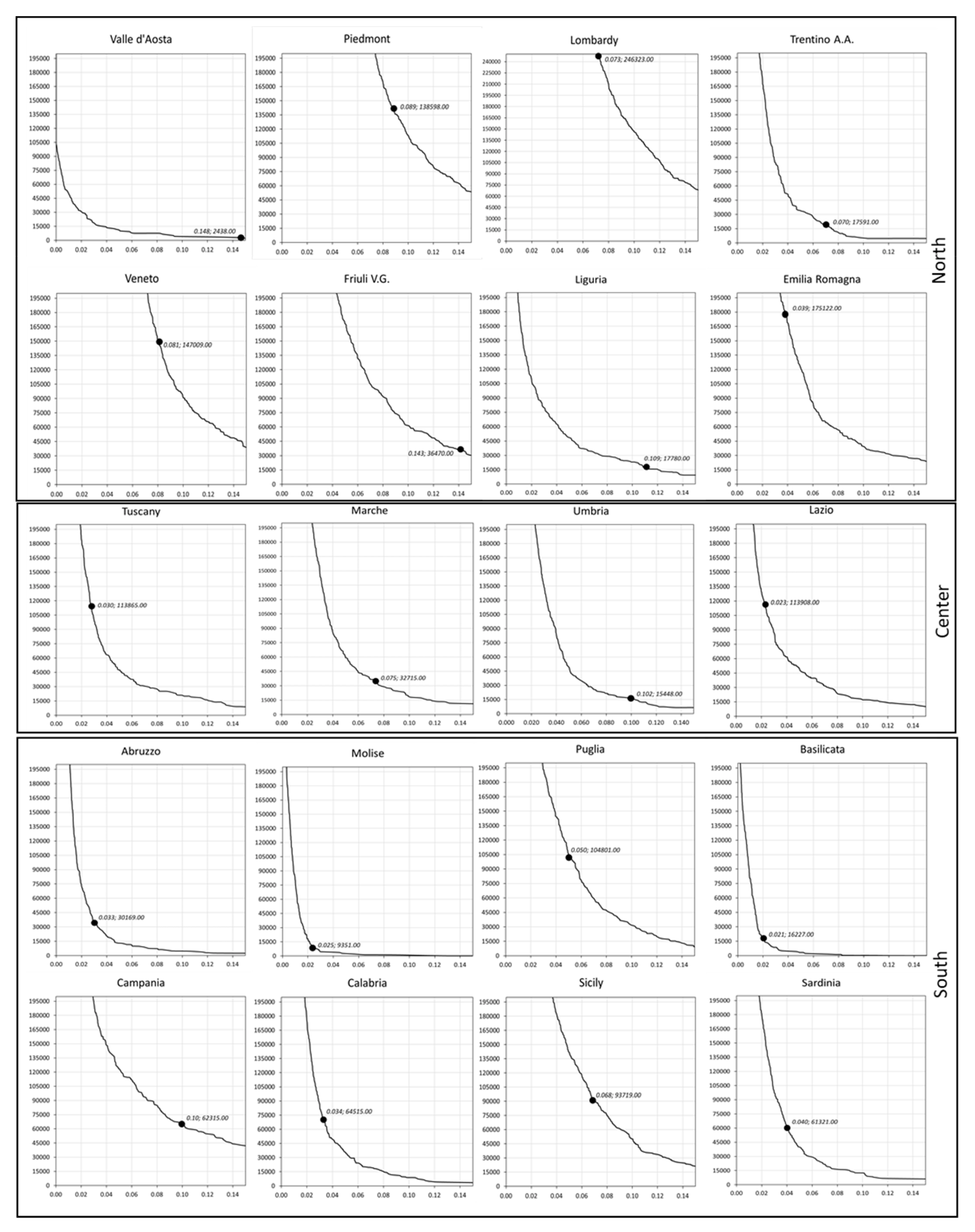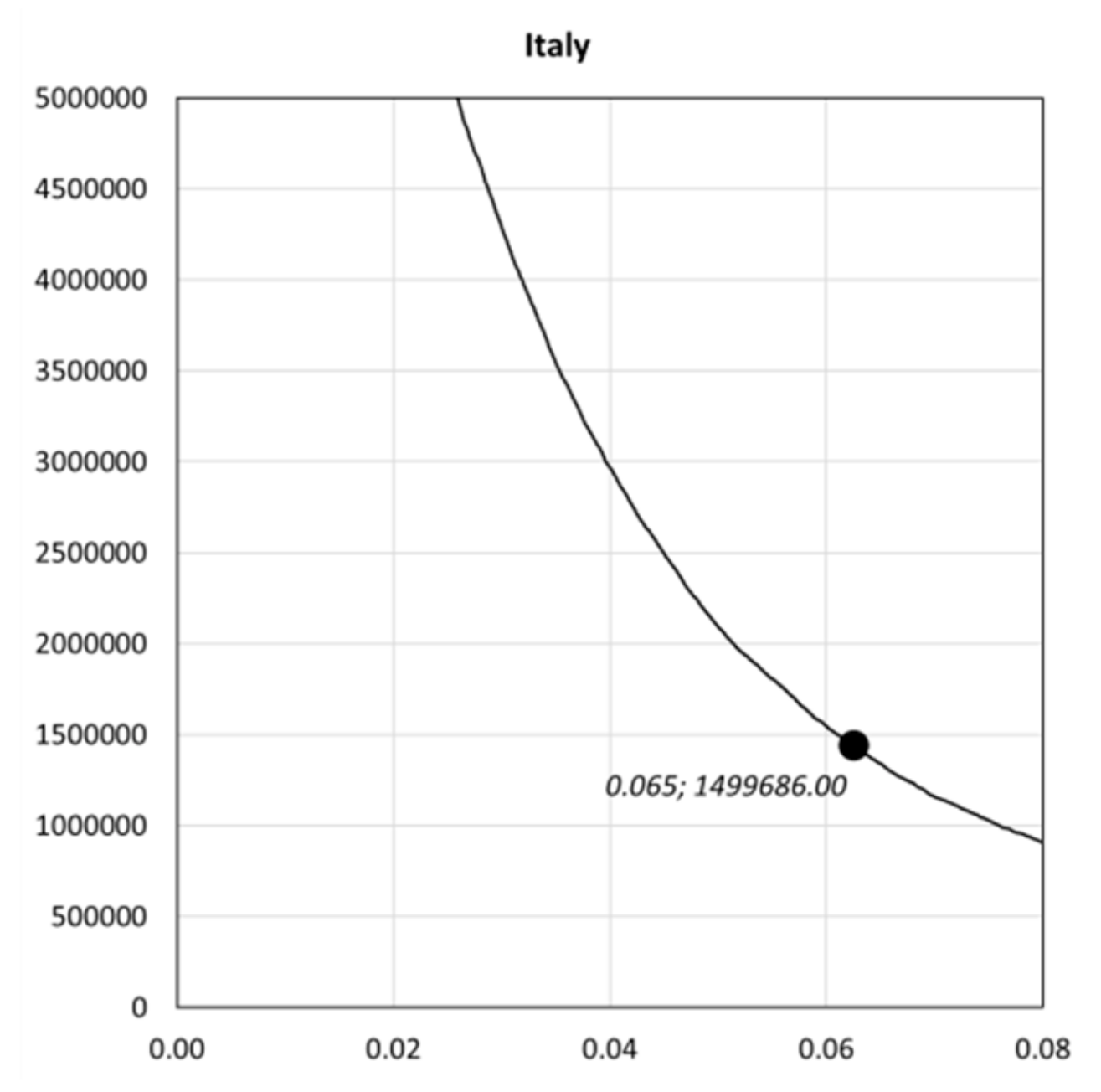 Figure 5. Correlation curves between dco and mean regional urban density in the 1950s (a) and regional territorial size (b).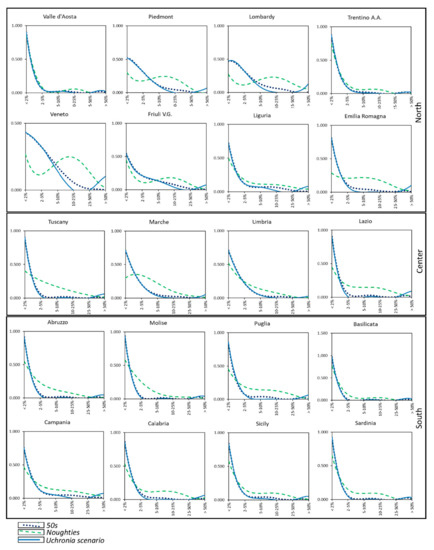 Figure 6. Curves showing variations in the six urban density categories assessed using 3 × 3 km plots in the '50s, the year 2000 and the uchronian scenario.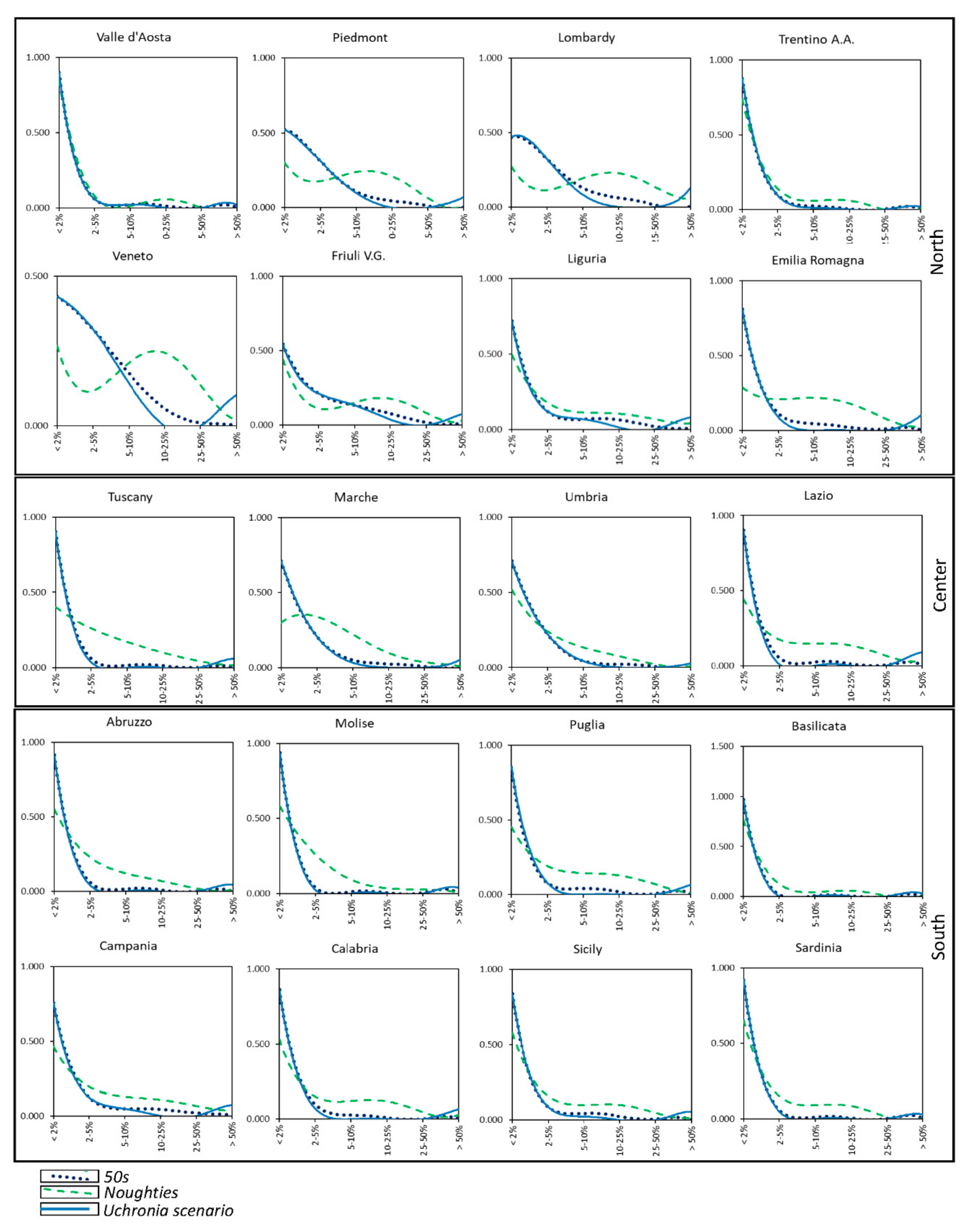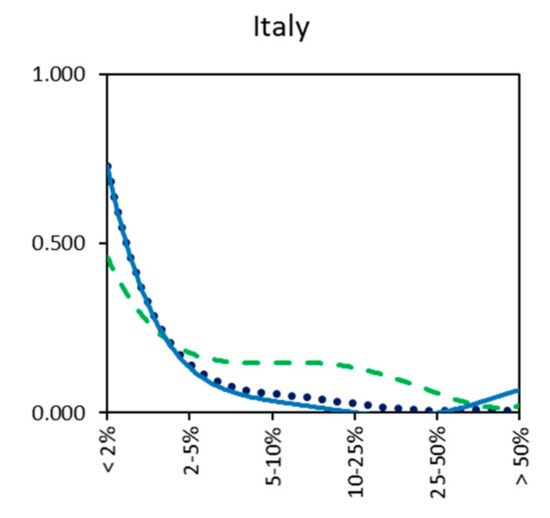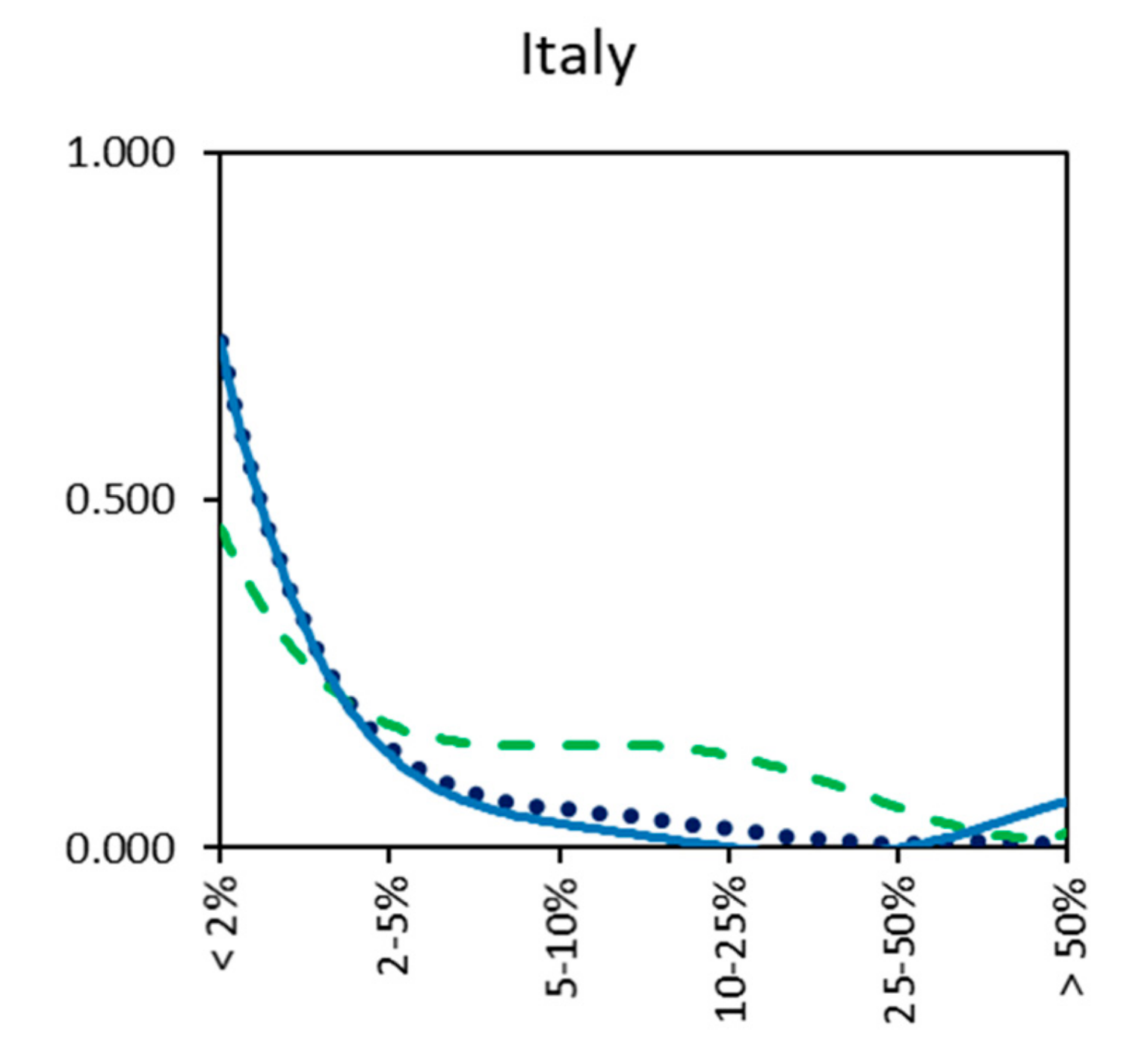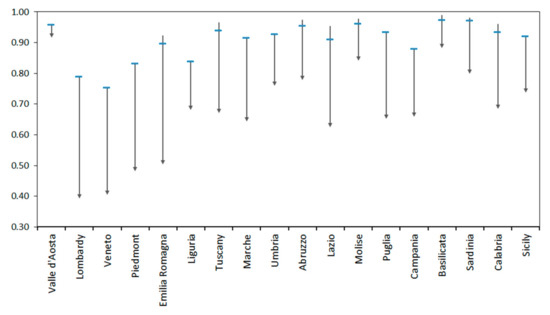 Figure 8. In this graph, with the regions arranged in North-South latitudinal order, the arrows show the contraction in regional rates of 3 × 3 plots having an urban density below 5% between the 1950s and 2000. The vertical segments show rate levels that would have been reached through the implementation of the uchronian scenario of aggregation, which are very close to or match post-war levels in all the regions.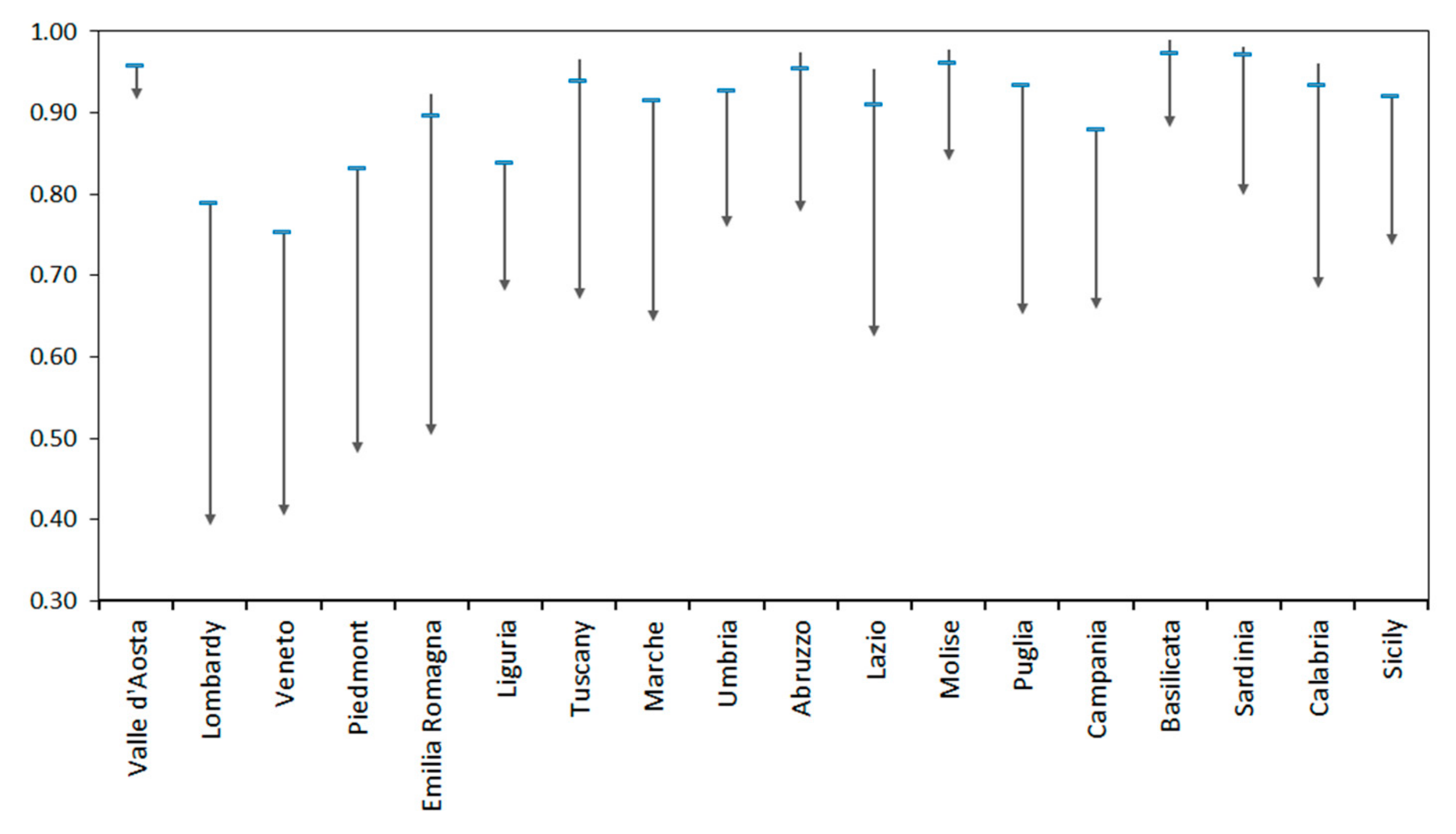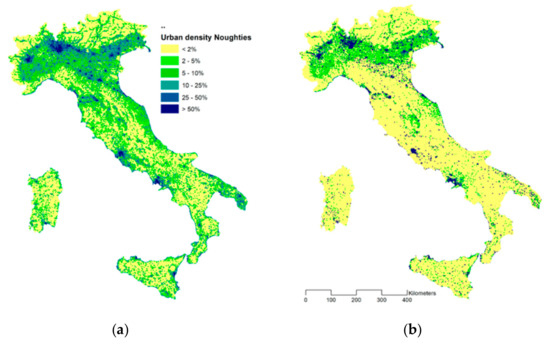 Figure 9. The configuration of the six urban density categories assessed on the basis of 3 × 3 km plots in 2000 (a) and in the uchronian scenario (b).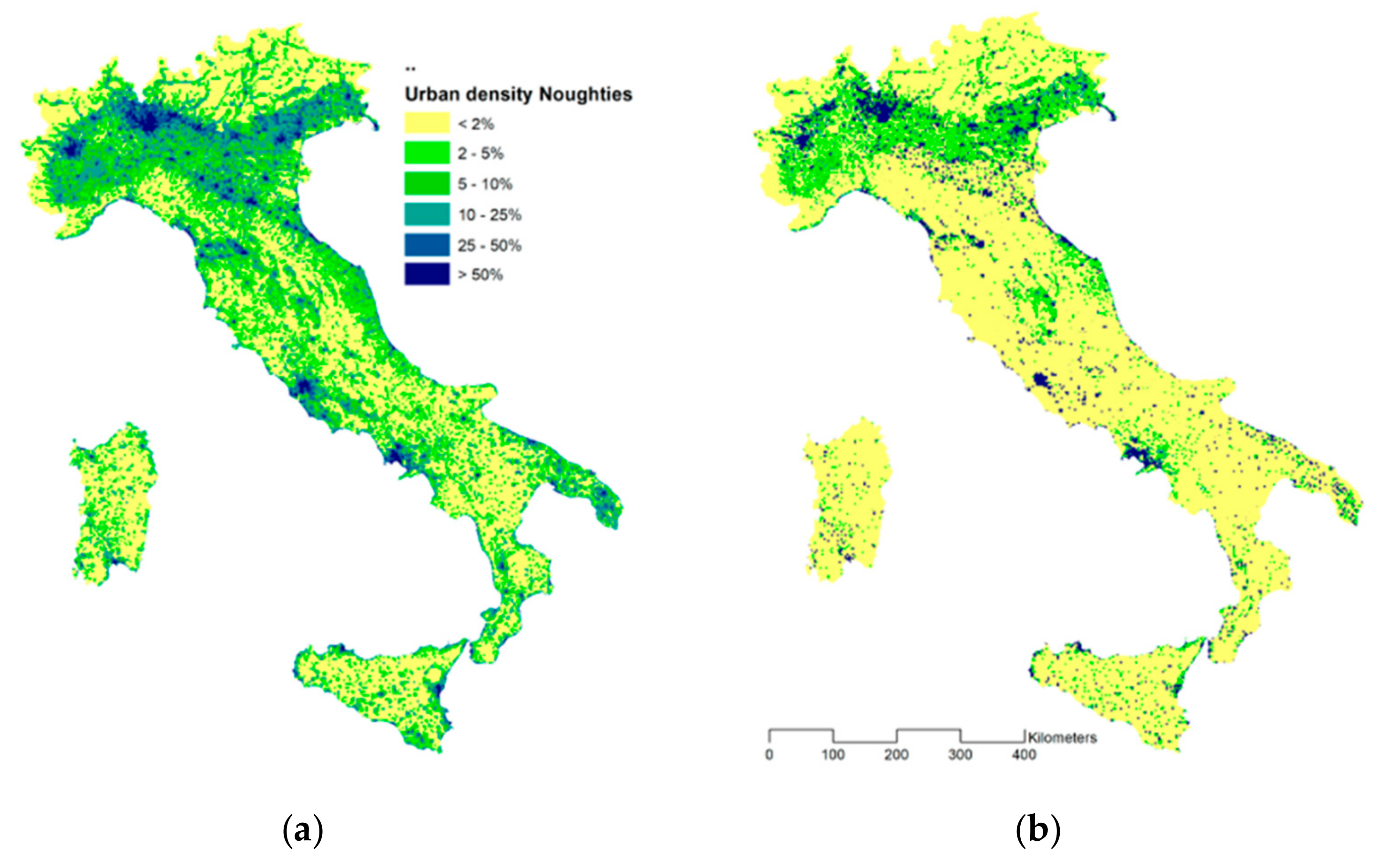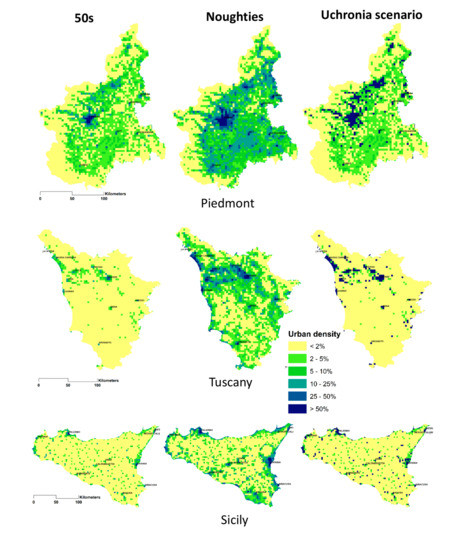 Figure 10. Some regional samples comparing distribution variation across the six urban density categories in the '50s, in 2000 and in the uchronian scenario.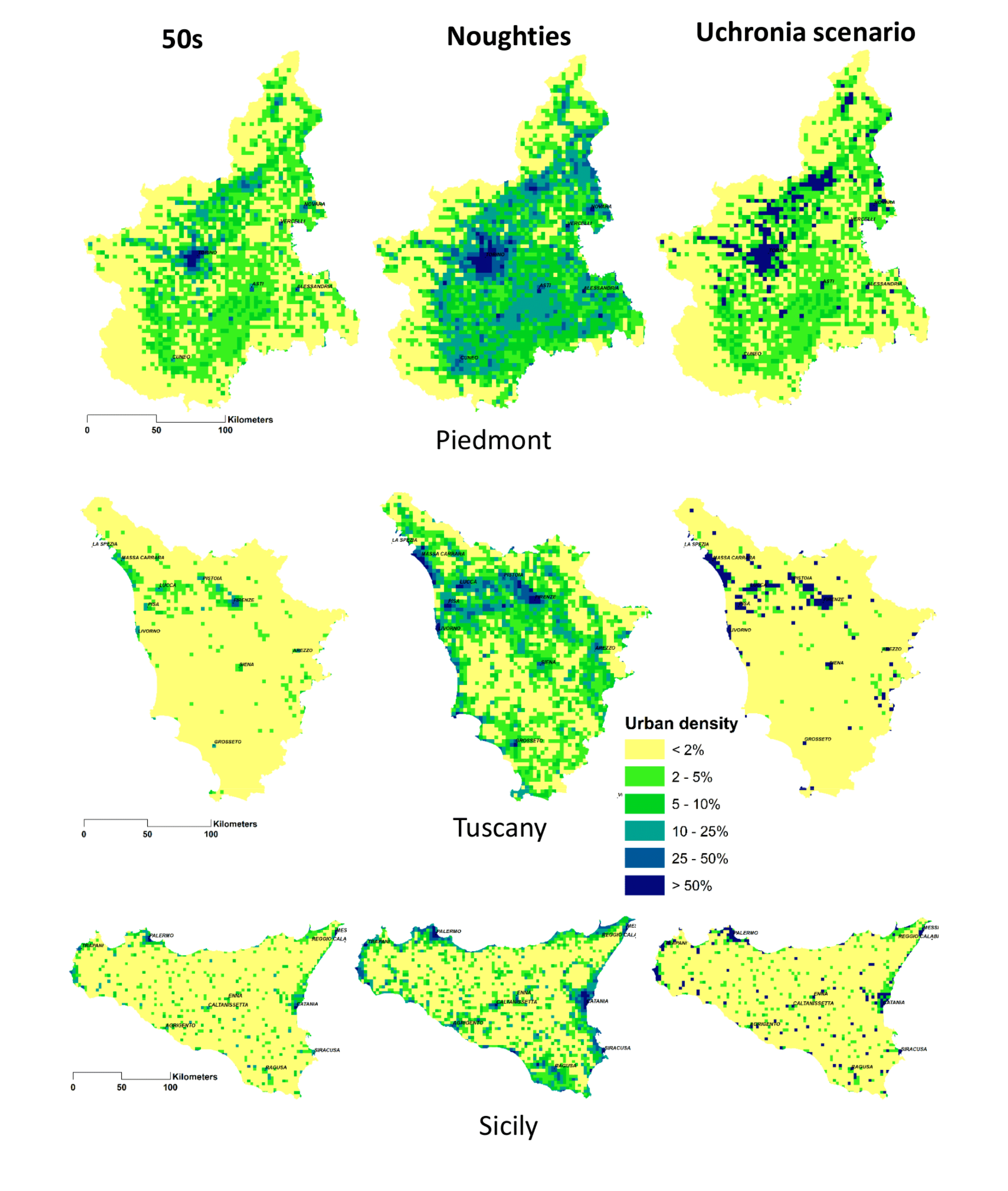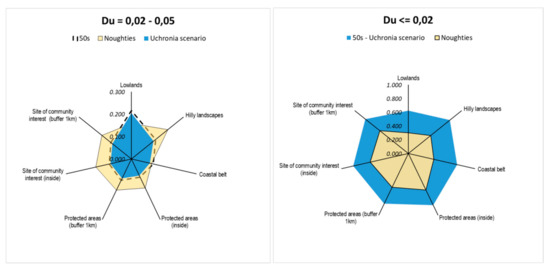 Figure 11. The rates of irrelevant (<2%) and low (2–5%) urban density areas corresponding to seven environmental and morphological units characterizing the country's landscape quality and perception in the following time periods: '50s, 2000 and the uchronian scenario.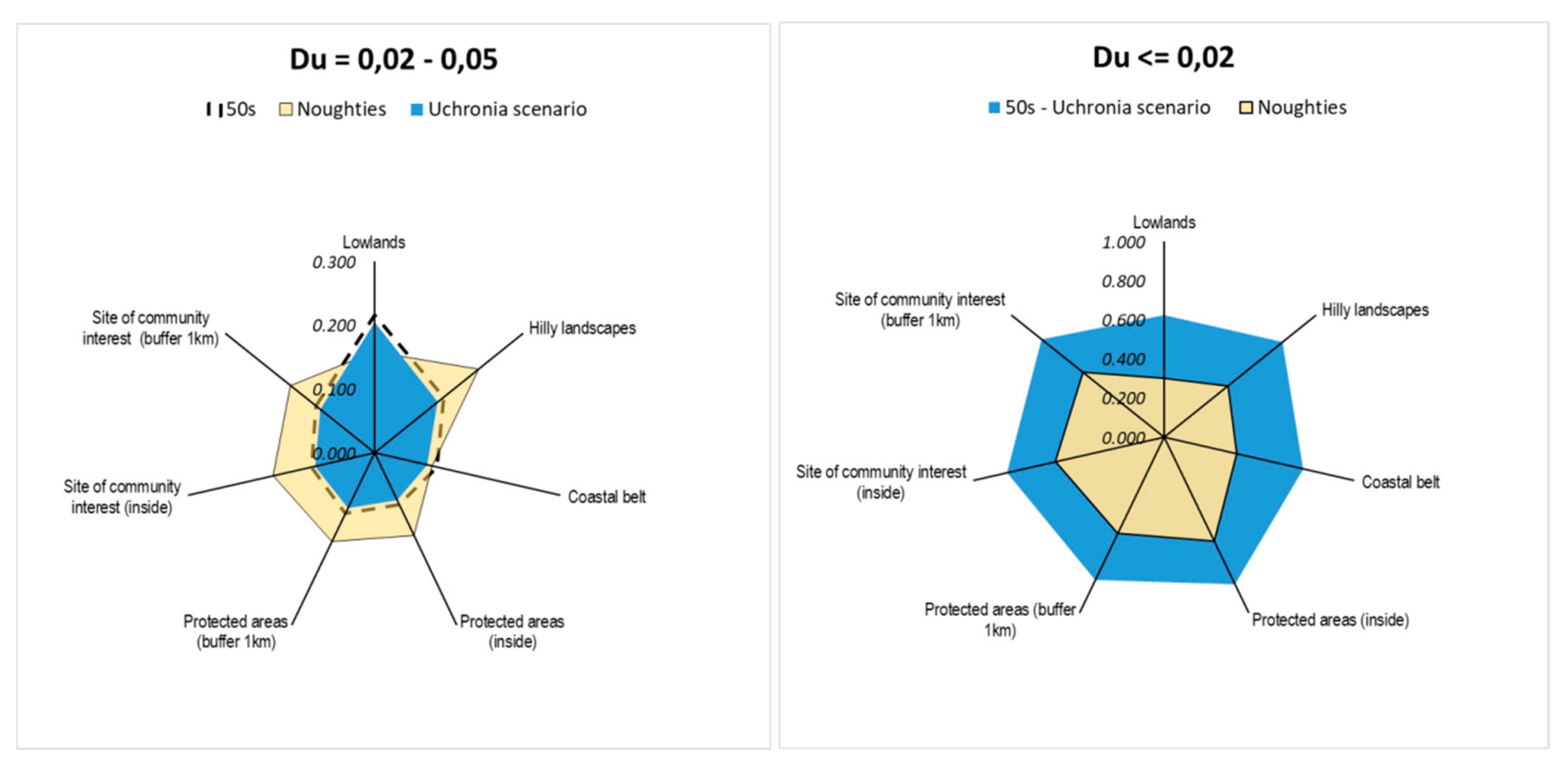 Table 1. Summary of the indicators used and their latitudinal breakdown in the country (N-North, C-Center, S-South).
Region
Regional Area (kmq)
Mean Urban Density 50s (%)
Increasing Urban Density 50s-2000 (%)
Δ

S

00-50

(ha)

dco (%)
Latitude
Valle d'Aosta
3260.92
0.070
0.007
2438
0.148
N
dco > 6,5%
Friuli V.G.
7859.92
0.043
0.046
36470
0.143
N
Liguria
5405.9
0.024
0.033
17780
0.109
N
Umbria
8461.07
0.019
0.018
15448
0.102
C
Campania
13670.59
0.024
0.046
62315
0.100
S
Piedmont
25387.07
0.035
0.055
138599
0.089
N
Veneto
18415.46
0.037
0.080
147009
0.081
N
Marche
9727.7
0.017
0.034
32715
0.075
C
Lombardy
23863.86
0.040
0.103
246323
0.073
N
Trentino A.A.
13604.72
0.008
0.013
17591
0.070
N
Sicily
25832
0.013
0.036
93719
0.068
S
Puglia
19533.85
0.011
0.054
104801
0.050
S
dco < 6,5%
Sardinia
24083.61
0.005
0.025
61321
0.040
S
Emilia-Romagna
22123.24
0.015
0.079
175122
0.039
N
Calabria
15221.61
0.009
0.042
64515
0.034
S
Abruzzo
10826.99
0.007
0.028
30169
0.033
S
Tuscany
22986.58
0.009
0.050
113866
0.030
C
Molise
4461.03
0.005
0.021
9351
0.025
S
Lazio
17206.403
0.015
0.066
113908
0.023
C
Basilicata
9986.27
0.002
0.016
16227
0.021
S
ITALY
301918.793
0.018
0.050
1499686
0.065

© 2019 by the authors. Licensee MDPI, Basel, Switzerland. This article is an open access article distributed under the terms and conditions of the Creative Commons Attribution (CC BY) license (http://creativecommons.org/licenses/by/4.0/).