Open Access This article is
freely available
re-usable
Article
Carbon Footprint of Academic Air Travel: A Case Study in Switzerland
1
School of Basic Sciences, École Polytechnique Fédérale de Lausanne (EPFL), 1015 Lausanne, Switzerland
2
School of Life Sciences, École Polytechnique Fédérale de Lausanne (EPFL), 1015 Lausanne, Switzerland
3
School of Computer and Communication Sciences, École Polytechnique Fédérale de Lausanne (EPFL), 1015 Lausanne, Switzerland
†
These authors contributed equally to this work.

Received: 31 October 2018 / Accepted: 15 December 2018 / Published: 24 December 2018
Abstract
:
Relatively low travel costs and abundant opportunities for research funding in Switzerland and other developed countries allow researchers large amounts of international travel and collaborations, leading to a substantial carbon footprint. Increasing willingness to tackle this issue, in combination with the desire of many academic institutions to become carbon-neutral, calls for an in-depth understanding of academic air travel. In this study, we quantified and analyzed the carbon footprint of air travel by researchers from the École Polytechnique Fédérale de Lausanne (EPFL) from 2014 to 2016, which is responsible for about one third of EPFL's total CO2 emissions. We find that the air travel impact of individual researchers is highly unequally distributed, with 10% of the EPFL researchers causing almost 60% of the total emissions from EPFL air travel. The travel footprint increases drastically with researcher seniority, increasing 10-fold from PhD students to professors. We found that simple measures such as restricting to economy class, replacing short trips by train and avoiding layovers already have the potential to reduce emissions by 36%. These findings can help academic institutions to implement travel policies which can mitigate the climate impact of their air travel.
Keywords:
carbon footprint; CO
2
emissions; air travel; environmental footprint mitigation
Supplementary Materials
The following are available online at
https://www.mdpi.com/2071-1050/11/1/80/s1
. Supplementary Figure S1: Number of direct (brown) and indirect trips (coral) as a function of distance between the departure and destination airport. Supplementary Figure S2: (a) Average per capita annual distance travelled by a PhD student, Postdoc, senior scientist and professor at EPFL. (b) Annual amount of money spent per capita on air travel for the same categories. Supplementary Figure S3: Carbon footprint of direct (brown) and indirect (coral) trips. Supplementary Table S1: Used DEFRA metrics to calculate CO
2
e emission over the studied time period.
Author Contributions
Conceptualization, G.O.V., A.M. and J.C.; Formal Analysis, J.C.; Investigation, J.C. and A.M.; Writing-Original Draft Preparation, J.C., A.M.; Writing-Review & Editing, L.D.T. and G.O.V.; Supervision, L.D.T. and G.O.V.; Project Administration, A.M.; Funding Acquisition, L.D.T. and G.O.V.
Funding
This research was funded by EPFL Sustainable Campus.
Acknowledgments
The authors thank D. Zhao and L. Bellocchi for valuable discussions.
Conflicts of Interest
The authors declare no conflict of interest. The funders had no role in the design of the study; in the collection, analyses, or interpretation of data; in the writing of the manuscript, or in the decision to publish the results.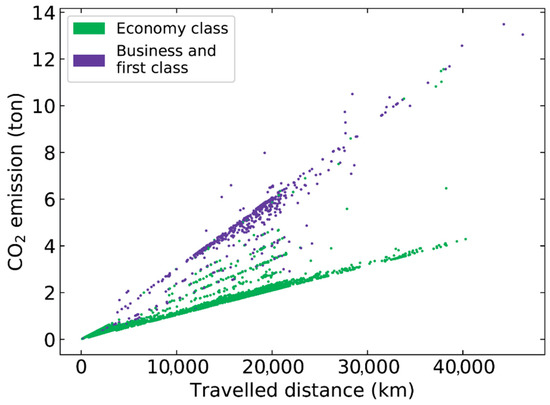 Figure 1. CO2 emission as a function of the distance travelled for all trips in the dataset. Economy class trips are marked in green, while business and first class flights are marked in purple. This figure visually illustrates the increased greenhouse gas (GHG) emissions of higher service class.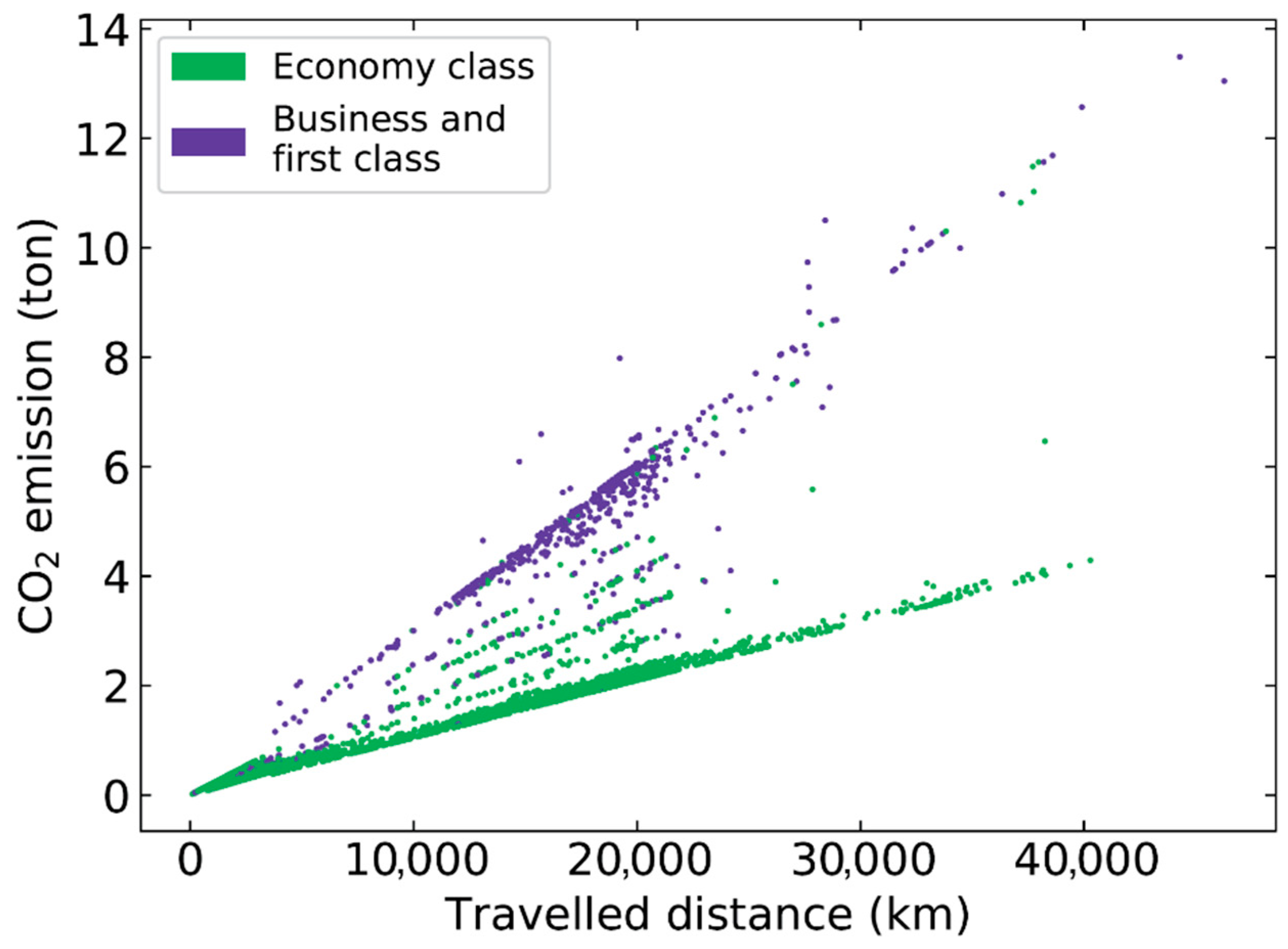 Figure 2. (a) Ticket price as a function of distance travelled for the entire dataset; (b) ticket price as a function of CO2 emission, again for the entire dataset. We observe a much stronger correlation in (b); compared to (a). The correlation coefficients are 0.89 and 0.64, respectively.


Figure 3. (a) Average annual air travel carbon footprint of a PhD student, Postdoc, senior scientist and professor at École Polytechnique Fédérale de Lausanne (EPFL); (b) annual number of trips in economy and business class for the same categories. We clearly see the increase of travel footprint with seniority.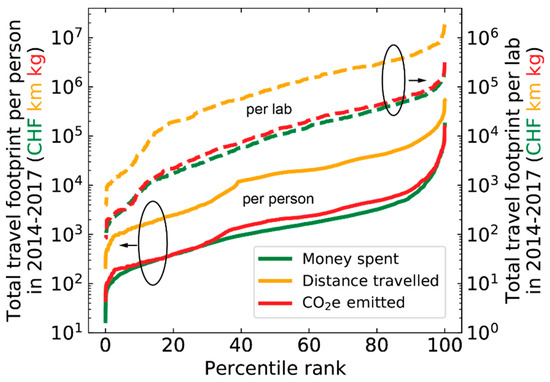 Figure 4. Total travel footprint from 2014 to 2016 of individual researchers (solid line, corresponding to the left-hand vertical axis) and laboratories (dashed line, corresponding to the right-hand vertical axis). Individuals and laboratories are ranked from low to high on a scale from 0 to 100. The footprint is expressed in money spent (green), distance travelled (orange), and CO2 emitted (red) and the data are ranked in increasing order. All quantities show a large inequality with a spread over more than two orders of magnitude.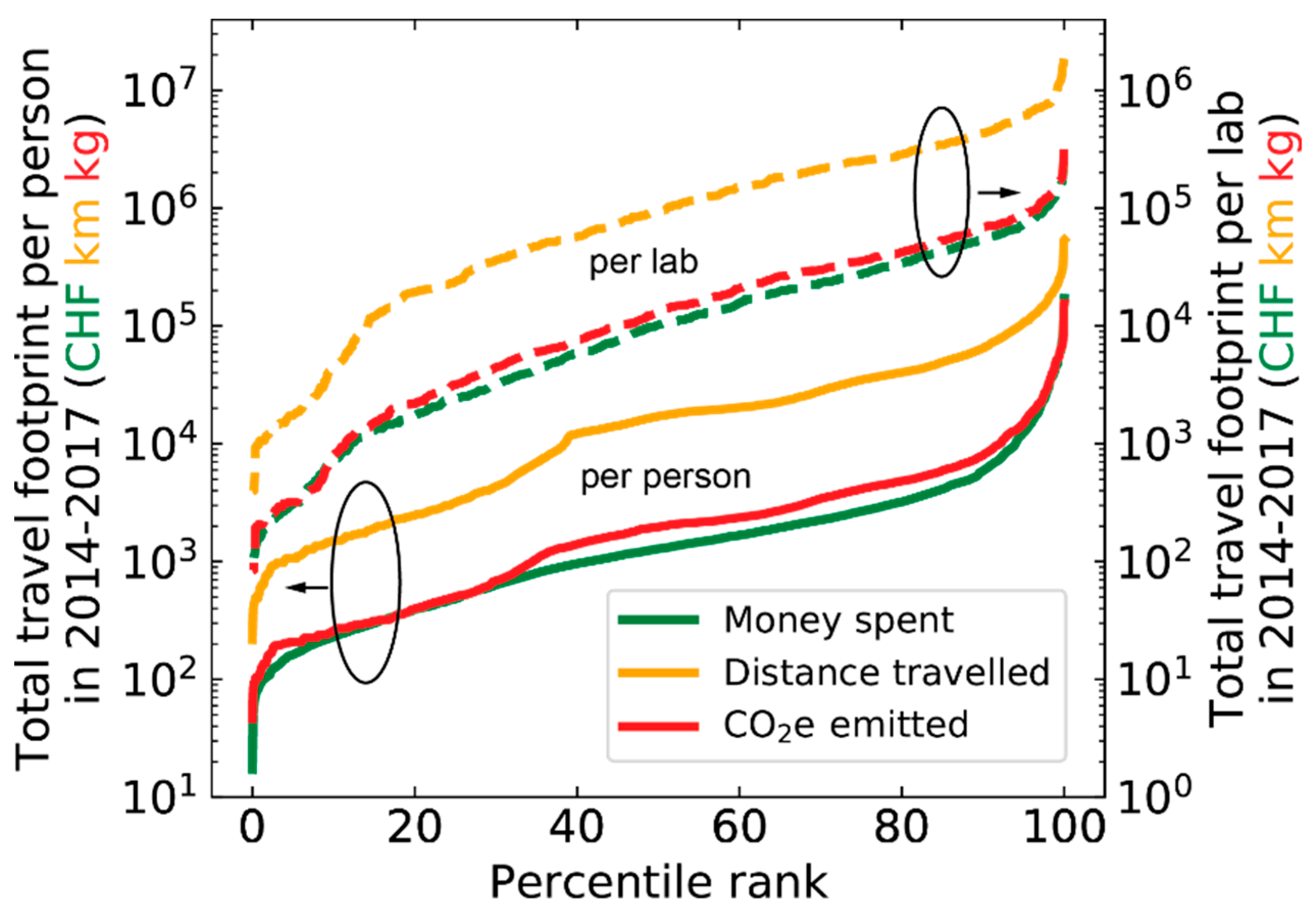 Figure 5. (a) Cumulative CO2 emission as a function of distance between departure and arrival airports for the entire dataset; (b) zoom of the data shown in (a) for short distances (grey), together with the cumulative CO2 emission of short-distance flights in indirect trips (coral). The vertical grey bands show the distance that can be covered by train in the indicated amount of time.


Table 1. Overview of the travel impact for intra- and inter-continental travel in economy, business and first class.
Travel Type
Number of Flights
CO2e Emitted (t)
Distance Travelled (Mm)
CHF/km
Avg. CO2e kg/CHF
Avg. CO2e kg/km
Total Cost (kCHF)
Total
14,949
14,603
98,975
0.120
1.235
0.148
11,809
Intra-continental
Economy
9030
2300
14,004
0.184
0.893
0.164
2577
Business and First
324
100
600
0.296
0.562
0.167
178
Inter-continental
Economy
4690
7958
69,356
0.075
1.524
0.115
5220
Business and First
905
4245
15,015
0.255
1.107
0.287
3834

Table 2. Inequality quantifiers for GHG emissions, distance traveled and money spent, both per person and per lab.
Share of the Top 10% Biggest Travelers
Gini Coefficient
Per Person
Per Lab
Per Person
Per Lab
CO2e emission
58.3%
40.2%
0.722
0.607
Distance travelled
49.8%
39.0%
0.678
0.588
Money spent
64.0%
42.3%
0.749
0.622

© 2018 by the authors. Licensee MDPI, Basel, Switzerland. This article is an open access article distributed under the terms and conditions of the Creative Commons Attribution (CC BY) license (http://creativecommons.org/licenses/by/4.0/).