Open Access This article is
freely available
re-usable
Article
It's a Hit! Mapping Austrian Research Contributions to the Sustainable Development Goals
1
Faculty of Geo- and Atmospheric Sciences, Institute of Geography, University of Innsbruck, 6020 Innsbruck, Austria
2
Faculty of Civil Engineering, Institute of Technology and Testing of Construction Materials, Graz University of Technology, 8010 Graz, Austria
3
Centre for Global Change and Sustainability, University of Natural Resources and Life Sciences, 1180 Vienna, Austria
4
Resources Innovation Center Leoben, Montanuniversitaet Leoben, 8700 Leoben, Austria
*
Author to whom correspondence should be addressed.
Received: 30 August 2018 / Accepted: 13 September 2018 / Published: 14 September 2018
Abstract
:
The UN Sustainable Development Goals (SDGs) present a global agenda addressing social, economic, and environmental challenges in a holistic approach. Universities can contribute to the implementation of the SDGs by providing know-how and best-practice examples to support implementation and by integrating issues of sustainability into their operations, research, education, and science-society interactions. In most of the signatory countries of the Agenda 2030, an overview of the extent to which universities have already addressed the SDGs in research is not available. Using the example of universities in Austria, this study presents a tool to map research that addresses sustainability topics as defined by the SDGs. The results of an analysis of scientific projects and publications show current focus areas of SDG related research. Research on SDG 3 (Good Health and Well-Being) and SDG 4 (Quality Education) is well represented by universities in Austria, while other SDGs, such as SDG 1 (No Poverty) or SDG 14 (Life Below Water), are under-represented research fields. We anticipate the results will support universities in identifying the thematic orientation of their research in the framework of the SDGs. This information can facilitate inter-university cooperation to address the challenge of implementing the SDGs.
Keywords:
SDGs; agenda 2030; higher education; responsible science; grand challenges; keyword search; research database; interdisciplinarity; university cooperation; sustainable development goals and universities
1. Introduction
The Anthropocene is the epoch characterised by steadily increasing human impact on all natural environmental systems [
1
]. The effects of human activity on ecosystems have caused an overshoot of planetary boundaries in many cases [
2
], which results in environmental, social, and technical challenges, such as the loss of biodiversity or structural changes in society and technology. Typically, these change processes are marked by high complexity, resulting from multiple interactions and interdependencies among themselves [
3
]. To cope with such complex challenges, integrated approaches to sustainable development and integration of stakeholders at all levels is necessary. Here, the UN Sustainable Development Goals (SDGs) present a global political agenda, which addresses a range of social, economic, and environmental challenges [
4
]. Building upon the UN Millennium Development Goals (MDGs) [
5
], the 17 SDGs, with their 169 targets, aim towards more sustainable lifestyles, economic patterns, and provision of ecosystem services. Like many other nations, Austria has pledged the implementation of the SDGs on a national level [
6
]. The need for a holistic commitment to the SDGs by integrated policy approaches that respect interdependencies between sustainability challenges was outlined [
7
,
8
,
9
]. To make the extensive SDG package more easily accessible, different clustering approaches were suggested, aiming to reduce the complexities of the original UN framework. Considering these clusters, SDGs could be grouped according to systems [
10
], such as 'Energy and climate' (SDGs 7 and 13), 'Agriculture, food, and terrestrial' (SDGs 2 and 15), or 'Economic development and equity' (SDGs 1, 5, 8, 9, and 11). Other approaches interlink SDGs according to their functions, such as 'Social objectives' (SDGs 1, 3, 4, 5, and 10), 'Economy' (SDGs 8, 9, 11, and 12), or 'Environment' (SDGs 13, 14, and 15) [
10
,
11
]. Despite these efforts, political strategies are often still 'siloed' and tackle single issues instead of packages of topics [
7
], and achievement of the SDGs is still far off. To systematically measure the success of SDG implementation in different countries, a set of indicators was introduced by the UN [
12
] and broken down to different levels, such as the European Union [
13
] or nation states [
14
]. These indicators guide countries with distinct statistics to define their contributions to fulfilling the Agenda 2030. Until now, the performance of all 193 global UN member states is generally situated on a low level, and not a single country is on track towards achieving all SDGs [
15
]. Many countries, among them Austria, reach an ecological footprint far beyond the worldwide bio-capacity [
16
]. Life-cycle analyses show that Austria exceeds its natural budget by even higher factors [
17
]. In light of these facts, there is clearly still a long way to go towards fulfilment of the SDGs. Efforts must be made in various realms and areas of societal and political, as well as educational and scientific, life.
When thinking about implementing the SDGs, higher education institutions (HEIs) have a major responsibility to act as a driving force [
18
,
19
,
20
,
21
]. Scientifically, the SDG framework is understood neither as a substitute nor as a final solution for the process of critically discussing sustainable development, which remains a basic scientific duty. However, the SDGs represent a helpful momentum to introduce sustainable development to universities, who can contribute to this topic in a variety of ways: Basic and applied research can address real-world problems, societal needs, mind sets, and technologies necessary to break new ground of and for sustainability. Moreover, it can ask curiosity-driven questions that have not been asked before [
22
] and support the co-production of knowledge that needs to develop further in the relevant scientific fields [
23
]. HEIs can take on a role as change agents for societal transformation at the interface between scientific, political, and societal stakeholders and institutions. In this context, knowledge production should be understood as a participative process, transforming science from 'research that informs' towards 'research that transforms' [
20
].
To support societal change, systemic views across disciplines are needed [
20
]. Not only in research, but also in education, this holistic view is essential to educate future decision makers in critical and system thinking. Thus, HEIs can substantially contribute to strengthening sustainable development by integrating issues of sustainability into research, education, and science-society interaction, fostering reflective thinking, and supporting students in developing the skills to cope with complex problems, like Global Grand Challenges [
8
,
21
,
24
]. Students are often change agents, who drive sustainability movements at universities. Thus, they play a vital role in transforming HEIs, while at the same time experiencing and learning how to implement sustainability practices in their surroundings [
25
]. Further, HEIs can model sustainability practices for society, like implementing sustainable measures on the campus itself, and thus, as a first mover, they offer a leading example for practical processes of sustainability implementation [
26
].
Moving out of the campuses and labs, HEIs further interact with policy and fields of implementation of sustainability measures. Therefore, on the one hand, governmental support and strong partnerships are needed to strengthen HEIs as important drivers of sustainable development, [
20
]. On the other hand, HEIs can inform public policy regarding sustainable development and provide the knowledge base necessary for decision making and developing options for sustainability pathways [
22
]. Therefore, links and partnerships between political and scientific players need to be strengthened [
8
].
To summarise, HEIs can support an implementation of SDGs through:
Performing problem-oriented real-world research;

critically reflecting the SDGs and associated measures;

educating future decision makers by fostering critical and systems-thinking;

offering best-practice examples for sustainable development on campus; and

strengthening the nexus at the policy-science-society interfaces.
To support HEIs in these tasks, the Austrian network, 'Alliance for Sustainable Universities', has initiated the project,
UniNEtZ—Universitäten und nachhaltige Entwicklungsziele
(
translation: Universities and Sustainable Development Goals
)
.
This project aims at strengthening cooperation and networks between universities to integrate sustainable development as framed by the SDGs into research and education. Further,
UniNEtZ
aims to strengthen the interactions between science, society, and policy. In the sense of a value oriented third mission of universities [
27
,
28
], the project finally aims at signposting options for actions to political and societal decision makers regarding the implementation of SDGs in Austria, thus going far beyond a pure, classical assessment report of focus areas of research in the fields of the SDGs. The participating universities take over responsibility for the coordination of research, education, and communication activities on different SDGs. Steps taken so far have included numerous meetings between participating universities to develop the project as well as extensive negotiations with the relevant political stakeholders. Interlinkages between SDGs and targets are of particular importance to develop options that are compatible with multiple SDGs. By means of multiplication of sustainability topics into the education system, students and teacher educators will be involved into these activities as well. Several discussions between the participating universities have been dedicated to the question of how education for sustainable development can be fostered at universities. Sustainability issues should be integrated into training, study programmes from Bachelor up to PhD, teacher education, and life-long learning offers for alumni groups. A strong collaboration with political stakeholders, an incorporation of SDGs into the universities' structures, and the knowledge of available competencies and initiatives in the field of sustainability research, amongst others, have been identified as factors of success of
UniNEtZ
. Against this background, the aims of the project require knowledge about existing expertise in the research field of sustainable development, identifying both focus areas and topics that are hitherto underrepresented. This knowledge might help to detect focus research fields that can already provide support for political decisions with regard to the SDGs, and identify other research fields that still need to be strengthened to provide specific options for political action. Furthermore, this information provides docking points for establishing networks between different HEIs or research institutions that collaborate in implementing the SDGs.
However, an analysis of the extent to which universities in Austria have already addressed the SDGs in research is not available yet. Our study investigates how the SDGs are represented in the current Austrian research landscape in order to build upon existing expertise. For this purpose, digital mapping was conducted with thirteen universities in Austria to find current focus areas of sustainability research. The approach of this study is to develop a tool to map sustainability efforts in research at HEIs, based on the definition of sustainable development proposed by the SDGs. This tool can easily be adapted for similar analyses for other institutions and internationally to also map research activities on the SDGs on an even wider scale.
2. Materials and Methods
With the overall aim to identify SDG related focus areas of academia in Austria, the study design grounds on a keyword search, utilising an iteratively developed database of SDG terminology (
Figure 1
). The keyword search was applied to map scientific publications and research projects of the participating universities from the period, 2013–2017. This period was chosen because it encompasses the most recent activities, which—given an average project run time of three years—ended no more than two years before.
2.1. Data Basis
For the analysis, datasets from 13 universities in Austria (of 22 universities in Austria overall) with major, technical, artistic, musical, or medical scope were available, comprising about 155,000 publications and 17,000 projects in total. These datasets were extracted from the internal research documentation systems of the universities (IRDS). To ensure homogeneous data, some requirements for the provided datasets were defined for all universities. As a minimum, datasets included title, ID, authors, type of publication, publication year, and, as far as available, abstracts or project descriptions.
2.2. Keyword Catalogue
To map current research activities on the SDGs, a detailed keyword catalogue was developed. The official documents on the UN Sustainable Development Goals [
4
], including the 169 targets, were screened for prevalent words. In a semantic approach, synonyms were derived from these basic words. Additionally, the list was matched with existing catalogues [
29
]. In an interdisciplinary process, including stakeholders from the partner universities, the SDG keyword catalogue was continuously discussed and developed. To improve the suitability and accuracy of the catalogue with regards to the SDGs, the keywords were tested in an iterative process. In a test run, keywords were applied to a database from one of the universities and then manually screened for errors. Some keywords were excluded from the list because the range of hits was too broad. As a consequence, publications and projects unrelated to the SDGs were identified by the algorithm. Other keywords had to be generalised because terminologies defined too narrowly did not deliver any hits, whereas some words had to be used in collocations to avoid misleading hits (
Table 1
). In the scope of this publication/project, the term, 'hits', refers to publications/projects with relation to SDGs. If several keywords within one SDG match a publication/project, this publication/project is counted as just one single hit. Publications/projects that are assigned to various SDGs are counted as one hit each in all of the relevant SDGs. After this transparent and participative process, the final catalogue comprised a total of ca. 1000 keywords, formulated in English and German.
2.3. Keyword Search
The Python programming language was used to import the datasets into a PostgreSQL database and run queries to filter publications and projects matching the developed SDG keyword list. For the search, keywords were reduced to word roots, allowing the identification of word variations. The algorithm further includes Boolean operators. By applying this code, publications and projects were automatically assigned to one or more of the 17 SDGs. We applied the search to titles and abstracts of the datasets, as far as they were available. Through this approach, statistics on the distribution of the SDGs were retrieved from the analysed datasets.
4. Discussion
The study at hand draws a picture of the current focus areas of research at universities in Austria concerning the SDGs. This quantitative assessment of publication and project activities is considered to be an impression, not the final picture, as not all universities in Austria are represented. Some universities in Austria have started their own efforts to analyse their SDG-related activities and have arrived at results with varying degrees of agreement with the results of this study. As they applied other mapping methods, the results are not directly comparable. However, considering the high number of analysed publications and research projects, as well as the observation period of five years integrated into the study at hand, some statements can be derived from the general status of research with relation to the SDGs at universities in Austria.
4.1. Discussion of the Methods
In the frame of this investigation, publications and projects have been analysed. To gain a holistic impression of research activities, different dissemination formats of research should be considered. For example, universities with an artistic, dramatic, or musical scope do not primarily focus on peer-reviewed publications, but might rather disseminate scientific outcomes through other formats, such as theatre plays or artwork. The fact that this analysis exclusively focuses on publications and projects does not express a preference for these formats. The societal outreach of artistic formats might even be higher in some cases [
30
]. However, in the frame of this study design, an analysis of other formats was not possible, but could be the subject of further research.
Integrating education for sustainable development into HEIs plays a crucial role in SDG implementation. Therefore, a similar mapping applied to those education formats addressing sustainability topics would deliver valuable insights and help to foster a stronger integration into the education system. The role of universities as educators for future teachers, who are multipliers of sustainability knowledge, should be highlighted at this point. However, as the database for education formats was incomplete in most cases, a mapping could not yet be applied and will be the subject of further research.
In addition, the selection of keywords influences the outcome. As the list of keywords comprises about 1000 carefully selected words, the output is regarded as relatively robust. The method can be automated to some extent and is able to handle big data sets. Further, the results are reproducible, comparable, and replicable, and, thus, the tool can be applied to other institutions as well. Nevertheless, a disadvantage of the application of this method in an interdisciplinary academic approach is that the necessary steps can be quite time consuming, especially when identifying the right keywords, reiteratively discussing keywords with experts and stakeholders, programming software for the analysis, gaining access to the datasets, and testing the outcomes for plausibility. Alternative methodologies could include questionnaires with stakeholders at the respective institutions. The decision was made against such an interview approach because there could be too great a bias in selecting interviewees based on existing cooperation, which, consequently, would not deliver representative results. Further, only researchers that are familiar with the concept of the SDGs would identify their publications as being relevant in this context. It was assumed that, in some cases, SDG related research is conducted without consciously being labelled as that. Further, the method of identifying relevant stakeholders by a snowball system bears the potential to focus on one community, while losing sight of other stakeholders or disregarding some that have been unknown so far. Database mapping is a commonly applied tool in research on university activities and presents a more homogeneous approach. Stakeholders and activities that are not yet involved in the networking activities on SDGs at universities in Austria can also be identified with this method. However, a pure quantitative approach, like the one applied here, could ignore some facts. As the keyword search does not include a weighing of the direct relevance of SDG research, a qualitative completion of the study is recommended.
4.2. Discussion of the Outcomes
5. Conclusions
The project,
UniNEtZ
, wants to build on existing SDG expertise and further empower universities to fulfil their new role as transformative forces. The results of the keyword search delivered valuable information on the status quo of university-based SDG research and aided the 13 universities in finding their roles and responsibilities within the project. Foremost, it highlights the currently existing SDG research competences at universities in Austria. This will be the cornerstone for formulating options for SDG implementation and will serve as an input for integrating sustainable development into research and education at universities in Austria. The results demonstrate that there is already strong expertise related to specific SDGs in research. In most cases, the picture of current focus areas in research on SDGs presented here corresponds well with the assessment of the SDG Index and Dashboards Report (SDG Index 2018). Thus, with their focus on research fields where challenges remain to achieve SDGs, universities in Austria seem to be able to contribute to paving the way to support the Austrian government in meeting the SDGs. In interpreting these findings, we need to consider that current basic research activities, which are not directly linked to the SDGs, can also substantially contribute to the development of SDG solutions; for example, by understanding natural and social processes or by identifying sustainability challenges. A key issue that has to be addressed is whether research activities in Austria should focus only on those sustainability challenges which mainly affect the country itself, or also on SDGs with indirect global interactions, such as SDG 14.
Further, the analysis provides a basis for network-building, delivering a comprehensive list of relevant research groups for each SDG. Collaboration between different scientific disciplines and political, as well as societal, stakeholders is key for preparing political options, even within a single goal. This holds true especially for interlinkages between SDGs, where measures to reach one target might jeopardise another [
36
]. Considering the status of the SDG Index, science could support the monitoring of SDG advancement and achievement, especially for those SDGs that are characterised by high complexity and mutual interactions. Further research into these SDG interactions in Austria will be necessary to understand the effects and consequences of each measure that is recommended by the researchers. It will also support clustering the SDGs according to their interactions, be they synergistic or antagonistic. Additionally, it enables evaluation of the options at hand, creating the possibility to tie packages of options with high synergistic potential for several SDGs or no-regret-options.
The transfer with and to societal and political stakeholders is decisive for the achievement of SDGs. For that, both scientific knowledge on the society side as well as societal knowledge on the science side is a vital pre-requisite and, thus, mandatory. In this sense, further research could investigate the exchange of knowledge between scientific and non-scientific stakeholders and monitor the transfer of such knowledge into practical fields of SDG implementation.
Last, but not least, the analysis in itself helped to improve the SDG competences of participating researchers and the project team, leading to ongoing discussions about the strengths and shortcomings of the keyword method, along with a deeper engagement with SDG terminology.
UniNEtZ
will proceed with building strong cooperation between universities in Austria, further integrating issues of sustainability into research and education, and supporting governmental decisions. The project aims at signposting definite opportunities for action to advance towards sustainable development as defined by the SDGs.
Supplementary Materials
Supplementary File 1
Author Contributions
Conceptualization, A.K., I.G., K.F., S.M., B.B., A.M., H.K-K. and J.S.; Methodology, A.K., K.F., I.G., H.K-K. and J.S.; Software, K.F.; Formal Analysis, A.K., K.F., I.G. and J.S.; Writing—Original Draft Preparation, A.K. and J.S.; Writing—Review & Editing, A.K., I.G., S.M., B.B., A.M., H.K-K. and J.S.; Visualization, A.K., I.G., S.M. and J.S.; Supervision, H.K-K. and J.S.
Funding
The research was funded by the Austrian Federal Ministry of Education, Science and Research (BMBWF) BMBWF-37.782/0001-WF/V/4a/2017, the University of Innsbruck and the Graz University of Technology.
Acknowledgments
Special thanks to the great cooperation with the universities involved in UniNEtZ: Alpen-Adria University Klagenfurt, Danube University Krems, Graz University of Technology, Johannes Kepler University Linz, Medical University of Graz, Medical University of Innsbruck, Montanuniversitaet Leoben, Mozarteum University Salzburg, University of Applied Arts Vienna, University of Art and Design Linz, University of Graz, University of Innsbruck, University of Music and Performing Arts Vienna, University of Music and Performing Arts Graz, University of Natural Resources and Life Sciences Vienna, and Paris Lodron University of Salzburg.
Conflicts of Interest
The authors declare no conflict of interest.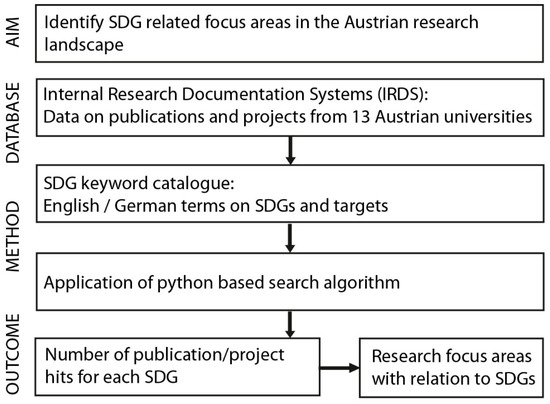 Figure 1. Work flow and study design for the Sustainable Development Goals (SDG) mapping of research activities of universities in Austria.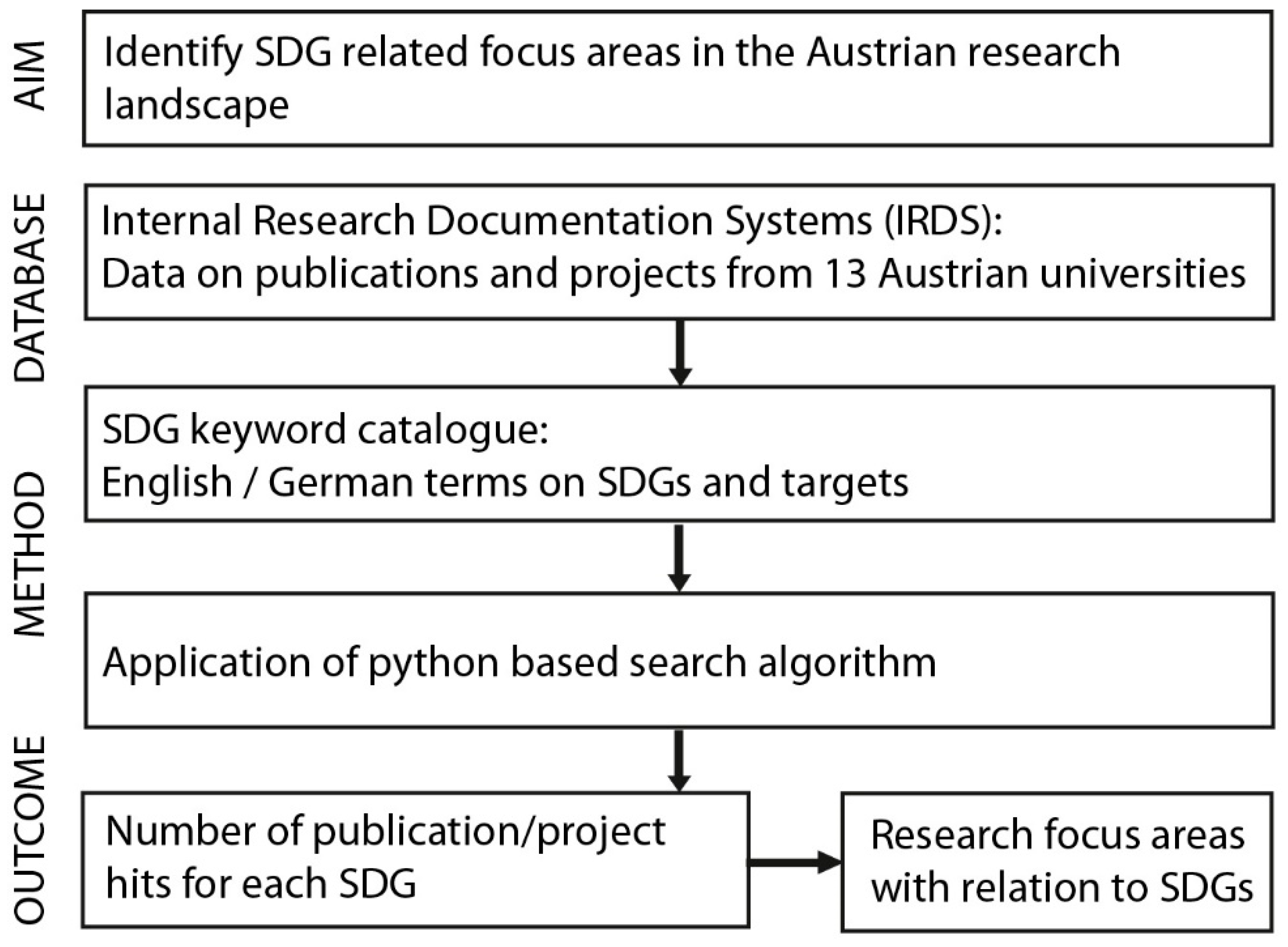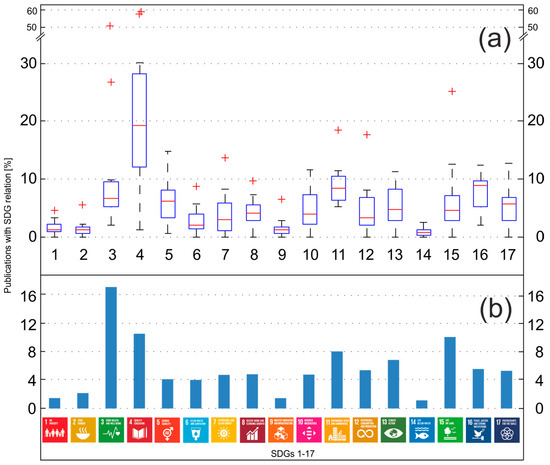 Figure 2. Publications of all universities: (a) Boxplots indicating mean and standard deviation, red crosses indicate outliers, and (b) accumulated distribution in percent.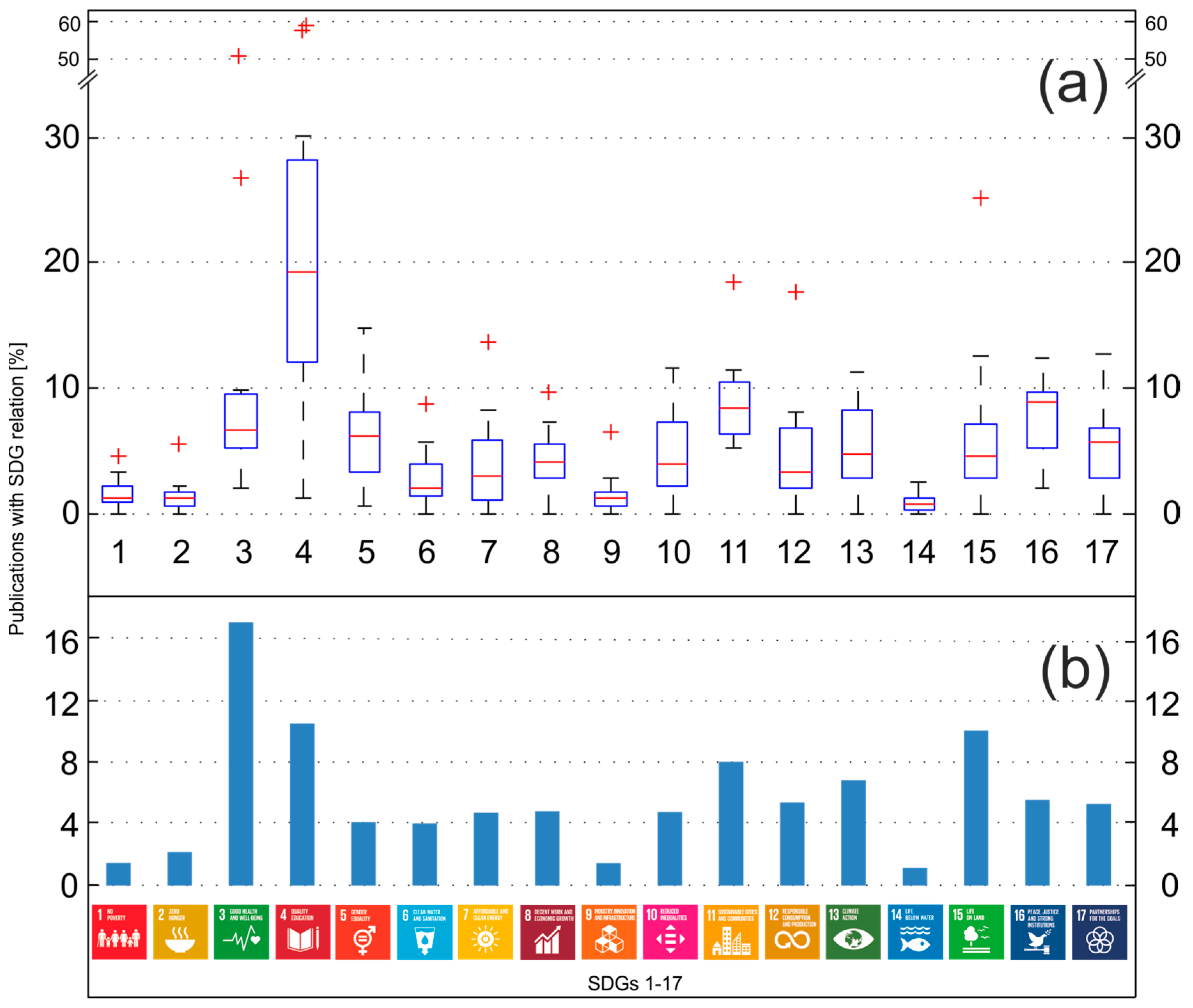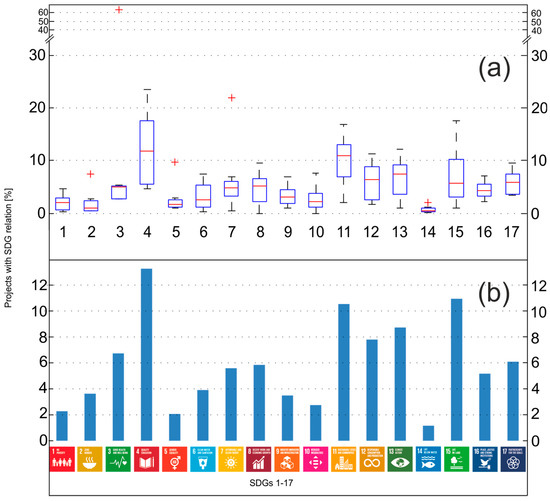 Figure 3. Projects of all universities: (a) Boxplots indicating mean and standard deviation, red crosses indicate outliers, and (b) accumulated distribution in percent.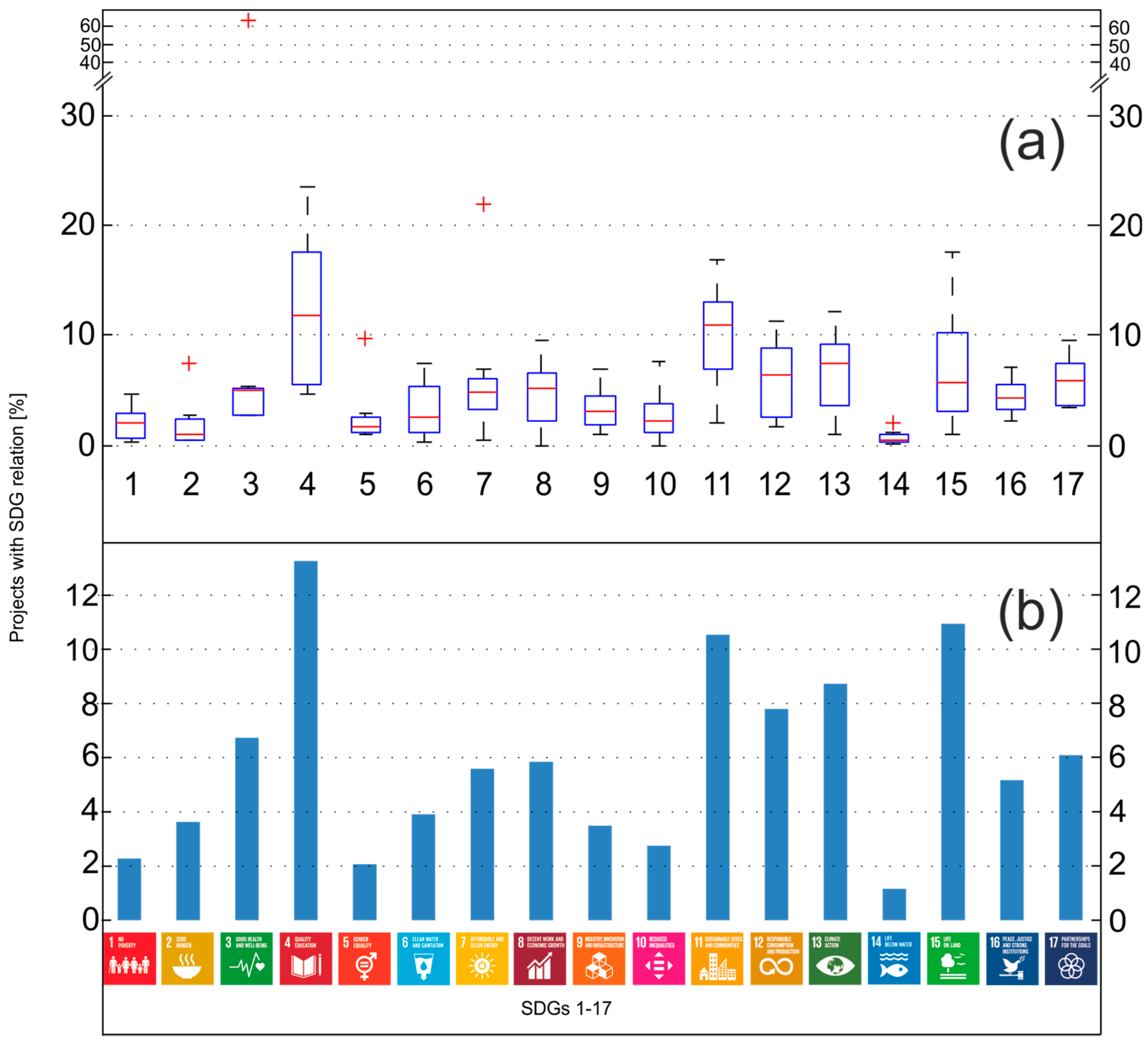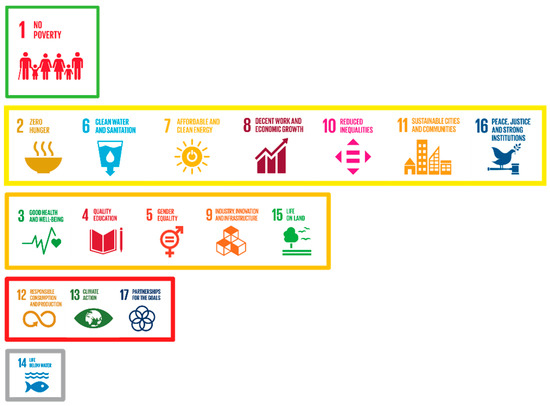 Figure 4. Results from the SDG Index and Dashboards Report 2018 for the country profile of Austria. The index is calculated based on the SDG indicators. Size of the icons correlates with SDG progress. A green rating denotes SDG achievement. Yellow and orange ratings indicate that significant challenges remain. Red indicates that major challenges must be overcome if the country is to meet the goal. Grey: Not sufficient (less than 50%) indicator data available for the respective SDG (Source: Adapted based on SDG Index 2018, p. 96).
Keyword
SDG
Comment
breadline
1
tested and validated
sustainable agriculture
2
tested and validated
untreated wastewater
6
tested and validated
coral bleaching
14
tested and validated
mental health
3
tested and validated
collocation, adapted from 'mental', because of word confusion: 'Mental' can be misleading when a component of other words, e.g., 'fundamental'
care
4
excluded, because of word confusion: 'Care' can be misleading when a component of other words, e.g., 'calcareous alps'
emissions
7
excluded, because not precise enough, leading to unsuitable hits

Table 2. Database with number of total analysed and hits for publications and research projects. Publications/projects can refer to single SDGs (x = 1) or several SDGs (x = 2–15).
Database
Publications
Projects
ntot
Total no. of analysed publications/projects
154,806
17,071
npubs
Total no. of publications/projects related to SDGs
28,229
3581
No. of publications with [x] related SDGs
x = 1
19,859
1964
x = 2
4677
669
x = 3
1957
297
x = 4
800
214
x = 5
419
146
x = 6
245
101
x = 7
121
69
x = 8
69
52
x = 9
39
28
x = 10
20
21
x = 11
7
12
x = 12
10
3
x = 13
5
3
x = 14
1
1
x = 15
0
1

© 2018 by the authors. Licensee MDPI, Basel, Switzerland. This article is an open access article distributed under the terms and conditions of the Creative Commons Attribution (CC BY) license (http://creativecommons.org/licenses/by/4.0/).