Open Access This article is
freely available
re-usable
Review
A Sustainable Agricultural Future Relies on the Transition to Organic Agroecological Pest Management
1
Section of Plant Breeding and Genetics, School of Integrative Plant Science, Cornell University, Ithaca, NY 14853, USA
2
David R. Atkinson Center for Sustainable Future, Cornell University, Ithaca, NY 14853, USA
*
Author to whom correspondence should be addressed.
Received: 21 April 2018 / Accepted: 11 June 2018 / Published: 15 June 2018
Abstract
:
The need to improve agricultural sustainability to secure yields, minimize environmental impacts and buffer environmental change is widely recognized. Investment in conventional agriculture has supported its present yield advantage. However, organic agriculture with agroecological management has nascent capacity for sustainable production and for increasing yields in the future. Conventional systems have leveraged reductionist approaches to address pests, primarily through pesticides that seek to eliminate biological factors that reduce yield, but come at a cost to human and ecosystem health, and leave production systems vulnerable to the development of pest resistance to these chemicals or traits. Alternatives are needed, and are found in organic production approaches. Although both organic and agroecology approaches encompass more than pest management, this aspect is a pivotal element of our agricultural future. Through increased investment and application of emerging analytical approaches to improve plant breeding for and management of these systems, yields and resilience will surpass approaches that address components alone.
Keywords:
organic agriculture; agroecology; pest management; plant breeding; biodiversity; sustainability; host plant resistance; pesticides
1. Achieving Needs for Agricultural Productivity and Pest Management Sustainably
2. Issues with Managing Agricultural Pests through Pesticides
2.1. Pesticides Impact Human Health
2.2. Pesticides Disrupt Ecosystems and Ecosystem Services for Agriculture
2.3. Pesticides Create Risk in Production Systems
3. Investment in Organic Agroecological Research for Sustainable Pest Management Moves toward Eliminating the Conventional-Organic Yield Gap
The central tenets of the organic agroecological agriculture movement broadly support sustainable pest management, and we have highlighted numerous examples that exemplify the positive impact of these approaches in
Section 2
. Moving forward, organic agroecological agriculture will continue to activate transformative research in novel sustainable pest management techniques that maintain "biologically oriented thinking that sees our agricultural efforts as participatory rather than antagonistic vis-à-vis the natural world" [
140
]. Organic growers cannot rely on curative conventional pesticides; instead, they must innovate or adopt agroecological-based techniques. Organic agroecological systems are ideal environments for testing new pest management techniques because of characteristics like the promotion of soil health and biodiversity. Together, these foundational principles paired with constraints from restricted practices drive innovation, experimentation and initial application to develop novel and sustainable techniques that could reduce pesticide applications across many management systems.
Recently, there have been massive advances in the fields of plant breeding and selection [
141
], phenotyping [
142
], metagenomics [
143
], and chemical ecology [
144
], which can leveraged for progress in organic agroecological sustainable pest management. With these tools, organic agricultural researchers can significantly move the field of sustainable pest management forward by pursuing research in (1) understanding and promoting the healthy rhizosphere-associated microbiome fostered in organic agroecological systems, (2) increasing the use of organic seeds by leveraging transgenerational defense priming, (3) plant breeding to counter pests through indirect mechanisms, (4) plant breeding for quantitative resistance traits, (5) developing heterogeneous cultivar mixtures, (6) promoting farmscape diversity, (7) and enhancing interactions between types of defenses against pests (
Figure 2
). Taken together, these approaches can transform pest management on, and outside of, organically managed land by displacing the pesticide use and improving agricultural sustainability; these are among the key investment areas to eliminate the yield gap.
4. Conclusions
We need to invest in agricultural systems that will give us sufficient yields to nourish humanity while minimizing environmental impacts. The great yields from conventional agriculture today are inextricable from hidden cost to the environment through the detrimental effect of pesticides. While scaling organic agriculture to feed the world is still maturing, organic agroecological approaches hold the potential to provide for our world population sustainably by driving research and development of these pesticide alternatives. Our responsibility as agricultural scientists is not to maintain the status quo, but rather to continue path of innovations of previous generations for securing the productivity that currently supports our population. Indeed, agriculture is a human invention that has been in flux for millennia as new crops became available, growing techniques were developed, pest and environmental challenges emerged, new lands opened to cultivation, and markets expanded. Importantly, our knowledge of the effects of synthetic agricultural pesticide use has also shifted since their widespread introduction in the 20th century. How will we change our management techniques in response to improve the sustainability of our agricultural production? Can we move to more complex and multi-pronged strategies that are resilient and responsive to the living agroecosystems? By reframing the yield gap between conventional and organic agriculture as an investment gap, we can focus on the questions we need to answer toward the use of organic agroecological approaches in plant breeding and crop management for organic agricultural systems.
Author Contributions
L.B. and M.M. wrote the paper.
Funding
Fellowship support for L.B. was provided by a Seed Matters Graduate Fellowship, an initiative of the Clif Bar Family Foundation, and the publication was supported by the Organic Research and Extension Initiative grant "The Northern Organic Vegetable Improvement Collaborative II (NOVIC II)" [grant no. 2014-51300-22223] from the USDA National Institute of Food and Agriculture (NIFA). Any opinions, findings, conclusions, or recommendations expressed in this publication are those of the author(s) and do not necessarily reflect the view of the National Institute of Food and Agriculture (NIFA) or the United States Department of Agriculture (USDA) or the Clif Bar Family Foundation, or other sponsors or parties.
Acknowledgments
The authors would like to thank Matthew Ryan for significantly contributing to our discussion of soil health, Jim Myers for providing thoughtful comments on the manuscript, and to acknowledge Rachel Hultengren and Tyr Wiesner-Hanks for helpful discussions during the writing the manuscript. Three anonymous reviewers also provided insightful feedback that greatly improved this manuscript. The work reviewed herein was supported by "A Production System For High Value Crops At Risk From Downy Mildew: Integrating Detection, Breeding, Extension, and Education" USDA NIFA 2016-68004-24931, "ESO-Cuc Addressing Critical Pest Management Challenges in Organic Cucurbit Production" USDA NIFA OREI Project No. 2012-51300-20006, "The Northern Organic Vegetable Improvement Collaborative II (NOVIC II)" USDA NIFA OREI 2014-51300-22223, "The Northern Organic Vegetable Improvement Collaborative (NOVIC)" USDA NIFA OREI 2009-51300-05585; Any opinions, findings, conclusions, or recommendations expressed in this publication are those of the author(s) and do not necessarily reflect the view of the National Institute of Food and Agriculture (NIFA) or the United States Department of Agriculture (USDA) or other sponsors or parties.
Conflicts of Interest
Lauren Brzozowski receives fellowship support from Seed Matters, and Michael Mazourek is the co-founder of, but has no financial stake in, Row 7, a company that sells organic seed.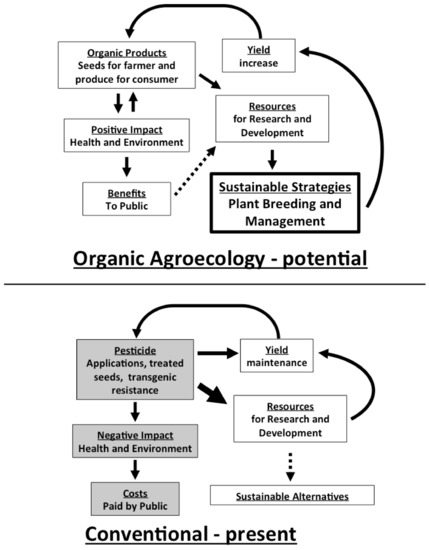 Figure 1. Toward increased investment in sustainable strategies in organic agriculture. In an organic agroecological system, increasing investment in sustainable plant breeding and management strategies will have an outsized impact on increasing yield. Increasing use of organic seed will promote further resources for research and development. The adoption of organic practices is beneficial to human and environmental health, which benefit the public. As the public increasingly values sustainable strategies (for instance, by influencing government agricultural research budgets), increased funding will allow for shifting more production to organic agroecological management. In conventional agriculture, the use of pesticides (including treated and transgenic seed) maintain yield, which reinforces the continued use of these products with little incentive for pursing sustainable alternatives. Resources from these sales lead to research and development to support new pesticide related products. The use of pesticides has negative impacts on human health and the environment and leads to hidden costs paid indirectly by the public. Plant breeding in conventional systems, (not shown), is important but is done in the context of pesticide-managed environments during selection. Solid arrows indicate flow of resources or influence between elements of model. Dashed arrows indicate connections that would benefit from further development.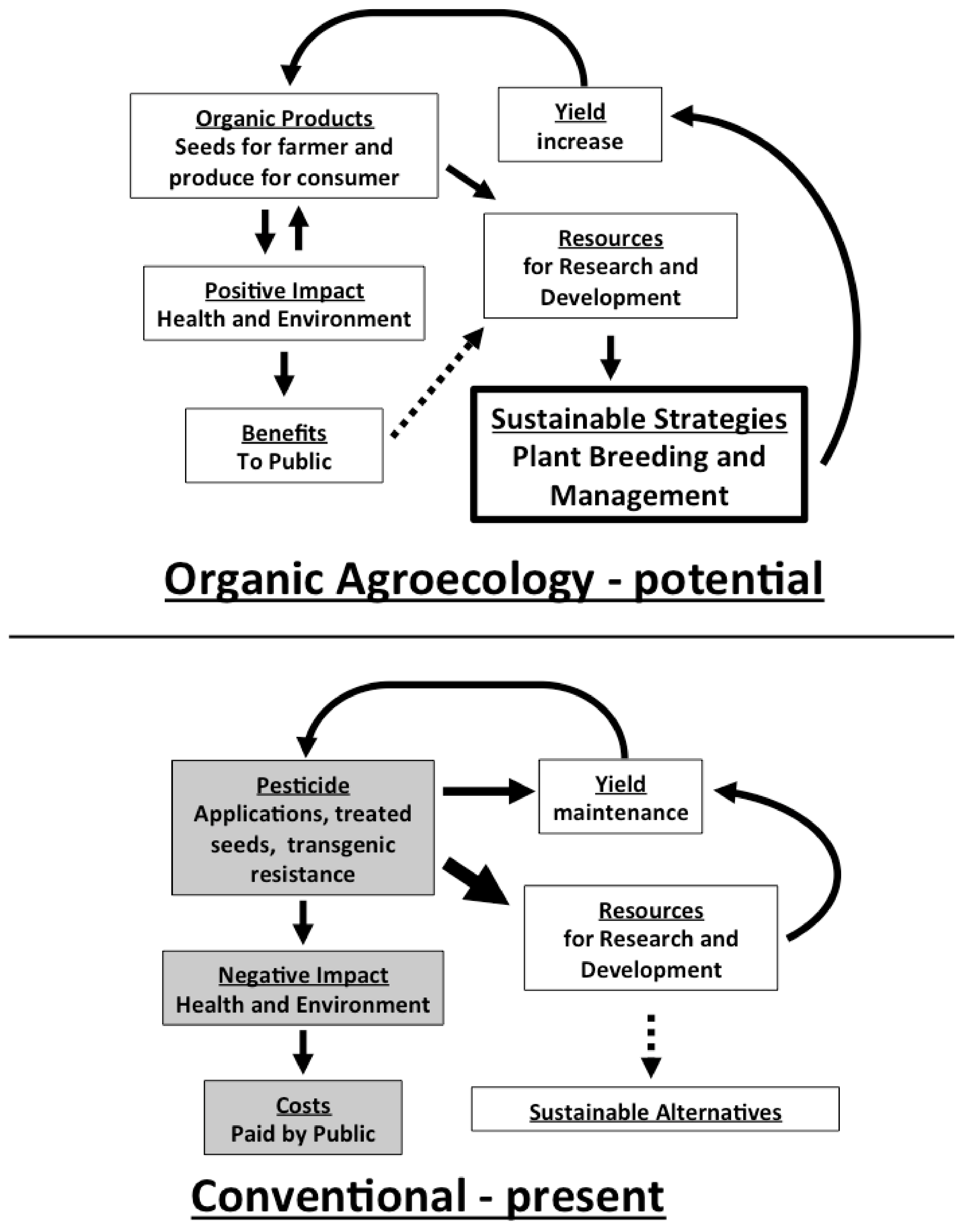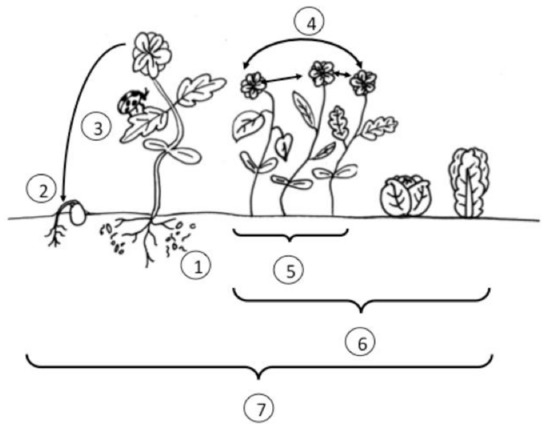 Figure 2. A summary of research directions for organic agroecological pest management: (1) understanding and fostering of beneficial rhizosphere associated microbiome; (2) study and application of transgenerational defense priming; (3) plant breeding for ecosystem services like indirect defense via predators and parasitoids; (4) plant breeding for quantitative resistance; (5) deployment of genetically diverse cultivar mixtures; (6) supporting application of interspecific botanical diversity on the farm; (7) allowing and promoting interactions between different pest management mechanisms.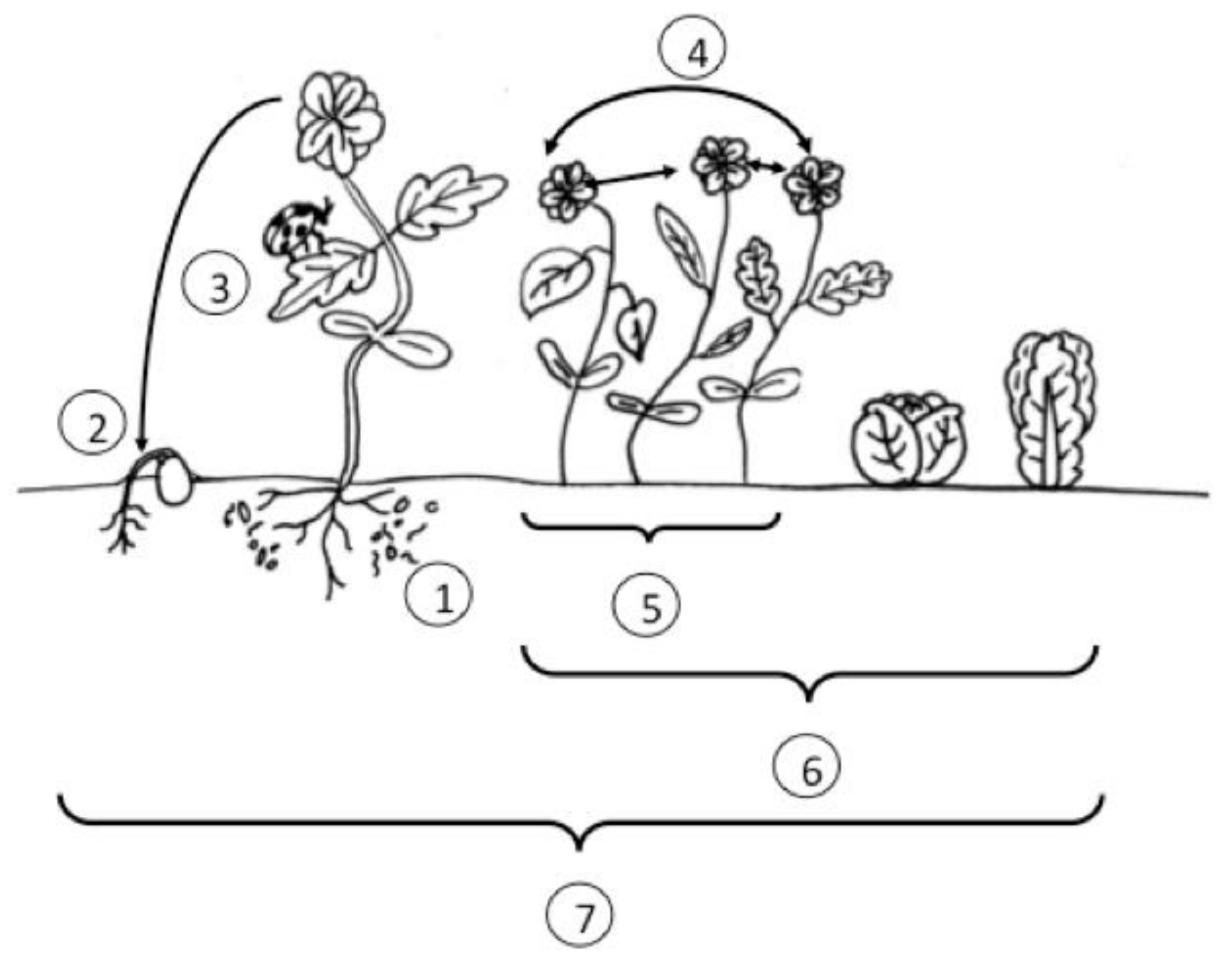 Table 1.
Total pesticide use in metric tons (MT) of active ingredient (AI) applied, and percent of production area treated at least once in the United States from most recent year data is available. Data compiled from the United States Department of Agriculture National Agricultural Statistics Service [
21
].
Crop 1
Fungicide
Herbicide
Insecticide
AI (MT)
Acreage (%)
AI (MT)
Acreage (%)
AI (MT)
Acreage (%)

Vegetable crop

2
Asparagus
16
53
41
88
20
90
Beans, snap, processing
36
49
138
97
11
58
Broccoli
17
38
61
46
31
68
Carrots, fresh market
188
75
73
77
3
35
Carrots, processing
28
100
5
100
0
100
Cauliflower
2
11
7
47
8
76
Celery
20
65
9
42
20
71
Eggplant
1
71
0
21
0
81
Garlic
16
88
29
89
4
58
Lettuce, (excluding head)
206
71
111
42
56
85
Lettuce, head
207
76
52
52
66
90
Melons, cantaloupe
99
79
42
54
31
85
Melons, honeydew
22
87
3
24
31
92
Melons, watermelon
282
84
31
52
114
80
Onions, dry
287
88
176
92
125
91
Peas, green, processing
2
14
60
98
2
29
Peppers, bell
199
84
17
44
46
81
Pumpkins
75
69
22
76
7
32
Spinach, fresh market
29
75
11
41
6
79
Squash
79
76
7
51
9
53
Sweet corn, processing
6
31
163
97
10
71
Tomatoes, field, processing
5073
87
268
69
216
79

Total

,

vegetable crops

6890

1326

816

Fruit crop (bearing)

3
Apples
2545
81
122
37
704
91
Apricots
18
70
7
55
5
77
Avocados
ND
ND
28
35
4
40
Blackberries
36
76
10
95
4
83
Blueberries
223
86
82
66
90
85
Cherries, sweet
627
83
48
36
150
83
Cherries, tart
252
95
14
54
30
90
Dates
0
-
3
23
0
8
Figs
0
-
19
60
0
-
Grapefruit
193
84
198
70
452
94
Grapes 4
13,590
83
854
55
269
53
Kiwifruit
0
-
11
50
0
12
Lemons
25
34
51
60
53
74
Nectarines
73
55
16
49
7
55
Olives
50
43
23
39
2
26
Oranges
744
72
1890
72
2246
90
Peaches
824
82
46
43
68
78
Pears
566
90
24
45
564
92
Plums
27
51
14
47
3
70
Prunes
132
63
48
57
5
63
Raspberries
65
92
14
91
12
94
Strawberries
620
96
11
27
159
93
Tangelos
25
96
11
75
29
97
Tangerines
140
72
78
76
185
88

Total

,

fruit crops

20

,

775

3622

5041
1 In all cases, totals for crops represent select states surveyed by the USDA NASS, and these states are listed in Table S1. 2 Vegetable crop totals are from 2016 data, with the exception of eggplant, which is from 2010. 3 Fruit crop totals are from 2015 data, with the exception of strawberries, where fungicide and herbicide totals are from 2016, and insecticide data from 2014. 4 Grape types include table, juice, raisin, and wine grapes.
Practice or Trait
Results
Plant based resistance
Physical traits
• Deter or impede mobility of insect pests [29] or colonization of plant pathogens (i.e., cuticle composition) [30]
• Canopy architecture can shade weeds [31], or alter environmental conditions (i.e., humidity) to slow pathogen growth [32]
Chemical traits
• Volatile deterrents for insect pests [33]
• Harmful or deterrent secondary metabolites for pathogen and insect pests [34,35,36], and allelopathic compounds inhibit weed growth [37,38]
• Volatile cues for insect predators or parasitoids about location of prey [39,40,41]
• Qualitative gene-for-gene interactions [34,42] or quantitative resistance traits [42,43]
Tolerance
• Plants exhibit no apparent yield or fitness cost to pest damage [44,45]
Farm scale cultural practices
Sanitation
• Clean planting material and equipment stop inoculum from entering farm (pathogens, weeds and insects) [46,47]
Crop rotation
• Disrupt pest lifecycles (pathogens, weeds and insects) [46,48,49]
Applying botanical diversity
• Trap crops or push-pull systems rely on differential plant attractiveness to lure and, or repel insect pests from main marketable crop [50,51]
• Provide habitat and alternate food sources for plant beneficial insects [49]
• Modify epidemiological factors to slow the spread of pathogens through crop rotations, intercropping, companion planting or growing a crop mixture [46]
Crop targeted interventions
Beneficial organisms
• Beneficial insects that are predatory on pests, and nematodes and effective microbes can further suppress insect pest and pathogen populations [49,52,53]
Mechanical interventions
• Cultivation, thermal and mechanical measures to manage weeds or pathogens [46,54]
• Specific passive traps (like trenches) or active control like vacuuming to manage particular insect pests [55]
Naturally-derived products
• Non-synthetically derived products like oils, soaps, or extracts, can be used to supplement pest management efforts [46,49]

© 2018 by the authors. Licensee MDPI, Basel, Switzerland. This article is an open access article distributed under the terms and conditions of the Creative Commons Attribution (CC BY) license (http://creativecommons.org/licenses/by/4.0/).