Open Access This article is
freely available
re-usable
Article
Who Uses Smart City Services and What to Make of It: Toward Interdisciplinary Smart Cities Research
1
School of Business, Deree College—The American College of Greece, 153-42 Athens, Greece
2
Effat College of Engineering, Effat University, P.O. Box 34689, Jeddah, Saudi Arabia
3
Effat College of Business, Effat University, P.O. Box 34689, Jeddah, Saudi Arabia
*
Author to whom correspondence should be addressed.
Received: 11 May 2018 / Accepted: 11 June 2018 / Published: 13 June 2018
Abstract
:
As research on smart cities garners increased attention and its status consolidates as one of the fanciest areas of research today, this paper makes a case for a cautious rethink of the very rationale and relevance of the debate. To this end, this paper looks at the smart cities debate from the perspectives of, on the one hand, citizens' awareness of applications and solutions that are considered 'smart' and, on the other hand, their ability to use these applications and solutions. Drawing from a detailed analysis of the outcomes of a pilot international study, this paper showcases that even the most educated users of smart city services, i.e., those arguably most aware of and equipped with skills to use these services effectively, express very serious concerns regarding the utility, safety, accessibility and efficiency of those services. This suggests that more pragmatism needs to be included in smart cities research if its findings are to remain useful and relevant for all stakeholders involved. The discussion in this paper contributes to the smart cities debate in three ways. First, it adds empirical support to the thesis of 'normative bias' of smart cities research. Second, it suggests ways of bypassing it, thereby opening a debate on the preconditions of sustainable interdisciplinary smart city research. Third, it points to new avenues of research.
Keywords:
smart cities; 'normative bias' of smart cities research; sustainable development; privacy; services; smart villages; innovation clusters; innovation networks; data protection; value adding services; international technology transfer
Author Contributions
M.D.L. and A.V. contributed equally to the design, implementation, conduct of research and analysis of data and the delivery of the main findings. Both co-authors contributed equally to all phases of this research.
Acknowledgments
The authors would like to thank Effat University in Jeddah, Saudi Arabia for funding the research reported in this paper through the Research and Consultancy Institute.
Conflicts of Interest
The authors declare no conflict of interest. The funding sponsors had no role in the design of the study; in the collection, analyses, or interpretation of data; in the writing of the manuscript, and in the decision to publish the results.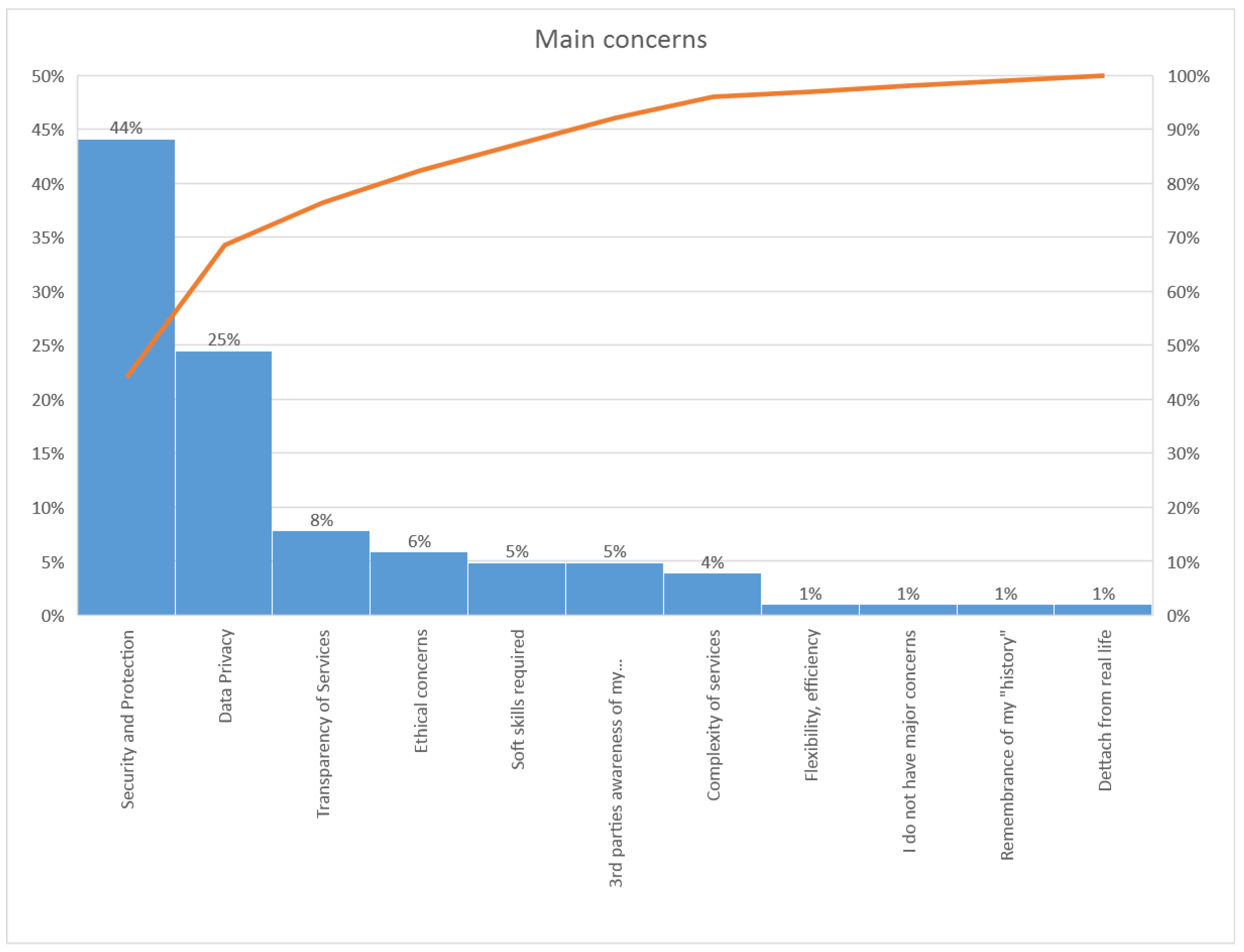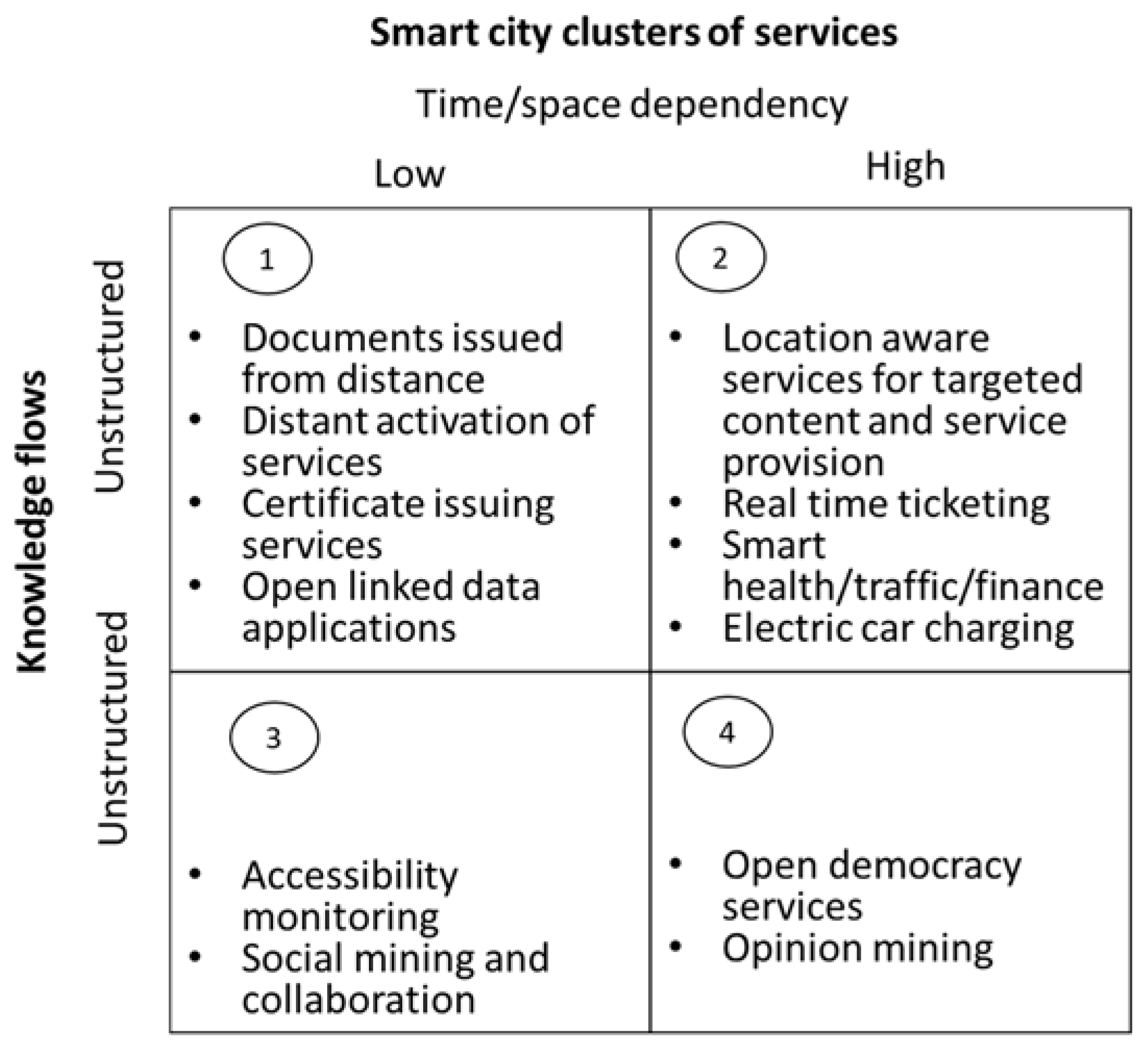 | PhD | Master's Degree | Bachelor's Degree | Undergraduate |
| --- | --- | --- | --- |
| 66% | 28% | 4% | 2% |
| Continent | % in Sample |
| --- | --- |
| Americas | 11% |
| Arab Peninsula | 9% |
| Asia | 34% |
| Australia | 2% |
| Europe | 44% |
Smart City User Clusters/Profiles
Feature
Apathetic User
The Concerned User
The Advocate
Frequency of Use
Not often/seldom
Selective
Too often and wishes to use as many of these services as possible
Typical Services
Governmental, librarian, transportation and entertainment services
Variety based on preferences
Early adopter, variety of services
Key Concerns
Legal rules of services
Low availability of services
Limited awareness
Technical problems
Data protection and security
Real effectiveness of the concept
Availability
Sustainability
Response rate
Unauthorized access
Misuse of collected information
Interoperability of data and systems
Security
Interface quality
Perceived Value Added
Friendliness of services
Automation and intelligence compared to traditional services
High satisfaction
| Networks | Application Domains | Value-Adding Services | Policy-Making |
| --- | --- | --- | --- |
| Broadband cheap Internet—Wi-Fi | Smart transportation services | Mobility | One-stop shop, single access points |
| Socially reliable networks | Energy consumption services | Simplicity | Big Data analytics |
| Interoperable sensor Nnetworks | Traffic control systems | Cloud services | Soft skills / ICT skills |
| Good electrical infrustructure | Environment design | Connectivity | Information quality; ease of use |
| Internet of Things | Waste collection systems | Advanced ICT | Broad access |
| Cutting edge ICT | Health ICT | Omnipresent infrastructures | Large mobile penetration |
| | Automatic fraud detection systems | Real-time data ecosystems | Linked interoperable services |
| | Platforms for participatory decisions | Security technology | Global access to any information developed in a smart city |
| | | Privacy capability | Digital literacy |
| | | Local storage of Big Data | Urban planning and design |
Patterns of Action
What They Say?

Big Data services awareness: the main concern is (personal) data protection and security.

There is awareness of existing technologies, but there is also consensus and concerns about the real effectiveness of the concept.

Key perception of smart city services: smart city services are services that provide automation and intelligence compared to traditional services

Key consideration: cost effectiveness and accessibility

Issues raised: human–computer interactions; sustainability; the availability of these services and continuity (major issue); low response time; lack of access; and availability

Perceived problems: unauthorized access and security issues.

"Linking the access to the mobile number definitely increases the security, but it makes it very vulnerable once the mobile phone device is lost or exposed and reachable by a hacker. Some of the problems that occurred such as access to those services were tied up with local mobile phone verification which made it difficult to access at sometimes especially if the user is overseas".

"My main concern is technology development".

"In general, I don't like that so much information is collected and (could be) misused."

"My main concern is bugs in the app, which prevents me from taking full advantage of the service and makes me go to the physical facilities."

"Moving toward centralization for smart cities is still not done fully."

"If the system is down, will users be able to perform their tasks manually using traditional methods?"
Patterns of Action
What They Say?

Uses smart city services regularly.

Wishes to use as many smart city services as possible.

High satisfaction from selected services.

Early adopter, enthusiast, engaged in technological projects that span city smartness.

Typical services include governmental services and services to see the events happening in the city; tourism applications provided by the city; electronic payments to city councils; shared bicycle and online hotel reservations; administrative services (citizen registration data, etc.); public service reservations; traffic information; license applications; real-time bus information systems and U-bike system s, etc.

"My main concern is about interoperability of data and systems and security."

"Open to the use of smart city technology if it makes my life easier. I use online banking and government services and services related to entertainment."

"The major problems are that the websites are not very friendly."

"I use the Taoyuan bus car, the free Wi-Fi from the government in Taiwan, etc."

"I have used smart city services such as e-government (services) in cities in the Middle East such as Dubai and Riyadh. The e-government services that have been recently introduced to the citizens helped to reduce the pollution as well as the traffic and waste."
Patterns of Action
What Do They Say?

Aware of technology options, but have limited usage, for example, accessing cloud archives or accessing iPhone cameras installed at home while away from home only for safety purposes (e.g., when they have to leave their child at home with the maid).

Major problems encountered: services are not regularly updated, nor fully exploited in terms of potential.

"I know what a smart city service is but I seldom use any of the services. I like the idea but I'm worried about the privacy and being manipulated too."

"Occasional user; user friendliness is key."

"Rather average user of smart cities services."

"Use a smartphone and some applications related to booking on services by municipality."

"I also use some notifications about social and taxation services."

"I am really worried about (sharing) my data over smart cities services and about my privacy."

"I am a low intensity user. My main use is in the payment of public services (electricity, water supply, taxes). I also use public Wi-Fi connections in the University for various tasks. The main difficulty we face is the low speed and availability of Internet that we have in the city."

"Smart city services are still at the beginning (stages) (in many cases), I use some services but sometimes, the (legal) rules for use are not clear; the municipal authority is not ready enough for such services (there are a lot of technical problems, data protection is a challenge too, etc.)."

"Hard to say, it's a new term for me."
| Scenario | Description |
| --- | --- |
| 1. | "In Hong Kong, we have bus mobile apps. The major functions are (i) arrival time estimation; (ii) arrival and drop off alerts; and (iii) route search." |
| 2. | "I really enjoy location aware services circulating information about nice things happening in my city through my smartphone." |
| 3. | "I am working in a foreign country and issued (a) visa for my family using smart services without visiting an office." |
| 4. | "I was pretty happy to get a car I rented using my mobile phone for (the entire)rental procedure, including opening the doors of the car with no need for any other person to check the procedures." |
| 5. | "In Brussels, I have recently been happy to use my smartphone to pay for parking just for the time I have been parked (in) that spot." |
| 6. | "I booked a play online at a local theatre. It was fast, easy, and reliable, and I could do it through my phone, and all I had to do was show the email at the door and scan the code given." |
| 7. | "During my studies at Indiana University Blooming tonight, I was very happy with the online system that provides real-time status of city transport." |
| 8. | "The Rio de Janeiro meteorological information application provides real-time weather information and alerts, informing 6M inhabitants in the metropolitan area." |
| 9. | "During my trip to Japan, I was amazed by the bike parking service which (located)the place to park for us and also brought (the car back) back automatically." |
| 10. | "I was happy to be able to renew my passport using my mobile phone in Saudi Arabia." |
| 11. | "The fact that one no longer has to visit governmental or private offices for matters of social security or health services such as booking appointments with doctors. The fact that in most cases, one knows the waiting time for transportation media." |
| 12. | "I use my smart card to enter the subway, light rail, pick a shared bicycle or Bus rapid transit (BRT); it is very convenient." |
| 13. | "Tele-health care for the elderly in Trikala, Greece." |
| 14. | "Mobile applications oriented to traffic congestion and measure the air quality in the Mexico City, as well as the web site of open data of the local government." |
| Scenario | Description |
| --- | --- |
| 1. | "I dislike (it) when I register to smart city services and then other parties knock my door (to also use) their services. I think there is a violation of my privacy." |
| 2. | "I have been using a third party app to get train schedules that was just an upper layer to the one provided by the train company. (I) wonder what they do with the data they collect." |
| 3. | "I registered my mobile phone number and I was worried about information leakage." |
| 4. | "I tried to use the online national library service and it couldn't (find) my profile. The people in the library couldn't access theirs either so it seems the system was down." |
| 5. | "There is certainly room for improvement in transport ticket reservation (in) many cities (that I have been to)." |
| 6. | "I used a parking app outside of my city and I paid an amount of money but I couldn't get the money back (when) I didn't spend the whole amount." |
| 7. | "Cameras everywhere." |
| 8. | "I installed an app that allows free internet access in a community. My main concern was unauthorized access control." |
| 9. | "Worried about leaving LinkedIn application data to protect my business's whereabouts." |
| 10. | "The data privacy and security issues of Wechat." |
| 11. | "I worry (about) the cost of Internet connection outside my country." |
| 12. | "Personal data can be sold and misused by private corporations. Governments should prevent this." |
| 13. | "The address was linked with my local ID number which makes me worry about any hackers as they will be able to obtain all my personal information, such as address and DOB, as well as controlling some of the functionality without my approval." |
| 14. | "Once I bought a ticket to visit the Statue of Liberty in New York and the website was so confusing that I paid twice and I couldn't visit it inside." |
| 15. | "I booked an online ticket from Frankfurt to Zurich from a rail service provider, The train number allotted to me never goes to Zurich." |
| 16. | "When using financial applications, I am always worried about security and data protection." |
| 17. | "Recently, I extended my health insurance policy. The agent on the phone asked me to provide my Master Card and CSV number which I did. Clients usually provide this information through IVR but not directly. I was concerned about the misuse of this information." |
| 18. | "I installed, in Taichung city, an application for a smart healthcare cloud from a third party provider and felt worried about the data that this application could access/record about me." |
| 19. | "All the third party applications require to (much) personal data." |
| 20. | "Many smart city apps are made for locals only and the knowledge that a foreigner or visitor has is not enough to use (them)." |
| 21. | "Air BnB reservation in Brussels where I felt worried about the data privacy and reliability of service as a whole." |
| 22. | "I am concerned some applications are tracking my location. It doesn't feel good." |

© 2018 by the authors. Licensee MDPI, Basel, Switzerland. This article is an open access article distributed under the terms and conditions of the Creative Commons Attribution (CC BY) license (http://creativecommons.org/licenses/by/4.0/).