Open Access This article is
freely available
re-usable
Article
Social Network Analysis of Scientific Articles Published by Food Policy
1
Institute of Sectoral Economics and Methodology, Faculty of Economics and Business, University of Debrecen, Debrecen 4032, Hungary
2
Institute of Applied Informatics and Logistics, Faculty of Economics and Business, University of Debrecen, Debrecen 4032, Hungary
3
The Management Faculty, Czestochowa University of Technology, Częstochowa 42-201, Poland
4
Faculty of Economic Sciences and IT, North-West University, Vanderbijlpark 1900, South Africa
*
Author to whom correspondence should be addressed.
Received: 8 February 2018 / Accepted: 21 February 2018 / Published: 26 February 2018
Abstract
:
The article analyses co-authorship and co-citation networks in Food Policy, which is the most important agricultural policy journal in the field of agricultural economics. The paper highlights the principal researchers in this field together with their authorship and citation networks on the basis of 714 articles written between 2006 and 2015. Results suggest that the majority of the articles were written by a small number of researchers, indicating that groups and central authors play an important role in scientific advances. It also turns out that the number of articles and the central role played in the network are not related, contrary to expectations. Results also suggest that groups cite themselves more often than average, thereby boosting the scientific advancement of their own members.
Keywords:
social network analysis; co-authorship; co-citation network; collaboration
1. Introduction
The number of articles published globally in different scientific areas has increased exponentially in recent years, and the behavior of those involved in scientific production itself has changed over time [
1
]. Despite the clear importance of the topic, analyses of co-authorship and co-citation networks operating mainly in the field of agricultural economics or agribusiness, are scarce. As [
2
] state, the link between scientific collaboration in a research project and the impact of the research results have been investigated in only a small number of studies.
During the analysis of co-authorship patterns in a single journal or conference, many authors adopt and implement methods from Social Network Analysis (SNA), the second stream of the research methodology which is relevant in this case [
3
].
In an attempt to evaluate the quality of scientific publications, different efforts have been made to measure their influence [
4
]. We can agree that the benefits of collaboration between researchers are almost universal. Actual samples of behaviour in terms of cooperation can depend on the country of origin, disciplines, research institutions, or journals [
5
]. Publishing habits have changed dramatically in the past years, both in regard to
Food Policy
specifically and to all scientific journals in general. With the spread of the Internet and online journals, authors are now able to rapidly acquire access to published research and working papers. But how have these changes influenced the quantity of citations and the types of the cited articles? It is important to answer this question because the number of citations for the articles published in a journal, via statistics such as the impact factor or the Hirsch index, is increasingly being used as a metric of journal quality and stature [
6
]. In Kőmíves and Dajnoki [
7
]'s summary of the most important metric elements of the different international and Hungarian higher educational ranking systems, the authors revealed that, for example, the Shanghai Jiao Tong University ranking, which is the best known ranking system of the world, pays much attention to publications and citations in the most important international journals—such as
Nature
or
Science
. The relevance of the different factors during the analysis of the position of each university in comparison with other higher educational institutions is still not finalized: as Hazelkorn [
8
] showed, we can still find debates about the relevance of the number of publications or citations. On the other hand, it is clear to all that the strength or the impact of the research or scientific cooperation cannot only be analyzed on the basis of the number of papers or citations alone—this process is much more complex [
9
].
More specifically, we investigate the following hypotheses in this paper:
Hypothesis
(H1).
Significant changes occurred in the subject matter examined by researchers in the 10-year-period from 2006 to 2015.
Hypothesis
(H2).
The majority of articles are written by various research groups rather than one single author.
Hypothesis
(H3).
The key members of the network have the best publication performance.
Hypothesis
(H4).
The articles by influential authors are cited more due to their centrality ranking.
Following this introduction, the paper is structured as follows. The literature review provides a brief description of the theoretical background of social network analysis in general, and particularly in scientific collaboration. The third section describes materials and methods used for the analysis. In the fourth section, the results are presented with descriptive statistics used to describe the basic features of the data in a study, followed by co-authorship network and co-citation network analysis. In the fifth section we summarize in a discussion and draw the main conclusions.
2. Literature Review
2.1. Collaboration, Competition, or Coopetition?
During the analysis of the international cooperation in the fields of research and publications, scientists face several issues they have to resolve to ensure the success of their collaboration. We investigated the structural pathology of different networks. The importance of international cooperation and networks has significantly increased in the past three decades [
10
]. The risks of inter-organizational cooperation can cause different pathologies. These pathologies are able to bring benefits for international cooperating partners not only in business cases [
11
], but also in the case of scientific networks. [
12
] uses the word "coopetition" to describe the special habit or behavior of different companies: they partly cooperate with each other but on the other hand they are—at the same time—competitors as well. They work together on several issues, but they are all chasing the same customers. We can apply the same concept to international research communities as well—of course these communities are not interested in attracting "customers", but they have to find those potential partners who are able to fund the research and the operation of higher educational institutions and research institutions. To become reliable partners for international cooperating partners, research groups have to implement and respect international research ethical norms—just as Sroka and Lőrinczy [
13
] wrote in their article when describing relevant expectations for companies facing business ethical rules and practices. That means the role of the research group leader will become more important—similarly to business life, where the role of the manager is a key component, too. As Sroka and Gajdzik [
14
] found that the manager is the key to the network's success, we can define the leader of the research group as a key actor as well.
During the implementation of this aspect of the business world to the academic sector, institutions and researchers face almost the same problems. Cross-border cooperation between different institutions and individual researchers seems to be a good idea—but on the other hand, higher educational institutions and research institutions are rivals when the institution leaders try to attract future students, sponsors, partners, etc. As Hazelkorn [
15
] noted, the Shanghai Jiao Tong Ranking System is mainly based on the quality of the publications written by the researchers employed by each university. Publishing research of high quality and significant impact is fundamental to progress in the sciences and social sciences. From a career perspective, the perceived research performance of individual researchers can be crucial for hiring, tenure, and promotion decisions worldwide [
16
]. It is one thing to use impact factors to compare journals and quite another to use them to compare authors. Journal impact factors generally involve relatively large populations of articles and citations. Indeed, most metrics relating to impact and quality are based on citation data [
17
]. Of course, the ranking system also pays attention to many other factors (e.g., size, social and other impacts etc.) but the measurement of the publications' quality is driven in the same way that we used to analyze it during our research: it is mainly based on the Scopus and WoS peer reviewed publications—and on Nature or Science publications. Analyzing the co-authorship patterns can be a useful way to enrich these evaluation methods, which can help to allocate resources to the research community which can use them in the best way [
18
]. The importance of fundraising can be crucial: some fields of research can get much support from the private sector. As Calero et al. [
19
] reported in the bio-pharmaceutical sector, the most important multinational companies spend about 15% of their sales on research and development.
Publishing research of high quality and significant impact is fundamental to progress in the sciences and social sciences.
Coopetition can be a good solution for higher educational institutions as well. The theory is mainly relevant for business enterprises, but it can be adapted to the academic sector as well. During the coopetition process, companies try to do the best for themselves. Sometimes they cooperate with each other and sometimes they compete. Sometimes they are able to reach their aims at the expense of the other company and sometimes not. The model is based on game theory—but the aim is not to create a win-lose situation [
20
].
2.2. Social Network Analysis
Analysis of social networks can be achieved by analyzing the structural characteristics of the network. We can identify the key features of social networks as the users and their connections [
21
]. These links create the structure of the network. While not without their accompanying problems, as noted by [
22
], structural and topological attributes have been used in several studies to understand the nuances and the importance of human behavior in social networks [
23
].
Social Network Analysis (SNA) has developed as a specialty in parallel with scientometrics since the end of the 1970s. In a foundational work. Freeman [
24
] developed a set of measures of centrality based on betweenness. Freeman stated that "betweenness" as a structural characteristic of communication was described in the literature as the first measure of centrality [
25
,
26
]. The SNA point of view on social relationships in terms of network theory can consist of nodes and ties (also called edges, links, or connections). Nodes (or, as they are called in the ferial usage: junctions) are the individual actors creating the networks, and ties are the relationships between them. The resulting graph-based structures are often very complex. We can state that research in several academic fields has shown that social networks operate on different levels and play a crucial role in determining the way problems are solved, organizations are run, and the degree to which individuals succeed in achieving their goals [
27
]. SNA is a wide strategy during the investigation of social structure [
3
] and is used to gain patterns of relationships between the nodes mentioned above to ascertain an underlying social structure [
28
]. SNA integrated the narrative data analysis while it provided a way of examining the relation structure among the people, organisations, and the places they mentioned across each of the interviews. This versatile approach was particularly useful because it provided not only a possibility to analyze the specific links individuals had with one another, with places and with organizations [
29
], but also because one of the main aims of SNA is to identify the core actors in a network [
30
] and to find and interpret patterns of social ties among actors [
31
]. The role of SNA has increased recently because the topic plays an important role in several disciplines [
3
,
32
]. Network analysis permits the investigation of the characteristics of management to compare with other fields of knowledge, as well as the existing linkages between the most central and most prominent authors within the examined discipline. Finally, network analysis gives a greater understanding of which authors collaborate, of the social groups that emerge from the collaboration relationships, of the role played by the most important 'star authors', and of the impact of their belonging to certain institutions and journals [
33
].
Using the graph theory [
34
], SNA is able to make the web of social interactions visible, both on global and individual levels. The former seeks to describe the characteristics of these networks as a whole (e.g., distance, clusters, etc.), while the latter refers to the analysis of the individual actors (e.g., status, position, etc.). The status of every actor can be described by centrality, as evident from the methodological chapter below.
2.3. Co-Author Network
When a scientist publishes together with their colleagues, they can establish a scientific network. After the analysis of such networks, we can acquire a useful picture of the relationships between individual authors.
3. Materials and Methods
The sample that we used for our research was acquired from Scopus, the largest multidisciplinary bibliographical abstract and citation search database [
89
]. Despite the apparent importance of the topic, there has been little analytical research on co-authorship and co-citation networks in the field of agricultural economics. According to the InCites Journal Citation Reports, there were 17 journals in category of agricultural economics and policy in 2016. In this rank the top six journals are the following:
Food Policy, IF = 3.086.

American Journal of Agricultural Economics, IF = 1.829.

Australian Journal of Agricultural and Resource Economics, IF = 1.826.

Journal of Agricultural Economics, IF = 1.795.

Agricultural Economics, IF = 1.758.

European Review of Agricultural Economics, IF = 1.6.
Food Policy with the highest impact factor was selected for our research because it is a multidisciplinary journal on issues in implementation and evaluation of policies for the food sector in developing, transition, and advanced economies considering papers from any of the social sciences. Furthermore, Food Policy prioritize economic and social aspects of empirical studies on international food policy debates and is the most relevant journal with its highest ranking in the field of agricultural economics.
The basis of our sample is comprised of the 714 papers published between 2006 and 2015. Altogether, these papers originated from 1708 different authors. If redundancies are also taken into consideration, this number is 2119. In our analysis, we also examined the 8749 citations referring to these papers, 6456 of which originated from different papers. Altogether, the examined sample consists of 6838 papers, not considering redundancies.
The database of our sample contains the following tables: affiliation (affiliation_id, name, city, country); articles (article_id, journal_id, volume, issue, first, last, title, source_type); articles_authors (article_id, author_id); authors (author_id, name, surname, givenname, initilas, affiliation_id); cited (article_id, cited_article_id); journals (journal_id, name); keywords (article_id, keyword); subjects (article_id, subject).
Network Analysis
Gephi is an open source network exploration and manipulation software. Developed modules can import, visualize, spatialize, filter, manipulate, and export all types of networks. The visualization module uses a special 3D render engine to render graphs in real-time. This technique uses the computer graphics card, as video games do, and leaves the CPU free for other computing. It can deal with large networks (i.e., over 20,000 nodes) and, because it is built on a multi-task model, it takes advantage of multi-core processors. The user interface is structured into Workspaces, where separate work can be done, and a powerful plugin system is currently being developed. Great attention has been taken to the extendibility of the software. An algorithm, filter, or tool can be easily added to the program, with little programming experience. Sets of nodes or edges can be obtained manually or by using the filter system. Filters can select nodes or edges with thresholds, ranges, and other properties. In practice, filter boxes are chained, each box takes in input, the output of the upper box [
90
]. Dynamic network visualization offers possibilities to understand structure transition or content propagation [
91
]. Exploring dynamic networks in an easy and intuitive way has been incorporated into Gephi from the beginning.
We used the Yifan Hu Multilevel layout algorithm which is an algorithm that brings together the good elements of force-directed algorithms and a multilevel algorithm to reduce algorithm complexity. This is one of the algorithms that works really well with large networks [
92
].
Our network analysis comprises the analysis of the below centrality markers. Our betweenness centrality analysis reveals which participants' cooperation keeps the relationship going. In other words, we will identify which participants are most able to control the information flowing in the network. In this regard, the key author will be the one that stands in between multiple other authors, as this means they have a high chance of standing on the path between two authors.
Our closeness centrality research aims to identify which authors are able to reach all members of the network—primarily within their own clique—directly, rapidly, and easily, without relying on any third member. Authors can also be ranked based on their degree of centrality. This value reflects how many other authors the given author is linked to, i.e., it shows how many incoming or outgoing links the node (i.e., the author) has. This helps identify which authors have a central role with regards to publications in the subject area of our research [
93
].
In order to be able to present visual graphs, we transferred the nodes and links into Excel, which was then imported into the program. The records (nodes) were provided by an existing table containing the ID number and full name of the author. We used the ID codes of the articles and the ID number of the author to identify the relationships between the nodes (i.e., the links). If an article was published by multiple authors, then the ID code of the article (along with the ID number of the author) is shown in the table once for each of the authors it was written by. These data provided a table that—based on the ID numbers—made it possible to identify which other authors each author is linked to.
We used IBM SPSS Statistics 22.0 for statistical analysis, and mapping was completed using the online application "MapsData". Mapsdata is a data visualization platform dedicated to representing geospatial data directly on the map.
4. Results
4.1. Descriptive Statistics
4.2. Co-Authorship Network
Next, our third hypothesis was analyzed by applying multivariate linear regression calculations, where we assumed that the authors with the most publications have a leading role in the network, i.e., there is a correlation between the number of articles and centrality values.
4.3. Co-Citation Network
After analysing the relationships between authors, we also examined the network of citations, as we assumed that references to the individual authors and publications are an acknowledgement of the authors' performance. The 714 articles in our sample were referenced in a total of 8856 articles, which means an average of 12 citations per article. Of all citations, 622 "refer back" to the sample articles, which means a 7% citation ratio within the journal.
Table 4
suggests that the most cited article is not necessarily the most important one from a network perspective, i.e., it does not necessarily rank higher in terms of pagerank—it is also important who the article was cited by. A good example of this is article number 9 in
Figure 6
. In terms of citation, the article only ranks ninth; however, it comes third with regards to pagerank. Comparing the results in
Table 3
and
Table 4
, it seems that the 10 most cited articles were not written by authors of the three most significant cliques. Of all these articles, only article No. 4 was written by members of one of the 3 most significant cliques (Maria Loireiro és Wendy Umberger in clique No 1).
Figure 6
shows the citation network of the 10 most cited articles from
Table 4
. Looking at this network article by article shows that each of the most cited articles were written by authors of one of the scientific cliques, which confirms the outstanding importance of cliques.
Finally, we have determined the influencing factors using the regression of the number of citations.
Table 5
clearly shows that pagerank and betweenness values affect the number of citations positively, whereas closeness has a negative effect. In other words, an author's central role in the network has a significant impact on the number of times they get cited. The results in
Table 5
also show that researchers playing an intermediary role (based on high betweenness values) get more citations than their peers who are ranked higher based on other values of the network. Our results are 1% significant and our model is in line with all preliminary regression conditions.
5. Discussion and Conclusions
The proposed four hypotheses are mostly supported with high statistical significance. We found that significant changes occurred in the subject categories examined by researchers in the period analyzed as stated in H1. For example, subject categories "food security" and "food safety subject categories composed far a largest group of articles in 2007, whilst subject category "poverty" became considerably smaller. One reason for this may have been the fact that subject category "poverty" was not in the focus of research in the year before the financial and economic crisis. Looking at later periods with decreasing food prices, this subject category disappeared again by 2015.
We are aware that our selection method has limitations. First, our sample is only valid for articles published in the selected Food Policy journal. The analysis presented in this paper suffers from limitations that could be dealt with in future work. Our sample of articles covers what has been published in the main international journal of agricultural economics but fails to include articles in another 16 journals in the category of agricultural economics and policy reported by InCites Journal Citation Reports. Furthermore, the list of journals to survey could also be expanded to include non-English language peer-reviewed journals in Europe. The dataset could even go beyond journal articles to capture conference papers and studies produced in an advisory capacity (for the World Bank, the European Commission, FAO etc.). The question arises whether these other types of publication are characterized by the same authors and co-authorship networks as the journal articles.
It can be observed that the journal literature is moving towards more method-driven articles resembling the conference paper literature in terms of collaboration and becomes increasingly distinct from the more issue-driven studies that are produced for international and financial institutions. Citation network analysis of conference papers and advisory studies discussed above can be of interest as well, presumably revealing more links between the relatively disconnected components in the co-authorship network, as authors who do not necessarily collaborate directly nevertheless make use of and cite each others' work.
Author Contributions
József Popp and Péter Balogh conceived and designed the experiments; Judit Oláh and Mónika Harangi Rákos performed the experiments; Péter Balogh, Péter Lengyel and Mónika Harangi Rákos analyzed the data; Sebastian Kot and Péter Lengyel contributed analysis tools; József Popp, Judit Oláh, Sebastian Kot, Péter Lengyel, Péter Balogh, Mónika Harangi Rákos wrote the paper.
Conflicts of Interest
The authors declare no conflict of interest.
Figure 1.
Spatial distributions of Research Institutes publishing articles in
Food Policy
. Source: Authors' own construction.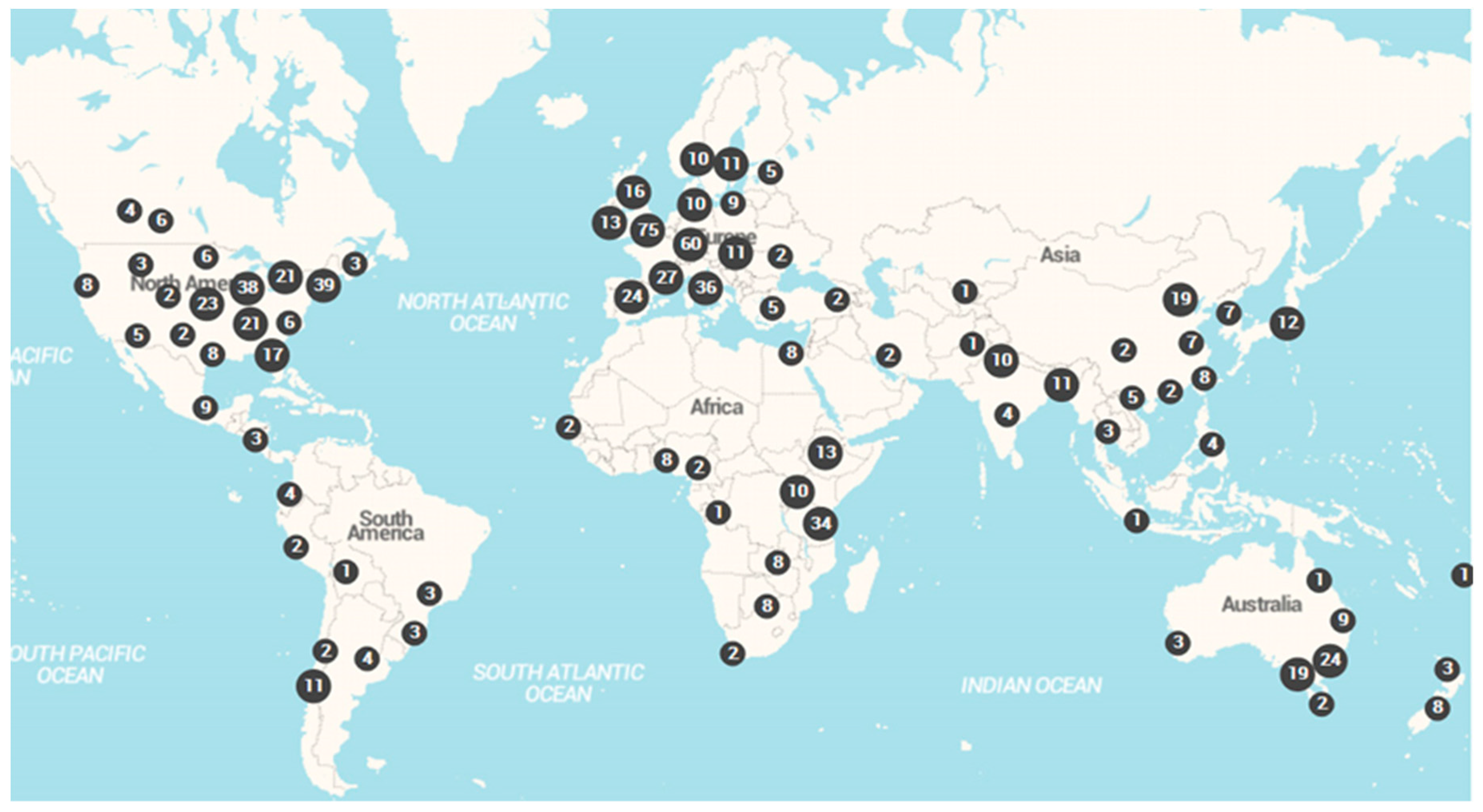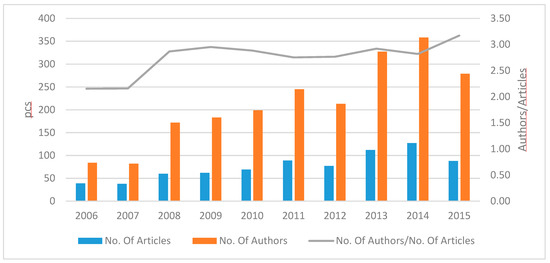 Figure 2. The number of papers and authors in the examined period. Source: Authors' own construction.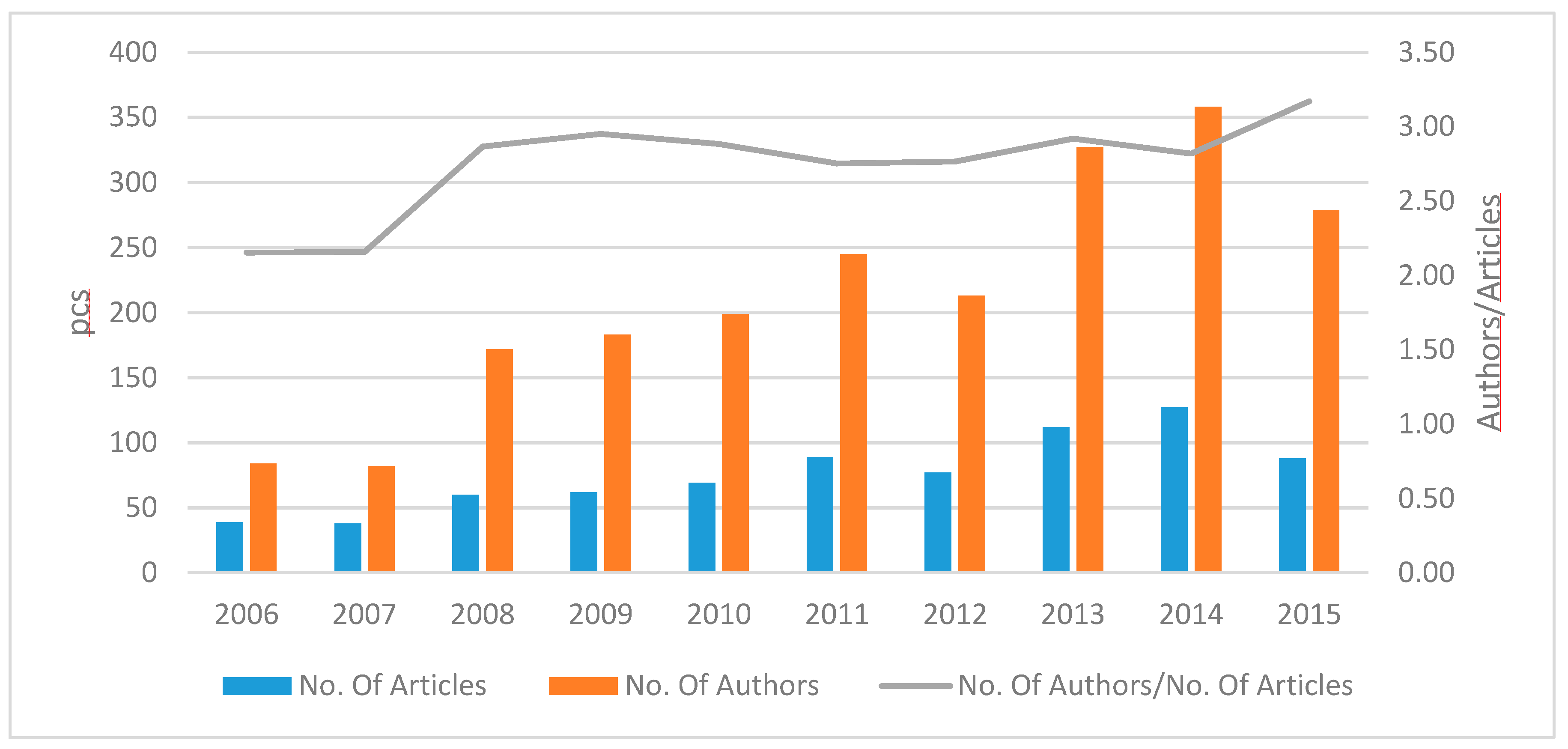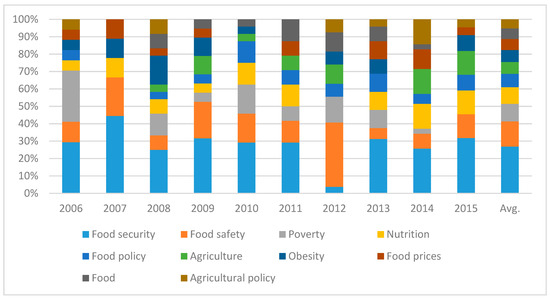 Figure 3. The 10 most frequent keywords in the examined papers by years. Source: Authors' own construction.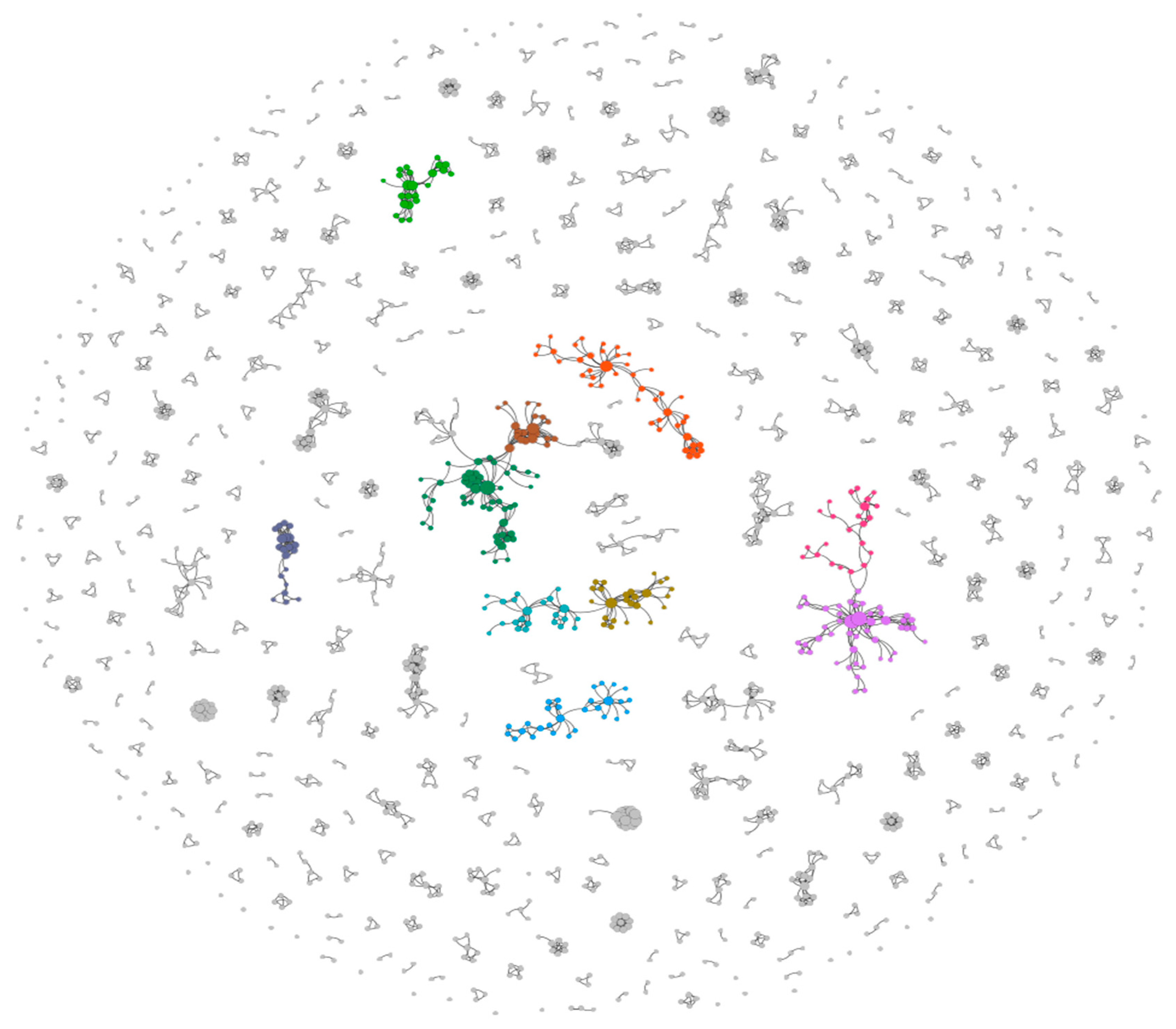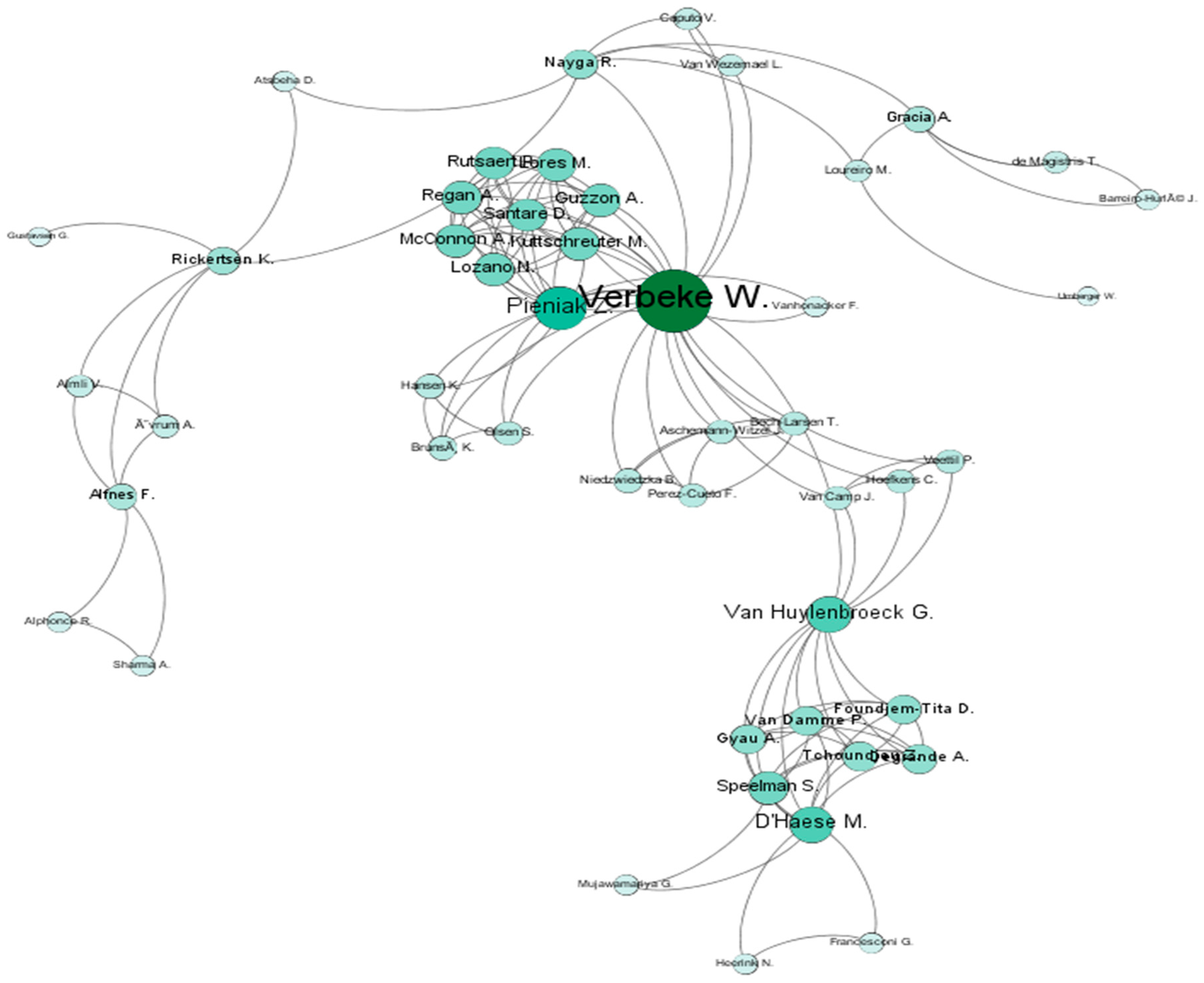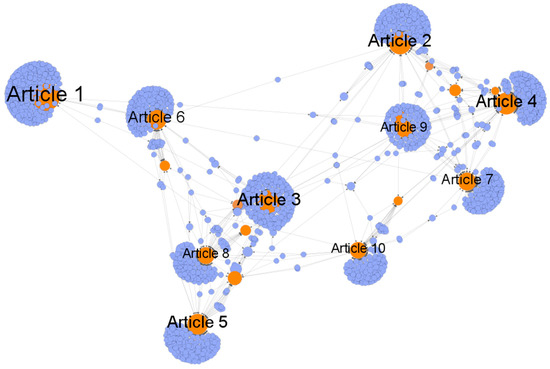 Figure 6. Citation subnetwork based on top 10 most cited articles. Source: Authors' own construction.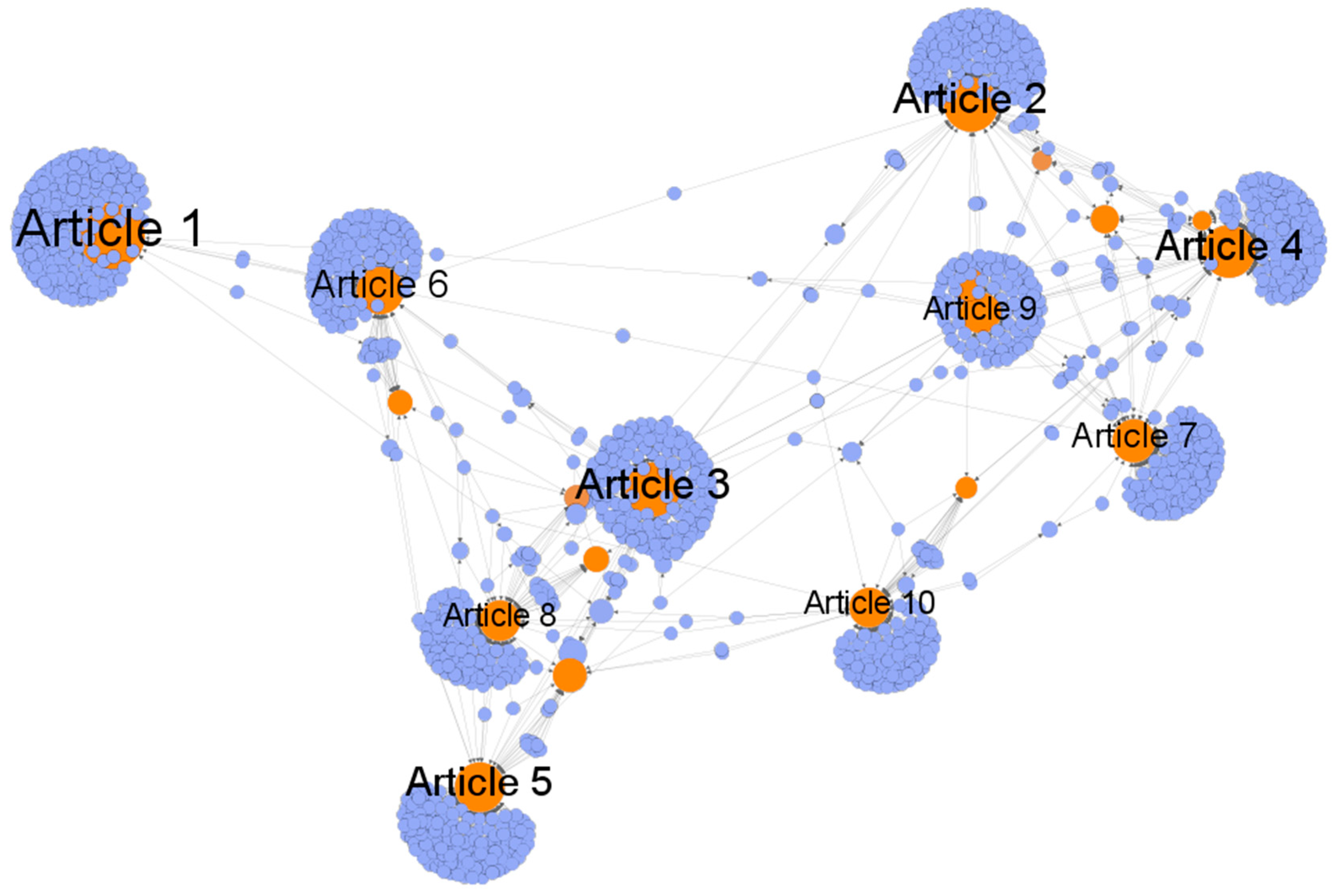 Table 1. Centrality indexes based on co-authorship network (TOP 10).
No. of Articles
Degree Centrality
Betweenness Centrality
Author
Value
Author
Value
Author
Value
Jayne T.
12
Huang J.
28
Verbeke W.
2075
Huang J.
9
Rozelle S.
28
Chryssochoidis G.
1740
Rozelle S.
8
Verbeke W.
27
Nayga R.
1665
Qaim M.
8
Rowe G.
20
Wang X.
1058
Barrett C.
7
Jayne T.
20
Huang J.
1024
Marette S.
7
Barrett C.
18
de Jonge J.
847
Sumner D.
6
Frewer L.
18
Rozelle S.
813
Verbeke W.
6
McGuire S.
17
Herzfeld T.
810
Maxwell D.
5
Violon C.
16
Van Huylenbroeck G.
780
Gruère G.
5
Caillon S.
16
Van Trijp H.
780
Source: Authors' own construction.
Table 2. Regression of the factors affecting the number of published articles.
Variables
Unstandardized Coefficients
Stand. Coefficients

t

Sig.
Collinearity Statistics
B
Std. Error
B
Tolerance
VIF
Constant
0.307
0.028
11.098
0.000
Closeness centrality
−0.997
0.034
−0.432
−29.468
0.000
0.689
1.451
Betweenness centrality
0.001
0.000
0.098
6.767
0.000
0.698
1.433
Pageranks
2984.869
60.219
0.956
49.567
0.000
0.397
2.516
Degree
−0.034
0.004
−0.142
−8.499
0.000
0.531
1.882
Dependent Variable: no of articles; Adjusted R Square = 0.748; Breusch–Pagan test (LM = 2.165;

p

= 0.342); Koenker test (LM = 0.486;

p

= 0.216); F(4;1703) = 1265.7;

p

≤ 0.001. Source: Authors' own construction.
Table 3. Members of the three largest cliques of the network.
Clique 1
Clique 2
Clique 3
Alfnes F.
McConnon A.
Arora A.
Msangi S.
Alemu D.
Li L.
Almli V.
Mujawamariya G.
Baker D.
Nelgen S.
Barik N.
Mason N.
Alphonce R.
Nayga R.
Ciaian P.
Notenbaert A.
Bernard T.
Mather D.
Aschemann-W. J.
Niedzwiedzka B.
Dagevos H.
Oxley L.
Black R.
Muyanga M.
Atsbeha D.
Olsen S.
Deconinck K.
Qiu H.
Boughton D.
Myers R.
Barreiro-Hurlé J.
Ovrum A.
Dries L.
Rozelle S.
Burke W.
Nijhoff J.
Bech-Larsen T.
Perez-Cueto F.
Enahoro D.
Stoop N.
Byerlee D.
Nissapa A.
Brunso¸ K.
Pieniak Z.
Fuller F.
Swinnen J.
Cavalieri A.
Pham N.
Caputo V.
Regan A.
Havlik P.
van der Lans I.
Chamberlin J.
Rahman M.
Degrande A.
Rickertsen K.
He Y.
Verpoorten M.
Chapoto A.
Rao N.
De-Magistris T.
Rutsaert P.
Herrero M.
Wang J.
Chen O.
Renkow M.
D'Haese M.
Santare D.
Huang J.
Wang J. M.
Dereje M.
Ricker-G. J.
Foundjem-Tita D.
Sharma A.
Huang Q.
Wang X.
Dey M.
Sheahan M.
Francesconi G.
Speelman S.
Huang Z.
Weersink A.
Donovan C.
Sitko N.
Gracia A.
Tchoundjeu Z.
Jia X.
Xiao H.
Florax R.
Spielman D.
Gustavsen G.
Umberger W.
Kalaitzan. N.
Yang J.
Haque A.
Taffesse A.
Guzzon A.
Van Camp J.
Kaufman J.
Yu E.
Headey D.
Traub L.
Gyau A.
Van Damme P.
Liu Y.
Zhai F.
Jayne T.
Valmonte-S. R.
Hansen K.
Van Huylenbr. G.
Lohmar B.
Zhang D.
Jones M.
Zulu B.
Heerink N.
Van Wezemael L.
Luan H.
Zhang W.
Josephson A.
Hoefkens C.
Vanhonacker F.
Ma H.
Zhang X.
Jumbe C.
Kuttschreuter M.
Veettil P.
Magnan N.
Kelemework D.
Lores M.
Verbeke W.
Magnier A.
Khan M.
Loureiro M.
Martin W.
Kolady D.
Lozano N.
Miller D.
Kumar P.
The authors in each clique were listed in alphabetical order rather than based on their role in the network. Source: Authors' own construction.
Table 4. The top 10 most cited articles.

| Article | Author(s) | Title of Article | Year | Citations Received | Order of Pageranks |
| --- | --- | --- | --- | --- | --- |
| 1. | Knowler, Bradshaw | Farmers' adoption of conservation agriculture: A review and synthesis of recent research | 2007 | 200 | 2. |
| 2. | Fulponi | Private voluntary standards in the food system: The perspective of major food retailers in OECD country | 2006 | 156 | 1. |
| 3. | Pingali | Westernization of Asian diets and the transformation of food systems: Implications for research and policy | 2007 | 155 | 4. |
| 4. | Loureiro, Umberger | A choice experiment model for beef: What US consumer responses tell us about relative preferences for food safety, country-of-origin labeling and traceability | 2007 | 150 | 6. |
| 5. | Hanjra, Qureshi | Global water crisis and future food security in an era of climate change | 2010 | 139 | 8. |
| 6. | Barrett | Smallholder market participation: Concepts and evidence from eastern and southern Africa | 2008 | 130 | 10. |
| 7. | Costa-Font, Gil, Traill | Consumer acceptance, valuation of and attitudes towards genetically modified food: Review and implications for food policy | 2008 | 114 | 9. |
| 8. | Batte, Hooker, Haab, Beaverson | Putting their money where their mouths are: Consumer willingness to pay for multi-ingredient, processed organic food products | 2007 | 104 | 7. |
| 9. | Piesse, Thirtle | Three bubbles and a panic: An explanatory review of recent food commodity price events | 2009 | 104 | 3. |
| 10. | Coley, Howard, Winter | Local food, food miles and carbon emissions: A comparison of farm shop and mass distribution approaches | 2009 | 101 | 5. |
Source: Authors' own construction.
Table 5. Regression of the factors affecting the number of citations.
Variables
Unstandardized Coefficients
Stand. Coefficients

t

Sig.
Collinearity Statistics
B
Std. Error
B
Tolerance
VIF
Constant
0.104
0.102
1.022
0.307
Closeness centrality
−1.037
0.117
−0.039
−8.898
0.000
0.914
1.094
Betweenness centrality
0.00008
0.000
0.026
6.210
0.000
0.995
1.005
Pagerank
13692.33
64.376
0.925
212.692
0.000
0.910
1.099
Dependent Variable: no of articles; Adjusted R Square = 0.882; Breusch–Pagan test (LM = 7.493;

p

= 0.058); Koenker test (LM = 0.597;

p

= 0.897); F (3;6831) = 17069.5;

p

≤ 0.001. Source: Authors' own construction.

© 2018 by the authors. Licensee MDPI, Basel, Switzerland. This article is an open access article distributed under the terms and conditions of the Creative Commons Attribution (CC BY) license (http://creativecommons.org/licenses/by/4.0/).