Open Access This article is
freely available
re-usable
Article
Academics' Perceptions on Quality in Higher Education Shaping Key Performance Indicators
1
School of Business and Economics, Department of Computer Information Systems, The American College of Greece—Deree, Ag. Paraskevi Campus, Athens GR-153 42, Greece
2
Department of Computer Science, University of Alcalá, 28801-Alcalá de Henares, Madrid, Spain
*
Author to whom correspondence should be addressed.
Received: 21 August 2018 / Accepted: 10 December 2018 / Published: 13 December 2018
Abstract
:
Institutions in higher education (HE) continuously strive to develop and deliver impactful educational programs. At the same time, they should continue to fulfill their mission to educate students in basic applied subjects and in parallel respond to the need to equip students with new skills. For this reason, higher education institutions (HEI) perform periodical curricular reviews adhering to internal and external quality assurance systems. The subsequent curricular reforms are of a transformative nature, preparing graduates to tackle the challenges of globalization, unemployment and vanishing professions. For these reforms to lead to sustainable curricula, the integration of quality into educational programs is instrumental. A suggested way of achieving a transformative stance is to provide the context for the application and diffusion of quality metrics in teaching and learning. This research intends to provide a discussion of key performance indicators (KPIs) related to quality. This paper presents the second round of qualitative interviews with higher education administrators and professors as a promising vehicle for advancing towards the formulation of KPIs based on their understanding of the different independent dimensions of the quality construct. These KPIs will provide valuable insights into improving teaching, learning and assessment and will eventually lead to sustainable curricula. Research findings outline the significance of the time invested to design and update a course, indicate that technology-enhanced learning solutions are perceived as key quality drivers, and point out the need to align courses with industry requirements and real-world problems. Additionally, findings indicate that the quality and impact of teaching and learning is promoted by the multi/inter-disciplinary character of a course, the engagement of students in interactive discussions and student research as part of summative assessment. The main contribution of this research is an analytic discussion of perceptions of higher education administrators and professors about quality, leading to a significant enrichment of the relevant literature. A set of innovative generic KPIs which can be used in multidimensional quality assessment in higher education is eventually proposed.
Keywords:
quality; sustainable curricula; higher education; quality metrics; key performance indicators
Author Contributions
Conceptualization, E.V.; Methodology, E.V., M.-Á.S. and S.S.-A.; Resources, E.V.; Supervision, M.-Á.S.; Writing—original draft, E.V.; Writing—review & editing, M.-Á.S. and S.S.-A.
Funding
This research received no external funding.
Acknowledgments
The authors would like to thank all colleagues at the American College of Greece and University of Alcalá in Spain for their valuable contribution to the study.
Conflicts of Interest
The authors declare no conflict of interest.
Appendix A
The structured interview questionnaire of Round 1:
Appendix B
The structured interview questionnaire of Round 2: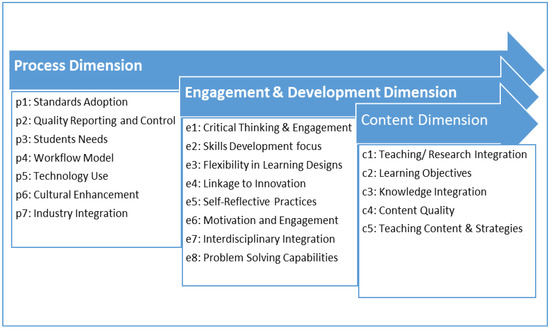 Figure 2. A methodological framework for quality perceptions in higher education (Varouchas and Sicilia, 2017).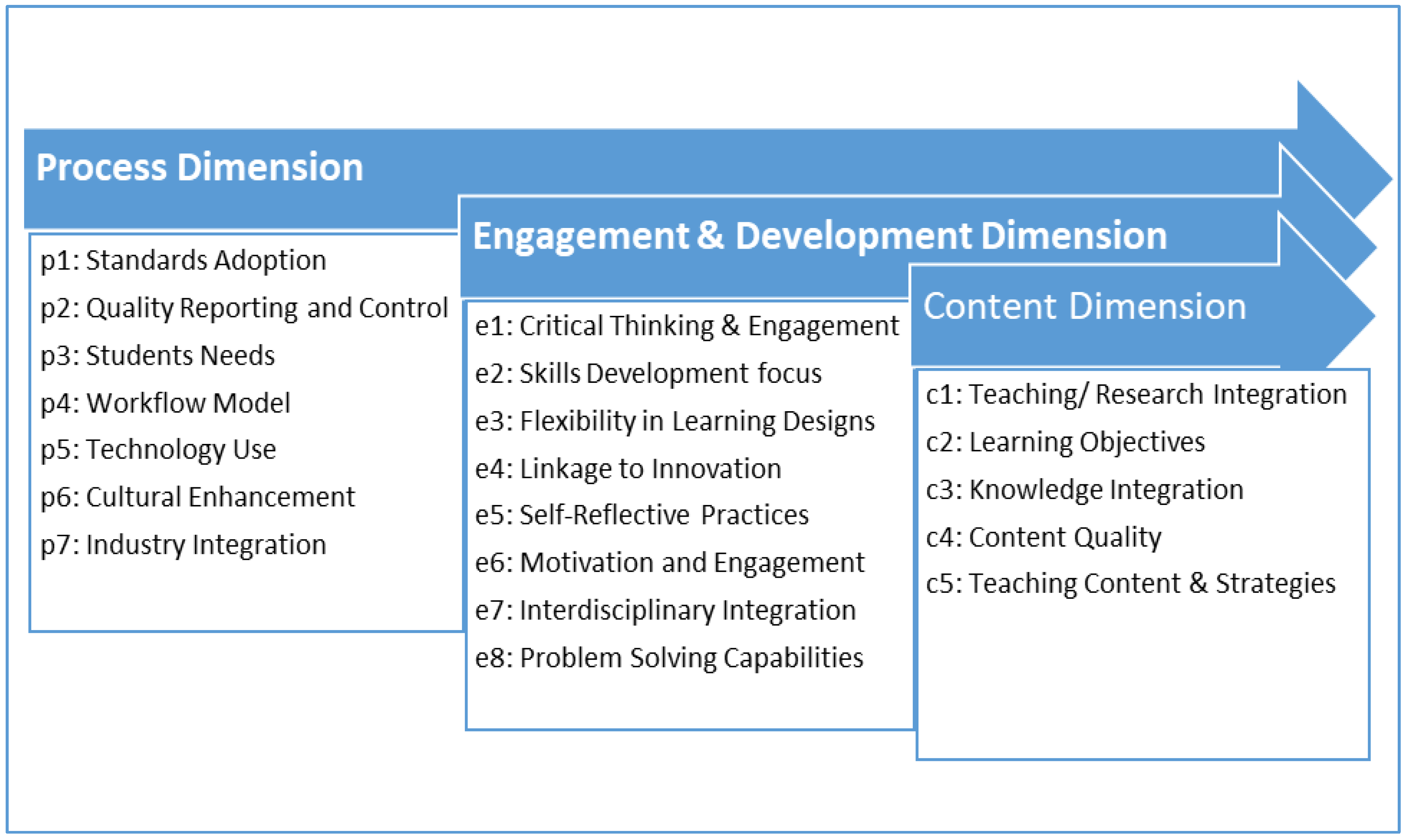 Generic KPIs
Preparation time = developments in the field + frequency of teaching + motivation time + engagement scenario + core knowledge

Technology infusion = (blended + CMS)/traditional

Industry alignment = number of case study analyses per course x time allocated per analysis/total course teaching hours in an academic term

Interaction with practitioners = number of Interactions per course per academic term

Research works = number of research works delivered per major

Research work depth = number of student works published in peer-reviewed conferences

Engagement = documented discussions/total number of 50-min lectures per course

Skillset = number of intended skills per course/average class grade per course

Interdisciplinary character = number of disciplines involved in teaching material of course

© 2018 by the authors. Licensee MDPI, Basel, Switzerland. This article is an open access article distributed under the terms and conditions of the Creative Commons Attribution (CC BY) license (http://creativecommons.org/licenses/by/4.0/).