Effects of Different Grazing Systems on Aboveground Biomass and Plant Species Dominance in Typical Chinese and Mongolian Steppes
1
Resources and Environment Economy College, Inner Mongolia University of Finance and Economics, No.185, North Two Ring Road, Hohhot 010070, China
2
Planning and Geographic Information System Laboratory, Inner Mongolia University of Finance and Economics, No.185, North Two Ring Road, Hohhot 010070, China
3
Department of Resources and Environment, Baotou Teachers' College, Baotou 014030, China
4
Department of Environmental Symbiotic College of Agriculture, Rakuno Gakuen University, 582, Bunkyodai-Midorimachi, Ebetsu, Hokkaido 069-8501, Japan
5
College of Geographical Sciences, Inner Mongolia Normal University, No. 81, Zhao Wuda Road, Hohhot 010022, China
6
Department of Geography, School of Arts and Sciences, National University of Mongolia, University street 1, Ulaanbaatar 14200, Mongolia
*
Authors to whom correspondence should be addressed.
Received: 9 November 2018 / Revised: 5 December 2018 / Accepted: 8 December 2018 / Published: 13 December 2018
Abstract
This study investigated the effects of different grazing systems on plant communities, and examined the causes of Mongolian grassland desertification. The typical steppes near the Chinese-Mongolian border were studied using quadrat sampling and remote sensing methods. Aboveground biomass in the steppe areas differed significantly among the three grazing systems (
p
< 0.05): Biomass in the grazing-prohibited areas (455.9 g) was greater than that in the rotational-grazing areas (268.4 g) and the continuous grazing areas (122.2 g). Aboveground biomass was well correlated with the Soil Adjusted Vegetation Index (SAVI; y = 5600x
2
+ 260x + 110; R
2
= 0.67;
p
< 0.05). The relative mean deviation between the aboveground biomass was calculated using this regression and the measured biomass was 29.1%. The Soil Adjusted Vegetation Index (SAVI) values for nomadic-grazing areas were greater than those for continuous-grazing areas in 1989, 2005, 2011, and 2016, and were significantly greater in 2011 and 2016. The SAVI values for the continuous-grazing areas were slightly, but not significantly greater, than those for the nomadic-grazing areas in 1993. Plant species that dominated in moderately degraded areas were most dominant in nomadic-grazing areas, followed by continuous-grazing areas and grazing-prohibited areas. Plant species that dominated in lightly and heavily degraded areas were most dominant in continuous-grazing areas, followed by nomadic-grazing areas and grazing-prohibited areas. Generally, continuous grazing caused more serious grassland degradation than did nomadic grazing, and nomadic-grazing areas tolerated more intense grazing than did continuous-grazing areas.
View Full-Text
►

▼

Figures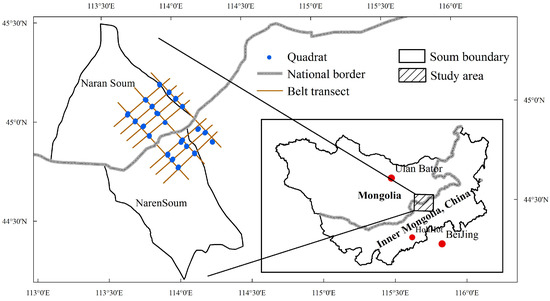 Figure 1
This is an open access article distributed under the
Creative Commons Attribution License
which permits unrestricted use, distribution, and reproduction in any medium, provided the original work is properly cited (CC BY 4.0).

Share & Cite This Article
MDPI and ACS Style
Na, Y.; Li, J.; Hoshino, B.; Bao, S.; Qin, F.; Myagmartseren, P. Effects of Different Grazing Systems on Aboveground Biomass and Plant Species Dominance in Typical Chinese and Mongolian Steppes. Sustainability 2018, 10, 4753.
Note that from the first issue of 2016, MDPI journals use article numbers instead of page numbers. See further details here.
Related Articles
Comments
[Return to top]