Open Access This article is
freely available
re-usable
Article
Escape from Working Poverty: Steps toward Sustainable Livelihood
1
New Zealand Work Research Institute, Department of Management, Auckland University of technology, Auckland 1142, New Zealand
2
Project GLOW (Global Living Organisational Wage, http://www.massey.ac.nz/project-glow), End Poverty & Inequality Cluster (EPIC), School of Psychology, Massey University, Auckland 1142, New Zealand
3
Co-Director MPOWER, School of Management, Massey University, Auckland 1142, New Zealand
*
Author to whom correspondence should be addressed.
Received: 10 October 2018 / Accepted: 5 November 2018 / Published: 11 November 2018
Abstract
:
Working poverty affects over half the world's working population, yet we know remarkably little about the role of wages in transitioning toward sustainable livelihood. We develop and test a model whereby as pay approaches a living wage range, pay fairness becomes clearly associated with work–life balance; this in turn links to job satisfaction, which is a four-step process at the psychological level. We further extend this by testing a moderated mediated model, whereby income level is tested as a boundary condition. Using data from
N
= 873 New Zealand employees, we focus on relatively low-waged employees across three levels of income: up to
$
20,000,
$
20–40,000, and
$
40–60,000, with the last band straddling the New Zealand Living Wage. We find strong support for pay fairness predicting work–life balance and job satisfaction, with work–life balance mediating the relationship toward job satisfaction. In addition, we find direct effects from income to work–life balance, although not job satisfaction. Furthermore, two-way moderation is supported toward work–life balance and job satisfaction, with higher income employees reporting higher outcomes when fairness is high. The index of moderated mediation is also significantly supporting, indicating that work–life balance has a stronger mediation effect as income rises. Thus, as workers emerged from working poverty, pay fairness, and in turn work–life balance, became psychologically more salient for happiness at work, implying that a pathway to Sustainable Development Goal 8 includes at least three psychological steps, in addition to the pecuniary issue of pay: fairness, work–life balance, and job satisfaction.
Keywords:
working poverty; SDGs; pay fairness; work–life balance; job satisfaction; moderated mediation
4. Discussion
The present study explored the influence of pay fairness toward work–life balance and job satisfaction amongst a sample of working poor and median income earners, and found broad support for the literature around the importance of organizational justice perceptions around pay influencing job satisfaction [
21
,
22
]. Importantly, it also provides new insights into the work–life balance literature, by finding that pay fairness is also an antecedent to work–life balance, extending the findings of Judge and Collquitt [
26
] around organizational justice and work–family conflict. The strength of our findings show pay fairness has a moderate influence on work–life balance and job satisfaction amongst this sample of working poor. Thus, the perceptions of employees around their pay in relation to those above them in their organization—immediate supervisor, managers, and the CEO—influences the ability of workers to manage their work and non-work roles, as well as shaping their satisfaction with their work. Given that the links to job satisfaction align with meta-analytic findings, for example Colquitt et al. and Cohen-Charash and Spector [
21
,
22
], this supports organizational justice as a universally important factor, at least across employees of various income levels.
In addition to direct effects, we also found that work–life balance partially mediated the influence of pay fairness on job satisfaction, and this effect was confirmed with bootstrapping analysis. Thus, while the links between work–life balance and job satisfaction have been determined, for example Haar et al. and Haar [
13
,
23
], we find that balancing work and non-work roles can only partially reduce the influence of pay fairness on job satisfaction. This finding also highlights that work–life balance is not only a middle-class or higher-earner phenomenon, but rather an issue that is universally important for all employees, including the working poor. This might highlight that for the working poor, pay fairness is ever constant and at the forefront of their awareness, as it might be a fundamental issue for working poor. Again though, this finding does reiterate the importance of work–life balance in understanding the influence of organizational just theories on job satisfaction and builds off the findings of Judge and Colquitt [
26
]. Future studies involving organizational justice might want to consider the role that work–life balance plays.
While income level correlated significantly with job satisfaction—replicating the meta-analytic findings of Judge et al. [
4
]—these effects were smaller in comparison to the meta-analysis findings: r = 0.17 [
4
] versus r = 0.08 (present study). Furthermore, this effect became non-significant in our model, indicating that pay fairness and work–life balance are likely more important influences of job satisfaction than income level itself. We suggest this might be due to the overall condition of work and pay for the working poor. Further exploration of these aspects is warranted.
Beyond the mediation effects, we contribute significantly to the literature by testing income level as a moderator on the influence of pay fairness. If pay fairness and thus organizational justice is a true universally important factor, we might expect its influence to be consistent and not tempered by the level of income earned by an employee. However, few studies have tested organizational justice theories at such low levels of employee income. We found no significant moderating effect between pay fairness and job satisfaction across income levels, providing some support for this relationship as being universal, at least across low-income employees. We did find a significant effect toward work–life balance, with respondents with higher income reporting higher work–life balance at high levels of pay fairness. This might represent that work–life balance is reliant on a certain level of income. At the low-income level (up to
$
20,000), employees might simply be scrambling to live, and thus, their survival mode makes balancing work and non-work poorer. In effect, they have little money to spend on 'life activities' beyond food and rent. Higher paid employees (
$
40,001–60,000) includes the median income of New Zealand, and thus represents a modest level of income, but one that provides some opportunities for activities beyond rent and food, and thus the likely more positive influence on work–life balance when pay fairness is high.
Importantly, we also found support for moderated mediation effects that highlighted that pay fairness might work better—has a stronger influence—for higher income levels, regarding the work–life balance mediating the effect on job satisfaction. This provides support for conditional process modeling [
35
], which enabled us to determine the boundary conditions of the indirect effects of income level on the mediation effect of work–life balance. Our results supported a boundary condition, whereby income level plays a key moderating effect on the mediated relationship of pay fairness through work–life balance and ultimately job satisfaction. The effects of the moderated mediation show that work–life balance is universally beneficial to job satisfaction (as a mediator), although this is under a boundary condition of income level: as income level increases, the influence of work–life balance becomes stronger. The findings support a boundary condition [
46
] whereby the mediating effect is affected by income level. It shows that the importance of work–life balance becomes stronger as income level increases, aligning with the two-way moderation effect argument presented above. It is likely that having greater income—even up to the median income level—provides greater opportunities for activities beyond basic existence, which then increases the importance of work–life balance.
4.1. Implications and Future Research
There is growing attention that employee well-being is at risk form work-related factors [
7
], and that the psychology of sustainability [
6
,
8
] provides a useful avenue for better examining and addressing these factors. The present study focused on job satisfaction, and aligned with the principles of the psychology of sustainability [
6
,
8
], we focused on the working poor to better understand the way the well-being of low-paid workers is shaped by income. Clearly, an implication for employers is to address substantive, procedural, and relative pay fairness specifically for the worker (e.g., a living wage) but also, as shown in the context of the present study, in relation to others within an organization. Larger firms that pay CEOs exorbitant income packages may alienate workers and lower their fairness perceptions, which in turn will reduce their well-being. This also is important for the 'bottom line', given the links between job satisfaction and job performance [
11
]. The findings here show that income level can play an additional influence, so employers looking to rectify their potential 'bad jobs' [
30
,
31
] by paying more and providing greater access and work security are likely to enhance the well-being of workers (and their performance), and play a stronger role in creating a sustainable workforce for the future [
6
,
8
].
There are also strong implications for policy. Despite economic arguments and resistance to raising minimum income levels, the evidence here clearly shows that those on the lowest income groups (here
$
0–20,000) are in many ways worse off. Perhaps setting minimum income levels higher would enable these employees to gain a better grasp of their work and life roles, and enjoy a higher work–life balance, which has implications for psychological well-being [
13
,
23
]. Importantly, this income boost would likely enhance job satisfaction and ultimately influence job performance [
11
]. Addressing minimum income standards would also address the United Nations (UN) Sustainable Development Goals [
47
], especially Goal 1 relating to the eradication of poverty—in our context, the working poor—and the development of policy that is sensitive to the poor. In addition, our findings align with Goal 8 around decent work, Goal 3 around good health and well-being, and Goal 10 around reducing inequalities. Thus, we suggest there is much to be gained in meeting these UN Development Goals through raising income levels amongst the lowest paid in New Zealand. This does align with the current New Zealand Government's commitment to Fair Pay Agreements [
48
], whereby sector-level bargaining arrangements enable unions and employers to set minimum terms and conditions for all of the workers across an industry or occupation.
The findings also provide direction for researchers. We encourage researchers to explore moderated mediation with income levels to gain stronger insights into relationships. Importantly, the lack of significant effects might provide some indication of more universal relationships, so we also encourage the reporting of non-significant effects to clarify theories that might operate evenly across low and modest-income earning workers. That said, more studies examining the working poor might also highlight the challenges that such workers face. Researchers could also examine alternative outcomes, including organizational commitment or turnover intentions, with the latter having meta-analytic support for a small effect from pay [
5
]. Replicating these effects toward turnover intentions and/or performance might also provide useful insights that encourage employers to ultimately pay better.
4.2. Limitations
Podsakoff et al. [
49
] noted the potential for common method variance (CMV) through self-reported survey data, and the present study uses cross-sectional data, making this a potential limitation. However, this approach is typical of the literature, for example, see the meta-analysis (2010). Some researchers [
13
] have recommended the use of SEM, and specifically the CFA tests, to provide an initial robust test that can highlight potential CMV issues. In this regard, Haar et al. [
13
] suggested that determining the factor structure of constructs and the poorer fit of alternative CFAs (where constructs are combined) provides an indication of no CMV, because we would expect alternative CFAs to be potentially better if CMV existed. Furthermore, the use of PROCESS has been found to be as robust as SEM [
50
]. In addition, Monte Carlo analysis [
51
] showed that significant moderating effects are much less likely if CMV is an issue. Furthermore, we confirmed the work–life balance mediating effects through bootstrapping, which provides enhanced empirical confidence on the mediating effects. Beyond the statistical analysis conducted, our sample of over 850 New Zealand lower paid and working poor across a broad range of factors, including sector and industry, occupations, and firm size, providing enhanced generalizability compared to studies that have focused on a single firm, or only one industry. However, we do acknowledge that the data was a paid panel, and this may create some issues around data quality [
52
], although we suggest this is a necessity given the sample we sought. Furthermore, concern might be raised that since the surveys are online (computer or smartphone), there is the potential for some respondents to be excluded. However, Qualtrics does have a large pool of respondents to draw on—including the working poor—but we acknowledge that our sample might potentially be less representative of the entire population.
5. Conclusions
Overall, the present study provides insights into the process by how pay fairness amongst the working poor can influence employee well-being (job satisfaction), specifically through the process by which work–life balance mediates this relationship. Importantly, we find a complex set of relationships with the mediating influence of work–life balance being strongest in high income levels, with a weaker mediation effect for low paid employees. Importantly, our findings highlight work–life balance as an important factor for all employees—including the working poor—and might represent a stepping stone toward achieving higher wellbeing. As employees rise above in their income spectrum, the influence of work–life balance becomes stronger, signaling that work–life balance might be a 'stepping stone' to achieving greater well-being. These findings highlight the advantage of studies exploring boundary condition, and we encourage researchers to explore additional relationships from low-paid workers in order to understand the universality (or not) of theories on such under-represented employee groups. Ultimately, as we seek to build more psychologically sustainable workplaces, we believe researchers must consider the role of income and the effects that it has on employees earning much less than the typical focus of employee studies, which are often white-collared professionals.
Author Contributions
Conceptualization, J.H. and S.C.C.; Data curation, J.H.; Formal analysis, J.H.; Funding acquisition, J.H., S.C.C., J.P., J.A., D.H. and S.A.-T.; Project administration, S.C.C.; Writing–original draft, J.H.; Writing–review & editing, S.C.C., J.A.
Funding
This research was funded by the Royal Society of New Zealand, grant number [17-MAU-137].
Conflicts of Interest
The authors declare no conflict of interest.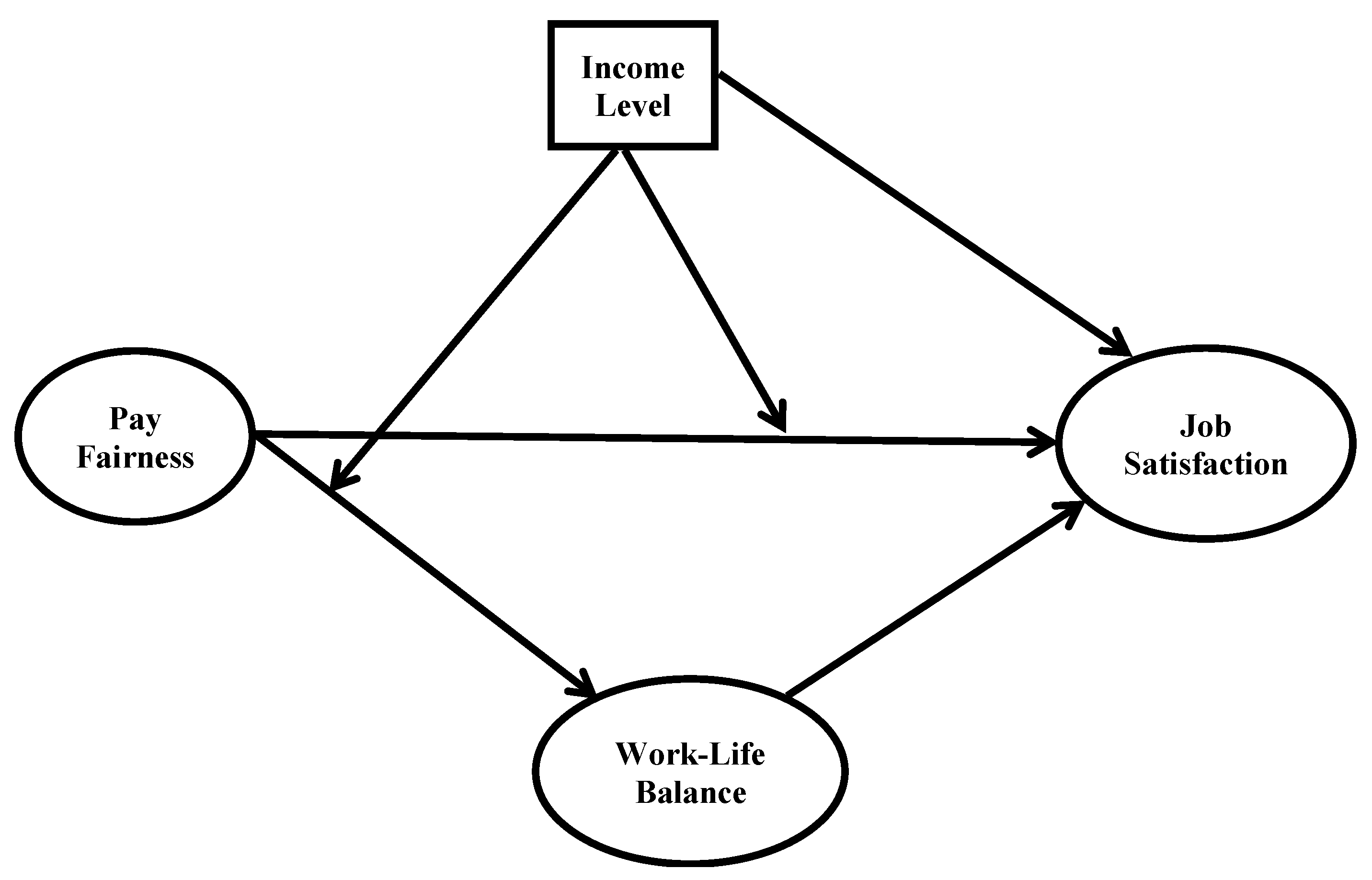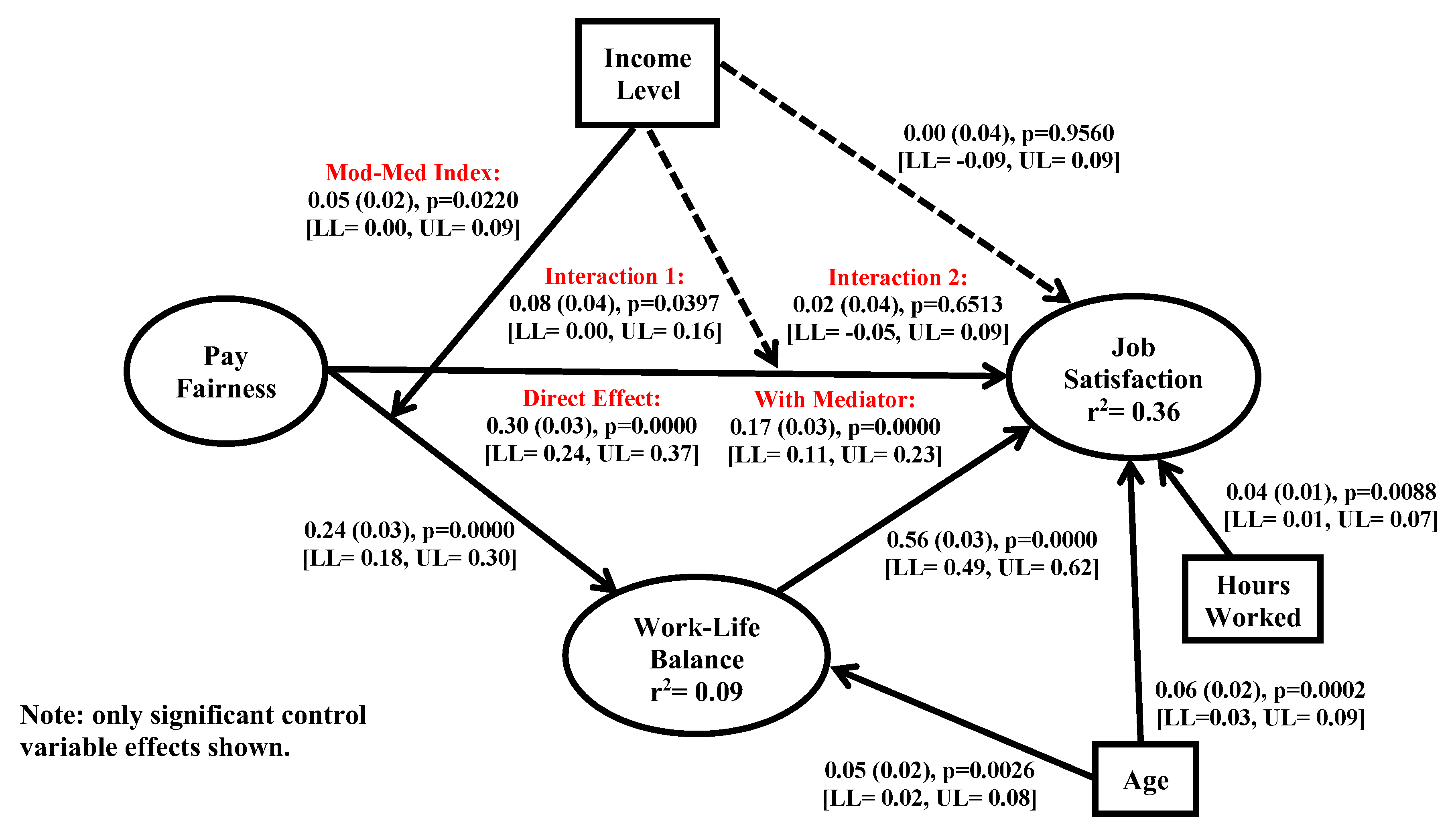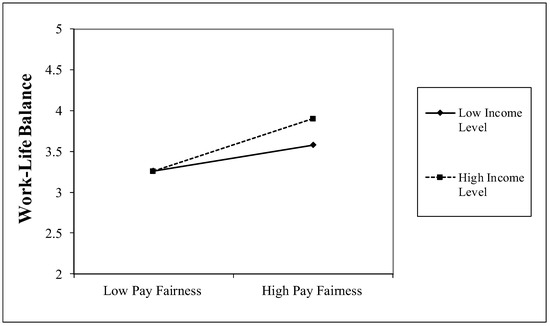 Figure 3. Interaction Effects of Income Level on Pay Fairness with Work–Life Balance as the Dependent Variable.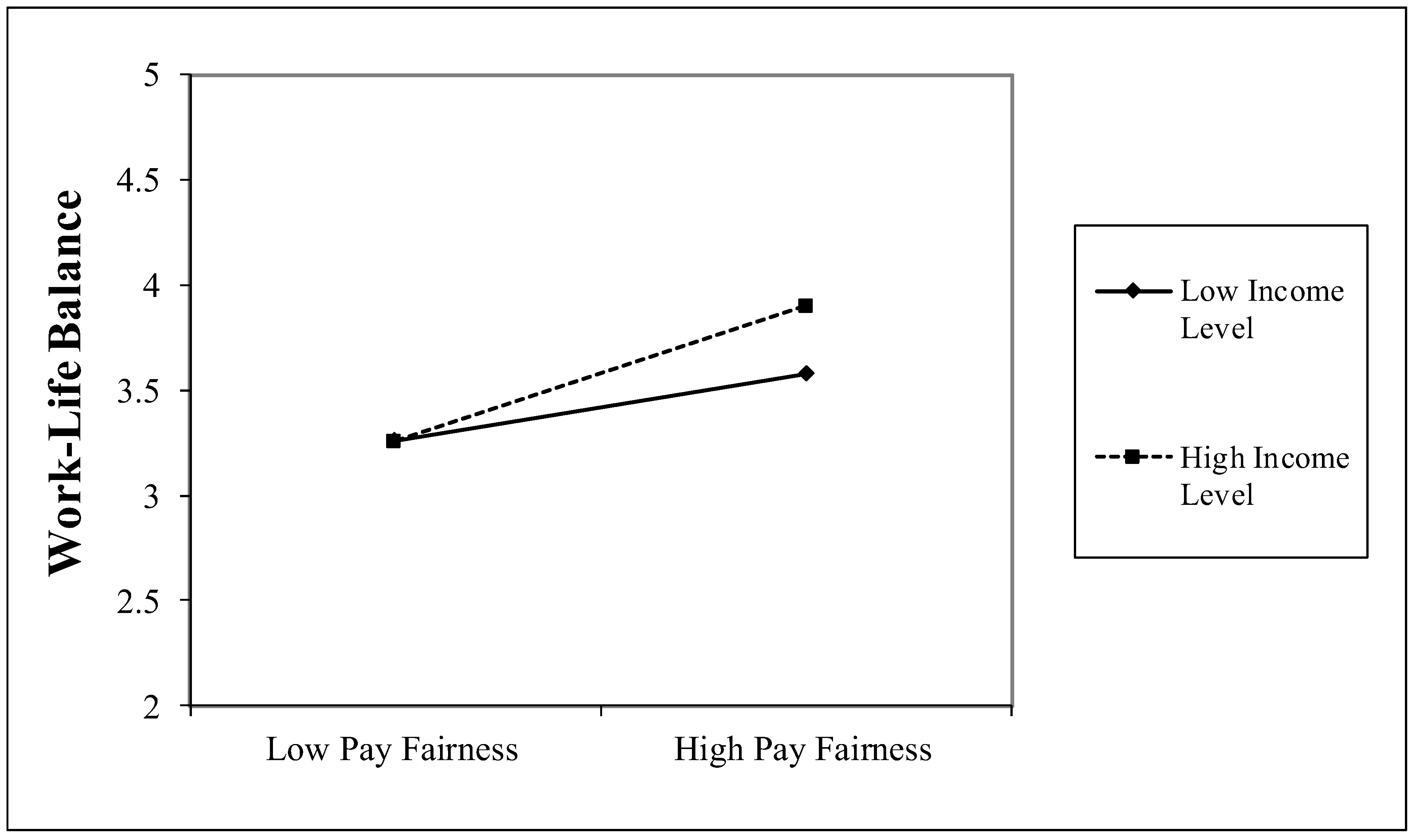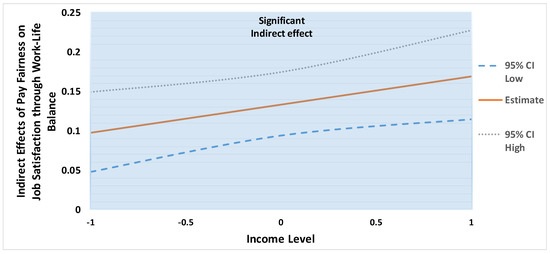 Figure 4. Indirect Effects of Pay Fairness on Job Satisfaction through Work–Life Balance Conditional on Income Level.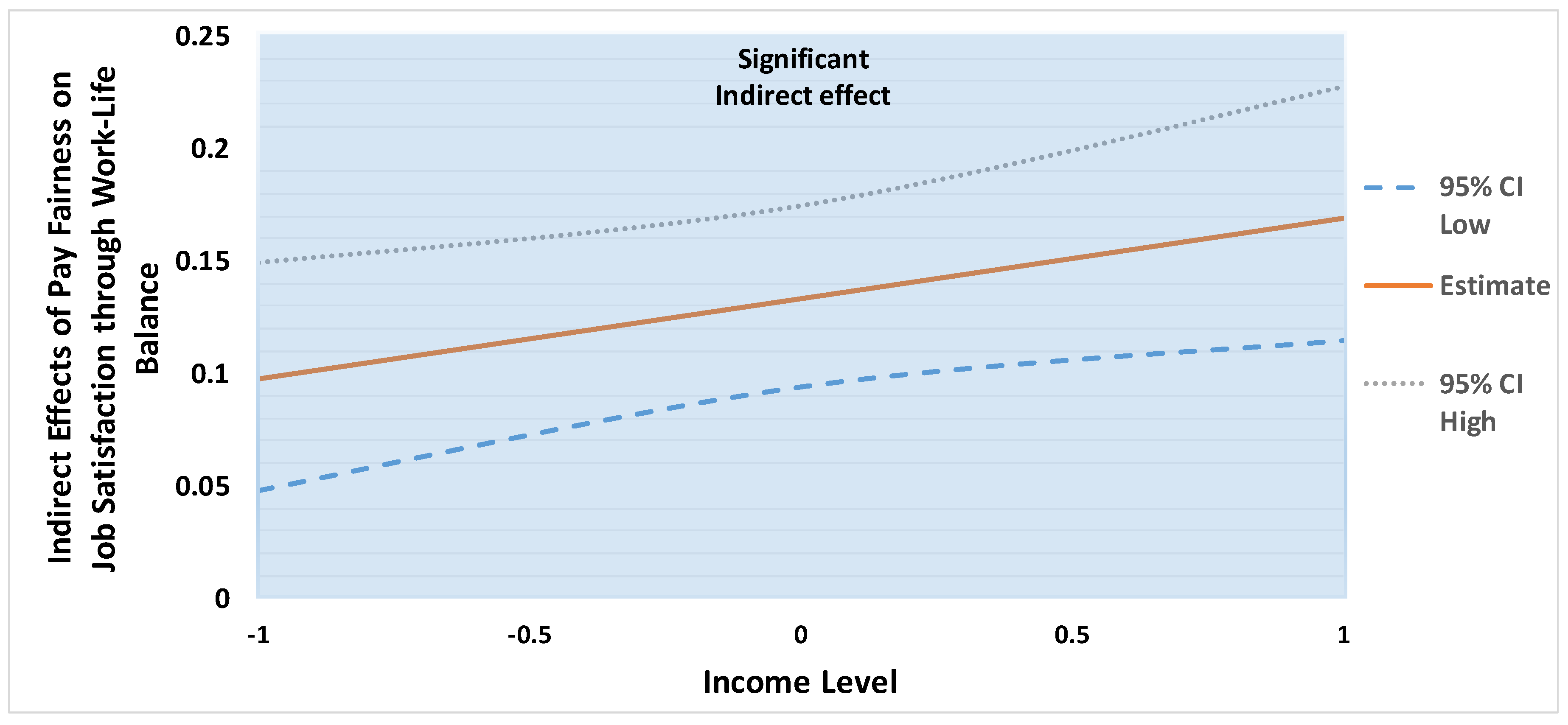 Table 1. Results of Confirmatory Factor Analysis (CFA). CFI: comparative fit index, RMSEA: root mean square error of approximation, SRMR: standardized root mean residual.
Model
Model Fit Indices
Model Differences
χ2
df
CFI
RMSEA
SRMR
Δχ2
Δdf

p

Details
Model 1
82.6
24
0.987
0.053
0.033
Model 2
876.8
26
0.808
0.194
0.096
794.2
2
0.001
Model 1 to 2
Model 3
886.3
26
0.806
0.195
0.137
803.7
2
0.001
Model 1 to 3
Model 4
876.4
26
0.808
0.194
0.135
793.8
2
0.001
Model 1 to 3
Model 1 = Hypothesized three-factor model: pay fairness, work–life balance, and job satisfaction. Model 2 = Alternative two-factor model: pay fairness, work–life balance, and job satisfaction combined. Model 3 = Alternative two-factor model: pay fairness and work–life balance combined, and job satisfaction. Model 4 = Alternative two-factor model: pay fairness and job satisfaction combined, and work–life balance.
| Variables | M | SD | 1 | 2 | 3 | 4 | 5 | 6 |
| --- | --- | --- | --- | --- | --- | --- | --- | --- |
| 1. Age | 5.6 | 2.0 | -- | | | | | |
| 2. Hours Worked | 5.5 | 2.5 | −0.02 | -- | | | | |
| 3. Income Level | 2.2 | 0.79 | 0.15 ** | 0.59 ** | -- | | | |
| 4. Pay Fairness | 0.23 | 1.0 | −0.11 ** | −0.14 ** | −0.09 * | -- | | |
| 5. Work–Life Balance | 3.4 | 0.90 | 0.11 ** | −0.11 ** | 0.02 | 0.26 ** | -- | |
| 6. Job Satisfaction | 3.6 | 0.96 | 0.18 ** | 0.03 | 0.08 * | 0.29 ** | 0.56 ** | -- |
N

= 873, *

p

< 0.05, **

p

< 0.01.

© 2018 by the authors. Licensee MDPI, Basel, Switzerland. This article is an open access article distributed under the terms and conditions of the Creative Commons Attribution (CC BY) license (http://creativecommons.org/licenses/by/4.0/).