Open Access This article is
freely available
re-usable
Article
Relationships between Student Personality Traits, Mobbing, and Depression within the Context of Sustainable Tourism Education: The Case of a Faculty of Tourism
1
Faculty of Tourism, Department of Tourism Management, Akdeniz University, Campus 07058, Antalya, Turkey
2
Faculty of Tourism, Department of Recreation Management, Akdeniz University, Campus 07058, Antalya, Turkey
*
Author to whom correspondence should be addressed.
Received: 27 July 2018 / Accepted: 16 September 2018 / Published: 25 September 2018
Abstract
:
Sustainable education has the target of improving skills that encourage students or life-long learners to reflect on actions realized by themselves. Its main concern is considering their actual and future cultural, socio-economic, and environmental impacts. Such a paradigm to evaluate these impacts is to bring about a local and a global perspective. Sustainability, as a means of qualified education, is a consequence of lifelong learning philosophy. All levels and all kinds of education should deal with the issues of sustainability and create holistic and transformational skills in this topic. In this context, pedagogy and learning environment is of great importance. Concerning learning environment, mobbing cases have frequently coincided in educational organizations. Mobbing has been regarded as an important business disease of contemporary work-life. Besides, mobbing might be coincided not only in the businesses but also in the organizations providing educational services. In schools and universities, mobbing leads to physiological, sociological, and psychological harms for the students. Recent studies have shown that in the school environment, students are exposed to a possible mobbing behavior and that their academic performance and achievement, as well as their mental and physical health, are negatively influenced. In addition, many academic studies indicate that the personality traits students have are an important predictor of exposure to mobbing and depression. This study aimed to determine the levels of mobbing and depression perceptions of students (type A, type B) who are studying tourism education at undergraduate level. In this context, within the groups of personality traits, the levels of depression in the process of mobbing were examined. Research data were collected from 524 students surveyed in a tourism faculty of a state university. In order to realize the data collection, Personality Traits, Mobbing, and Depression scales were used. Correlation,
t
-test, and regression analysis were performed as well as descriptive statistics (frequencies, mean, and standard deviation) in the process of data analysis. As a consequence of the research, it was determined that mobbing influenced psychological conditions of all students showing the features of A and B type as personality traits. Nevertheless, mobbing and depression perceptions differ upon their personality groups. It was found that the mean scores of mobbing and depression perceptions of students' having A type personality traits were comparatively higher than the ones having B type personality traits. In addition, it has been revealed that there is a positive relationship between mobbing and depression perceptions of students. Mobbing explained 14% of the change in the depression levels of the students. As a result of the findings, it was determined that personality trait is an important and significant factor in the impact levels of students from mobbing and depression. Incorporation of personality traits into the transformational learning process in the education system as well as teaching and supporting of students with applied social education can be an effective element of sustainable education.
Keywords:
sustainable education; sustainable tourism education; personality; mobbing; depression
1. Introduction
The concept of sustainable tourism predicts the direction of both using the resources through conservation and conserving the resources by using them. It is an approach that provides services in terms of supply rather than demand. In this context, it aims to raise the tourism benefits to an optimal level. Sustainable tourism is not purely against growth. This concept willingly advocates that growth is to be bounded by the reasonable limits. Moreover, it deals with the issues of the ecosystem, carrying capacity, and interests of local people. Tourism, as being one of the fastest growing industries of the world, maintains its economic life through depending on natural, historical, and cultural resources which are identified as substantially exhaustible. The tourism industry is liable to the preferences of tourists. The number of arrivals is also dependent on the preservation and use of the above-mentioned resources. For a sustainable development, it is necessary to protect existing natural, cultural, historical, and artificial resources (tourism infrastructure factors) and fundamental ecological processes. Sustainable tourism possesses various principles such as sustainable use of tourism resources, sustainability of diversity, reduction of over-consumption, waste management, tourism planning, integrated work with the local community, supporting local economies, personnel training, consulting to sector stakeholders and local people, responsible tourism market insight, and research responsibility. Sustainable tourism development should be supported by the specific education focused on this topic and the above-listed principles. The qualified human resources trained through sustainable tourism education would play an effective role in the implementation of sustainable tourism policies.
Mobbing has been experienced in organizational structures such as educational institutions for various reasons such as disinclining and removing certain individual(s) from the organizational environment, especially students, and it negatively affects the individuals in psychological aspects. In addition, mobbing has remained to be a considerable challenge as being one of the main causes affecting the education and training process in schools. Mobbing cases may lead to negative consequences both from the point of view of students exposed and the school, because the student exposed to mobbing is a member of the school by its very nature. Students who are exposed to mobbing might experience high levels of stress, become psychologically worn out, and experience health problems, such as depressive behaviors.
2. Literature Review
2.1. Sustainability in Tourism Education
Mobbing, as a business disease in the organizations, might prevail in educational institutions, causing students to suffer physiological and psychological illnesses. Moreover, they might feel daunted by the school and express their intention to leave the school. In the context of sustainable tourism education, directors of educational organizations are obliged to take necessary precautions and apply measures against mobbing cases within the organization because they have the responsibility to create proper labor and to meet the expectations of the students in order to satisfy them during their period of tourism education.
2.4. Depression
Depression is a syndrome that includes symptoms such as thinking in a deeply distressed state of feeling, slowing in speech and movements, languishment, worthlessness, weakness, reluctance, pessimism, and slowing down physiological functions [
71
]. World Health Organization (WHO) reports that between 150 and 250 million people in nearly 3–5% of the world's population have depressive symptoms at various levels [
49
]. Gelder et al. reported that the rate of depressive symptoms in the community is between 13–20% [
72
]. Goldberg et al. found that depressive symptoms were 20–24% in females and 10–16% in males [
73
].
Depressive individuals often have a mask-like external appearance, often depressed, sad and hopeless. S/he evaluates every event from a pessimistic direction, he does not care about any activity that pleasures, s/he may want to be alone, s/he can sit for a while and sit for hours. S/he may complain of difficulty in concentrating attention if the process of thinking does not slow down [
74
]. The person feels deprived and inadequate, loses his/her pleasure in life, constantly tired, looks pessimistic about people and events, constantly speaks and constantly complains [
32
]. People can experience this situation, which is defined as emotional depression for many reasons in their daily lives. For example, not getting a job, failing in an exam, losing relatives and alike situations can lead people to be emotionally depressed. Emotional depression may last for days, weeks, or even months, as well as finishing in a short term. The theory developed by Beck et al. proposes that the cause of depression is not primarily a feeling disorder but a cognitive disorder. In the formation of depression, three cognitive situations were mentioned. These are, (1)
a negative view of the person to himself
; (2)
a negative view of the person to the experiences
; and (3)
a negative view of the person to the future
[
75
].
There is a strong relationship between negative life experiences and [
76
]. Many studies highlighting the importance of social interaction and the quality of this interaction indicate that mental health and physical well-being are related to living relationships with family, friends, and other important people [
77
]. In a study of 233 university students by Dunkley and Blankstein, they found that self-critical perfectionism was significantly related to non-adaptive coping [
78
]. This kind of perfectionist cognitive personality uses the ways of coping with stressful situations, such as emotional response, self-blaming, dreaming, and directing himself/herself to other things. This leads to despair and hopelessness that is the domination of depression [
79
].
2.5. Personality Traits and Mobbing
In the related literature, it is seen that two approaches basically dominate the mobbing and personality traits relationship. Those who advocate that the personality traits of the victim are influential in the formation of mobbing and those who claim that the influence of personality traits can't be mentioned in the case of mobbing victimization. Leymann suggests that the victim's personality is not effective in exposure to mobbing, the findings about the victim's personality traits are revealed after one was exposed to mobbing behaviors [
56
]. Djurkovic et al. found that the personality traits of the victim were not effective in exposure to mobbing [
80
]. The advocates of a relationship between mobbing and personality emphasize two aspects. These are the ones who claim that personality structure of the victim has an effect on the impact (feeling the mobbing behavior). The second aspect is the ones who claim that personality structure of the victim has an effect on the exposure and being the victim [
81
]. In this context, it is emphasized that perception is important when there is a relationship between mobbing and personality. In other words, it is stated that some personality traits perceive some behaviors more deeply [
6
]. Zapf indicates that mobbing perception is stronger in personality traits such as continuous complaints, extreme meticulousness, continuous anxiety, etc. [
63
]. Coyne et al., in their research, indicated that people who are identified as "docile, controversial, and conflict-free, honest and trustworthy, tied to tradition, solid character and planned, preferring to be present in calm, timid, and customary environmental conditions" have a greater potential to be affected by mobbing behaviors [
82
]. In the study conducted by Avcı and Kaya, it has been revealed that the attacks for showing oneself and the social attacks differ in agreement with the personality trait of the individual [
81
].
Researchers who think that the personality trait is an effect of being a victim of the mobbing case suggest that some employees in the organizational environment attract the organizational environment by their superior knowledge and skills compared to others. These researchers argue that such kind of people are considered to be threatening to other employees because of the new ideas they are trying to put into practice and the desire to achieve superior success [
83
]. In a study conducted by Pranjic et al., a correlation was found between type A and type B stress personalities and mobbing exposure. The people who have A type personality traits such as hasty time use, generally regarding himself as a busy person, and behaving extremely competitive were found to be mobbing victims in a great proportion [
84
]. In other studies dealing directly or indirectly with the relationship between personality and mobbing, those who are "regular, punctual, workplace, perfectionist" were found to be targeted [
85
]. It has been argued that employees who are "competent, creative, and innovative" with relatively superior knowledge and skills are experiencing discomfort within the organization or group and may be more exposed to intimidation [
65
,
86
]. It is thought that this situation would be felt much in the traditional/conservative organizations [
81
]. The hypothesis concerning the relationship between personality traits and mobbing is presented below.
Hypothesis 1
(H1).
There is a significant difference between the personality traits of the students and the mobbing perceptions
.
2.6. Personality Traits and Depression
Depression is not utterly the problem of only weak people, as one might think. It is as well the serious problem of those who have a sense of extreme responsibility, who are strong, hardworking, and meticulous, and for the perfectionist people trying to help everyone around the family, school, and friends under any burden. Perfectionists are generally very successful at work, but often are nervous, anxious, and pessimistic. They criticize themselves and others too much. Such kind of people preoccupies the brains of their own constantly about the better fulfillment of their obligations. They take all kinds of possibilities into consideration. Excessively meticulous and perfectionist people set superordinate goals for themselves, and they are disappointed when they can't achieve them. Since such people are very elaborative and thoughtful, they also expect the same attitude from the people around, and feel that they are exposed to injustice if they cannot find what they expected [
87
]. People who are susceptible to depression have personality traits such as not hurting anyone, regarding their achievements inadequate, being too addicted to their dignity, often not expressing their anger, and enduring in silence [
88
].
Personality traits can be a risk factor for depression. Depression is reported to develop more on the neurotic, addictive, obsessive, introverted, unsociable, anxious, unconfident, pessimistic personality traits that create difficulties in the individual's coping skills with stress and interpersonal relationships throughout their life. Recognizing the relationship between depression and personality would probably require reconsideration of the views suggested in terms of emergence, healing, and soothing of mental illnesses up to now. Every concept, such as genetic susceptibility, environmental interactions, early life, learning, stress sensitivity, ability to cope with stress, attachment, addiction, and self-esteem, is included in the interest of this subject in the frame of personality and psychopathology theories. Akiskal et al. suggested four models in order to explain the relationship between depression and personality. These are (1)
Predisposition or vulnerability model:
Personality traits are the basis for the development of depression; (2)
Patoplasticity model:
Personality traits affect the clinical presentation of depression; (3)
Complication or sequel model:
Depression causes a change in personality functions; (4)
Continuity or spectrum model:
The underlying processes cause both problems of personality and depression [
89
]. Sumi and Kanda found that neurotic perfectionism significantly predicted depression and psychosomatic symptoms in their study implemented on a sample consists of 138 university students [
90
]. In the study conducted by Lozano and Johnson, it was revealed that personality traits affect the course of depressive symptoms [
91
]. The hypothesis concerning the relationship between personality traits and depression is presented below.
Hypothesis 2
(H2).
There is a significant difference between personality traits and depression perceptions of the students
.
2.7. Mobbing vs. Depresssion
Craig states that mobbing occurs when there is a power imbalance that is regarded as real by the parties [
92
]. Mobbing is suggested to have emerged in situations where there is more power inequality, where powerless is dominated by powerful. It is claimed that depression and anxiety symptoms of victims are increasing. In addition, it is stated that the victims need more psychological help and their self-esteem becomes lower. The effects seen in the victims in the first stage of the process are usually crying without any reason, sleeping disorders and insomnia, immediate irritation, and loss of concentration. In the second stage, symptoms such as high blood pressure, stomach complaints, depression, unwillingness to go to work, and being late to work are added. In the third stage, the severity of depression increases, panic attacks and anxiety occur. Accidents and suicide tendencies are more likely to occur at the end of the process [
65
]. Research in many different countries emphasizes that victims of mobbing are experiencing various psychological problems such as anxiety, anger, depression, difficulty in focusing attention, and low self-esteem [
63
,
92
,
93
]. In the research realized by Zapf, it was found that there was a significant difference between those who experienced mobbing behavior and those who did not, in terms of exposure to depression. It was also stated that there exists a considerable relationship between mobbing behavior and depression [
63
]. Those who suffered from mobbing behavior recorded a higher depression score. Niedhammer et al. concluded that mobbing is a very strong risk factor for depressive symptoms in both males and females [
94
]. Morán et al. found a positive relationship between mobbing and health problems such as somatic symptoms, anxiety, insomnia and depression [
95
]. Hansen et al. found that workers who were exposed to mobbing in a survey which consists of more than 1900 employees as a sample in Denmark reported higher rates of reporting depressive symptoms, when compared to a reference group [
96
]. Likewise, Takaki et al. conducted a cross-sectional study in Japan with more than 2600 employees as a sample, and the results showed that mobbing actions were positively associated with depressive symptoms [
97
]. Similarly, in the study of Yildiz and Yildiz, it was found that those who had mobbing behaviors expressed a higher level of depression than those who didn't [
98
]. The hypothesis concerning the relationship between mobbing and depression is presented below.
Hypothesis 3
(H3).
There is a positive relationship between mobbing and depression perceptions of the students
.
Hypothesis 4
(H4).
The personality traits of students positively affect mobbing perceptions and depression perceptions
.
3. Methodology
In this study, it was investigated whether belonging to personality type A and personality type B has an effect while being exposed to mobbing behaviors and while being affected by these behaviors. Additionally, levels of depression perceptions (type A-type B) were analyzed whether they indicated any difference. Data were collected from 524 students attending to Akdeniz University Faculty of Tourism. Relationships between personality traits, mobbing, and depression variables were analyzed.
In defining the personality traits, personality inventory developed by Friedman and Rosenman (1959) was used and A or B type personalities identified [
99
]. In the determination of mobbing behaviors, mobbing exposure perception levels were measured through a scale prepared by combining "Leymann Inventory of Psychological Terror (LIPT)" developed by Leymann (1996) [
56
] and "Negative Acts Questionnaire (NAQ)" developed by Einarsen and Rakness (1997) [
93
]. Moreover, "Beck Depression Inventory (BDI)" developed by Beck (1961) [
100
] was used to measure the conceptual, cognitive, and somatic components of the students.
3.1. Significance of the Study
The personality traits of people closely influence their behavior patterns, their relationships with others, the way they perceive the environment and the external world, and the psychological situation in which they are. Personality research can contribute to people better understanding themselves, their professional development, and making their social lives more harmonious with the environment. In particular, the identification of the types of personalities and the personal and the environmental qualifications that have the potential to influence these types can contribute to the better understanding of individuals and their successful and peaceful lifespan [
101
].
Many factors are assumed to be effective in being the victim of mobbing and being affected by mobbing behavior. Within these factors, the personality traits of the individual are thought to be important in terms of being the target of mobbing behavior and being affected by mobbing behavior. At the same time, having a specific personality affects the individual's tendency towards depression. Knowing the personality traits will contribute to the development of a certain awareness and understanding of the individual against mobbing and depression which deeply affect the private and social life negatively. As a result of examining the relationship between personality traits and mobbing and depression, it may be possible to manage and control mobbing, and a proactive approach to depression may be revealed.
3.2. Purpose of the Research
The purpose of the study is to determine the personality traits of students attending Akdeniz University Faculty of Tourism and to reveal the relationship between these personality structures, mobbing, and depression. In this study of being exposed to mobbing, being affected by mobbing behavior and depression situations of the students in accordance with the determined personality traits were investigated. Thus, the level of being the victim of mobbing and the level of being affected by mobbing behaviors are revealed. In addition, it was attempted to determine the personality traits of students with high and low depression status.
3.3. Data Collection
The population of the research is composed of 2183 students registered in Akdeniz University Faculty of Tourism in 2017–2018 academic year. In the sample, 524 students were reached with a 95% confidence level through convenience sampling method. Data were collected using the survey technique. The questionnaire created to obtain the data consists of four sections. In the first section, the personal information of the students (gender, family residence, level of income, school preference ranking, satisfaction with the school, satisfaction with the accommodation places) is included. Personality, mobbing, and depression scales are listed in the second, third, and fourth part respectively.
Personality Type Scale: This scale consists of 20 items. It was developed by Fredman and Rosenman. Participants were asked to mark one of the options in the form of "Always", "Often", "Sometimes", "Rarely", and "Never". The reliability coefficient calculated for this scale is Cronbach's Alpha = 0.712. This value indicates that the scale has the relevant reliability score by 0.60 ≤ 0.712 ≤ 0.80 [
102
].
Mobbing Scale: Two scales were used to determine mobbing exposure levels. The "Leymann Inventory of Psychological Terror (LIPT) Scale" [
56
] covering 45 questions is the first one. The second is the "Negative Acts Questionnaire (NAQ)" developed by Einarsen and Rakness [
93
] and Salin [
6
] covering 14 questions. By combining these two scales, a scale covering 40 questions was formed. Participants were asked to mark one of the options in the form of "Always", "Often", "Sometimes", "Rarely", and "Never".
Depression Scale: Beck's Depression Inventory (BDI) is a self-report scale developed by Beck [
100
] to measure emotional, cognitive, somatic, and motivational components. In the validity and reliability study performed by Hisli on 259 university students, the reliability coefficients were found to be r = 0.80 by the item analysis method and by r = 0.74 by the interdivision method. Research results of the studies realized both in Turkey and in the other countries indicated that Beck's Depression Inventory was tested as a valid and reliable means of measurement [
103
]. This scale consist of 21 sets of items, each set is ranked in terms of severity and scored from 0 to 3. Each item has four replying options (0–3) changing conforming to the question. Individual scale items are scored on a 4-point continuum (0 = least, 3 = most), with a total summed score range of 0–63.For instance, in an item, it was listed as from 0 to 3 where "1" means "I do not feel sad" and "4" means "I am so sad and unhappy I cannot stand it". As dimensions, two items are affective, eleven items are cognitive, two items are behavioral, five items are somatic, and one item is reserved for interpersonal symptoms.
3.4. Research Model
The scales used in this research identified the personality types of the students as A and B, and the levels of mobbing and depression perception were also determined. Thus, the relationships between personality types of students, mobbing exposure, and depression were investigated. In accordance with the hypotheses developed, the research model was presented in
Figure 1
.
3.5. Data Analysis
The Kolmogorov–Smirnov test was performed to determine whether the data were normally distributed in multivariate analysis, and it was found a normal distribution. Parametric tests (
t
-test) and descriptive statistics (frequency, percentage, mean, standard deviation), correlation, and regression analysis were selected. Because the data had a normal distribution. Cronbach's Alpha reliability analysis was used to measure the reliability of the scale used in the study, and confirmatory factor analysis was used to test the construct validity of the depression scale. Statistical analysis packages were used to perform data analysis.
4. Findings
This section presents the information obtained as a result of the data analysis.
4.1. Validity and Reliability
Cronbach Alpha coefficient is 0.93 in the overall reliability analysis of the scales used in the research. Cronbach's Alpha coefficients of scales are 0.73, 0.95, and 0.89 for personality type, mobbing, and depression scales, respectively. Cronbach's Alpha values indicate that the reliability of the scales is sufficient.
4.2. Factor Analysis and Reliability of Depression Scale
In order to indicate the construct validity, Confirmatory Factor Analysis of the depression scale (CFA) has been performed. As a result of the confirmatory factor analysis, it was determined that the model with 21 items proposed low fit indices. Having the value of less than 0.50 "3,5,6,9,12,13,14,15,17,18,19,20" numbered items were determined. In total, 12 items were removed from the scale. Subsequently, CFA was reactivated. In order to test the adequacy of the sample size, Kaiser–Meyer–Olkin (KMO) test was performed. The Barlett Sphericity test was carried out to determine whether and variables had normal distribution. The KMO value of the depression is 0.820, and the Barlett Sphericity test results are significant. After factor analysis and varimax rotation, Depression Scale was determined to have three dimensions which explained 62.922% of total variance.
Table 1
presents the factors of depression.
Convergence validity is the high correlation coefficients between the variables that make up a construct, or the sub-dimensions themselves. Another definition tells that convergence validity is the case where independent criteria for the same concept are getting closer or highly correlated. In order to comment on the convergence validity of a scale, it is expected that the construct reliability of that scale should be ensured. The method that Fornell and Larcker suggested for convergent validity was used in this study. In this method, in order to provide convergent validity of the scale, the average variance extracted (AVE) values of the variables should be over 0.5, and the composite reliability values (CR) must be over 0.7 [
104
]. That is, the composite reliability of each dimension forming the scale is to be close to or higher than 0.7 [
105
]. Another assumption for ensuring convergence validity is the calculation of average variance explained (AVE). In this assumption, the mean variance of each dimension forming the scale should be 0.5 or higher [
104
]. For the analysis of the convergent validity of the depression scale, the goodness of fit values for the above-mentioned criteria are presented in
Table 2
. When examined, it can be said that the coefficients of construct reliability are over the accepted limits of 0.7. When the values of average variance explained were investigated, it can be said that they are in the acceptance level for all dimensions except for three dimensions. Considering both the construct reliability with AVE values and the correlation results given in
Table 2
, it can be said that there exists convergence validity in the depression scale.
Discriminant validity can be conceptually defined as the discrimination of the dimensions forming the scale [
106
]. Discriminant validity indicates the degree of discrimination between different constructs. In this study, the model proposed by Fornell and Larcker was used as discriminant validity [
104
].This model's discriminant validity is based on an assumption. The assumption is that the average variance explained (AVE) of a construct is to be higher than the squared correlation coefficients between that construct and other constructs. The existence of discriminant validity can be mentioned for all factors based on the square of the correlation values and AVE values given in
Table 2
.
4.3. Demographics
Of the students who participated in the survey, 48.7% were female, 51.3% were male, 11.5% were one of the children of the families living in the village, 10.9% were one of the children of the families living in the town, and 77.7% were one of the children of the families living in urban areas. In terms of income levels of families, 14.5% low income, 78.4% medium income, and 7.1% higher income families were listed. The socio-cultural factors that are thought to affect the level of readiness of the students' families are the places they live and the income situation. In the school preference rankings of the students, 40.1% were placed in 1–4th choice, 59.4% in 5–8th choice, 0.4% in 9–12th choice, and 0.2% in 13th and further choice. Besides, 33.6% of the participant students were satisfied with the school, 19.7% were not satisfied with the school, 46.8% were somewhat satisfied, 66.8% of them were satisfied with the accommodation, 9.9% were dissatisfied, and 23.3% were somewhat satisfied.
4.4. Findings Related to Research Hypotheses
5. Discussion, Conclusions, and Recommendations
In order for tourism to be sustainable, the expectations of supply (local people, environment, business administration, employees, natural resources, etc.) and demand (tourist) parties must be met at an optimal level. Tourism education needs to be provided within the framework of the consciousness concerning sustainability so as to maintain high quality services provided in supply side. It is important for tourism students and graduates to participate in their education activities in their professional careers throughout their lives, within the context of sustainable tourism and education. As it is known, the diagnosis of the disease is of crucial importance in the prevention and treatment of any disease. Besides, knowing the characteristics of patients affects the success positively during and after the treatment. The same treatment method cannot be applied to each patient for a specific disease, since the patient characteristics are different. Similarly, different educational methods and practices should be developed for the sustainable tourism education according to the individual characteristics of the students. Sustainable education, described by healthy life and disease metaphors, is a proactive process which ensures that educational problems are eliminated before they occur. For this reason, a differentiated tourism education in a suitable physical and social environment according to personal characteristics might have positive outcomes. By this means, measures against mobbing might be taken. As a result, students might be prevented from depression experienced due to mobbing.
Author Contributions
Conceptualization and Resources: Z.A.; Methodology and Formal analysis: G.Y.; and Software and Data curation: Y.E.
Funding
This research received no external funding.
Conflicts of Interest
The authors declare no conflict of interest.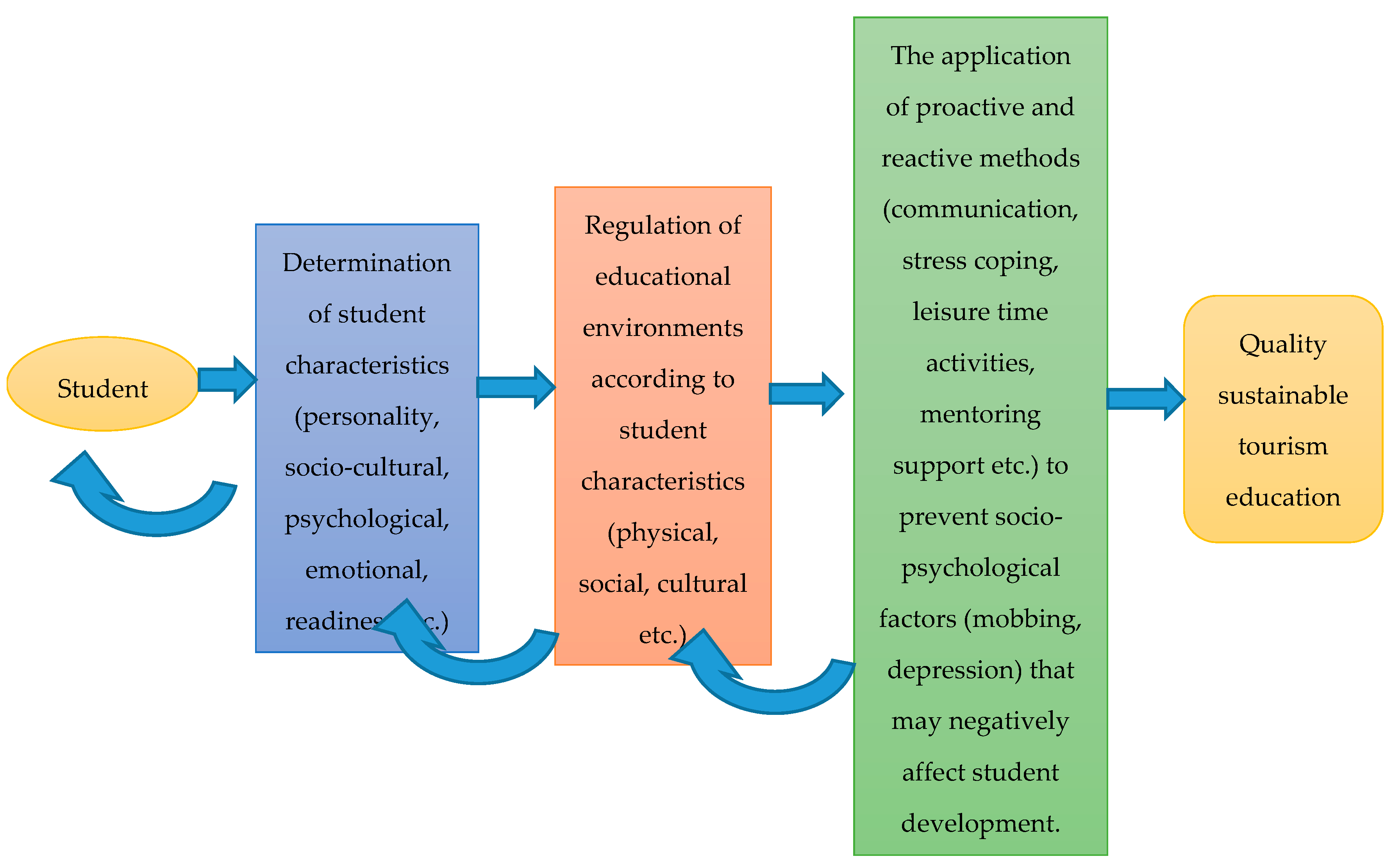 Variables
Items
Factor Loadings
Factor Validities
Factor Variances
Conceptual
1. Sadness
0.739
0.79
30.110
2. Pessimism
0.750
4. Dissatisfaction
0.740
7. Self-dislike
0.691
16. Indecisiveness
0.656
Somatic
10. Loss of Appetite
0.821
0.68
17.318
11. Loss of Weight
0.882
Cognitive
8. Self-blame
0.661
0.40
15.494
21. Lack of Interest in Sex
0.837
KMO:0.820
Total Variance Exp. 62.922

p

: 0.000 (Barlett's Test)
| | Factor 1 | Factor 2 | Factor 3 | CR | AVE |
| --- | --- | --- | --- | --- | --- |
| Factor 1 | 1 | | | 0.837 | 0.508 |
| Factor 2 | 0.301 ** | 1 | | 0.839 | 0.723 |
| Factor 3 | 0.393 ** | 0.218 ** | 1 | 0.717 | 0.562 |
N
Standard Deviation
t
df

p

B type personality
224
1.3085
0.43012
−3.089
522
0.002
A type personality
300
1.4501
0.57633
522.000
N
Standard Deviation
t
df

p

B type personality
224
1.4447
0.39266
−4.033
522
0.000
A type personality
300
1.6007
0.46915
515.198
N
Mean
Sd.
Min.
Max.
Mobbing
Depression
Mobbing
524
1.3896
0.52316
1.00
5.00
1
Depression
524
1.5340
0.44446
1.00
3.86
0.384 **
1
0.000
** Correlation is significant in 0.01 level (two-tailed).
Dependent Variable
Independent Variable
Coefficient
t
F
R2

p

ß
S.E
Depression
Constant
1080
0.051
21.195
90.557
0.148
0.000
Mobbing
0.327
0.034
9.516
Dependent Variable
Independent Variable
Coefficient
t
F
R2

p

ß
Std.Error
Conceptual
Constant
10.102
0.066
16.573
51.017
0.089
0.000
Mobbing
0.320
0.045
7.143
Somatic
Constant
10.022
0.079
12.934
30.274
0.055
0.000
Mobbing
0.293
0.053
5.502
Cognitive
Constant
10.196
0.078
15.365
19.752
0.036
0.000
Mobbing
0.233
0.052
4.444

© 2018 by the authors. Licensee MDPI, Basel, Switzerland. This article is an open access article distributed under the terms and conditions of the Creative Commons Attribution (CC BY) license (http://creativecommons.org/licenses/by/4.0/).