Nanoemulsion Structural Design in Co-Encapsulation of Hybrid Multifunctional Agents: Influence of the Smart PLGA Polymers on the Nanosystem-Enhanced Delivery and Electro-Photodynamic Treatment
1
Faculty of Chemistry, Wroclaw University of Science and Technology, 50-370 Wroclaw, Poland
2
Department of Molecular and Cellular Biology, Faculty of Pharmacy with Division of Laboratory Diagnostics, Wroclaw Medical University, 50-556 Wroclaw, Poland
3
Łukasiewicz Research Network—PORT Polish Center for Technology Development, 54-066 Wroclaw, Poland
*
Author to whom correspondence should be addressed.
Received: 27 June 2019 / Revised: 31 July 2019 / Accepted: 8 August 2019 / Published: 11 August 2019
Abstract
In the present study, we examined properties of poly(lactide-
co
-glycolide) (PLGA)-based nanocarriers (NCs) with various functional or "smart" properties, i.e., coated with PLGA, polyethylene glycolated PLGA (PEG-PLGA), or folic acid-functionalized PLGA (FA-PLGA). NCs were obtained by double emulsion (water-in-oil-in-water) evaporation process, which is one of the most suitable approaches in nanoemulsion structural design. Nanoemulsion surface engineering allowed us to co-encapsulate a hydrophobic porphyrin photosensitizing dye—verteporfin (VP) in combination with low-dose cisplatin (CisPt)—a hydrophilic cytostatic drug. The composition was tested as a multifunctional and synergistic hybrid agent for bioimaging and anticancer treatment assisted by electroporation on human ovarian cancer SKOV-3 and control hamster ovarian fibroblastoid CHO-K1 cell lines. The diameter of PLGA NCs with different coatings was on average 200 nm, as shown by dynamic light scattering, transmission electron microscopy, and atomic force microscopy. We analyzed the effect of the nanocarrier charge and the polymeric shield variation on the colloidal stability using microelectrophoretic and turbidimetric methods. The cellular internalization and anticancer activity following the electro-photodynamic treatment (EP-PDT) were assessed with confocal microscopy and flow cytometry. Our data show that functionalized PLGA NCs are biocompatible and enable efficient delivery of the hybrid cargo to cancer cells, followed by enhanced killing of cells when supported by EP-PDT.
View Full-Text
►

▼

Figures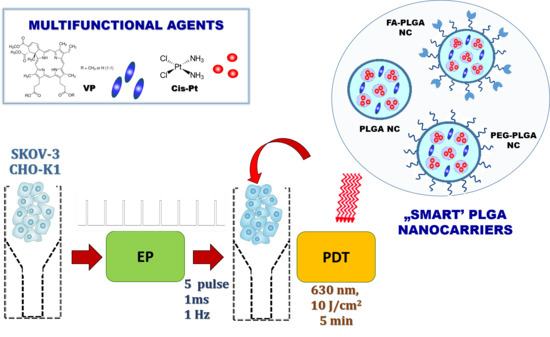 Graphical abstract
This is an open access article distributed under the
Creative Commons Attribution License
which permits unrestricted use, distribution, and reproduction in any medium, provided the original work is properly cited (CC BY 4.0).

Share & Cite This Article
MDPI and ACS Style
Bazylińska, U.; Kulbacka, J.; Chodaczek, G. Nanoemulsion Structural Design in Co-Encapsulation of Hybrid Multifunctional Agents: Influence of the Smart PLGA Polymers on the Nanosystem-Enhanced Delivery and Electro-Photodynamic Treatment. Pharmaceutics 2019, 11, 405.
Note that from the first issue of 2016, MDPI journals use article numbers instead of page numbers. See further details here.
Related Articles
Comments
[Return to top]