Open Access This article is
freely available
re-usable
Review
Hepatitis C Virus-Induced Autophagy and Host Innate Immune Response
Department of Molecular Microbiology and Immunology, University of Southern California, Keck School of Medicine, 2011 Zonal Avenue, Los Angeles, CA 90033, USA
*
Author to whom correspondence should be addressed.
Academic Editor: Christian Münz
Received: 5 July 2017 / Accepted: 11 August 2017 / Published: 12 August 2017
Abstract
:
Autophagy is a catabolic process that is important for maintaining cellular homeostasis. This pathway in hepatocytes is stimulated and controlled by the hepatitis C virus (HCV)—upon infection—to promote its own replication. HCV induces autophagy indirectly and directly through different mechanisms and temporally controls the autophagic flux. This enables the virus to maximize its replication and attenuate the innate immune responses that it activates. In this review, we discuss the relationship between HCV and autophagy, and the crosstalk between HCV-induced autophagy and host innate immune responses.
Keywords:
hepatitis C virus; autophagy; innate immunity
Acknowledgments
This work was supported by the National Institutes of Health (NIH) grant DK094652.
Conflicts of Interest
The authors declare no conflicts of interest.
Figure 1. Hepatitis C virus (HCV) recognition by the host and HCV-induced autophagy. After infection, HCV genomic RNA and other HCV products such as double-stranded RNA (dsRNA) replication intermediates and viral proteins can activate retinoic acid-inducible gene I (RIG-I), melanoma differentiation-associated protein 5 (MDA5) and Toll-like receptors (TLRs) to activate signaling pathways to produce interferons (IFNs) and pro-inflammatory cytokines. HCV can also induce autophagy indirectly via the induction of endoplasmic reticulum (ER) stress or directly via its protein products to suppress host innate immune responses. IRAKs: Interleukin (IL)-1 receptor-associated kinases; MAVS: Mitochondrial antiviral signaling protein; MyD88: Myeloid differentiation primary-response protein 88; ssRNA: Single-stranded RNA; TRAF6: Tumor necrosis factor receptor-associated factor 6; TRIF: Toll/IL-1 receptor domain-containing adaptor protein inducing IFN-β.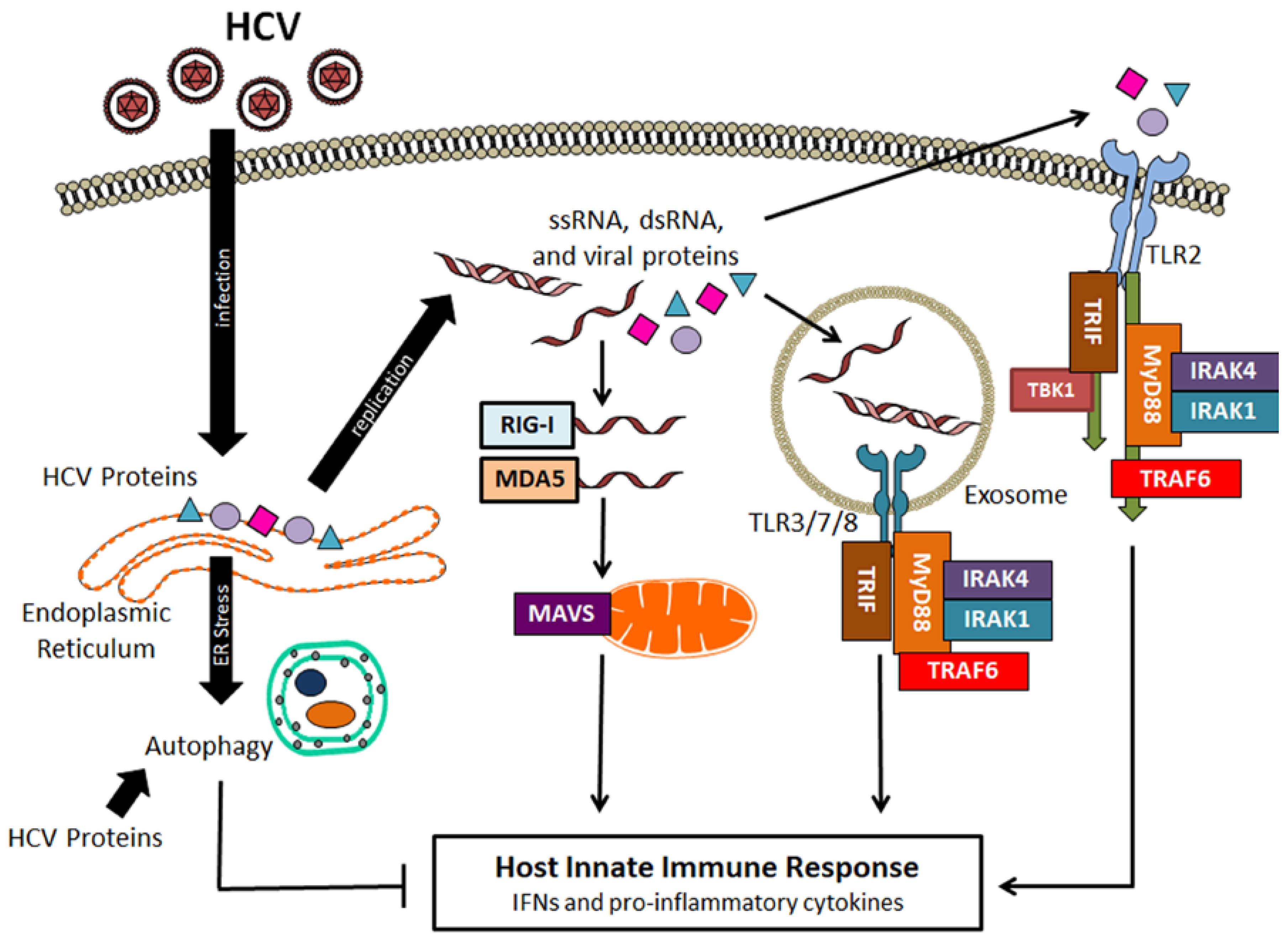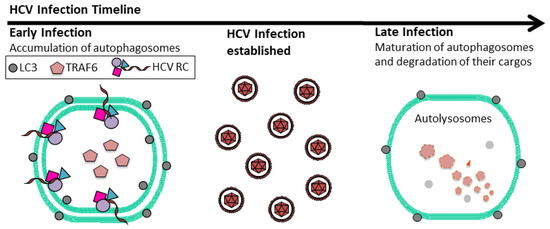 Figure 2. Temporal regulation of autophagic flux by HCV. In the early stage of HCV infection, autophagosomes accumulate in cells due to the delay of their maturation. This increases membrane areas for HCV RNA replication. TRAF6, an important adaptor protein of the host innate immune response, is also sequestered in autophagosomes. As HCV RNA replication climaxes, autophagosomes mature by fusing with lysosomes. At this time point, TRAF6 will undergo autophagic degradation. HCV RC: HCV RNA replication complex; LC3: Lipidated microtubule-associated proteins light chain 3.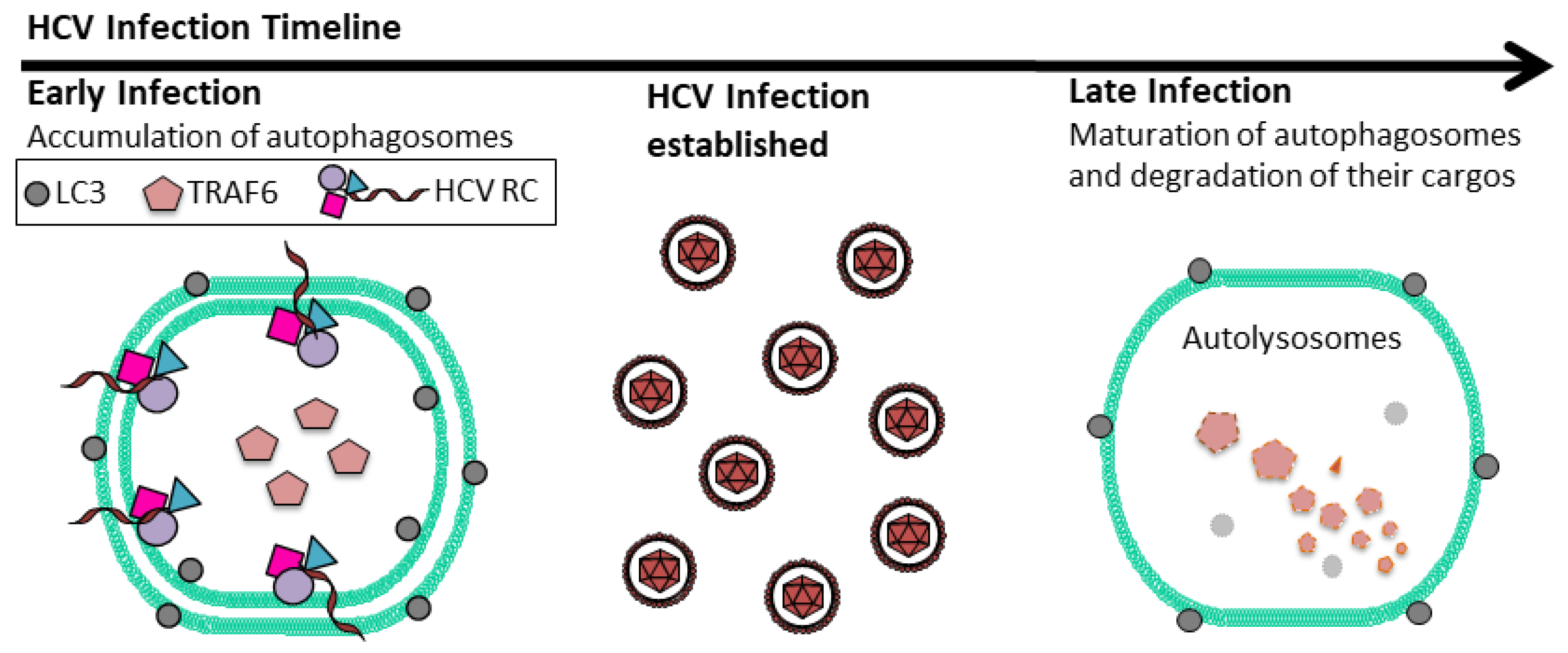 © 2017 by the authors. Licensee MDPI, Basel, Switzerland. This article is an open access article distributed under the terms and conditions of the Creative Commons Attribution (CC BY) license (http://creativecommons.org/licenses/by/4.0/).