Open Access This article is
freely available
re-usable
Review
Virus/Host Cell Crosstalk in Hypoxic HPV-Positive Cancer Cells
1
Molecular Therapy of Virus-Associated Cancers (F065), German Cancer Research Center (DKFZ), D-69120 Heidelberg, Germany
2
Viral Transformation Mechanisms (F030), German Cancer Research Center (DKFZ), D-69120 Heidelberg, Germany
*
Author to whom correspondence should be addressed.
Academic Editors: Alison A. McBride and Karl Munger
Received: 22 June 2017 / Accepted: 29 June 2017 / Published: 5 July 2017
Abstract
:
Oncogenic types of human papillomaviruses (HPVs) are major human carcinogens. The expression of the viral
E6
/
E7
oncogenes plays a key role for HPV-linked oncogenesis. It recently has been found that low oxygen concentrations ("hypoxia"), as present in sub-regions of HPV-positive cancers, strongly affect the interplay between the HPV oncogenes and their transformed host cell. As a result, a state of dormancy is induced in hypoxic HPV-positive cancer cells, which is characterized by a shutdown of viral oncogene expression and a proliferative arrest that can be reversed by reoxygenation. In this review, these findings are put into the context of the current concepts of both HPV-linked carcinogenesis and of the effects of hypoxia on tumor biology. Moreover, we discuss the consequences for the phenotype of HPV-positive cancer cells as well as for their clinical behavior and response towards established and prospective therapeutic strategies.
Keywords:
human papillomavirus; hypoxia; cervical cancer; head and neck cancer; senescence; metabolism; mTOR; therapy
1. Introduction
Approximately 50–60% of solid tumors exhibit pronounced hypoxic regions (commonly defined as oxygen concentrations below 1.5–2%) [
1
,
2
,
3
]. Hypoxia is of clinical importance because tumors with higher proportions of hypoxic cells usually have a poor prognosis, including human papillomavirus (HPV)-linked cancers, such as cervical cancers or head and neck squamous cell carcinomas (HNSCCs) [
1
,
4
,
5
]. In the process of HPV-linked carcinogenesis, the viral
E6
and
E7
oncogenes play a central role both for the induction of malignant cell transformation and for the maintenance of the oncogenic phenotype of HPV-positive cancer cells. Recent data indicate that hypoxia has profound effects on the crosstalk between the HPV oncogenes and their host cell, with implications for the malignant phenotype of HPV-positive cancer cells and for their clinical behavior.
2. Hypoxia and Cancer
In principle, two major forms of hypoxia can be differentiated in solid cancers. Firstly, chronic hypoxia occurs in a time frame of hours to days or weeks. This form of hypoxia is primarily caused by diffusion limitations, e.g., due to enlarged distances (>70 µm [
1
]) between tumor blood vessels and remote tumor cells (
Figure 1
A). Secondly, cycling (alternatively called acute, intermittent, or fluctuating) hypoxia primarily results from perfusion limitations, e.g., following the temporary partial or total occlusion of tumor microvessels (which are often structurally and functionally abnormal) through blood cell aggregates (
Figure 1
B). This latter form of hypoxia exposes tumor cells to repeated cycles of hypoxia and reoxygenation, which can be highly variable in their duration and frequency, for example occurring several times within one hour [
1
,
6
,
7
].
The poor clinical prognosis of hypoxic tumors could, on the one hand, mechanistically be due to hypoxia-linked processes that support the clonal evolution of more malignant tumor cells. These processes include (i) the induction of genetic instability through the downregulation of DNA repair mechanisms [
8
] and increased production of reactive oxygen species (ROS) [
9
]; (ii) the metabolic reprogramming of cancer cells, e.g., leading to a higher rate of glycolysis and enhanced lactate production and excretion [
10
,
11
]; (iii) the inhibition of cellular tumor suppressor pathways, such as apoptosis [
12
] or senescence [
13
]; (iv) the activation of autophagy, thereby supporting tumor cell survival [
14
]; (v) the induction of angiogenesis [
15
], and (vi) the promotion of invasion and metastasis [
16
]. On the other hand, hypoxia is also linked to an enhanced resistance towards anticancer treatments in clinical use, such as radiotherapy (RT) or chemotherapy (CT) [
4
,
17
], as further discussed below.
Notably, although the pronounced effects of hypoxia on cancer cell biology are well established, they are not taken into account in standard cell culture experiments, where cells are usually incubated at approximately 20% O
2
(corresponding to 95% air composed of 79% N
2
and 21% O
2
, plus 5% CO
2
). Although called "normoxia", these conditions do not reflect the median O
2
content of normal tissues ("physoxia"), which lies around 5–6% O
2
in most organs, with some exceptions [
1
,
5
]. Importantly, due to the diffusion and perfusion limitations discussed above, tumors often are substantially less oxygenated than the corresponding normal tissue, and many cancer entities exhibit median O
2
concentrations of less than 2% [
1
,
5
]. These considerations raise the question whether our conceptions of carcinogenesis that are derived from standard cell culture conditions are reflected under the low oxygen concentrations as they are present in the hypoxic sub-regions of many cancers.
3. Human Papillomaviruses and Cancer
At least 20% of the total cancer incidence in humans is attributable to infections [
18
]. In this context, oncogenic HPV types play a prominent role, since approximately every fourth of the infection-linked cancers worldwide is caused by this group of viruses [
19
]. HPV-induced cancers include cervical carcinomas, which alone account for more than 500,000 new cancer cases and over 250,000 cancer deaths per year [
20
]. Nearly 100% of cervical cancers are HPV-positive, with HPV16 (ca. 55–60%) and HPV18 (ca. 10–15%) being the most frequent types [
21
]. A substantial number of additional anogenital malignancies are HPV-positive as well, such as carcinomas of the anus (88%), vagina (78%), vulva (25%), and penis (50%) [
19
]. Moreover, a significant fraction of HNSCCs are linked to HPV infections, in particular oropharyngeal cancers (OPCs), which, in highly industrialized countries (e.g., Western Europe and the U.S.A.), are HPV-positive in 70–80% of cases. Differing from the virus type distribution in cervical cancers, HPV-positive OPCs contain HPV16 sequences in approximately 95% of cases [
19
,
22
].
In the process of HPV-induced carcinogenesis, the viral E6 and E7 oncoproteins target crucial tumor suppressor pathways for functional inactivation. For example, E6 forms a trimeric complex with the cellular ubiquitin ligase E6AP (E6-associated protein) and the p53 tumor suppressor protein [
23
], eventually leading to the proteolytic degradation of p53 [
24
]. The E7 oncoprotein binds to and inactivates the retinoblastoma tumor suppressor protein pRb [
25
]. Notably, the p53 and pRb pathways are also commonly impaired in HPV-negative human cancers by other routes, including somatic mutations of the
TP53
and
RB1
genes [
26
,
27
]. Thus, targeting the p53 and pRb proteins by the HPV oncoproteins represents an alternative strategy to block these key tumor suppressor pathways. Importantly, however, and in contrast to—for example—somatic mutations of the
TP53
and
RB1
genes, the inactivation of the p53 and pRb pathways by the HPV oncoproteins is reversible. In particular, the inhibition of E6/E7 expression in HPV-positive cancer cells leads to the reconstitution of p53 and pRb signaling and to the induction of cellular senescence [
28
,
29
,
30
,
31
,
32
], which is classically defined as an essentially irreversible growth arrest [
33
].
Consequently, it is widely assumed that HPV-positive cancer cells are "oncogene addicted" [
34
] in that they must continuously express E6/E7 in order to avoid the re-induction of dormant tumor suppressor pathways, such as p53 and pRb signaling. Notably, however, cervical cancers are often characterized by a heterogeneous distribution of hypoxic and better oxygenated sub-areas, and exhibit a median O
2
concentration of only 1.2%. HNSCCs appear to be only slightly better ventilated, with median O
2
concentrations between 1.3% and 1.9% [
1
,
5
,
35
]. The evidence that hypoxia can profoundly alter tumor cell biology raises the question whether the hypoxic conditions present in sub-regions of HPV-positive cancers may affect the crosstalk between the viral oncogenes and their host cell.
4. Regulation of Senescence in Normoxic and Hypoxic HPV-Positive Cancer Cells
5. HPV-Positive Cancer Cells under Hypoxia: Clinical Implications
6. Conclusions and Perspectives
Hypoxia has the potential to strongly affect the biology of HPV-positive cancers, both through its general effects in tumors as well as through the modulation of the interplay between oncogenic HPVs and their host cell (
Figure 2
). In the latter context, hypoxic HPV-positive cancer cells can induce a state of dormancy, which is characterized by a shutdown of viral oncogene expression, an impairment of mTOR signaling, and a reversible growth arrest. Hypoxic HPV-positive cancer cells thus can escape from key regulatory principles that have been observed under normoxia, with consequences for both their cellular phenotype and therapeutic susceptibility. However, important questions remain to be solved.
Firstly, which molecular mechanisms are responsible for the strong inhibition of
E6
/
E7
oncogene expression under hypoxia? Secondly, why are the p53 levels not restored in hypoxic HPV-positive cancer cells, although E6 is repressed? Thirdly, how is mTOR signaling maintained in normoxic HPV-positive cancer cells under conditions of
E6
/
E7
silencing and cellular growth inhibition? Fourthly, since the impairment of mTOR signaling is crucial for the ability of hypoxic HPV-positive cancer cells to evade senescence, will it be possible to identify agents which override this regulatory principle and thereby induce senescence in an mTOR-independent manner? Could they be of therapeutic value in combination with RT, CT, RCT, or E6/E7 inhibition, which preferentially act on non-hypoxic cells? Fifthly, in view of the fact that standard cell culture conditions (20% O
2
) do not reflect the O
2
levels in normal cervical tissue (median concentration of 5.5% O
2
) [
1
,
5
], are there differences in the phenotypic responses listed above between HPV-positive cancer cells that are grown under physoxia instead of normoxia?
Moreover, it should be noted that analyses of the crosstalk between the viral
E6/E7
oncogenes and their host cell thus far have focused on the effects of chronic hypoxia (1% O
2
over days) [
36
]. However, there is evidence that cycling hypoxia (
Figure 1
B) may also be highly relevant in terms of increased tumor aggressiveness and enhanced therapeutic resistance [
6
,
7
,
75
]. Cycling hypoxia leads to a huge rise of ROS production, and paradoxically to a strong activation of HIF-1 signaling during the reoxygenation phases [
76
]. The latter observation is explained by experimental evidence that HIF-1-regulated transcripts are kept in cellular stress granules under hypoxia, which disaggregate upon reoxygenation and allow for the translation of the HIF-1-regulated RNAs [
76
]. Enhanced HIF-1 signaling and/or increased ROS production affect a broad range of different cancer-linked processes, such as the control of cell proliferation, apoptosis, senescence, cellular metabolism, genetic stability, angiogenesis, and metastasis. This can culminate in more aggressive cancer growth and higher therapeutic resistance (reviewed in [
69
,
77
]). Interestingly, in a transgenic mouse model of HPV-induced cervical carcinogenesis, enhanced HIF-1α expression resulted in an increase of tumor cell proliferation and invasion [
78
]. This finding indicates a possible cooperation between the HPV oncogenes and HIF-1α during cervical cancer progression. It thus should be informative to investigate the effects of cycling hypoxia on the expression of HIF-1α and the HPV oncogenes in HPV-positive cancer cells, and the resulting consequences for their cellular phenotype and therapeutic sensitivity. The further elucidation of the crosstalk between oncogenic HPVs and their host cell under hypoxia may therefore not only increase our current understanding of the molecular mechanisms of HPV-induced carcinogenesis, but also be revealing in regards to the clinical behavior of HPV-positive cancers and their therapeutic resistance.
Acknowledgments
The authors wish to thank the Deutsche Krebshilfe (Grant 112132) and the Wilhelm Sander-Stiftung (Grant 2015.137.1) for funding.
Conflicts of Interest
The authors declare no conflict of interest.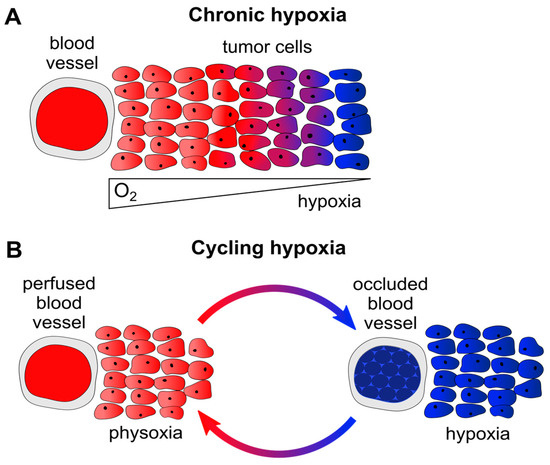 Figure 1.
Chronic and cycling hypoxia. (
A
) Diffusion-limited chronic hypoxia due to enlarged distances between tumor blood vessels and tumor cells. Remote tumor cells (>70 µm away from the blood vessel [
1
]) are inadequately supplied with O
2
and become hypoxic. Red: oyxgenated tumor cells, blue: hypoxic tumor cells; (
B
) Perfusion-limited cycling hypoxia. Tumor vessels are often abnormally structured and can be temporarily occluded, e.g., through blood cell aggregates. Surrounding tumor cells will be exposed to fluctuating cycles of physoxia (left) or hypoxia (right). Red: oyxgenated tumor cells, blue: hypoxic tumor cells.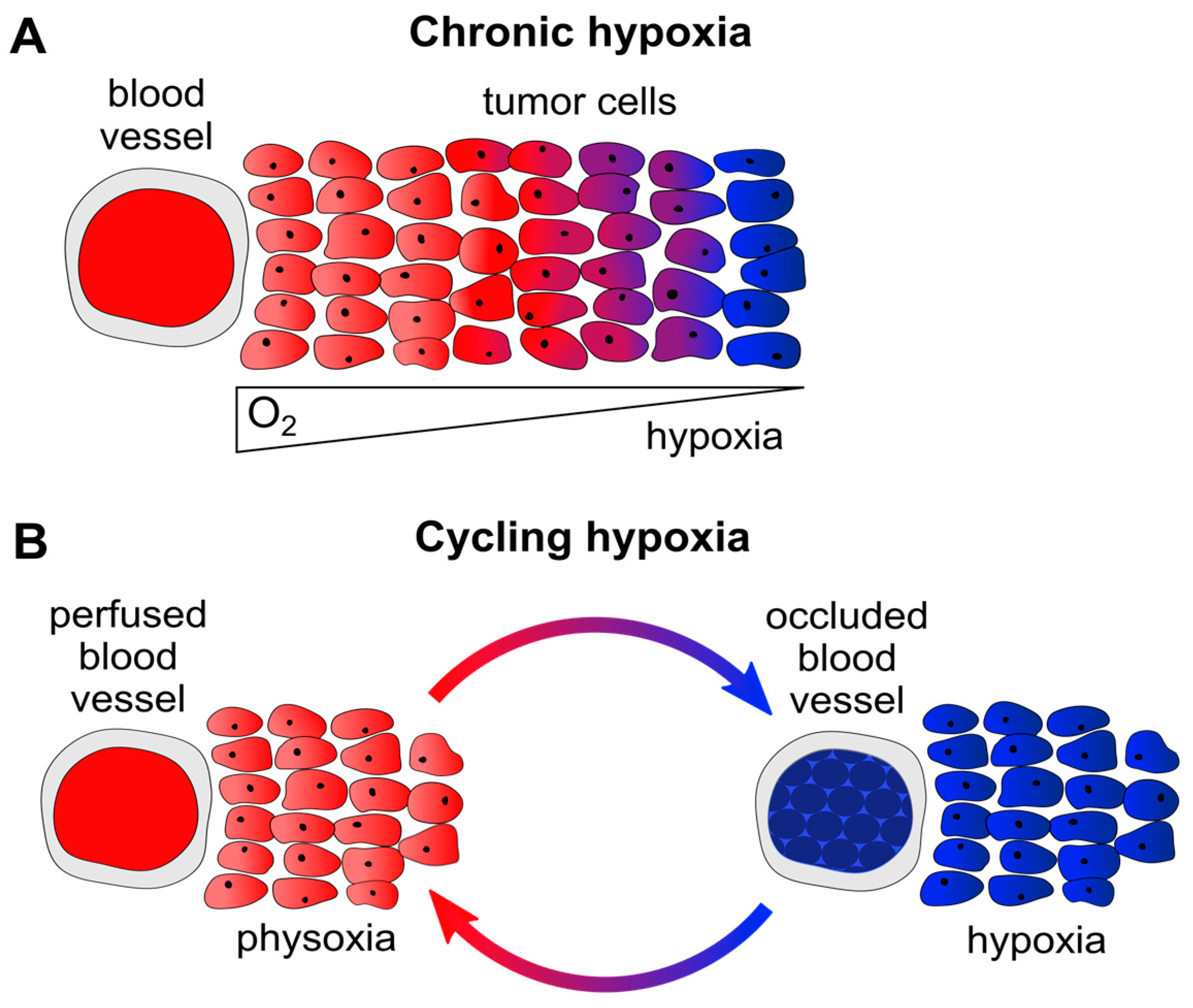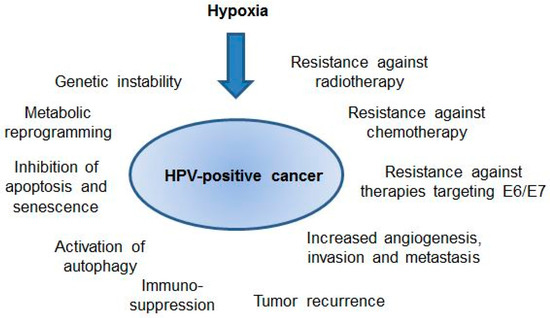 Figure 2. Potential effects of hypoxia on the biology and clinical behavior of human papillomavirus (HPV)-positive cancers. For further details please refer to the text.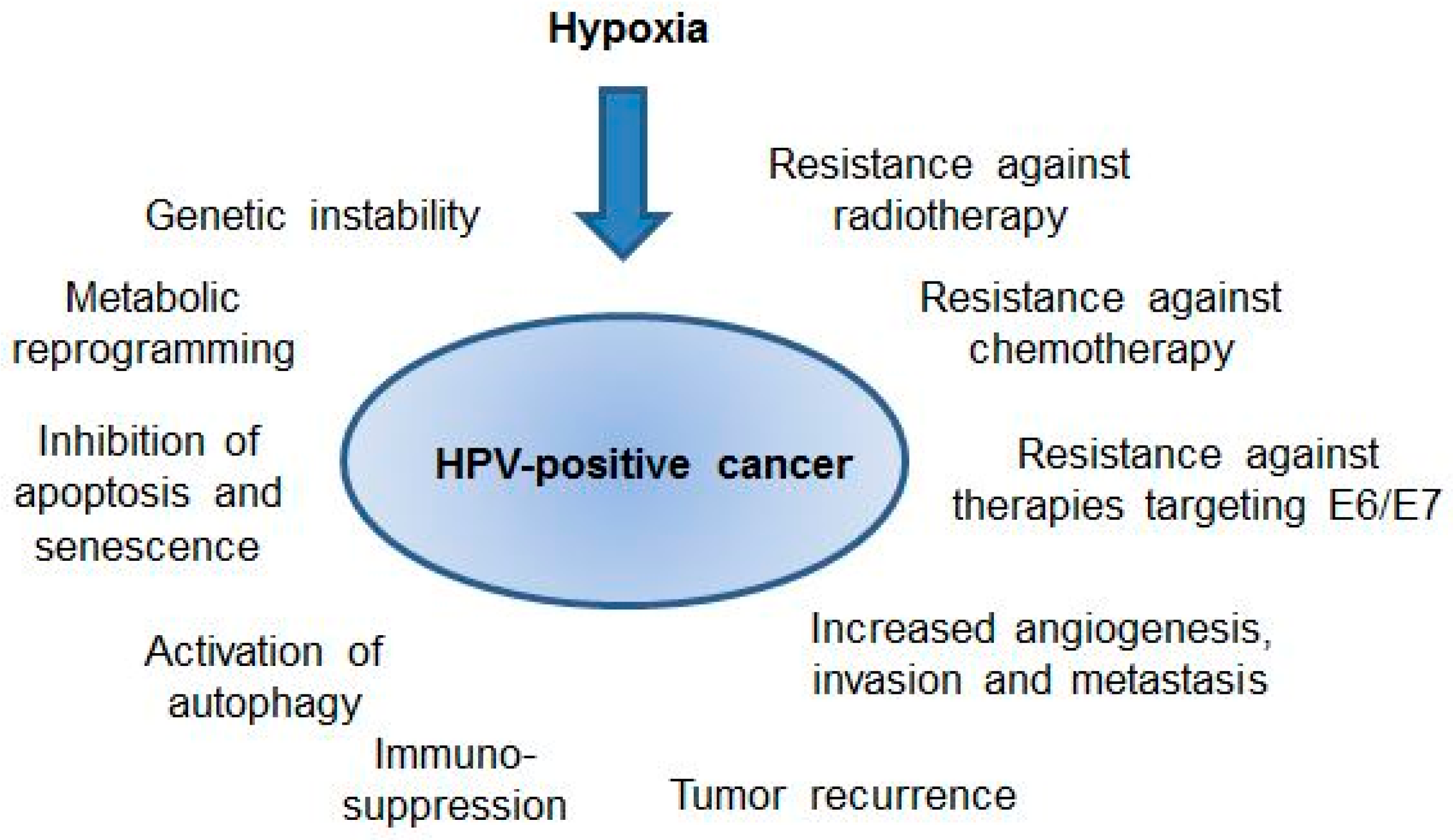 © 2017 by the authors. Licensee MDPI, Basel, Switzerland. This article is an open access article distributed under the terms and conditions of the Creative Commons Attribution (CC BY) license (http://creativecommons.org/licenses/by/4.0/).