Antiviral Screening of Multiple Compounds against Ebola Virus
1
Public Health England, Porton Down, Salisbury, Wiltshire SP4 0JG, UK
2
Department of Preventive and Social Medicine, Jawaharlal Institute of Postgraduate Medical Education & Research, Puducherry 605006, India
3
Chemical Biology and Medicinal Chemistry Laboratory, New Chemistry Unit, Jawaharlal Nehru Centre for Advanced Scientific Research, Jakkur, Bengaluru 560064, Karnataka, India
4
BerGenBio, Jonas Lies vei 91, Bergen 5009, Norway
5
Imperial College London, St Mary's Campus, London W2 1PG, UK
6
Institute of Infection and Global Health, University of Liverpool, Liverpool L69 7BE, UK
7
NIHR Health Protection Research Unit in Emerging and Zoonotic Infections, UK
*
Author to whom correspondence should be addressed.
Academic Editor: Jens H. Kuhn
Received: 19 September 2016 / Revised: 19 October 2016 / Accepted: 19 October 2016 / Published: 27 October 2016
Abstract
In light of the recent outbreak of Ebola virus (EBOV) disease in West Africa, there have been renewed efforts to search for effective antiviral countermeasures. A range of compounds currently available with broad antimicrobial activity have been tested for activity against EBOV. Using live EBOV, eighteen candidate compounds were screened for antiviral activity in vitro. The compounds were selected on a rational basis because their mechanisms of action suggested that they had the potential to disrupt EBOV entry, replication or exit from cells or because they had displayed some antiviral activity against EBOV in previous tests. Nine compounds caused no reduction in viral replication despite cells remaining healthy, so they were excluded from further analysis (zidovudine; didanosine; stavudine; abacavir sulphate; entecavir; JB1a; Aimspro; celgosivir; and castanospermine). A second screen of the remaining compounds and the feasibility of appropriateness for in vivo testing removed six further compounds (ouabain; omeprazole; esomeprazole; Gleevec; D-LANA-14; and Tasigna). The three most promising compounds (17-DMAG; BGB324; and NCK-8) were further screened for in vivo activity in the guinea pig model of EBOV disease. Two of the compounds, BGB324 and NCK-8, showed some effect against lethal infection in vivo at the concentrations tested, which warrants further investigation. Further, these data add to the body of knowledge on the antiviral activities of multiple compounds against EBOV and indicate that the scientific community should invest more effort into the development of novel and specific antiviral compounds to treat Ebola virus disease.
View Full-Text
►

▼

Figures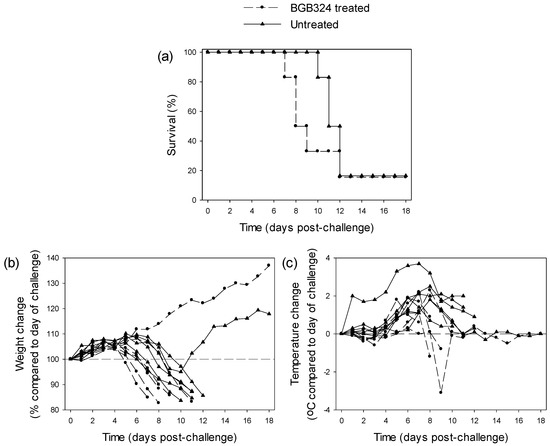 Figure 1
This is an open access article distributed under the
Creative Commons Attribution License
which permits unrestricted use, distribution, and reproduction in any medium, provided the original work is properly cited (CC BY 4.0).

Share & Cite This Article
MDPI and ACS Style
Dowall, S.D.; Bewley, K.; Watson, R.J.; Vasan, S.S.; Ghosh, C.; Konai, M.M.; Gausdal, G.; Lorens, J.B.; Long, J.; Barclay, W.; Garcia-Dorival, I.; Hiscox, J.; Bosworth, A.; Taylor, I.; Easterbrook, L.; Pitman, J.; Summers, S.; Chan-Pensley, J.; Funnell, S.; Vipond, J.; Charlton, S.; Haldar, J.; Hewson, R.; Carroll, M.W. Antiviral Screening of Multiple Compounds against Ebola Virus. Viruses 2016, 8, 277.
Note that from the first issue of 2016, MDPI journals use article numbers instead of page numbers. See further details here.
Related Articles
Comments
[Return to top]