Clomiphene and Its Isomers Block Ebola Virus Particle Entry and Infection with Similar Potency: Potential Therapeutic Implications
1
Department of Cell Biology, University of Virginia, Charlottesville, VA 22908, USA
2
Repros Therapeutics, Inc., The Woodlands, TX 77380, USA
3
Laboratory of Virology, Division of Intramural Research, National Institutes of Health, Hamilton, MT 59840, USA
4
Friedrich-Loeffler-Institut, D-17493, Greifswald-Insel Riems, Germany
*
Author to whom correspondence should be addressed.
Academic Editor: Jens H. Kuhn
Received: 4 May 2016 / Revised: 8 July 2016 / Accepted: 19 July 2016 / Published: 2 August 2016
Abstract
The 2014 outbreak of Ebola virus (EBOV) in Western Africa highlighted the need for anti-EBOV therapeutics. Clomiphene is a U.S. Food and Drug Administration (FDA)-approved drug that blocks EBOV entry and infection in cells and significantly protects EBOV-challenged mice. As provided, clomiphene is, approximately, a 60:40 mixture of two stereoisomers, enclomiphene and zuclomiphene. The pharmacokinetic properties of the two isomers vary, but both accumulate in the eye and male reproductive tract, tissues in which EBOV can persist. Here we compared the ability of clomiphene and its isomers to inhibit EBOV using viral-like particle (VLP) entry and transcription/replication-competent VLP (trVLP) assays. Clomiphene and its isomers inhibited the entry and infection of VLPs and trVLPs with similar potencies. This was demonstrated with VLPs bearing the glycoproteins from three filoviruses (EBOV Mayinga, EBOV Makona, and Marburg virus) and in two cell lines (293T/17 and Vero E6). Visual problems have been noted in EBOV survivors, and viral RNA has been isolated from semen up to nine months post-infection. Since the clomiphene isomers accumulate in these affected tissues, clomiphene or one of its isomers warrants consideration as an anti-EBOV agent, for example, to potentially help ameliorate symptoms in EBOV survivors.
View Full-Text
►

▼

Figures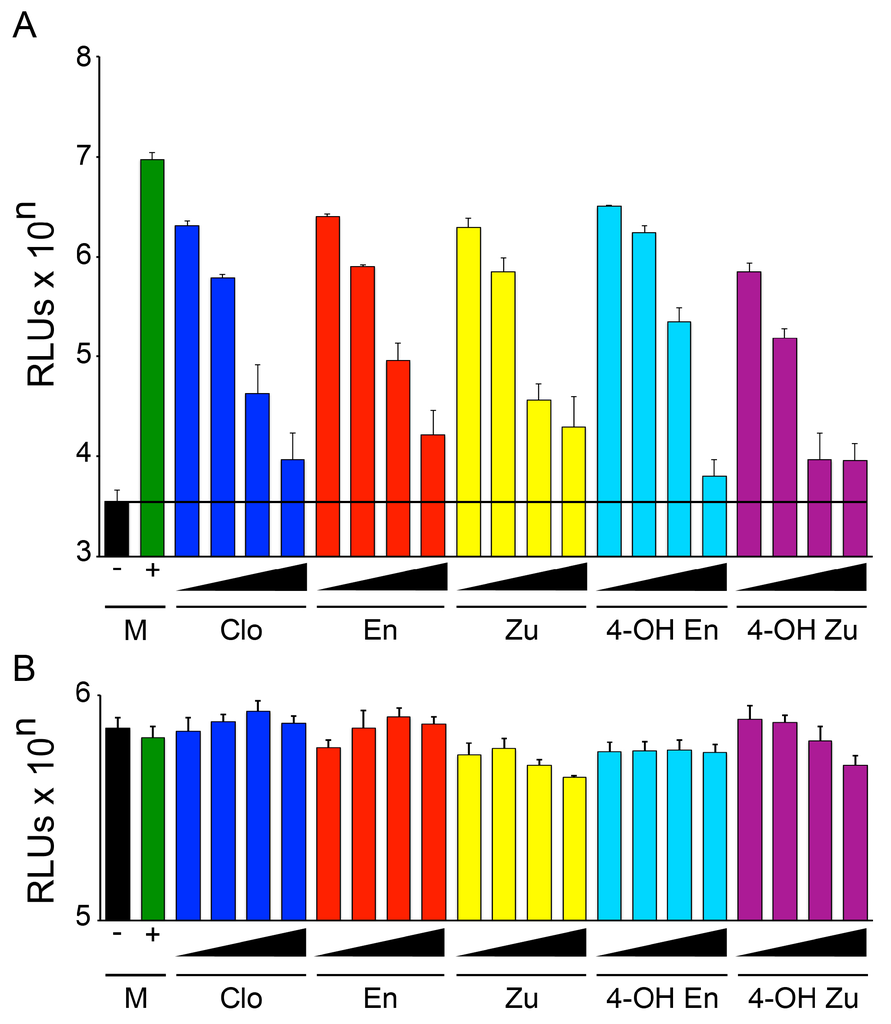 Figure 1
This is an open access article distributed under the
Creative Commons Attribution License
which permits unrestricted use, distribution, and reproduction in any medium, provided the original work is properly cited (CC BY 4.0).

Share & Cite This Article
MDPI and ACS Style
Nelson, E.A.; Barnes, A.B.; Wiehle, R.D.; Fontenot, G.K.; Hoenen, T.; White, J.M. Clomiphene and Its Isomers Block Ebola Virus Particle Entry and Infection with Similar Potency: Potential Therapeutic Implications. Viruses 2016, 8, 206.
Note that from the first issue of 2016, MDPI journals use article numbers instead of page numbers. See further details here.
Related Articles
Comments
[Return to top]