Open Access This article is
freely available
re-usable
Review
Understanding Enterovirus D68-Induced Neurologic Disease: A Basic Science Review
1
Medical Scientist Training Program, University of Colorado School of Medicine, Aurora, CO 80045, USA
2
Department of Immunology & Microbiology, University of Colorado School of Medicine, Aurora, CO 80045, USA
3
Department of Neurology, University of Colorado School of Medicine, Aurora, CO 80045, USA
4
Hospital Medicine and Pediatric Infectious Disease Sections, Department of Pediatrics, University of Colorado, Aurora, CO 80045, USA
5
Children's Hospital Colorado, Aurora, CO 80045, USA
6
Division of Infectious Disease, Department of Medicine, University of Colorado School of Medicine, Aurora, CO 80045, USA
7
Neurology Service, Rocky Mountain VA Medical Center, Aurora, CO 80045, USA
†
These authors contributed equally to this manuscript.

Received: 31 July 2019 / Accepted: 29 August 2019 / Published: 4 September 2019
Abstract
:
In 2014, the United States (US) experienced an unprecedented epidemic of enterovirus D68 (EV-D68)-induced respiratory disease that was temporally associated with the emergence of acute flaccid myelitis (AFM), a paralytic disease occurring predominantly in children, that has a striking resemblance to poliomyelitis. Although a definitive causal link between EV-D68 infection and AFM has not been unequivocally established, rapidly accumulating clinical, immunological, and epidemiological evidence points to EV-D68 as the major causative agent of recent seasonal childhood AFM outbreaks in the US. This review summarizes evidence, gained from in vivo and in vitro models of EV-D68-induced disease, which demonstrates that contemporary EV-D68 strains isolated during and since the 2014 outbreak differ from historical EV-D68 in several factors influencing neurovirulence, including their genomic sequence, their receptor utilization, their ability to infect neurons, and their neuropathogenicity in mice. These findings provide biological plausibility that EV-D68 is a causal agent of AFM and provide important experimental models for studies of pathogenesis and treatment that are likely to be difficult or impossible in humans.
Keywords:
enterovirus D68; acute flaccid myelitis; paralysis; neuropathogenesis; mouse models; experimental models
1. Introduction
Enteroviruses (EVs) are classified into four groups (polioviruses, Coxsackie A viruses, Coxsackie B viruses, and echoviruses) and fifteen species, including four human EVs (A–D), 8 animal EVs (E–L), and 3 rhinoviruses (A–C). Several EVs cause neurologic disease in humans. Historically, the most well-known and most intensively investigated of the neuropathogenic EVs are the polioviruses. Due to decades of intensive vaccination efforts, however, paralytic poliomyelitis has been nearly eliminated as a clinical disease and cases are largely restricted to three countries - Pakistan, Afghanistan, and Nigeria [
1
]. In contrast, the reported incidence of neurologic infections by non-polio enteroviruses (NPEVs), including EV-A71, coxsackievirus A16 (CV-A16), and EV-D70, has increased globally in recent years [
2
].
One NPEV of current clinical and scientific interest is EV-D68. In 2014, this previously rare cause of pediatric respiratory disease re-emerged, resulting in an epidemic of pediatric respiratory disease in the United States (US) that was associated with a significant increase in cases of a polio-like paralytic syndrome referred to as acute flaccid myelitis (AFM). Additional cases of EV-D68-associated respiratory disease and AFM were subsequently recognized all over the world. Current research efforts are underway to understand the neuropathogenic potential of both historic and modern EV-D68 viral isolates. The goal of this review is to summarize recent basic research findings investigating the association between EV-D68 and neurologic disease. After summarizing the emergence of EV-D68 as a human pathogen, we will focus on three major areas of basic science research that have relevance for EV-D68 neurovirulence: (1) genetic analysis of viral isolates, (2) in vivo models of EV-D68 central nervous system (CNS) disease, and (3) in vitro studies of EV-D68 tropism and life cycle. This review will also highlight important gaps in our understanding of EV-D68 CNS pathology that future studies will need to address in order to develop a complete understanding of this re-emerging pathogen.
2. Enterovirus D68 (EV-D68): A Re-Emerging Human Pathogen
3. Enterovirus D68 (EV-D68)-Associated Acute Flaccid Myelitis (AFM)
4. Role of Viral Genetics in the Emergence of Enterovirus D68 (EV-D68) Neurovirulence
5. Enterovirus D68 (EV-D68)-Induced Central Nervous System (CNS) Disease in Mouse Models
6. Enterovirus D68 (EV-D68) Neurotropism in Neuron Culture Models
6.1. Infection of Neurons
Recent studies in neuronal culture models have provided further evidence supporting the neurotropism of contemporary EV-D68 strains. Strains isolated during the 2014 outbreak have the ability to infect and replicate in a neuroblastoma-derived neuronal cell line (SH-SY5Y) as well as human postnatal cortical neuron cultures [
92
]. However, strains isolated prior to the 2014 outbreak could not grow in these neuronal cells [
92
]. In contrast, non-neuronal HeLa and A549 (lung carcinoma) cells supported infection of all EV-D68 strains tested. Differential cell entry as the primary factor for determining infectivity between contemporary and historic EV-D68 strains was supported using cell binding assays. In addition, transfection of historic strains into cells failed to sustain an active infection, as viral progeny produced following transfection were unable to produce a sustained infection beyond the first round of replication [
92
].
Two additional studies have identified differential receptor utilization as the key factor determining neurotropism. One study generated infectious clones of EV-D68 Fermon and EV-D94, another related species D enterovirus [
101
]. EV-D94 exhibited the ability to infect neuroblastoma cells and human primary neurons, while EV-D68 Fermon did not. A chimeric virus generated to encode the capsid of EV-D94, with the remaining regions derived from EV-D68 Fermon, lost the ability to infect neuronal cells, suggesting that regions outside the capsid may restrict neurotropism [
101
]. Finally, a recent study by our lab demonstrated that all strains of EV-D68 (contemporary and historic) have the ability to infect and undergo retrograde transport in human-derived induced-pluripotent stem cell (iPSC) spinal motor neurons grown in a microfluidic culture system in which the axons are spatially isolated from the motor neuron soma [
102
]. However, cleavage of sialic acid from the motor neuron axons by the enzyme neuraminidase completely prevented infection by historic (pre-2014) strains of EV-D68 but had no effect on infection by contemporary strains.
Overall, the ability to infect neuronal cells corresponds to the ability to produce AFM-like disease in mouse models with a few critical exceptions. All contemporary EV-D68 strains tested so far appear to have the ability to infect neuronal cells, yet, some contemporary EV-D68 strains such as EV-D68 CA/14-4231 do not appear to possess the ability to produce paralysis in SW [
90
] or C57Bl/6 mice (Tyler lab unpublished data). These studies indicate the intrinsic ability to infect neurons is not the only required determinant for development of CNS disease. Examination of host factors that determine development of CNS disease represents an important area for future AFM research.
6.2. Receptor Binding
Identifying the cellular receptors responsible for viral attachment and uncoating is a key step in understanding neuropathogenesis. Both sialic acid residues and ICAM-5 (telencephalin) have been identified as receptors capable of facilitating EV-D68 infection, although the biological significance of these receptors in vivo is unknown. Sialic acid is a nine-carbon monosaccharide that is most prevalent on cells in the respiratory tract but can serve as terminal modification to proteins and lipids in tissues throughout the body. These sugars are a common receptor for many viruses, particularly respiratory viruses such as influenza [
103
]. Consistent with EV-D68 respiratory pathology, a recent haploid genetic screen of the ancestral Fermon EV-D68 strain identified several genes involved in the biosynthesis, transport, and conjugation of sialic acid that were essential for infection [
8
,
104
]. More specifically, Fermon preferentially bound α2,6-linked sialic acid, which is the predominant linkage in the upper respiratory tract [
105
]. This sialic acid linkage binds to a narrow canyon in the Fermon capsid and is thought to displace the hydrophobic "pocket factor" normally responsible for stabilizing the capsid structure [
105
]. In contrast to prototype EV-D68 strains, recent studies on contemporary strains of EV-D68 have demonstrated that modern strains do not require sialic acid for cell entry and infection, indicating that some EV-D68 strains have the ability to bind non-sialylated receptors [
104
]. While these contemporary strains can still cause the hemagglutination of red blood cells, indicative of sialic acid binding, it is clear that sialic acid is not a required receptor for paralytic EV-D68 strains [
104
]. Sialic-acid independent neuronal entry may thus also contribute to the increased neuroinvasiveness of contemporary, compared to historic, EV-D68 strains.
The neuron-specific intercellular adhesion molecule 5 (ICAM-5/telencephalin) has been identified as a possible receptor for both sialic acid-dependent and -independent EV-D68 viruses [
106
]. The ICAM family proteins are immunoglobulin-like transmembrane glycoproteins often found in the brain and lungs and include receptors for several enteroviruses including the poliovirus receptor, ICAM-1 [
107
,
108
]. Expression of ICAM-5 in Vero cells allowed EV-D68 to infect and replicate in this otherwise non-permissive cell type [
106
]. Furthermore, down-regulating ICAM-5 expression in permissive cell lines inhibited EV-D68 infection in vitro, as did a soluble ICAM-5-Fc fragment (serving as a decoy receptor) [
106
]. Although the ICAM-5 protein contains sialic acid residues, desialylated soluble ICAM-5, functioning as a decoy receptor, still inhibited EV-D68 infection, indicating that binding to ICAM-5 was occurring independent of its sialic acid moieties.
The role of ICAM-5 in neuronal infection and entry remains unclear. The distribution and expression of ICAM-5 in human nervous tissues has been examined by western immunoblotting [
101
]. ICAM-5 was found to be consistently expressed in both pediatric and adult cortical tissue, but no ICAM-5 protein was detected in pediatric cervical spinal cord tissue [
102
]. Furthermore, ICAM-5 protein could not be detected in neonatal mouse spinal cords, despite obvious evidence of neuronal infection and injury [
102
]. EV-D68 has not been found to infect cortical tissue in either the mouse model or human patients, and instead appears to display a strong tropism for motor neurons found in the spinal cord. The lack of detectable ICAM-5 expression in spinal cords suggests that this receptor does not play a role in the development of AFM. Consistent with this idea, we recently demonstrated that in vitro ICAM-5 expression in human iPSC-derived motor neuron-like cells is restricted to the soma and dendrites of these cells and was not detectable by immunohistochemistry on the axon terminals where EV-D68 has been shown to be capable of entering neurons [
102
]. These studies do not exclude the possibility that another member of the immunoglobulin superfamily with structural similarity to ICAM-5 may serve as the actual EV-D68 receptor on neurons. Further research is clearly needed to definitively identify the receptor(s) responsible for mediating CNS infection by contemporary strains of EV-D68.
7. Conclusions
EV-D68 neurovirology is a burgeoning field with a new and growing research community. Recent work from multidisciplinary, international research teams has dramatically expanded our understanding of this virus in the five years since the 2014 outbreak. Improved surveillance and isolation of EV-D68 strains has revealed continuing viral diversification, including the identification of several genome polymorphisms that have been linked to neurovirulence. Mouse models of AFM have been developed that replicate several cardinal features of human disease. Neuronal culture models are making progress in understanding the mechanisms of viral neurotropism. These data provide biological plausibility for EV-D68 as a cause of neurologic disease. While research advances have improved our ability to study EV-D68, they have also revealed the complexity of EV-D68 neuropathogenesis. In this review, we have summarized the current state of basic science research on EV-D68 neurologic disease and have highlighted gaps in our understanding of EV-D68 pathogenesis. We hope that identification of these gaps, as well as discrepancies between models, stimulates new research questions.
Author Contributions
A.M.H. and J.F. wrote the majority of the manuscript and contributed equally to it. M.J.R., K.M., P.C., and K.L.T. were also involved in writing and editing the manuscript.
Funding
This manuscript was funded by grants from the NIH – R01 NS101208 (K.L.T.) and F30 AI136403-01A1 (A.M.H). K.L.T is the recipient of a VA Merit award.
Acknowledgments
We thank Sun et al., 2019 and Zhang et al., 2018 for the use of their original figures.
Conflicts of Interest
The authors report no conflicts of interest. The funders had no role in the interpretation of data; in the writing of the manuscript, or in the decision to publish the review.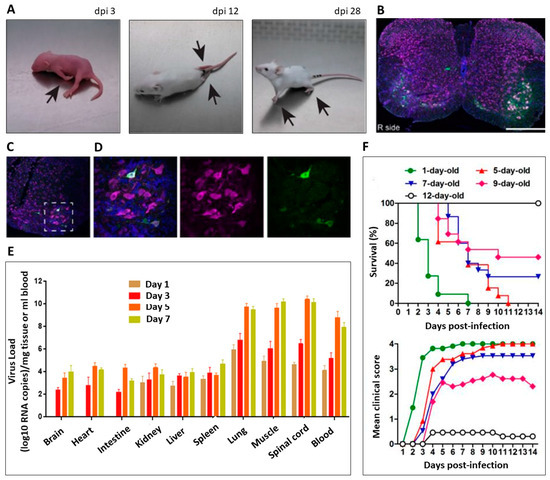 Figure 1.
Contemporary strains of enterovirus D69 (EV-D68) cause paralysis in neonatal mice. (
A
) Examples of limb paralysis (arrows) in 3 different neonatal Swiss Webster (SW) mice following intracerebral (IC) injection of the contemporary EV-D68 strain MO/14-18947. Images are of mice at day post infection (dpi) 3, 12, and 28. (
B
) A cervical spinal cord section of a mouse at 100× original magnification following IC injection with EV-D68 MO/14-18947 that developed right forelimb paralysis on day 4 post-injection. Loss of motor neurons (green, labeled with choline acetyltransferase/ChAT) is observed in the right ("R side") anterior horn, corresponding to the affected side. (
C
) 200× and (
D
) 600× images from a left anterior horn in an IC-injected mouse at 3 dpi before the onset of paralysis showing EV-D68 antigen in an intact cluster of motor neurons. The box in (
C
) represents the area imaged at 600× in (
D
). For all images, neurons (magenta) are labelled with NeuN, a general neuron marker, and nuclei (blue) are labeled with Hoechst 33342. Scale bars for 100× original magnification are 400 μm, 200× are 200 μm, 600× are 50 μm. (
E
) Tissue viral loads of 15296-virus (an EV-D68 strain produced by reverse engineering) in infected neonatal BALB/c mice. Samples of blood, brain, heart, intestine, kidney, liver, lung, muscle, spinal cord, and spleen were collected from infected mice following i.p. challenge with 5 LD50 of 15296-virus at 1, 3, 5 and 7 dpi (
n
= 3 per time point) or control mice given Dulbecco's modified eagle medium (DMEM) at 0 days post-infection. Viral load was measured by real-time PCR, and the results represent the mean viral load ± SD. (
F
) Age dependence of EV-D68-induced disease and mortality. ICR mice (
n
= 11–15/group were intraperitoneally (IP) injected with 2.0 × 10
6
TCID50 of US/MO/14-18947 per mouse at 1, 5, 7, 9, or 12 days of age. Survival and clinical score were then monitored and recorded daily. Clinical scores were graded as follows: 0, healthy; 1, lethargy and reduced mobility; 2, limb weakness; 3, limb paralysis; 4, death. Images taken from Hixon et al., 2017 (
A
–
D
), Sun et al., 2019 (
E
), and Zhang et al., 2018 (
F
).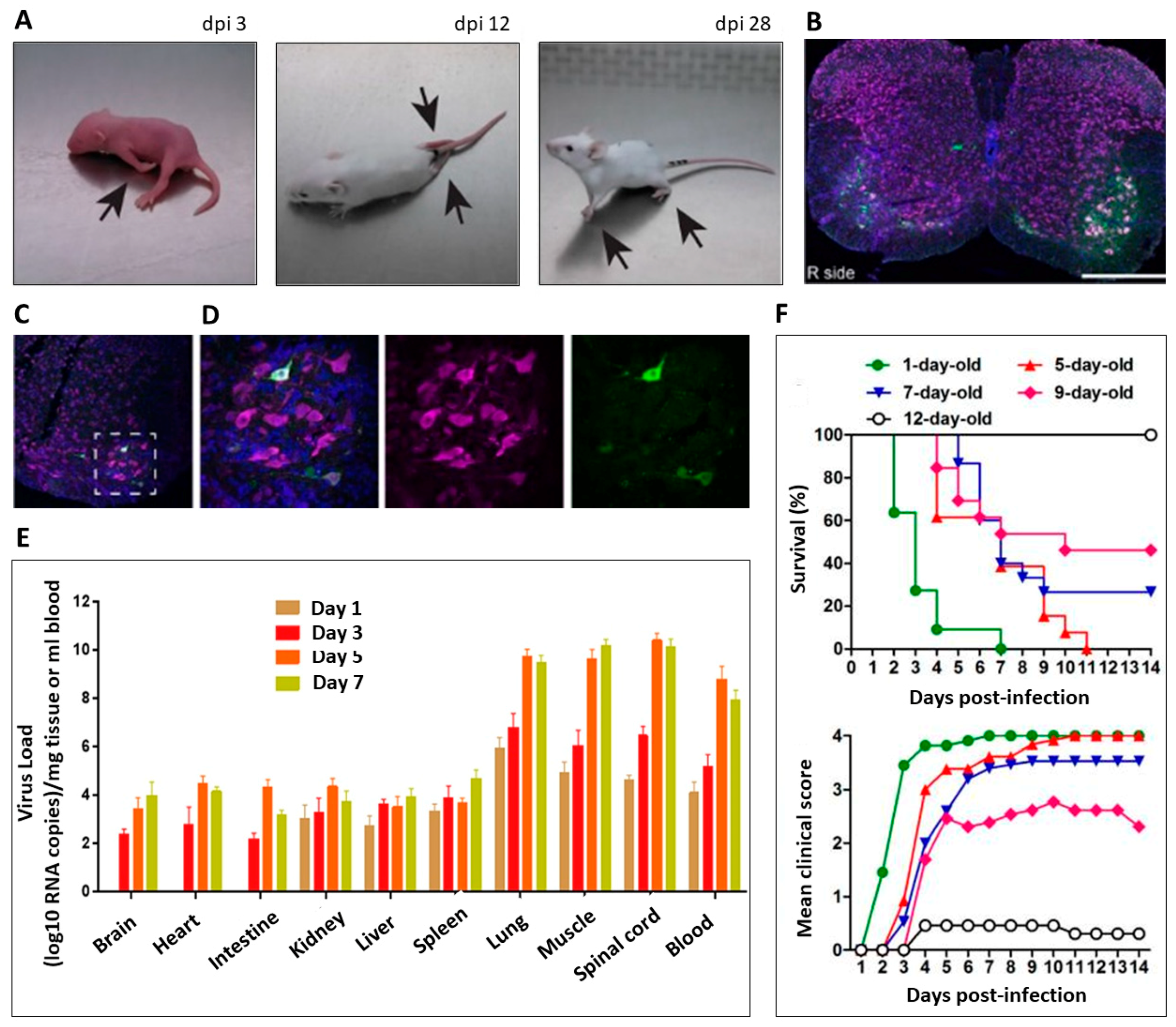 Strain
Clade
Route of Admin
Accession #
Source
Reference
Paralytic
MO/14-18947
B1
IC, IM, IN, IP
KM851225
2014, USA,
Respiratory
Hixon et al. 2017
Zhang et al. 2018
MO/14-18949
B1
IP
MH708882
2014, USA,
Respiratory
Morrey et al. 2018
CA/14-4232
B1
IC
KU844180
2014, USA,
Respiratory
Hixon et al. 2017
IL/14-18952
B2
IC, IM
KM851230
2014, USA,
Respiratory
Hixon et al. 2017 PLoS
Hixon et al. 2017 JID
Beijing-R0132
B2
IP
KP240936
2014, China,
Respiratory
Sun et al. 2019
KY/14-18953
D1
IC, IP
KM851231
2014, USA,
Respiratory
Hixon et al. 2017
Non-paralytic
CA/14-4231
B2
IC
KU844181
2014, USA,
Respiratory
Hixon et al. 2017
USA/N0051U5/2012
A1
IM
KT347280
2012, USA,
Respiratory
Brown et al. 2019
VR1197 *
Proto type
IM
KT725431
Respiratory
Brown et al. 2019
Fermon
Proto type
IC, IM
AY426531
1962, USA,
Respiratory
Scheible et al. 1967
Hixon et al. 2017
Zhang et al. 2018
Rhyne
Proto type
IC, IM
KU844178
1962, USA,
Respiratory
Scheible et al. 1967
Hixon et al. 2017
Franklin
Proto type
IC
1962, USA,
Respiratory
Scheible et al. 1967
Robinson
Proto type
IC
1962, USA,
Respiratory
Scheible et al. 1967

© 2019 by the authors. Licensee MDPI, Basel, Switzerland. This article is an open access article distributed under the terms and conditions of the Creative Commons Attribution (CC BY) license (http://creativecommons.org/licenses/by/4.0/).