Open Access This article is
freely available
re-usable
Article
Selection of Bacteriophages to Control In Vitro 24 h Old Biofilm of
Pseudomonas aeruginosa
Isolated from Drinking and Thermal Water
1
Centre Scientifique et Technique du Bâtiment, Plateforme AQUASIM, 44300 Nantes, France
2
Institut Mines Télécom Atlantique, Laboratoire de Génie des Procédés Environnement Agro-alimentaire (UMR CNRS 6144), 44300 Nantes, France
*
Author to whom correspondence should be addressed.
Received: 12 June 2019 / Accepted: 11 August 2019 / Published: 13 August 2019
Abstract
:
Pseudomonas aeruginosa
is an opportunistic pathogen that causes public healthcare issues. In moist environments, this Gram-negative bacterium persists through biofilm-associated contamination on surfaces. Bacteriophages are seen as a promising alternative strategy to chemical biocides. This study evaluates the potential of nine lytic bacteriophages as biocontrol treatments against nine environmental
P. aerginosa
isolates. The spot test method is preliminarily used to define the host range of each virus and to identify their minimum infectious titer, depending on the strain. Based on these results, newly isolated bacteriophages 14.1, LUZ7, and B1 are selected and assessed on a planktonic cell culture of the most susceptible isolates (strains MLM, D1, ST395E, and PAO1). All liquid infection assays are achieved in a mineral minimum medium that is much more representative of real moist environments than standard culture medium. Phages 14.1 and LUZ7 eliminate up to 90% of the PAO1 and D1 bacterial strains. Hence, their effectiveness is evaluated on the 24 h old biofilms of these strains, established on a stainless steel coupon that is characteristic of materials found in thermal and industrial environments. The results of quantitative PCR viability show a maximum reduction of 1.7 equivalent Log CFU/cm
2
in the coupon between treated and untreated surfaces and shed light on the importance of considering the entire virus/host/environment system for optimizing the treatment.
Keywords:
bacteriophages;
Pseudomonas aeruginosa
isolates; planktonic cells; biofilms; stainless steel surfaces; disinfection; viability q-PCR
1. Introduction
Antimicrobial control is essentially based on the use of antibiotics in human and animal medicine and on the use of disinfectant products grouped under the name "biocides" for all other uses. The ability of the microbial community to adapt to these different molecules, which are sometimes used in an unreasonable way, the worrying increase in antibiotic resistance, and the lack of suitable solutions to eliminate certain pathogens from our environment led us to develop alternative solutions while considering economic and social issues.
2. Materials and Methods
2.1. P. aeruginosa isolates: Origin and Culture Conditions
2.1.1. Origin
Nine strains of
P. aeruginosa
were used for this study in the laboratory and are listed in
Table 1
. This panel included the PAO1 reference strain [
41
], six environmental strains isolated from drinking water or thermal water networks, as well as two strains of clinical (ST395P) and environmental (ST395E) origin isolated from the same intensive care unit (ICU) of Besançon hospital (Besançon, France). Two strains, the PAO1 reference strain and the ST111 environmental isolate, were provided by the Macromolecular Systems Engineering Laboratory of Marseille (UMR Centre National de la Recherche Scientifique 7255, Marseille, France). The environmental isolates D1 and D2 were provided by the Laboratory of Hydrology-Environment of the Faculty of Pharmaceutical Sciences of Bordeaux (Bordeaux, France). Isolates E1 and E6 came from the same thermal establishment and were isolated from drinking water and thermal water, respectively.
2.1.2. Strain Culture Conditions and Their Genotypes
Strain typing was performed previously [
42
] using the Multiple Locus VNTR Analysis (MLVA) method based on the analysis of the following 16 VNTRs: ms77, ms127, ms142, ms172, ms211, ms212, ms213, ms214, ms215, ms216, ms217, ms222, ms223, ms61, ms207 and ms209 (Centre Européen D'expertise Et De Recherche Sur Les Agents Microbiens, La Chapelle sur Erdre, France).
Each strain was consecutively subcultured on cetrimide selective medium at 30 °C for 48 h and then on plate count-agar (BioMerieux, Craponne, France) at 30 °C for 24 h before being resuspended in liquid Luria Bertani broth (LB) medium or in mineral minimum medium (pasteurized mineral water; 0.02% glucose; 0.05% casamin acid). Bacterial growth was monitored turbidimetrically by measuring absorbance at 600 nm.
2.2. Phage Collection
Part of the panel was kindly provided by the Evolutive Sciences Institute of Montpellier (ISEM, UMR 5554, Montpellier, France). Among them, LKD16, 14.1, LUZ7, and PEV2 were first isolated by Ceyssens et al. [
44
,
45
,
46
]. Seven phages were obtained, with three families of the order
Caudovirales
represented: LKD16, LUZ19, LUZ7, and PEV2 for
Podoviridae
; 14.1, EL for
Myoviridae,
and MP22 for
Siphoviridae
. All have already been the subject of previous studies to confirm their genome double-stranded DNA [
47
] and were isolated from the
P. aeruginosa
PAO1 or PA14 strains. For some, the host receptors used for infection have been identified. All of these phages were fully sequenced, and corresponding information is available in the European Genome Archive [
48
] and listed in
Table 2
.
2.3. From Spotting to the Planktonic Cells
The bacteriophages B1, LUZ7, and 14.1 were evaluated on the selected strains in liquid medium. An overnight bacterial culture was used to inoculate a mineral minimum medium at OD600 nm = 0.1. This pre-culture of bacteria was placed at 30 °C with stirring in order to obtain the end of the exponential phase of bacterial growth. Experiments were carried out in glass tubes in which 2 mL of the host suspension was mixed with 2 mL of phages (at three different concentrations) to obtain three multiplicities of infection (MOIs) ranging from 10 to 10−1. The OD600 nm was measured over 24 h at time intervals of 2 h, and for the last one, after 14 h. Three tubes were monitored for each condition (phages/MOI/strain), and control tubes were performed with a 3 × 2 mL bacterial suspension mixed with an equal volume of mineral minimum medium without phages. Data are reported in graphics, where each point represents the mean ± standard deviation of three tubes.
2.4. One-Step Multiplication and Transmission Electron Microscopy (TEM) Observations of B1, 14.1, and LUZ7 Phages
2.4.1. One-Step Multiplication
One-step growth curve studies were performed as described previously [
32
], with some modifications. A volume of 1 mL of exponential-phase PAO1 culture in LB medium, OD
600
0.6 corresponding to approximately 10
9
CFU/mL, was harvested by centrifugation (5 min, 4000 rpm, 4 °C). An aliquot containing 10
9
or 10
8
PFU/mL of phages was added to the bacteria cells, which corresponds to a multiplicity of infection (MOI) of 1 or 0.1. After adsorption for 10 min (30 °C), the mixture was centrifuged, as described above, and the pellet was resuspended in 10 mL of fresh LB at 30 °C under agitation. One aliquot of the supernatant was immediately used to determine the amount of free phage remaining. The reduction of PFU in the supernatants represents the number of phage bound or inactivated by contact with the cells.
Next, duplicate samples of 20 µL were taken aseptically every 5 min over a period of 60 min and were diluted in LB from 101 to 108, allowing phage enumeration to occur. A graph was plotted between the titer of virus and time. The curve obtained at the end of the experiment was used to estimate the burst size and the latent phase of the B1, 14.1, and LUZ7 bacteriophages.
2.4.2. Transmission Electron Microscopy (TEM)
To visualize the phage morphology, 1 mL of phage lysate was concentrated in two steps via Amicon Ultra-0.5 mL Centrifugal Filter Units 100 K (Merck, Darmstadt, Germany). The purified phage suspension was dripped onto a carbon-formvar coated with a 200 mesh grid and fixed for 1 min, and the extra liquid was removed by tight contact with absorbent paper. Grids were air-dried for 30 s at room temperature before being negatively stained with UranyLess (Delta Microscopie, Mauressac, France), according to the manufacturer's recommendations. After air drying, grids were examined using a TEM JEM 1010 (JEOL Europe SAS), operating at an acceleration voltage of 80 kV.
2.5. Infection of Biofilm Cells Developing on Stainless Steel Coupons
3. Results and Discussion
3.1. Phage Spectrum: Selection of Susceptible Strains
Phages were preliminarily amplified to produce sufficient stock lysate. Screening of their host range was then performed. Thus, the infectivity of the seven phages plus two new isolated phages was investigated by the spot method against nine different
P. aeruginosa
strains including the PAO1 reference. Results revealed that on the basis of three replicates, the majority of phages were able to efficiently lyse three environmental pathogenic isolates (
Table 4
): MLM, D1, ST395E, and not surprisingly, the PAO1 reference strain, which is often used as a phage isolation step. To a lesser extent, some viruses were found to be less effective against D2, ST111, E1, and E6 and totally non-infectious against ST395P. It is interesting to note that LUZ7 and 14.1 were able to infect up to six strains of the collection and B1 and PEV2 infected five of the nine strains tested. The receptors used by LUZ7 and 14.1 phages to adhere to the bacterial surface during infection are lipopolysaccharides (LPS), one of the major components of the Gram-negative bacterial wall. In their study, Silva et al. [
7
] also highlighted the fact that numerous phages preferentially adhere to the surface of Gram-negative bacteria through these components. With regard to PEV2 phages as well as newly isolated B1 phages, no bacterial receptor is known.
3.2. Effectiveness of Individual Phage: Selection of Virulent Phages
Based on previous experiments, four
P. aeruginosa
strains were selected (MLM, ST395E, PA01 and D1). These strains were challenged with all phages to estimate the effectiveness of each one according to the strain. The spot test method was also used, but standardized phage solutions (10
9
PFU/mL) were diluted from 10
−1
to 10
−5
before being spotted onto the agar lawn. The minimum infectious titer (MIT) was determined for each infectious phage. Results from
Figure A2
,
Figure A3
,
Figure A4
and
Figure A5
are summarized in
Table 5
and were used to select three viruses.
The trials showed the same results for the eight phages concerning the PAO1 strain with the smallest MIT (10
6
PFU/mL). The LUZ7, PEV2, and 14.1 bacteriophages were able to efficiently lyse the MLM and ST395E strains at the same titers, for example, 10
7
PFU/ mL for LUZ7 and PEV2 and 10
9
PFU/mL for 14.1. All phages were infectious on the D1 strain, and most efficient ones were LUZ7, LUZ19, PEV2, B1, 14.1, and LDK16 with the MIT estimated at 10
7
PFU/mL. Based on these results, LUZ7 (
Podoviridae
) and 14.1 (
Myoviridae
) were retained for their effectiveness and in order to represent two of the three
Caudovirales
families. The newly isolated B1 phage was the third candidate selected to assess the susceptibility of
P. aeruginosa
planktonic cells from the MLM, D1, and PAO1 strains.
3.3. Observation of B1 Phages
3.4. Determination of 14.1, B1, and LUZ7 Lytic Parameters
One-step growth curves were perfomed to determine phage multiplication parameters, which are important for characterizing the infection process and establishing their lytic potential. In fact, these parameters allowed us to eliminate the doubt on the existence of other molecular mecanisms which make difficult to distinguish between lysis through phage multiplication, abortive infection, or lysis from without [
56
]. The one-step growth curves of 14.1 and B1 indicated that the latent period of both phages was approximately 20 min, and the latent period of B1 was very short (10 min) (
Table 6
). Their estimated burst sizes were 70, 79/90, and 160 phage particles per infected cell, respectively. The high adsorption rates, burst sizes, and short latent periods are in agreement with the lytic activity, which makes them potentially good biocontrol agents.
3.5. Liquid Infectious Pattern of LUZ7, B1, and 14.1 in Mineral Minimum Medium
The efficacy of the three phages, selected above, was assessed by inoculating a culture of
P. aeruginosa
PAO1 and also the three sensitive strains MLM, D1, and ST395E. Suspensions containing the phages were prepared in mineral minimum medium to achieve a multiplicity of infection (MOI, the ratio of virus particles to viable bacterial cells) of 0.1/1/10 in the culture. Phages were introduced after 14 h of bacterial growth, and then cultures were monitored for a further 24 h period. The activity of phages significantly reduced the bacterial population, but the magnitude of these reductions was strain-dependent.
Figure 3
,
Figure 4
and
Figure 5
show that for all controls without phages, absorbance was two-fold higher after 24 h. Conversely, when bacteriophages were infectious, OD
600
was decreased to near zero. In the case of LUZ7, two patterns were underlined (
Figure 3
). The populations of the D1 and PAO1 strains were decreased by 90% and 95% respectively, from 8 to 24 h after phage inoculation. However, the MOI which initiated the decline after about 2 h of time course, was the highest. Surprisingly, LUZ7, although selected on the basis of spot tests, did not suppress the growth of the host strains MLM and ST395E at all MOIs tested.
In the same way, the growth of D1 and PAO1 strains was stopped and then decreased from 2 h after inoculation of phage 14.1 for the highest MOI (
Figure 4
). Other MOIs (1 and 0.1) also had an effect, but this was delayed in time. Nonetheless, all of the MOIs tested led to the same rate of growth inhibition (approximately 90%) at 10 h post-inoculation. Although the antibacterial effect of phages was significant on the PAO1 and D1 strains, populations seemed to behave differently between 10 and 24 h. Data led to thinking about potential regrowth.
Compared to LUZ7, the phage 14.1 (at MOI 10) was able to maintain the steady state of the MLM and ST395E populations but not along the whole time course of the infection assay (
Figure 4
), because after 10 h, the optical density values increased.
The phage activity of B1 was very different from that of LUZ7 and 14.1 (
Figure 5
). If they had the same infection pattern against the PAO1 strain and D1 isolate, the results showed that B1 could interfere with ST35E and MLM planktonic cells. Concerning the MLM and ST395 cultures, OD
600
values evolved in the same manner as controls without phages during the first 8 h of phage treatment (
Figure 5
B,C) and then, surprisingly, phage B1 (at MOI 10) managed to negatively impact the total population, which was reduced by 45% and 70%, respectively (
Figure 5
B,C).
Planktonic cells from the reference PAO1 strain, known as a permissive strain, were efficiently eradicated by each of the three viruses, LUZ7, 14.1 and B1 (
Figure 3
D,
Figure 4
D and
Figure 5
D), in liquid. The environmental strain D1 was also sensitive to LUZ7, 14.1 and B1 (
Figure 3
A,
Figure 4
A and
Figure 5
A). While the remaining absorbance for PAO1 could be due to bacterial components of cellular debris, the results show that the regrowth of other strains can be observed more or less rapidly after phage application. This especially concerned MLM and ST35E isolates when infected by LUZ7 and 14.1 (
Figure 3
B,C and
Figure 4
B,C). Infections did not suppress multiplication of the bacterial population; nonetheless, their lytic activity maintained a steady state which was probably due to equal lytic and growth rates. However, when the cell multiplication of cultures became higher than the number of dead cells, the optical density proportionally increased according to the MOI used. In the case of 14.1, the growth remained, however, at a lower rate compared to the hosts cell control grown in the absence of bacteriophages (
Figure 4
B,C). Additional assays were performed by adding a second dose of the virus. No supplemental bactericidal effects were obtained (data not shown) suggesting the selection and multiplication of non-susceptible cells. Similar trends were also observed in earlier studies for
P. aeruginosa
infected with
Podoviridae
or
Myoviridae
phages [
20
,
26
] and were associated with the emergence of phage-resistant cells. These phases of steady state bacteria–virus interaction can, to some extent, select natural resistant bacteria or provide the evolution of host cells by developing molecular mechanisms of resistance to bacteriophage infection. Amongst them, Clustered Regularly Interspaced Short Palindromic Repeats (CRISPR), restriction-modification, abortive infection, or the mutation of surface receptors are the most encountered [
68
]. More recently, the BREX (Bacteriophage Exclusion) system was also described as a system of defense that relies on methylation [
69
].
One of the most important parameters concerns the applied infectious dose. The three MOIs tested in this study led to the same results after 24 h of phage treatment depending on the strain; however, the highest MOI sped up the elimination of bacteria.
Another point of discussion is the lack robustness of the spot test method when screening the lytic activity of phages. Pires et al. [
70
] also pointed out this aspect in their study. Despite the broad spectra of activity of the four selected phages against clinical
P. aeruginosa
isolates, infection assays on planktonic cells showed that two of them failed to infect their hosts, even at the ideal exponential growth phase. This evidence indicates that phages used for specific antibacterial applications should not be chosen solely on the basis of spot assays. Recently, Xie et al. [
71
] proposed a microtiter plate-based assay for the determination of the bacteriophage host range and virulence in a high-throughput, 96-well format. This real-time measurement of optical density in the presence of phages would be an alternative host range method with high resolution compared to conventional agar overlay spot assays.
The viruses LUZ7 and 14.1, already known, were chosen to establish the model of the biofilms' infection. Their effectiveness on D1 and PAO1 planktonic cells makes them good candidates to evaluate their potential on the more complex biofilm structures of these two isolates, respectively.
3.6. Activity of 14.1 and LUZ7 on Biofilms
The following step was to characterize the efficiency of the bacteriophages LUZ7 and 14.1 to remove cells attached to stainless steel surfaces. Previous studies have already highlighted that the antibacterial effectiveness of phages depends partly on the host cells' physiological state related to the biofilm formation circumstances and, on the other hand, the importance of phage infection modalities [
72
,
73
]. Here, juvenile, 24 h old biofilms of D1 and PAO1
P. aeruginosa
were established on stainless steel coupons immersed in mineral minimum medium. Bacterial populations were quantified by standard plate count (SPC) and/or qPCR/viability qPCR (v-qPCR) before virus application and after. v-qPCR is an accurate specific method of amplification, providing the relative quantification of viable cells only (including VBNC cells) compared to the q-PCR standard, which non-selectively amplifies the targeted sequences of all bacteria (dead, viable, and VBNC) [
74
,
75
]. Therefore, the difference between these two types of data is one way to gain information about the repartition state of metabolic cells (between dead cells and viable + VBNC cells). Previously, the use of v-qPCR was also applied to monitor the population dynamics of five species in oral biofilms [
76
], to quantify
P. aeruginosa
in mono- and multispecies biofilms following exposure to various antibiotics used to treat cystic fibrosis [
60
], and recently, to monitor viable cells of the biological control agent
Lactobacillus plantarum
PM411 on aerial plant surfaces [
61
].
The viable SPC, qPCR, and v-qPCR results for 24 h old biofilms were respectively 7.40, 7.31 ± 0.23, and 7.12 ± 0.33 Log UFC/cm
2
of the coupon for PAO1 and 8.20, 7.44 ± 0.4, and 7.18 ± 0.39 Log CFU/cm
2
of the coupon for D1 (
Table 7
). Data obtained by qPCR and v-qPCR were not significantly different in the two cases and suggested a homogenous physiological state of cells within the juvenile biofilm. The SPC data were identical to the qPCR results and confirmed that they were mainly composed of viable cells. SPC was also applied to enumerate viable cells of the 24 h + 14 h biofilm, which corresponded to the untreated biofilms. The results show that the populations of the 24 h and 24 h + 14 h biofilms were not significantly different (
Table 7
and
Table 8
). Pires et al. [
70
] also showed that the quantity of cells in a 24 h old biofilm of the PAO1 strain, growing in 24-well microplates, was identical to that of a 48 h biofilm and was close to 8 Log CFU/cm
2
.
Then, viable cells were assessed 14 h after the addition of phage 14.1 or LUZ7 against PAO1 and D1 24 h-old biofilms by v-qPCR. Data were then compared to the non-treated controls that received no phage, (
Figure 6
and
Figure 7
) (
Table 8
). The four histograms also showed that there is no significant difference between the standard qPCR and v-qPCR results, for either treated or untreated biofilms. That means that all cells embedded to the biofilm matrix were metabolically active, infected or not. This result suggests that the application of phages in the biofilm environment does not impair the physiological state of all cells, but rather acts directly by killing and eliminating the most accessible cells. When 24 h old
P. aeruginosa
PAO1 biofilms were exposed to LUZ7, the number of adhered bacteria decreased by approximately 1.5 Log (
Figure 6
A) and with 14.1, the number decreased by 1.2 Log equivalent CFU/cm
2
of the coupon (
Figure 7
A).The exposure of 24 h old D1 contamination led to a reduction of 0.72 Log with LUZ7 (
Figure 6
B) and a reduction of 1.7 Log equivalent CFU/cm
2
of coupon with 14.1 (
Figure 7
B).
Collectively, LUZ7 treatment was the most effective against the PAO1 strain compared to 14.1. This was in accordance with the short latent period and the high burst size of LUZ7 previously characterized on PAO1. On the contrary, phage 14.1 was the most effective on the 24 h old D1 biofilm. Comparing the effect of phages against free cells on biofilm removal, a more positive and rapid effect was observed in eliminating the bacterial load of broth culture than for biofilm. However, observations made over the course of experiment enabled us to make the hypothesis that phage repartition in the system could be an explanation. Indeed, the turbidity of the liquid mineral minimum medium around stainless steel coupons (INOX 316L) was totally different between the control jar without phages and the other jars (
Figure 8
).
To track the distribution of viruses in the studied system, the amount of phage present in the medium around the coupons after treatment with 14.1 was determined, as well as the amount associated with the biofilm. In the assays carried out with phage 14.1, an infectious dose equivalent to 4.1 × 10
10
PFU was added to each jar. After 14 h, 6.3 × 10
11
PFU and 5 × 10
10
PFU in suspension was counted for the PAO1 strain and D1, respectively. This fraction only represents the phages which, at the end of treatment, were still completely free and virulent in the medium, since during the extraction protocol, part of the viruses adsorbed on the bacterial receptors was probably eliminated within the bacterial cell debris. The results also revealed the existence of a phage population adhered to the biofilm (10
8
PFU). This population was lower than that found in the liquid medium, although it may have been underestimated if we consider the negative impact of sonication on the viability of phage particles highlighted by Melo et al. [
77
] and estimated in this study at 1 Log. LUZ7 phages showed similar behavior to a larger proportion of free-flowing phages in the medium than to associated phages (
Table 9
).
This unequal distribution of phages between the liquid and solid phases is in line with the spectrophotometry results, which demonstrated, during tests with LUZ7 phages, a very significant lysis of the planktonic population in the surrounding medium (
Figure 8
). In treated jars, negative values confirmed the absence of planktonic bacteria. On the basis of these observations, it is possible to discuss the mechanisms of action of bacteriophages by suggesting that:
-

Planktonic phages exerted lytic action on the free cells detached from the biofilm as a priority, allowing them to multiply in the mineral minimum medium around the coupons.

-

Some of these phages also adhered to the biofilm, thereby interfering with the development, as well as the spread of the biofilm in the surrounding environment.
Among the parameters likely to influence the efficacy of phages, the infectious dose used for the treatment is an important factor. By quantification of the 24 h biofilm cells, the MOI was estimated at 50 for the PAO1 strain and between 50 and 300 for the D1 strain in the case of the LUZ7 assays. These concentrations, which were much higher than those applied on the planktonic cell cultures (MOI 0.1; 1; 10), revealing the complexity of an attack targeting the biofilm. In the literature, Hanlon et al. [
78
] also demonstrated the greater susceptibility of the suspended cells to phages to the detriment of the adhered cells. In their experiments, an MOI of 100 resulted in a 1-log reduction in the viable cell number of the biofilm, and the log reduction factor increased to 2 with an MOI of 1000, without the age of the biofilm mattering. Indeed, the architecture and composition of the biofilm do not facilitate access to phages [
78
,
79
]. The superposition of several layers of cells causes an unequal distribution of nutrients and oxygen and promotes the appearance of bacterial sub-populations whose metabolism is changed. These modifications may also impact the expression of certain genes and thus the concentration and/or the presence of the receptors used by phages during infection on the cells' surfaces [
80
,
81
].
Another parameter concerns the environment-promoting cells adhesion and biofilm's growth, as well as the kind of surface present. Phages which multiply well under in vitro conditions can fail to replicate during treatment in vivo [
25
,
69
]. This means that all systems should be investigated before considering phages as potential green biocides. Garbe et al. [
82
] indeed showed a different behavior of the PAO1 strain cultivated in LB medium and in artificial sputum medium. Phage JG024 (
Myoviridae
, PB1-Like) was therefore less effective on biofilm. In the study of Scarascia et al. [
38
], three bacteriophages were further applied against a
P. aeruginosa
-enriched artificial seawater biofilm to validate their activity in saline condition. One previous study also highlighted that the ability of environmental
P. aeruginosa
isolates to form biofilm is correlated with the minerality of water without disturbing the metabolic activity rate [
42
]. Low minerality favors biofilm production. The use of mineral minimum medium, in our study, which was composed of mineral water with a lower minerality, could thus contribute to phage progression being limited through a high-density matrix but was well representative of the contaminations found on surfaces in contact with water. The ability of
P. aeruginosa
isolates to form biofilm has also been linked to the synthesis of pyocianin (PCN) [
42
], a virulence factor which can generate reactive oxygen species such as H
2
O
2
. Some authors have suggested that it is responsible for phage inactivation [
25
], but this requires further studies according the phages used.
5. Conclusions
Biofilms from
P. aeruginosa
on surfaces can barely be penetrated by current antimicrobial agents. The use of host-specific bacteriophages could be a potential alternative that could minimize the negative impacts of treatment on materials. This study enabled us to select specific lytic bacteriophages of environmental water network
P. aeruginosa
isolates. Bacteria were cultivated in a mineral minimum medium providing more realistic conditions than standard culture media. This medium was also found to be adequate for phage amplification and conservation over a long period of time. Among the nine phages studied, 14.1, B1 and LUZ7 were able to lyse up to 90% of the planktonic cells of PAO1 and D1 bacterial isolates. On 24 h old biofilms developing on stainless steel coupons, the maximum rate of biofilm elimination reached up to 1.7 Log after 14 h of treatment. Phages were found to be very efficient at limiting the spread of biofilm in the surrounding environment. Their effectiveness on attached cells was lower than on planktonic cells, probably due to the complex architecture of biofilm and the plasticity of bacteria cells. However, the real issue is the apparition of bacterial resistance when viruses and their planktonic hosts are challenged over long periods of time. Hence, in future works, it would be interesting to assess higher MOIs or phage cocktails or to combine their activity with some other biological molecules, without adding chemical products. Overall, the use of phages as biocontrol agents requires the development of safe, stable, and suitable solutions with a high antibacterial efficacy.
Author Contributions
Conceived and designed the experiments: V.M., Y.A., N.G.; investigation, V.M.; writing—original draft preparation, V.M.; writing—review and editing, V.M., N.G., Y.A.; supervision, Y.A. and N.G.; project administration, Y.A. and N.G.
Funding
This research received no external funding.
Acknowledgments
The authors thank Oliver Kaltz and Claire Gougat Barbera at the Evolutive Sciences Institute of Montpellier (Montpellier, France) for providing the viruses of
Pseudomonas aeruginosa
and some technical tips and also for their hospitality for a few days. We thank Christophe Gantzer and his staff at LCPME (University of Lorrain, Nancy, France) for the phage purification protocol and Joelle Veziers from the SC3M platform (Nantes, France) for transmission electron microscopy observations and advice. Y.A. and V.M. were supported by the Department of Energetic Systems and the Environment of Institute of Mines-Telecom Atlantic (Nantes, France). V.M. and N.G. were supported by the Scientific and Technical Center of buildings (Nantes, France).
Conflicts of Interest
The authors declare no conflict of interest.
Abbreviations
| | |
| --- | --- |
| MDR | multi-drug resistant |
| VBNC | Viable but Non-Culturable |
| LB | Luria Broth |
| TSB | Tryptic Soy Broth |
| PFU | Plaque Forming Unit |
| CFU | Colony Forming Unit |
| EOP | Efficiency Of Plating |
| MIT | Minimum Infectious Titer |
| CF | Cystic Fibrosis |
Appendix A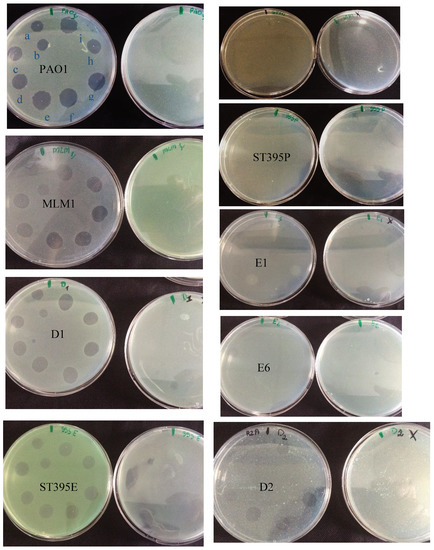 Figure A1.
Plaque lysis forming from one spot test assay with concentrated phage suspensions. Each picture corresponds to the phage activity resulting from one of the nine
P. aeruginosa
strains (on the left: Petri dishes with spot test assays, on the right: Petri dishes without spot test and used as positive growth control). From the top to the bottom: left column, P. aeruginosa strain collection of PAO1, MLM, D1, and ST395E; right column, strains ST111, ST395P, E1, E6, and D2. Entitled spots: (
a
) B1, (
b
) LR1, (
c
) PEV2, (
d
) LUZ7, (
e
) 14.1, (
f
) LDK16, (
g
) EL, (
h
) MP22, (
i
) LUZ19. Lighter areas at the deposit locations correspond to bacterial lysis by phages. Different results were obtained according to the strain tested.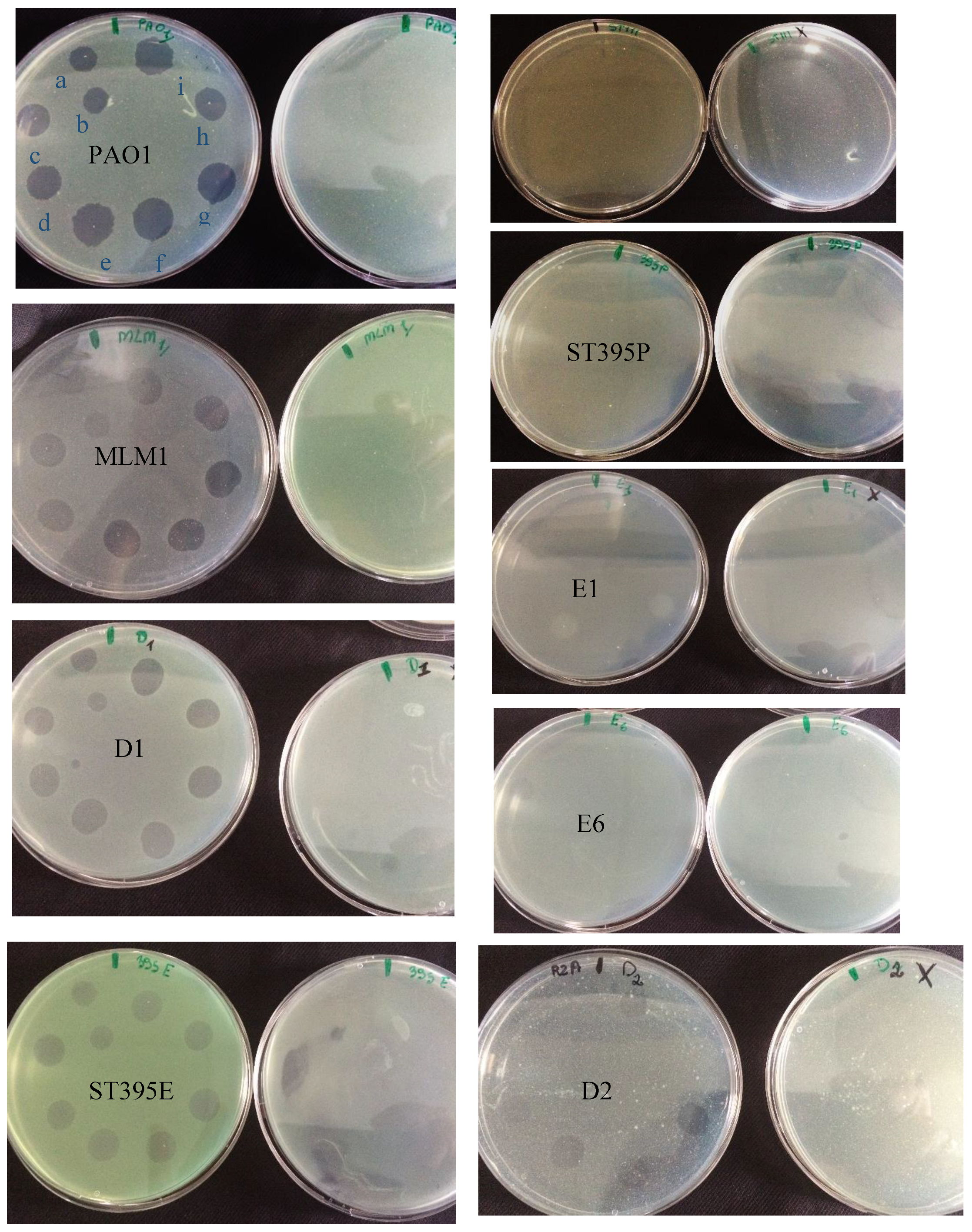 Figure A2. Plaque lysis forming from one spot test assay on the PAO1 reference strain challenged with diluted phage suspensions. Each plate corresponds to plaque lysis from two phages. The first plate at the top of the picture corresponds to the growth control of the strain without phages.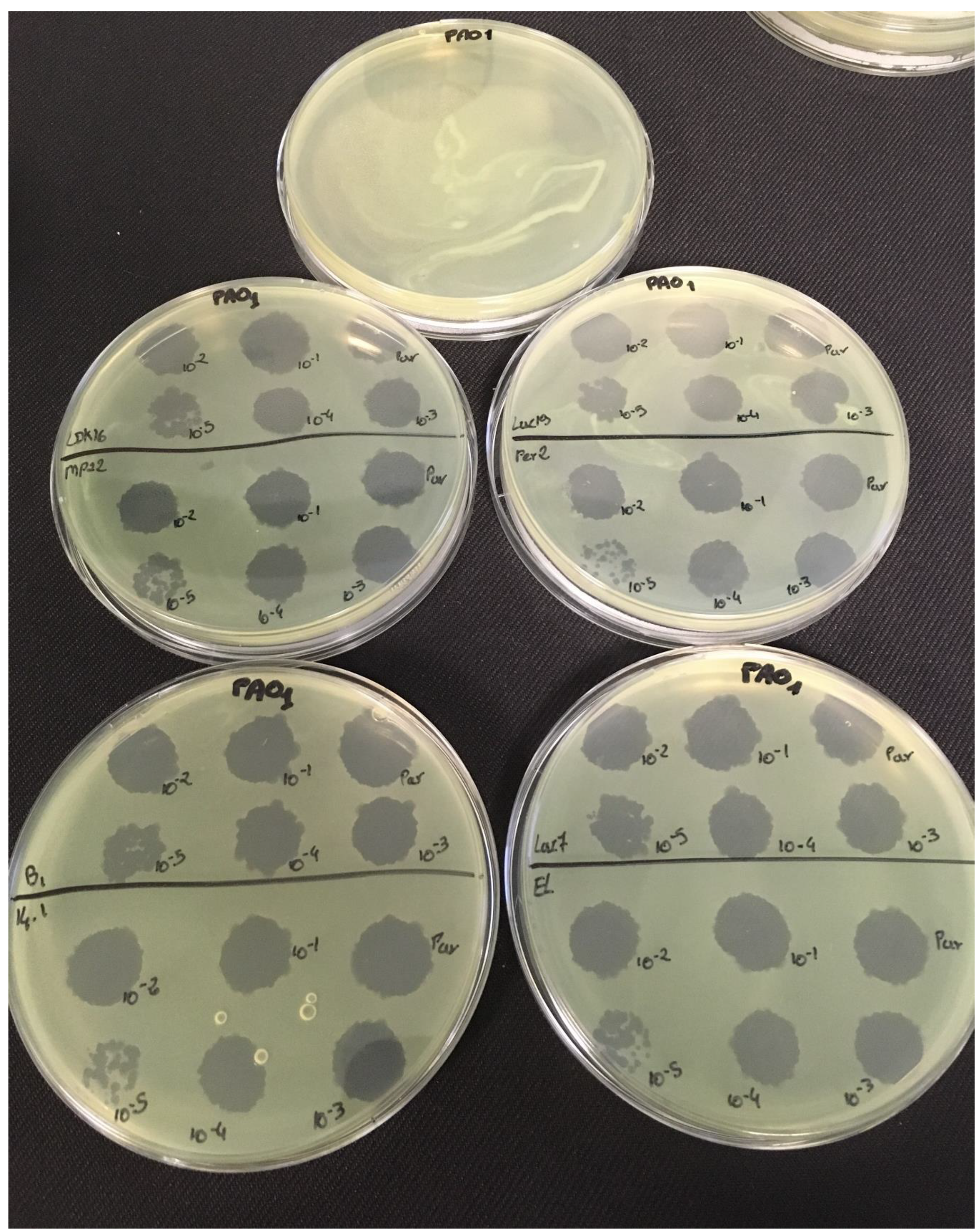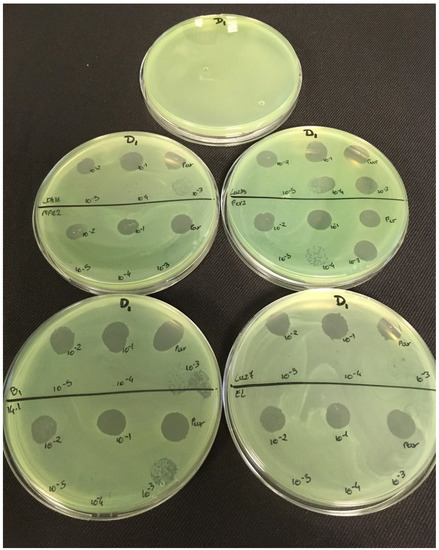 Figure A3. Plaque lysis forming from one spot test assay on the D1 isolate with diluted phage suspensions. Each plate corresponds to plaque lysis from two tested phages. The first plate at the top of the picture corresponds to the growth control of the isolate without phages.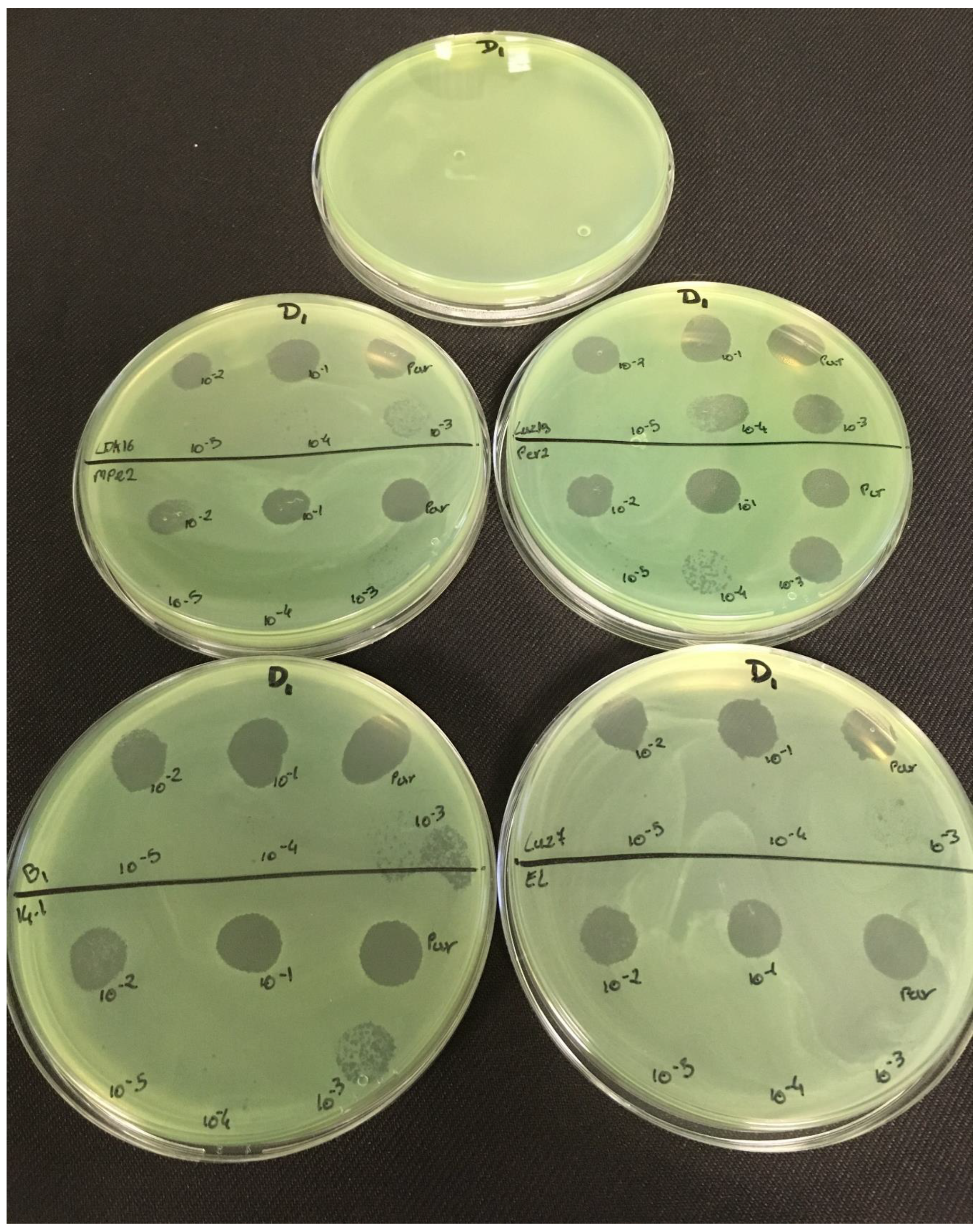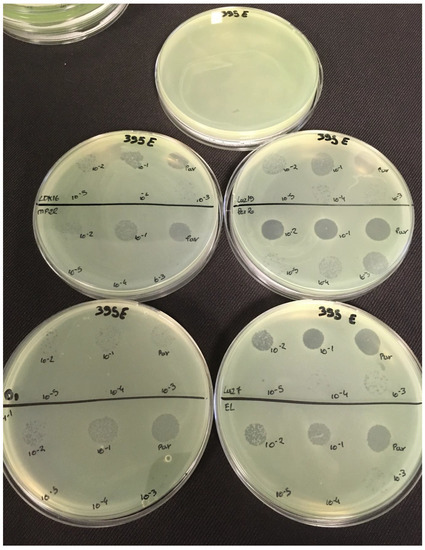 Figure A4. Plaque lysis forming from one spot test assay on the ST395E isolate with diluted phage suspensions. Each plate corresponds to the plaque lysis from two tested phages. The first plate at the top of the picture corresponds to the growth control of the isolate without phages.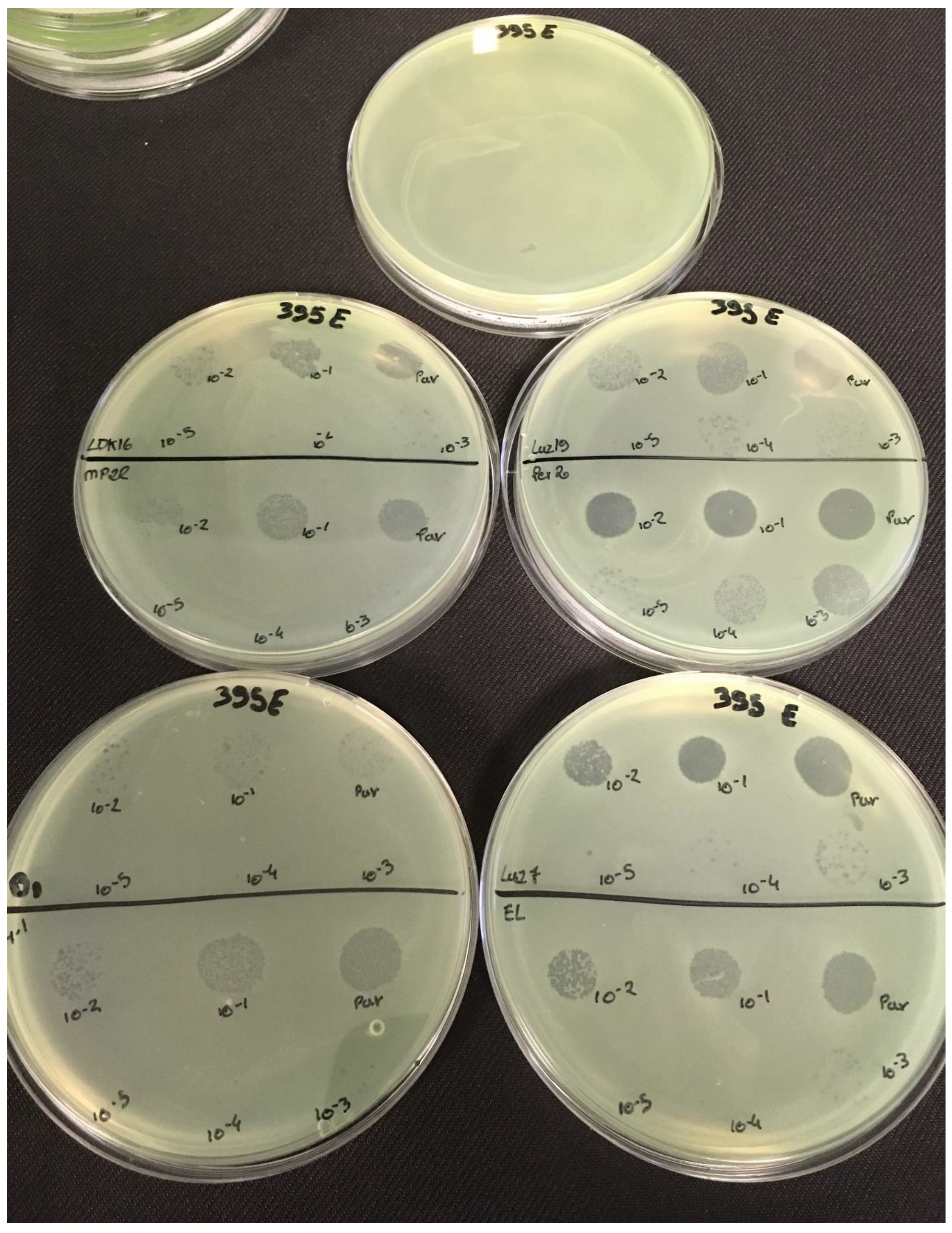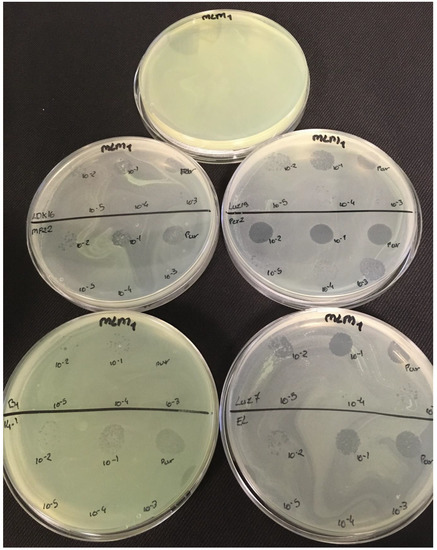 Figure A5. Plaque lysis forming from one spot test assay on MLM isolate with diluted phage suspensions. Each plate corresponds to the plaque lysis from two tested phages. The first plate at the top of the picture corresponds to the growth control of the isolate without phages.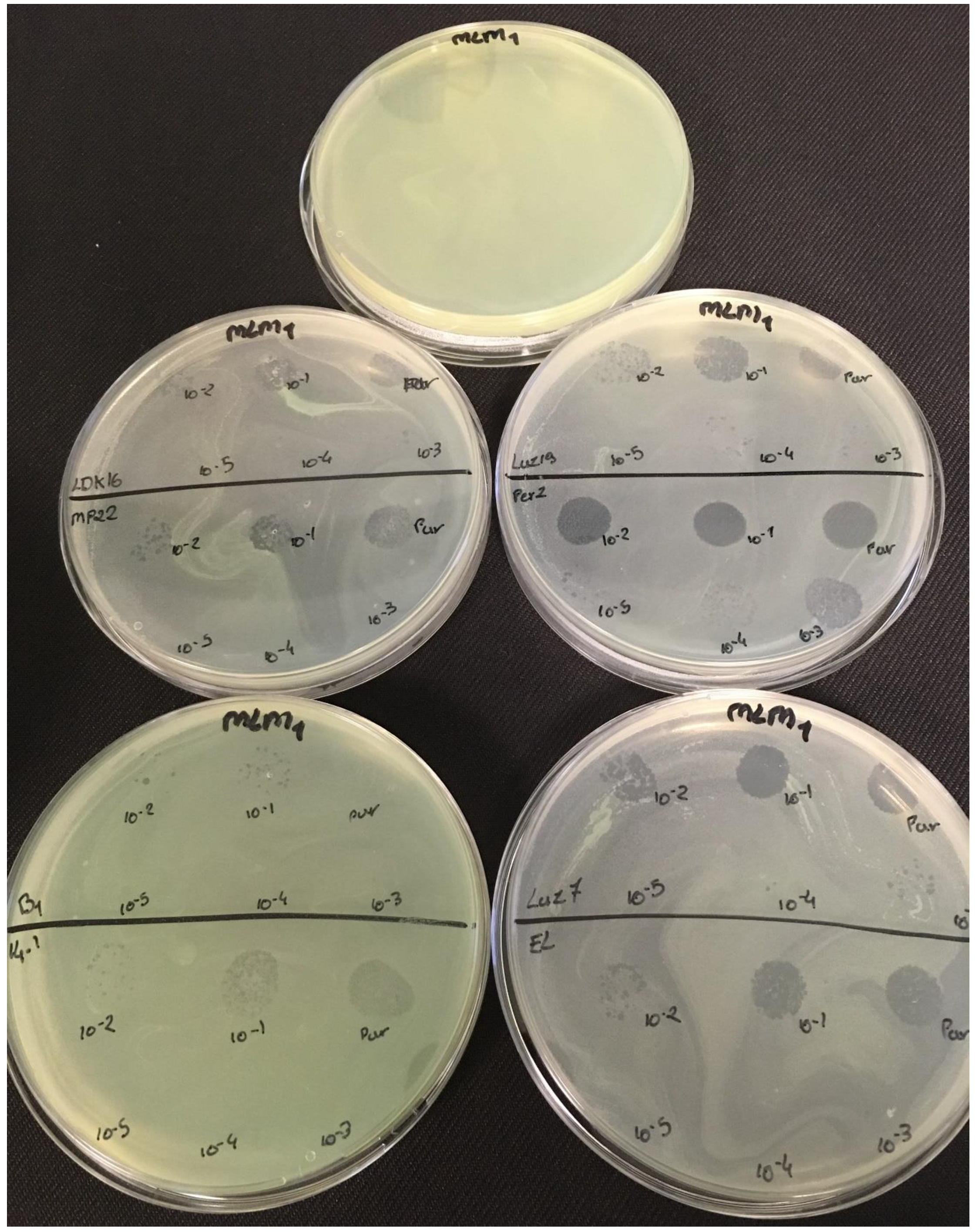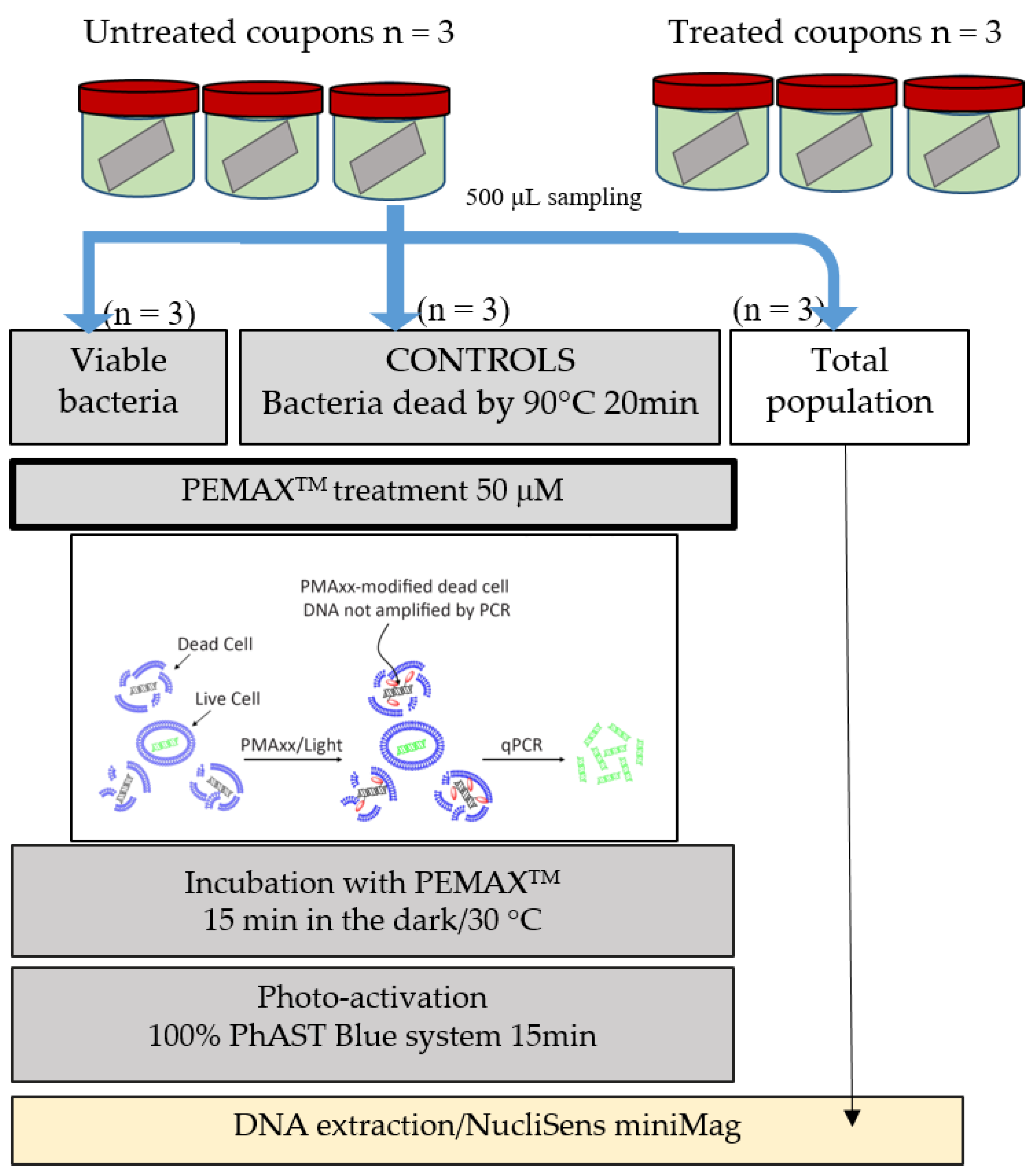 qPCR
Strain
Name of « run »
Equations
r2
Slope
Efficacy
Sonde TaqMan®
PAO1
PAO1_14.1 num 1
y = −4.025x + 45.513
0.9571
−4.025
1.77
PAO1_14.1 num 2
y = −4.0799x + 43.664
0.9675
−4.0799
1.76
D1
D1_14.1 num 1
y = −4.2557x + 53.382
0.9782
−4.5725
1.72
D1_14.1 num 2
y = −4.2527x + 46.581
0.968
−4.2527
1.72
PAO1
PAO1 (24 h biofilm)
y = −3.3164x + 39.118
0.9992
−3.3164
2.00
PAO1_LUZ7 num 1
y = −3.747x + 43.431
0.9808
−3.747
1.85
PAO1_LUZ7 num 2
y = −3.7774x + 43.569
0.9807
−3.7774
1.84
D1
D1 (24 h biofilm)
y = −3.757x + 43.604
0.9757
−3.757
1.85
D1_LUZ7 num 1
y = −4.0157x + 43.476
0.9789
−4.0157
1.77
D1_LUZ7 num 2
y = −4.253x + 46.075
0.9775
−4.253
1.72
Synthesis Equation
y = −3.9186x + 44.024
0.9735
−3.9186
1.80

© 2019 by the authors. Licensee MDPI, Basel, Switzerland. This article is an open access article distributed under the terms and conditions of the Creative Commons Attribution (CC BY) license (http://creativecommons.org/licenses/by/4.0/).