Deletions in Genes Participating in Innate Immune Response Modify the Clinical Course of Andes Orthohantavirus Infection
1
Programa Hantavirus, Instituto de Ciencias e Innovación en Medicina, Facultad de Medicina, Clínica Alemana Universidad del Desarrollo, Av. La Plaza 680, Las Condes, Región Metropolitana 7500000, Chile
2
Instituto de Ciencias Biomédicas, Facultad de Ciencias de la Salud, Universidad Autónoma de Chile, Pedro de Valdivia 425, Región Metropolitana 7500000, Santiago, Chile
3
Departamento Pediatria Clinica Alemana de Santiago, Av Vitacura 5951, Vitacura, Región Metropolitana 7500000, Chile
4
Departamento de Enfermedades Infecciosas e Inmunología Pediátricas, Pontificia Universidad Católica de Chile, Marcoleta 391, Santiago, Región Metropolitana 7500000, Chile
5
Department of Internal Medicine, MSC10 5550, 1 University of New Mexico, Albuquerque, NM 87131-0001, USA
*
Author to whom correspondence should be addressed.
Received: 31 May 2019 / Revised: 28 June 2019 / Accepted: 9 July 2019 / Published: 25 July 2019
Abstract
Andes orthohantavirus (ANDV) is an important human pathogen causing hantavirus cardiopulmonary syndrome (HCPS) with a fatality rate of 30% in Chile. Around 60% of all cases have a severe clinical course, while the others have a mild clinical course. The main goal of this study was to understand if the genetic variation of patients is associated with the clinical course they develop after ANDV infection. For this, the frequency of copy number variants (CNVs, i.e., deletions and duplications) was studied in 195 patients, 88 with mild and 107 with severe HCPS. CNVs were called from intensity data of the Affymetrix Genome-Wide SNP Array 6.0. The analysis of the data was performed with PennCNV, ParseCNV and R softwares; Results: a deletion of 19, 416 bp in the q31.3 region of chromosome 1 is found more frequently in severe patients (
p
< 0.05). This region contains Complement Factor H Related (
CFHR1)
and
CFHR3
genes, regulators of the complement cascade. A second deletion of 1.81 kb located in the p13 region of chr20 was significantly more frequent in mild patients (
p
< 0.05). This region contains the
SIRPB1
gene, which participates in the innate immune response, more specifically in neutrophil trans-epithelial migration. Both deletions are associated with the clinical course of HCPS, the first being a risk factor and the second being protective. The participation of genes contained in both deletions in ANDV infection pathophysiology deserves further investigation.
View Full-Text
►

▼

Figures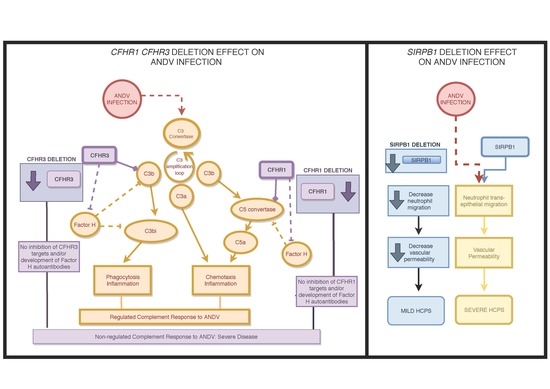 Graphical abstract
This is an open access article distributed under the
Creative Commons Attribution License
which permits unrestricted use, distribution, and reproduction in any medium, provided the original work is properly cited (CC BY 4.0).

Share & Cite This Article
MDPI and ACS Style
Ribeiro, G.E.; Leon, L.E.; Perez, R.; Cuiza, A.; Vial, P.A.; Ferres, M.; Mertz, G.J.; Vial, C. Deletions in Genes Participating in Innate Immune Response Modify the Clinical Course of Andes Orthohantavirus Infection. Viruses 2019, 11, 680.
Note that from the first issue of 2016, MDPI journals use article numbers instead of page numbers. See further details here.
Related Articles
Comments
[Return to top]