Identification of Multiple Replication Stages and Origins in the Nucleopolyhedrovirus of
Anticarsia gemmatalis
1
Laboratorio de Ingeniería Genética y Biología Celular y Molecular-Área Virosis de Insectos, Instituto de Microbiología Básica y Aplicada (IMBA), Universidad Nacional de Quilmes, CONICET, Bernal B1876BXD, Argentina
2
Institute for Integrative Biology of the Cell (I2BC), Evolution and Maintenance of Circular Chromosomes, CEA, CNRS, Univ. Paris Sud, Université Paris-Saclay, 91190 Saint-Aubin, France
3
Laboratorio de Oncología Molecular, Universidad Nacional de Quilmes, CONICET, Bernal B1876BXD, Argentina
*
Author to whom correspondence should be addressed.
†
These authors contributed equally to this work.
Received: 31 May 2019 / Revised: 10 July 2019 / Accepted: 12 July 2019 / Published: 15 July 2019
Abstract
To understand the mechanism of replication used by baculoviruses, it is essential to describe all the factors involved, including virus and host proteins and the sequences where DNA synthesis starts. A lot of work on this topic has been done, but there is still confusion in defining what sequence/s act in such functions, and the mechanism of replication is not very well understood. In this work, we performed an AgMNPV replication kinetics into the susceptible UFL-Ag-286 cells to estimate viral genome synthesis rates. We found that the viral DNA exponentially increases in two different phases that are temporally separated by an interval of 5 h, probably suggesting the occurrence of two different mechanisms of replication. Then, we prepared a plasmid library containing virus fragments (0.5–2 kbp), which were transfected and infected with AgMNPV in UFL-Ag-286 cells. We identified 12 virus fragments which acted as origins of replication (ORI). Those fragments are in close proximity to core genes. This association to the core genome would ensure vertical transmission of ORIs. We also predict the presence of common structures on those fragments that probably recruit the replication machinery, a structure also present in previously reported ORIs in baculoviruses.
View Full-Text
►

▼

Figures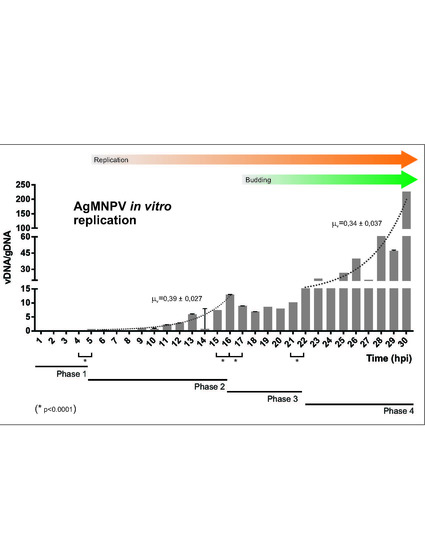 Graphical abstract
This is an open access article distributed under the
Creative Commons Attribution License
which permits unrestricted use, distribution, and reproduction in any medium, provided the original work is properly cited (CC BY 4.0).

Share & Cite This Article
MDPI and ACS Style
Miele, S.A.; Cerrudo, C.S.; Parsza, C.N.; Nugnes, M.V.; Mengual Gómez, D.L.; Belaich, M.N.; Ghiringhelli, P.D. Identification of Multiple Replication Stages and Origins in the Nucleopolyhedrovirus of Anticarsia gemmatalis. Viruses 2019, 11, 648.
Note that from the first issue of 2016, MDPI journals use article numbers instead of page numbers. See further details here.
Related Articles
Comments
[Return to top]