Characteristics of the Life Cycle of Porcine Deltacoronavirus (PDCoV) In Vitro: Replication Kinetics, Cellular Ultrastructure and Virion Morphology, and Evidence of Inducing Autophagy
1
Institute of Preventive Veterinary Medicine and Key Laboratory of Animal Virology of Ministry of Agriculture, College of Animal Sciences, Zhejiang University, Hangzhou 310058, China
2
YEBIO Bioengineering Co., Ltd. of Qingdao, Qingdao 266114, China
*
Author to whom correspondence should be addressed.
†
These authors contributed equally to this work.
Viruses 2019, 11(5), 455; https://doi.org/10.3390/v11050455 (registering DOI)
Received: 10 April 2019 / Revised: 15 May 2019 / Accepted: 16 May 2019 / Published: 18 May 2019
Abstract
Porcine deltacoronavirus (PDCoV) causes severe diarrhea and vomiting in affected piglets. The aim of this study was to establish the basic, in vitro characteristics of the life cycle such as replication kinetics, cellular ultrastructure, virion morphology, and induction of autophagy of PDCoV. Time-course analysis of viral subgenomic and genomic RNA loads and infectious titers indicated that one replication cycle of PDCoV takes 5 to 6 h. Electron microscopy showed that PDCoV infection induced the membrane rearrangements with double-membrane vesicles and large virion-containing vacuoles. The convoluted membranes structures described in alpha- and beta-coronavirus were not observed. PDCoV infection also increased the number of autophagosome-like vesicles in the cytoplasm of cells, and the autophagy response was detected by LC3 I/II and p62 Western blot analysis. For the first time, this study presents the picture of the PDCoV infection cycle, which is crucial to help elucidate the molecular mechanism of deltacoronavirus replication.
View Full-Text
►

▼

Figures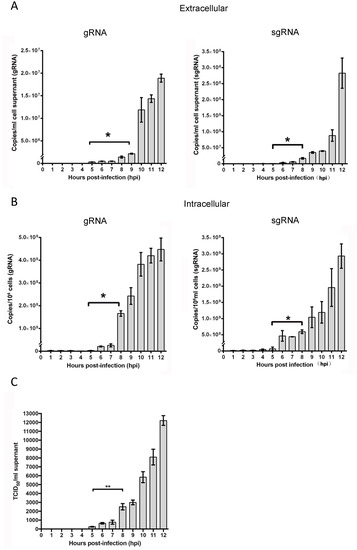 Figure 1
This is an open access article distributed under the
Creative Commons Attribution License
which permits unrestricted use, distribution, and reproduction in any medium, provided the original work is properly cited (CC BY 4.0).
Share & Cite This Article
MDPI and ACS Style
Qin, P.; Du, E.-Z.; Luo, W.-T.; Yang, Y.-L.; Zhang, Y.-Q.; Wang, B.; Huang, Y.-W. Characteristics of the Life Cycle of Porcine Deltacoronavirus (PDCoV) In Vitro: Replication Kinetics, Cellular Ultrastructure and Virion Morphology, and Evidence of Inducing Autophagy. Viruses 2019, 11, 455.
Note that from the first issue of 2016, MDPI journals use article numbers instead of page numbers. See further details here.
Related Articles
Comments
[Return to top]