Open Access This article is
freely available
re-usable
Review
Manipulation of Epithelial Differentiation by HPV Oncoproteins
1
Department of Otorhinolaryngology: Head and Neck Surgery, University of Pennsylvania Perelman School of Medicine, Philadelphia, PA 19104, USA
2
Department of Microbiology, University of Pennsylvania Perelman School of Medicine, Philadelphia, PA 19104, USA
Received: 18 March 2019 / Accepted: 20 April 2019 / Published: 22 April 2019
Abstract
:
Papillomaviruses replicate and cause disease in stratified squamous epithelia. Epithelial differentiation is essential for the progression of papillomavirus replication, but differentiation is also impaired by papillomavirus-encoded proteins. The papillomavirus E6 and E7 oncoproteins partially inhibit and/or delay epithelial differentiation and some of the mechanisms by which they do so are beginning to be defined. This review will outline the key features of the relationship between HPV infection and differentiation and will summarize the data indicating that papillomaviruses alter epithelial differentiation. It will describe what is known so far and will highlight open questions about the differentiation-inhibitory mechanisms employed by the papillomaviruses.
Keywords:
virus; transformation; epithelial; differentiation; HPV
1. Introduction
Papillomaviruses and their host species have evolved together for tens of millions of years, and it is thought that the viruses have both adapted to specific host niches and co-speciated with their hosts [
1
]. Papillomavirus infections are highly specific for an individual vertebrate species and restricted to a specific tissue: the stratified squamous epithelium [
2
]. A highly regulated differentiation program enables stratified epithelia to constantly self-renew and papillomavirus replication is enabled by epithelial differentiation [
3
,
4
]. Differentiation is required for replication of the papillomavirus DNA genome and for late viral gene expression, and the progression of epithelial cells from basal layers to eventual desquamation enables papillomavirus assembly and egress. Papillomavirus replication requires epithelial differentiation, but also delays it. To enable viral genome replication in infected epithelial cells that would have otherwise committed to a terminal differentiation program, the virus must promote proliferation in the differentiating cell. This is said to 'uncouple' proliferation from differentiation. Papillomaviruses inhibit differentiation via a variety of mechanisms, some of which overlap with the pro-proliferative targets and others that are distinct.
The human papillomavirus (HPV) E6 and E7 proteins have been the most frequently characterized with respect to their effects on cellular proliferation and, to some degree, on differentiation. Some of the pro-proliferative mechanisms employed by HPV E6 and E7 are shared by other DNA tumor viruses that do not specifically infect stratified epithelia. For example, several DNA tumor viruses inactivate the retinoblastoma and p53 tumor suppressors to promote proliferation and evade apoptosis [
5
]. Other viral activities are unique to the papillomavirus-encoded proteins, and these unique activities have allowed the adaptation of papillomaviruses to their specific species and to specific biological niches [
1
]. The ability to control epithelial differentiation is one such specific activity. HPVs have been recognized to alter differentiation for many years, but recent advances have begun to clarify the mechanisms by which they do so.
This review will summarize the studies that have established the effects of HPV-encoded proteins, particularly HPV E6 and E7, on epithelial differentiation. It will highlight some of the mechanisms by which HPV E6 and E7 delay and impair differentiation. Impaired differentiation is a hallmark of some cancers and could contribute to HPV-mediated carcinogenesis. Open questions related to HPV control of epithelial differentiation and the possibility of differentiation therapy for HPV-positive cancers will be discussed.
2. Differentiation-Dependent HPV Biology
3. Keratinocyte Differentiation and Models of HPV Replication
3.1. Stages of Keratinocyte Differentiation
Epithelial differentiation is a constantly occurring regenerative process that forms the protective exterior barrier between an organism and its surrounding environment. Best studied in mammalian skin, the process of epidermal differentiation originates in proliferative basal keratinocytes that are separated from the dermis by a specialized form of extracellular matrix (ECM), the basement membrane [
21
]. Laminins on the basement membrane attach to integrins, such as α6β4 and α3β1, on the basal cell surface to tether basal cells to the ECM. Adherens junctions connect basal cells to one another. Proliferative basal epithelial cells express keratin 5 and keratin 14.
The first transition in the differentiation program is the delamination of a basal cell and its progression to a suprabasal (spinous) state [
22
,
23
]. Suprabasal keratinocytes express keratin 1 and keratin 10, which encode intermediate filament proteins that enable the formation of a cell–cell network connected by desmosomes. The next most distal layers to the ECM are the granular layer and the stratum corneum, respectively, and later markers of epithelial differentiation expressed in these layers include involucrin, loricrin, and fillagrin (
Figure 1
). By the time the keratinocyte differentiation program is complete, the once-proliferative cell exists as a squame, a dead cellular sac lacking a nucleus or other organelles. It is highly crosslinked and encased in a waterproof lipid network providing the exterior barrier function. Although many of the same cellular markers are expressed in the same order in mucosal versus cutaneous epithelia, it is important to note that differences in gene expression in these distinct tissues exist and enable their biological differences [
24
,
25
].
3.2. Differentiation Models
Several aspects of the differentiation-dependent HPV life cycle can be modeled in keratinocyte culture systems [
26
,
27
,
28
]. Human keratinocytes that harbor episomal (circular) and/or integrated HPV genomes have been both isolated from patient samples and generated experimentally. Keratinocytes can be induced to differentiate in monolayer culture using treatment with an increased concentration of calcium (typically 1.2–1.5 mM CaCl
2
), with or without the withdrawal of growth factors and/or the addition of serum. For many of the HPV-episome-containing cell lines, calcium treatment induces viral DNA amplification, transcription from the late promoter, and differentiation-dependent viral transcript splicing events. Culture in methylcellulose-based semisolid medium can promote many of the same changes. Three-dimensional cell culture systems (organotypic "raft" cultures) have been employed by HPV researchers for several decades. In such cultures, keratinocytes are grown to confluence on a matrix (often a collagen matrix containing mouse fibroblasts), then lifted to the air–liquid interface and allowed to stratify and differentiate for a period of 1–2 weeks. For cells that contain viral episomes, this allows for somewhat heterogenous differentiation and mimics some aspects of the viral life cycle. HPV virions are typically produced from organotypic cultures only rather inefficiently, especially in the case of immortalized cell lines. New PV model systems are sure to enable additional investigation. For example, a recently discovered murine papillomavirus has prompted additional studies on the relationship between cutaneous PV biology and epithelial differentiation [
29
,
30
,
31
,
32
,
33
,
34
].
Experiments in these systems have demonstrated that differentiation is required for HPV replication. Some specific cellular pathways that regulate epithelial differentiation have been found to regulate HPV genome amplification and late transcription. Protein kinase C (PKC) inhibitors limit HPV late activities, and efficient HPV virion production from organotypic raft cultures requires PKC activation [
35
,
36
]. Other experiments in keratinocyte differentiation models have begun to illustrate the effects of the HPV gene products on epithelial differentiation. These studies are reviewed in detail herein.
4. HPV Carcinogenic Activity and the E6 and E7 Oncoproteins
5. HPV-Associated Cancer and Differentiation
The recognition that a subset of HNSCC are caused by HPV has enabled the comparison of HPV-positive to HPV-negative tumors at a similar anatomical site. A finding from pathology reports is that HPV-positive HNSCC tend to be poorly differentiated compared to HPV-negative HNSCC [
85
,
86
]. A recent analysis from my laboratory has demonstrated that this difference is also reflected by gene expression in HPV-positive relative to HPV-negative HNSCC [
87
]. Using data from The Cancer Genome Atlas (TCGA), we found that with respect to repressed genes, HPV-positive and HPV-negative cancers differ primarily in gene sets related to epithelial differentiation. Furthermore, we analyzed data from a comparison of primary human foreskin keratinocytes (HFK) to HFK expressing HPV16 E6 and E7 and found that the same downregulation of differentiation gene expression was dependent on the viral oncogenes [
87
,
88
]. Overall, these data indicate that HPV-positive cancers are poorly differentiated relative to HPV-negative cancers and that this is a consequence of E6/E7 expression.
Some previous studies in the pathology literature are consistent with this hypothesis even though they did not directly assess HPV status. A 1996 study observed a large range of involucrin expression in HNSCC and reported that poorly differentiated HNSCC are more likely to distantly metastasize [
89
]. Propensity for metastasis is a feature of HPV-positive HNSCC. A more recent analysis proposes that the relationship between HPV status and tumor differentiation is more pronounced in certain subtypes of HNSCC. Keck and colleagues described three subtypes of HNSCC: (i) a basal subtype that did not include any HPV-positive tumors and in which all the samples were well-keratinized and differentiated, (ii) an inflamed/mesenchymal subtype that includes some HPV-positive and some HPV-negative tumors and in which the HPV-positive cancers are nonkeratinizing and poorly differentiated, and (iii) a classical subtype in which HPV-positive and HPV-negative samples are not distinguished by differentiation status [
90
]. Keratin 19 appears to be expressed more predominantly in epithelial carcinomas compared to normal cells and it is highly expressed in HPV-positive compared to HPV-negative oropharyngeal cancers [
91
,
92
,
93
].
6. High-Risk HPV Oncoproteins Alter Epithelial Differentiation
7. Differentiation Therapy
Differentiation therapy, the induction of differentiation by a chemical agent, has been extremely successful in specific instances in the clinic. For example, acute promyelocytic leukemia can often be cured by treatment with ATRA and arsenic [
193
,
194
]. Although the mechanism underlying this cure is now recognized to be more complicated than initial reports suggested, the promise of differentiation induction as a relatively non-toxic therapeutic approach remains high [
195
]. ATRA has also shown promise in mouse models of non-melanoma skin cancer and in reducing proliferation of human squamous cell carcinoma cells [
196
,
197
,
198
]. HPV-positive cervical lesions, particularly lower-grade lesions, have shown some response to treatment with ATRA and other studies support the idea that ATRA could inhibit the growth of HPV-positive cell lines and/or tumors [
199
,
200
,
201
,
202
,
203
]. Further investigation of the role of differentiation therapy in treating HPV infections and HPV-associated cancers is important. No currently available therapeutic agents can treat the millions of new HPV infections that result in hundreds of thousands of new premalignant lesions and HPV-positive cancers each year. Disrupting any essential step in the carcinogenic progression of an HPV-positive lesion would have therapeutic potential, and an inhibition of differentiation by HPV oncoproteins may be such an essential step.
8. Conclusions and Open Questions
HPV-encoded proteins reprogram host cells to promote virus replication and enable persistent infection. In particular, HPV E6 and E7 drive the establishment of a pro-proliferative environment in the infected cell. They promote cell cycle re-entry in differentiating keratinocytes and restrict the epithelial differentiation program. Years of research on HPV E6 and E7 have enabled groundbreaking discoveries on the mechanisms that normally control the cell cycle and on how cell growth control pathways are dysregulated in cancer.
Funding
Work in the White laboratory is supported by American Cancer Society Research Scholar Grant 131661-RSG-18-048-01-MPC.
Acknowledgments
This review was made possible by helpful discussions with members of my laboratory. I apologize for any instances in which work was not cited due to space constraints.
Conflicts of Interest
The author declares no conflict of interest.

Figure 1. Human papillomavirus (HPV) replication requires and impairs epithelial differentiation. A schematic of epithelial differentiation in the absence (A) and presence (B) of HPV infection. In uninfected cells, self-renewing basal keratinocytes attach to the basement membrane. When keratin 5 and keratin 14-positive basal cells divide, one daughter cell can progress into the spinous layers and express keratins 1 and 10. Terminal differentiation and progression into the granular and cornified layers is marked by the expression of fillagrin and involucrin. Suprabasal epithelial cells are generally not proliferative. In an HPV-infected epithelium, proliferation is uncoupled from differentiation. Markers of proliferation are expressed and differentiation-related gene expression is impaired in suprabasal cells.

Figure 2. Genus beta HPV E6 bind MAML1 to inhibit NOTCH signaling. A schematic of activated NOTCH signaling in the absence (A) and presence (B) of genus beta HPV E6. Upon activation of the NOTCH signaling pathway, proteolytic cleavage of NOTCH releases the NOTCH intracellular domain (ICD), which can translocate to the nucleus. It displaces transcriptional repressors and forms a transcriptionally active complex including NOTCH, MAML1, and RBP-J. Genus beta HPV E6 bind to an LxxLL motif present in the MAML1 C-terminus. The oncoprotein does not disrupt formation of the transcription complex but does inhibit NOTCH signaling.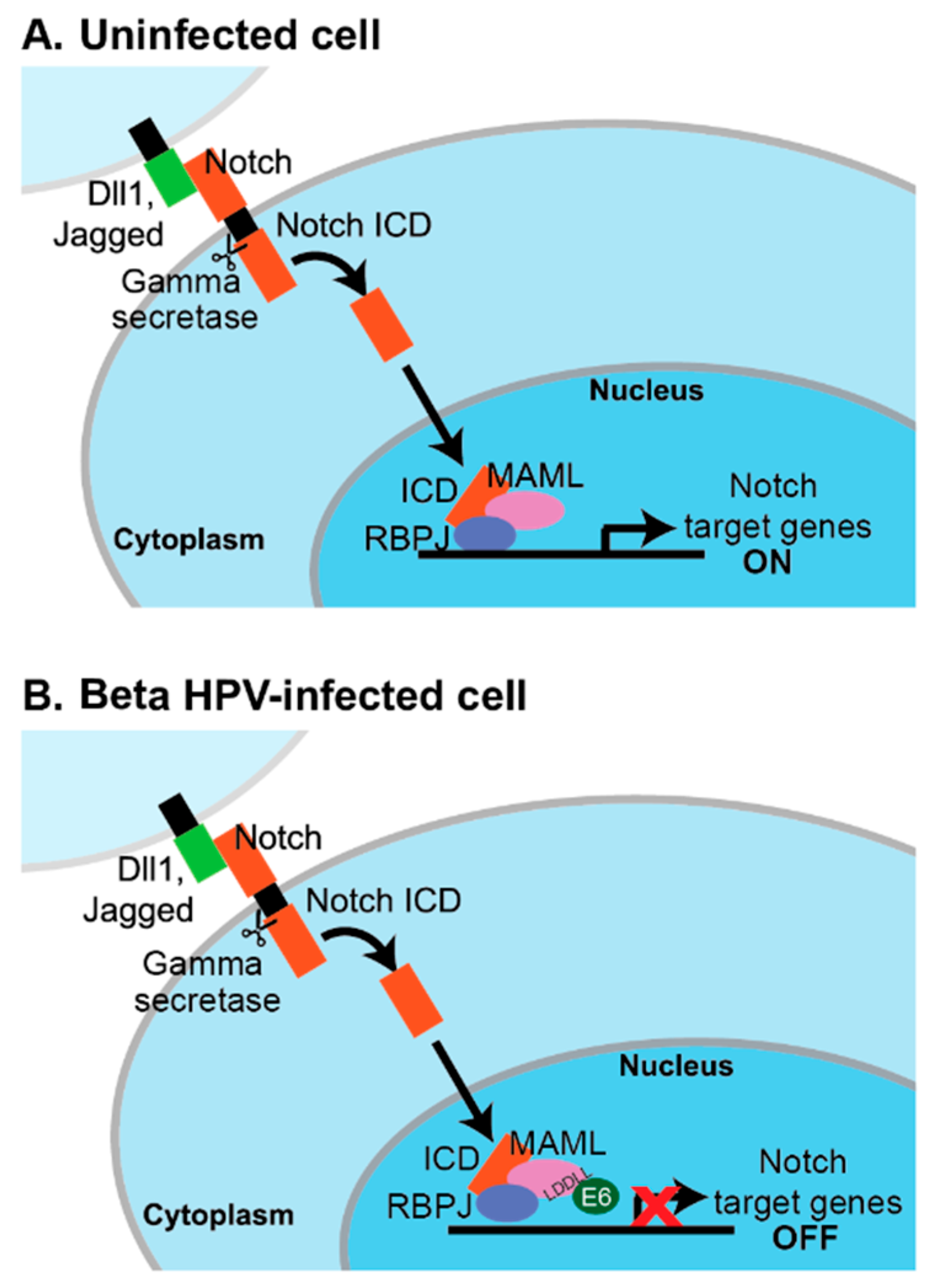 © 2019 by the author. Licensee MDPI, Basel, Switzerland. This article is an open access article distributed under the terms and conditions of the Creative Commons Attribution (CC BY) license (http://creativecommons.org/licenses/by/4.0/).