Discovery and Further Studies on Giant Viruses at the IHU Mediterranee Infection That Modified the Perception of the Virosphere
1
MEPHI, APHM, IRD 198, Aix Marseille Univ, Department of Medicine, IHU-Méditerranée Infection, 13005 Marseille, France
2
Laboratório de Vírus, Instituto de Ciêncas Biológicas, Departamento de Microbiologia, Universidade Federal de Minas Gerais, 31270-901 Belo Horizonte, Brazil
3
IHU IHU-Méditerranée Infection, 13005 Marseille, France
*
Author to whom correspondence should be addressed.
†
Present address: Institut de Biologie Moléculaire et Cellulaire, CNRS UPR9022, Université de Strasbourg, 67000 Strasbourg, France.
‡
Present address: Stream Biofilm and Ecosystem Research Laboratory, School of Architecture, Civil and Environmental Engineering (ENAC), Ecole Polytechnique F́edérale de Lausanne (EPFL), CH-1015 Lausanne, Switzerland.
§
Present address: Laboratory of emerging phatogens (LEP), Division of Emerging and Transfusion Transmitted Diseases (DETTD), Office of Blood Research and Review (OBRR), Center for Biologics Evaluation and Research (CBER), Food and Drug Administration (FDA), 10903 New Hampshire Ave. Bldg. 52/72, Rm 9586 Silver Spring, MD 20993, USA.
‖
Present address: Universidade Federal dos Vales do Jequitinhonha e Mucuri, Code 3910000, Campus JK, Diamantina, Brazil.
¶
Present address: Aix-Marseille Université, Université de Toulon, CNRS, IRD, MIO UM 110, 13288 Marseille France.
Received: 25 February 2019 / Revised: 25 March 2019 / Accepted: 27 March 2019 / Published: 30 March 2019
Abstract
The history of giant viruses began in 2003 with the identification of
Acanthamoeba polyphaga mimivirus.
Since then, giant viruses of amoeba enlightened an unknown part of the viral world, and every discovery and characterization of a new giant virus modifies our perception of the virosphere. This notably includes their exceptional virion sizes from 200 nm to 2 µm and their genomic complexity with length, number of genes, and functions such as translational components never seen before. Even more surprising,
Mimivirus
possesses a unique mobilome composed of virophages, transpovirons, and a defense system against virophages named
Mimivirus
virophage resistance element (MIMIVIRE). From the discovery and isolation of new giant viruses to their possible roles in humans, this review shows the active contribution of the University Hospital Institute (IHU) Mediterranee Infection to the growing knowledge of the giant viruses' field.
View Full-Text
►

▼

Figures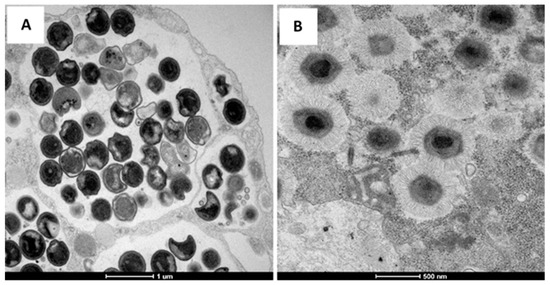 Figure 1
This is an open access article distributed under the
Creative Commons Attribution License
which permits unrestricted use, distribution, and reproduction in any medium, provided the original work is properly cited (CC BY 4.0).

Share & Cite This Article
MDPI and ACS Style
Rolland, C.; Andreani, J.; Cherif Louazani, A.; Aherfi, S.; Francis, R.; Rodrigues, R.; Silva, L.S.; Sahmi, D.; Mougari, S.; Chelkha, N.; Bekliz, M.; Silva, L.; Assis, F.; Dornas, F.; Bou Khalil, J.Y.; Pagnier, I.; Desnues, C.; Levasseur, A.; Colson, P.; Abrahão, J.; La Scola, B. Discovery and Further Studies on Giant Viruses at the IHU Mediterranee Infection That Modified the Perception of the Virosphere. Viruses 2019, 11, 312.
Note that from the first issue of 2016, MDPI journals use article numbers instead of page numbers. See further details here.
Related Articles
Comments
[Return to top]