Histo-Blood Group Antigens in Children with Symptomatic Rotavirus Infection
Department of Microbiology, School of Medicine, University of Valencia and Clinical Microbiology Service, Hospital Clínico Universitario de Valencia, Instituto de Investigación INCLIVA, 46010 Valencia, Spain
*
Author to whom correspondence should be addressed.
Received: 18 February 2019 / Revised: 26 March 2019 / Accepted: 9 April 2019 / Published: 10 April 2019
Abstract
Group A rotaviruses are a major cause of acute gastroenteritis in children. The diversity and unequal geographical prevalence of rotavirus genotypes have been linked to histo-blood group antigens (HBGAs) in different human populations. In order to evaluate the role of HBGAs in rotavirus infections in our population, secretor status (FUT2+), ABO blood group, and Lewis antigens were determined in children attended for rotavirus gastroenteritis in Valencia, Spain. During three consecutive years (2013–2015), stool and saliva samples were collected from 133 children with rotavirus infection. Infecting viral genotypes and HBGAs were determined in patients and compared to a control group and data from blood donors. Rotavirus G9P[8] was the most prevalent strain (49.6%), followed by G1P[8] (20.3%) and G12P[8] (14.3%). Rotavirus infected predominantly secretor (99%) and Lewis b positive (91.7%) children. Children with blood group A and AB were significantly more prone to rotavirus gastroenteritis than those with blood group O. Our results confirm that a HBGA genetic background is linked to rotavirus P[8] susceptibility. Rotavirus P[8] symptomatic infection is manifestly more frequent in secretor-positive (FUT2+) than in non-secretor individuals, although no differences between rotavirus G genotypes were found.
View Full-Text
►

▼

Figures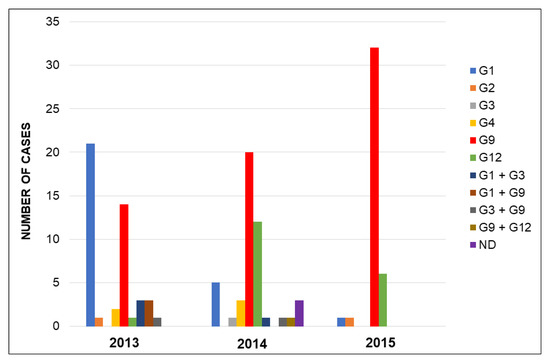 Figure 1
This is an open access article distributed under the
Creative Commons Attribution License
which permits unrestricted use, distribution, and reproduction in any medium, provided the original work is properly cited (CC BY 4.0).

Share & Cite This Article
MDPI and ACS Style
Pérez-Ortín, R.; Vila-Vicent, S.; Carmona-Vicente, N.; Santiso-Bellón, C.; Rodríguez-Díaz, J.; Buesa, J. Histo-Blood Group Antigens in Children with Symptomatic Rotavirus Infection. Viruses 2019, 11, 339.
Note that from the first issue of 2016, MDPI journals use article numbers instead of page numbers. See further details here.
Related Articles
Comments
[Return to top]